If you buy something through a link in our posts, we may get a small share of the sale.
The old 90's infomercial "Stop the Insanity!" wasn't talking about your home renovation project, but the title may fit in more ways than you would like to admit.  None of those areas is more impactful than the kitchen, where home remodeling projects have a tendency to spin out of control. 
Porcelain Kitchen Sink Comparison Table
Brand
Best Overall
KES cUPC Fireclay Farmhouse Sink, White
Best for Small Spaces
Houzer PCS-2500 WH Porcela, White
Best for Large Spaces
Houzer PCG-3600 Porcela Large, White
Product
Best Overall
Brand
KES cUPC Fireclay Farmhouse Sink, White
Product
Best for Small Spaces
Brand
Houzer PCS-2500 WH Porcela, White
Product
Best for Large Spaces
Brand
Houzer PCG-3600 Porcela Large, White
Product
KES cUPC Fireclay Farmhouse Sink, White
Key Features:  Elevate your farmhouse kitchen sink with the modern sophistication of the KES Fireclay Farmhouse kitchen sink.  The contemporary design is supported by the quality of the sink's manufacture. The ceramic finish means extreme resistance to chips, scratches, cracks or discoloration.  And the self-cleaning glaze not only gives the sink a glossy, clean finish, it also means dirt cannot be absorbed by the basin.
The 30" x 20" x 9.84" dimensions will give you a massive total area to handle the nightly dishes, as well as any special projects you may have in mind.  Customers also report that the bowl drains well for a larger, single bowl, and the push button, center drain is an interesting take on the classic sink drain.
Take Note:  Read enough product reviews on Amazon or another website and your sure to come across disgruntled customers who have had to return damaged sinks upon delivery.  KES may have solved that problem with their attention to detail in the packaging process. Extra-thick foam cushioning and corrugated cardboard provide extra buffers for shipping to get the sink safely to you – and keep you off the review section.
Sink Specifications:
Quality: Meets high quality standards, certified by IAMPO
Holes: As an undermount sink, there are no holes for faucets or other accessories. The sink requires a wall or counter mount.
Weight: 90 Lbs
KES White Farmhouse Sink 30 Inch Kitchen Apron...
cUPC CERTIFIED CERAMIC BASIN: This sink meets U.S. and Canada high-quality standard (Uniform...
CUSHIONING PACKAGE: This white farmhouse sink is packed in strong corrugated cardboard box with...
DIMENSIONS:The overall dimension 30 Inch (L) x 20 Inch (W) x 10 Inch (H). Fits standard 3.5 drain...
Houzer PCS-2500 WH Porcela, White
Key Features: If your kitchen requires something a bit smaller, perhaps Houzer's WH Porcela model is more your style.  The quality of the 20" x 15" sink is top notch, but it's the other features that Houzer has added into the sink that make it an intriguing option.  Start with the fact that the sink looks like cast iron, but at just 19.4 pounds you know there's no heavy steel core.  This makes the sink a bit more versatile during installation.
The undermount sink has a non-porous, glossy finish that is easy to maintain and definitely adds the hygienic support mentioned earlier.  Customers note that because of the sink's surface it is always looking shiny and clean. That finish also comes with the same stain, chip and scratch resistance of the other porcelain models listed here.
Take Note: The Houzer Porcela model also features a Super-Silencer pad made of natural rubber to help reduce noise while using the basin.  MegaShield insulation is also added over the sound-dampening pad to further reduce the clanks and clangs of nightly clean-up. It also helps reduce condensation build up under the sink.
Sink Specifications:
Drain Placement: Center Drain
Depth: 9 Inch Depth
Fitting: Fits a Standard 30 Inch Cabinet Opening, But Could Fit Smaller
Houzer PCG-3600 Porcela Large, White
Key Features: There is one major difference between this sink and it's Houzer brethren, reviewed above. And that is a pretty large difference.  The Porcela Large is just that. At 28 ¾" x 15" x 9", the sink gives your kitchen maximum cleaning area, without having to worry about the weight of a heavy-duty kitchen sink.
Some customers pointed out the lighter frame of the sink gave them peace of mind when paired with a heavy quartz or marble countertop, easing concerns about stress on the cabinets.
That's because the Porcela Large sink is manufactured with a 16 gauge steel core, about two-thirds the weight of cast-iron and fireclay sinks while still featuring the strength and durability known to porcelain sinks.
The rounded corners of the sink – along with its glossy, nonporous finish – make it easy to clean and maintain.  And you can add on a bottom grid to further protect against scratches, should you choose to do so.
Take Note: Edges and drain area on the Porcela Large sink aren't finished during the manufacturing process.  This stems from the need to use plumber's putty during install, allowing the product to adhere more closely to the core of the sink as opposed to the outer coating.
Sink Specifications:
Mount: Undermount
Drain Opening: 3.5″ Drain Opening
Fit: Fits 36″ Cabinets
Sale
Sarlai 30" Farmhouse Kitchen Sink, Vitreous
Key Features: Another farmhouse model to add to your list to vet for further consideration, the Sarlai Vitreous Farmhouse sink is a classic-looking model that merges modern style with the classic functionality of a farmhouse model.
It's wide basin (30" x 18" x 10") gives you an impressive cleaning area to easily handle the larger pots and pans in your kitchen, and the high gloss finish makes the sink stand out as a center point of your kitchen remodel effort.  The elegant white color stands out, allowing you plenty of options for how to pair the sink with countertops and cabinets.
The Vitreous is a fireclay sink, meaning it is fired at 2900 degrees to provide strength and durability.  As a result, the surface defies scratching, staining, chipping and cracking. Some customers point out the need to use a non-abrasive cleaning cloth or sponge to wipe down the sink, as coarser materials could leave marks.
Take Note: With a depth of ten inches, the undermount Vitreous sink is one of the deeper kitchen sinks on the market.  Add in the farmhouse style of the sink and you'll be right up against the water when washing, which is great in most cases, but could cause an issue with wet clothes if you're not careful when running the water or rinsing the dishes.
Sink Specifications:
Additional Features: The sink comes with plenty of additional options like a cutting board attachment or a stainless steel grid or a pop-up drying rack.  These make your sink even more functional and allow for easier clean up.
Noise Absorbing: ​The sink's thick material helps to absorb noise when washing dishes or running water.​​​
Drain Location: Center located drain is 3.5″ in Diameter.
30 Farmhouse Sink White - Sarlai 30 Inch Kitchen...
Highly Durable: The white farmhouse sink is constructed from mixed clay and minerals that is fired...
Easy to clean & Stain resistance ceramic sink: Thick white glazing make the sink surface smooth and...
Quieter and more usable space fireclay farm sink: Thick ceramic construction make it more quieter...
Factors to Consider When Buying Porcelain Sinks
In fact, the average cost of a kitchen renovation is over $30,000. And while those changes often rectify outdated issues like the cabinets, appliances, or even wallpaper, oftentimes the kitchen sink is still pretty much left the same.  Okay, maybe it is a newer, more sleek version of the stainless steel double-bowl, but why settle for standard or the same-old, when you could really upgrade your kitchen with a kitchen sink that actually is the focal point of one of the most popular rooms in the house?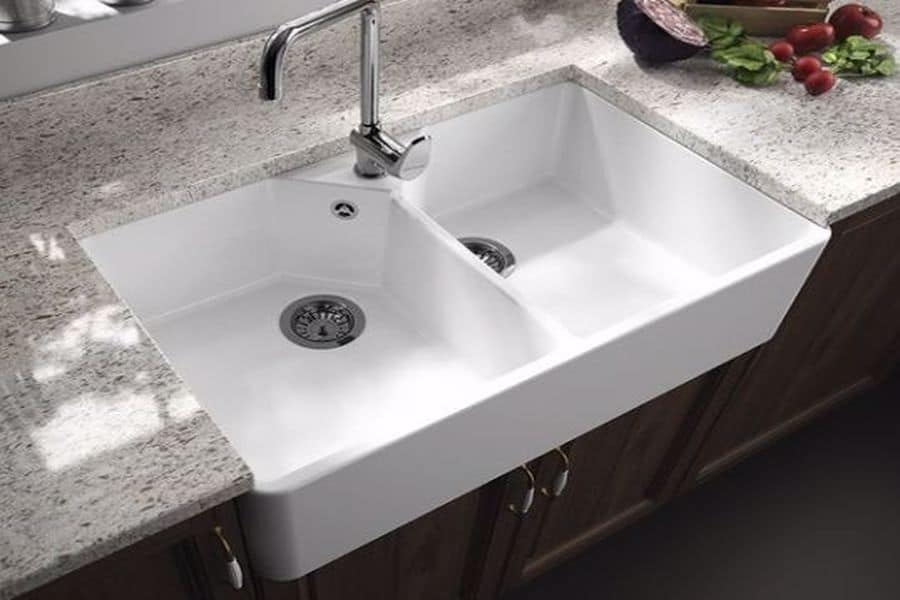 We all are aware of the problems with stainless steel sinks – especially the double-bowl variety, which limit cleaning space and are often not equipped to handle the load of the nightly dinner clean up.  And while manufacturers have doubled down on strengthening the make and look of stainless steel sinks, the same issues are still prevalent in many of their models: water spotting, staining, scratching, and general upkeep.
And when you figure the price of the stainless models is comparable to other more modern and durable sinks on the market, the insanity really does need to stop!
Porcelain sinks are similar in pricing to stainless steel and other makes of sinks on the market, but they also have a couple of important differences that may make them the right kind of sink for your remodeling effort.
First is the durability of the sink.  Porcelain enamel is often fired at exceedingly high temperatures to set the material and help the sink maintain its stain, chip and scratch resistance. When measured on the Mohs Scale of Hardness, the same scale used to measure the strength of diamonds, porcelain enamel scores a 5.5, compared to a 4.5 for steel, and a 4 for cast iron.
Because of this firing process used to manufacture the sinks, they have a glossy shine in their finish that looks great and provides support in the cleaning process, allowing them that much easier to maintain. Similar to quartz sinks surface, the glossy outer coating also helps to support hygiene by forming a protective layer against germs and other build up in the sink.
Porcelain also boasts many of the modern, updated features of other contemporary kitchen sinks like single bowl design, farmhouse styles and even special coloring.  Mirabelle does a great job of combing porcelain with modern and contemporary styles.
Compiled below are a handful of the most popular and affordable porcelain sinks on the market that could just stop the insanity of your kitchen remodel in its tracks.
Final Thoughts on Porcelain Sinks
Porcelain sinks have the strength to handle the toughest kitchen clean up efforts you can throw at them, and still come out looking shiny and new.  The sinks on this list come in a relatively wide range of price points and dimensions, giving you even more options to consider how a porcelain sink could just be the answer to your kitchen sink remodeling question and more opportunity to stop the insanity of your kitchen renovation before it begins.
Good luck with your kitchen sink decision and with your remodeling project!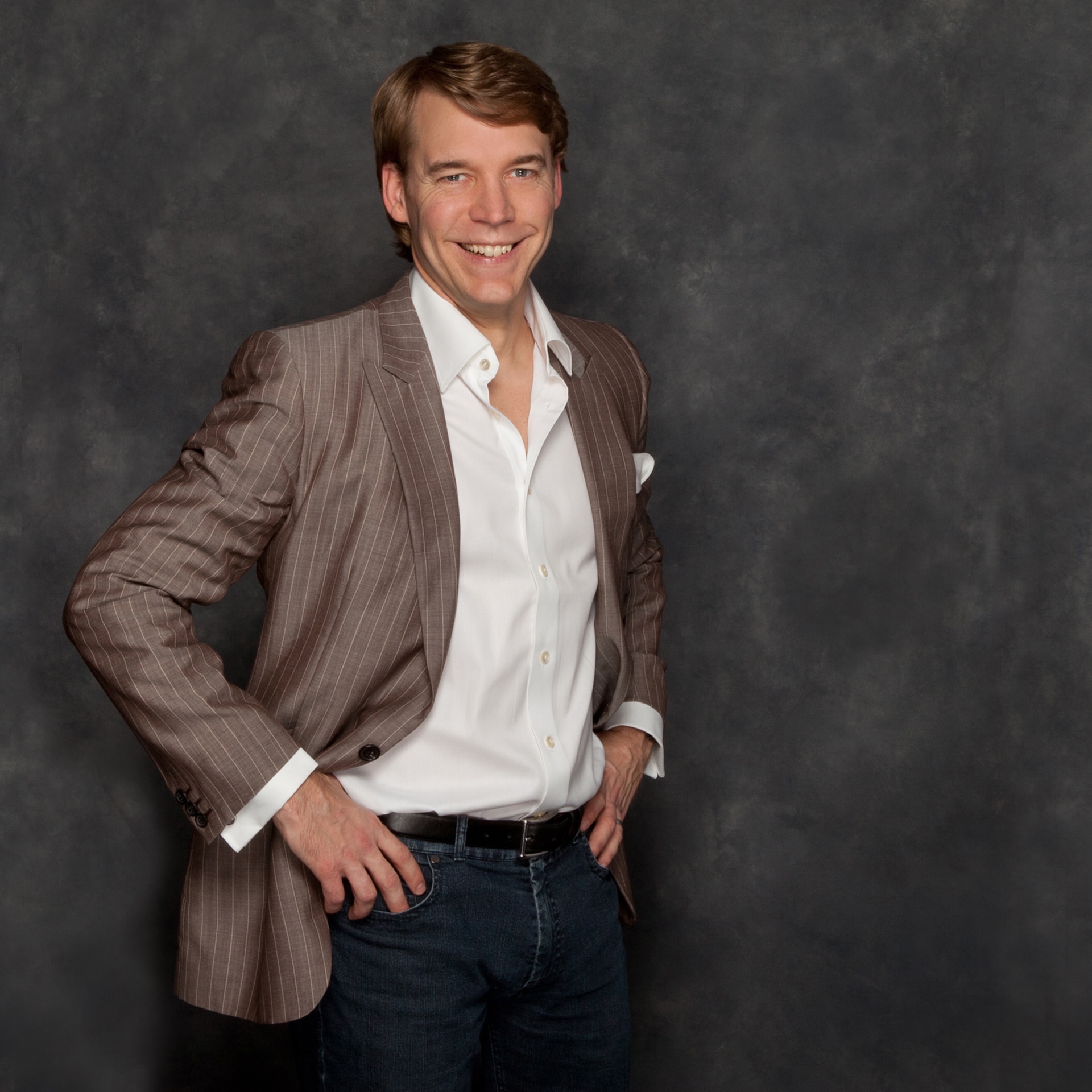 Brett E. is the Owner of BarterDesign.co.  Brett comes from a long line of craftsman and foreman, and has been involved with the construction and renovation world ever since he was a boy while working for his families construction and remodeling company.  After graduating with a a degree in Interior Design, Brett is the go to guy for any interior design or remodeling questions!