Last Updated: March 25th 2019  The kitchen sink is the cornerstone of the home. It's where the majority of your kitchen work gets done and some people estimate that over half the time in the kitchen is spent in front of it. It's incredibly important to get your sink right so that you have a useful sink which looks great.  In this cast iron sink reviews guide you will learn about our top three picks, and what makes these sinks great!
Cast iron sinks are very popular at the moment. It generally comes down to the durability of the material and cast iron is one of the most reliable around. It's able to resist high temperatures and won't scratch easily compared to stainless steel or even acrylic. Often cast iron sinks are coated with enamel to give them even most resistance.
Cast Iron Sink Reviews & Top 3 Picks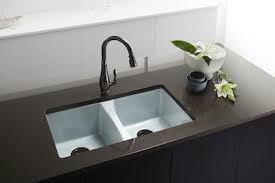 Cast iron is the heaviest common material used in kitchen sinks. It requires extra support for mounted units so you'll need to make sure your kitchen unit is suitable. It's also normally a bit more expensive but because of the long life span it will pay for itself in the long run.  If you are looking for an acrylic sink, then check out our acrylic sink reviews guide!
We've taken a look at three of the most popular cast iron sinks available and analysed their features. So if you're looking for a new sink this is a great place to start.
Kohler are one of the most recognised brands in bathroom fittings. They produce everything you'd ever need for a working bathroom and have a range of styles to fit every taste. The expertise they've accrued over this time is present in the style and construction of this sink.
The KOHLER K-5864-5U-0 Cape Dory Undercounter Kitchen Sink comes in white, the most common colour for sinks. It's made in the U.S as Kohler have chosen not to outsource their production. This lets them keep a close eye on the construction and ensures reliable quality. With quality and style it's a strong unit but let's look at what it has to potentially set it apart.
Kohler have created this unit as an alternative to the two basin models which are more traditional. Their basin is 33 inches wide and 9 inches deep, allowing you to put a lot in there all at once. You'll be able to stack dishes and clean large trays while leaving pans to soak with no issue.
There's no doubt that Kohler know their way around kitchen products both in terms of utility and style. They know what looks good and their design team have done a great job with this unit. It's elegant and simple but still adds a lot to the room.
This kitchen sink drops right into your unit and have no rimming round the outside to give a visible seal. It will look like it's built right into your worktop but do bear in mind that cast iron weighs more and will need extra support.
You can't really go wrong with a Kohler model and this cast iron sink is no different. It's got a great look and feel to it but doesn't lose any of the usefulness in the process. It's durable and will last a long time, even with minimal upkeep. Certainly one to consider when searching around.
Miseno are well known in the industry for their premium and luxury products. They believe in creating sinks which are pieces of art and bring a room to life, which still being as useful as you'd expect. Miseno have a large product range of beautifully designed, elegant pieces that I encourage you to check out.
The Miseno MCI45-4TM 33″ Double Basin Drop In Cast Iron Kitchen Sink may look like others on the market at first glance but when you lean in more closely you'll see it's a whole lot more. It's made with two basins of equal size so you can keep using one while the other is full of dishes for soaking. It's solidly made and designed to make your sink the centre of your kitchen.
Strong, Durable Construction
Strength and durability are the key words with this sink as it's made entirely out of cast iron. It weighs an impressive 100 pounds which goes to show just how solidly it's constructed. It's built to last and with an enamel layer it will be protected from scratching or staining over a long period of time.
At 33 inches wide and 10 inches deep there's a lot of room to manoever with this sink. The drain is located at the rear of the sink so there's even more space to stack or soak dishes while you're cleaning.
Drop in installation means that the sink is simple to fit so you can slot it in and get going. It comes with hole pre drilled so you just need to connect it up and then you can use it with ease.
This Miseno kitchen sink is beautifully crafted and solidly made. It's designed to last a long time and will resist even stubborn staining and rust. It's easy to fit and will look good in both modern and traditional homes. If you're looking for a stylish but useful sink then look no further.  If you are interested in other Miseno sinks!
Kes might not be the most well known brand but there's a lot of evidence that they know their craft well. They design and manufacture sinks which are sold globally and are fast becoming a household brand.
The KES 33 Inch Farmhouse Sink Farm Sink for Kitchen Apron Front Kitchen Sink 16 Gauge SUS 304 is a lighter model at just over 50 pounds, but it's still fairly well made. It consists of one basin but comes with a built in bottom grid protector.
Rust is a real problem with certain types of sink but Kes have incorporated special outer layers to help keep rust away. This means a longer lifespan for your kitchen sink and no ugly staining that's difficult to remove.
Large rubber padding is used, which is extra thick, to help limit the sound of the sink. This, combined with stone guard overcoating makes it a quiet sink that won't make a lot of noise when being used.
This sink also boasts a large basin. They're 10 inches deep which is perfect for any aspiring cooks or bakers who are using the larger pans or trays. Leave your dishes to soak and come back later for easy cleaning.
The Kes kitchen sink does exactly what it says it will and works effectively in any kitchen. It's the most affordable of the three and offers some great value, definitely one to consider for the price conscious among us.
Your Cast Iron Kitchen Sink
Cast Iron sinks are definitely the way to go if you have the setup and you can afford it. Each of these three sinks has it's own charms and will work well in most any kitchen. Our advice is to carefully examine the space you have available and look at all the different features to find the best one for your home.  If you are looking for a little bit of a different sink style, then I suggest you take a composite granite kitchen sink reviews.
If you're looking for a new kitchen sink that will stand the test of time then this is a great place to start. Choose any of these three for some great value.
Brett E. is the Owner of BarterDesign.co.  Brett comes from a long line of craftsman and foreman, and has been involved with the construction and renovation world ever since he was a boy while working for his families construction and remodeling company.  After graduating with a a degree in Interior Design, Brett is the go to guy for any interior design or remodeling questions!