As an Amazon Associate we earn from qualifying purchases.
What is one of the most relaxing things you can do within your own home?  For most people it will probably involve taking a shower!  That being said, your showering experience can be dramatically different depending on the type of shower faucet you have installed.  
If you are looking to upgrade your showering experience or even looking to save water, then you should check out my shower faucet reviews below!
Top 3 Shower Faucet Reviews
S R SUNRISE Luxury Rain Mixer Shower
S R SUNRISE are shower specialists who design and develop luxury shower faucets and appliances for the home. They have a diverse collection of styles ranging from traditional shower fittings to more modern designs.
S R SUNRISE consider themselves innovators in the industry. All of their showers are built with the user in mind, with added features and extras to give the user the best experience while at home.
The S R SUNRISE Luxury Rain Mixer Shower is wall mounted with two different shower heads. One is handheld and versatile while the other is a rain shower, mounted above. Designed to give the even and constant feeling of warm rain it's built to give a deep relaxing clean.
The luxury rain mixer shower features:
Stylish Stainless Steel Rainshower Finish
Brass Hand and Shower and Valve
Chrome Finish
Full Range Temperature Settings
This shower comes with all the valves and handles needed. Well built and with a number of different options for showering the S R SUNRISE Luxury Rain Shower it showing itself to be a great choice when it comes to your bathroom.
User Reviews
Feedback on the S R SUNRISE Luxury Rain Shower is overwhelmingly positive: 
"This is the best shower head I have ever installed. very easy to retro-fit and is of very good quality material. The flow is very soothing and it saves water. Excellent product."

– Roberto F.
The only real criticism of the product from some users is that it doesn't cope well with low water pressure: 
"Our water pressure is currently low, so was hoping for a transformation. My mistake. Nice enough but don't expect miracles!"

– Jordan H.
This is a common problem for those with low water pressure, if you have this issue then perhaps look into a more specialist shower faucet that has been designed to deal with the problem.
Overall users seem really pleased with their purchase. The shower faucet has gone above and beyond what they expected and is meeting their needs on a daily basis.
The S R SUNRISE Luxury Rain Mixer Shower has been built using quality materials and modern technologies. This gives the user a more relaxing and complete shower experience. It's perfect for practically every household and while it isn't the most affordable option out there, if it fits your price point it's a great investment.
Aquafaucet Bathroom Shower Faucet
Aquafaucet have been operating for over 25 years and are well known for their shower faucets. They specialise in designing and producing original faucets, with their focus on creating well made and lasting products.
Currently their faucets are in homes all over the world and are commonly used in commercial projects. Known for their reliability and durability, Aquafaucet have made a name for themselves within the industry. Check out the Aquafaucet Bathroom Shower Faucet!
Aquafaucet Shower Faucet Features​
The Aquafaucet bathroom shower faucet is wall mounted with an 8 inch overhead rain shower and a handheld shower application. The unit is made from oil rubbed bronze, giving a distinctive and classic look. It's unique and perfect for a traditional bathroom.
The Aquafaucet bathroom shower faucet features:
Multiple functions: overhead rainfall shower, handheld spray feature
Diverter switch between functions
Full temperature range
Adjustable shower height- 70-120cm
The Aquafaucet bathroom shower has been made to last and offers a reliable shower experience. Simple to fit with some useful features that add an element of luxury to your shower, it's no surprise it's one of the most popular choices.
Aquafaucet Bathroom Shower Faucet User Reviews
The user feedback indicates that Aquafaucet have done a good job with this shower faucet: 
"Excellent piece. Fits well into the cable and handheld. I used this to be able to adjust the power and output of our handheld as it had quite the punch when it was turned all the way on. Now my kids can turn it down to a proper level when they're using the hand-held"

– Arnold M.
The positive reviews far outweigh the negative for this product and overall this product seems up to the task. It's useful for the whole family and buyers tend to agree to adds value to your bathroom and home.
Final Thoughts on Aquafaucet Shower Faucet
This product is made in China, which can raise alarm bells, but is generally well made. The style is distinctive and with multiple functions it operates well. One of the more affordable units out there it's a good choice for your bathroom, providing it fits your style.  
Overall this is a great shower faucet that I would definitely consider if you are looking for a good looking and quality made faucet!
Auralum Chrome Finish Shower Faucet
Auralum are the Chinese company that have made a name for themselves creating home furnishings. They have a varied product range but specialize in bathroom and shower faucets, like the Auralum Shower Faucet System.
They've developed a reputation for their stylish and long lasting bathroom features. They sell hundreds of thousands a month, and are regarded as one of the more reliable shower faucet producers.
Auralum Chrome Finish Shower Faucet System Features
The Auralum Shower Faucet System is wall mounted and made out of stainless steel, with a chrome finish. Featuring an 8 inch overhead rain shower, and handheld shower system, it gives more functionality than traditional shower faucets.
The Auralum Shower Faucet System is available in a range of different models. These vary in price and have distinctive styles and features. If you're able to afford more, then it's worth checking out the whole range.
The Auralum Shower Faucet Systems features:
Thermostatic control to keep water temperature constant, despite others using the water flow.
Modern Style
Lightweight
Durable and Corrosion Resistant
Made from Stainless Steel with Brass Faucet. Features ABS Hand-shower
Adjustable Shower Height
The Auralum Shower Faucet has been made to be easily transportable. It comes with all the parts needed and is easy to fit into your bathroom, with no need of a specialist. It has some useful features and is made with solid materials to give a durable product.
Auralum Chrome Finish Shower Faucet User Reviews
Consumers who have purchased the Auralum Shower Faucet seem pleased with the results: 
"Very nice design and well built style. I mounted it myself with the included instructions. very professional team and super satisfied with making business at low price"

– Hank S.
The only real downside of the product is that it isn't available in every country yet. While it does ship to the U.S.A and parts of Europe, the U.K doesn't seem to be an option. Hopefully this will change in time.
Final Thoughts on the Auralum Shower Faucet
The Auralum Shower Faucet is definitely one of the more basic shower faucets out there. It's a simple design with a few different functions, but it's very affordable and easy to fit. Great for those who appreciate value.
A popular choice for homeowners and is useful for the whole family. Made the last and resistant to corrosion it's a good investment in the long term.
Final Thoughts on Shower Faucets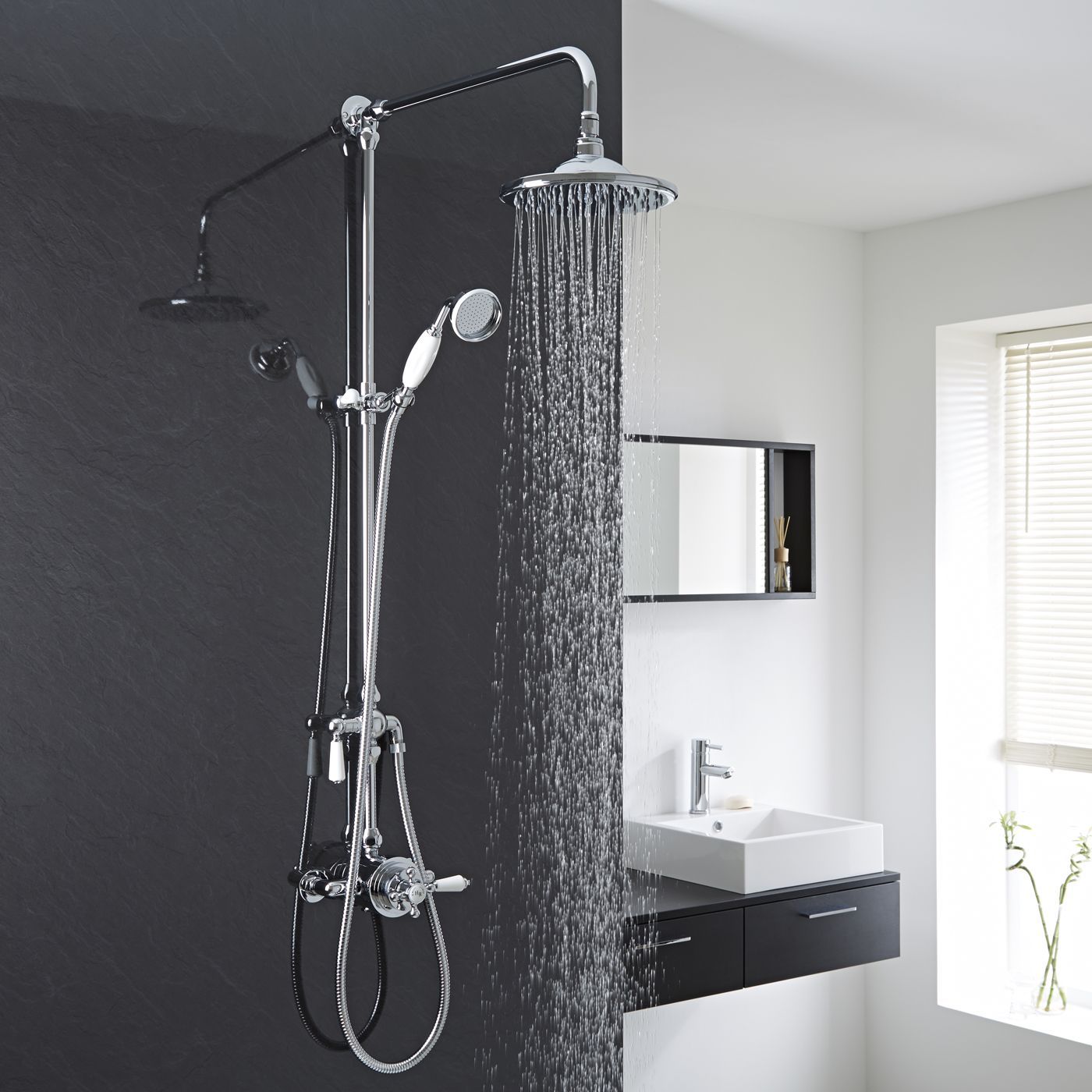 When you're looking at shower faucets I know how overwhelming it can be when looking at all the different products on the market.  After going through this process multiple times for myself and some of my clients, I hope my insight can save you some time when picking out your new faucet!