As an Amazon Associate we earn from qualifying purchases.
It's true that sometimes furniture lacks character, and what better way to inject some life into your home than by getting a celebrity to put some character into it. The Sofia Vergara collection was created by the celebrity to bring some adventurous style into your home, while keeping all of the comfort you're used to.  
In this Sofia Vergara furniture review guide you will learn the history behind the collection, you will learn the types of furniture they produce, you will learn their furniture quality and their warranty information.
My Favorite Sofia Vergara Furniture Pieces!
Over the past few years I have had the opportunity of testing and using quite a few Sofia Vergara furniture pieces.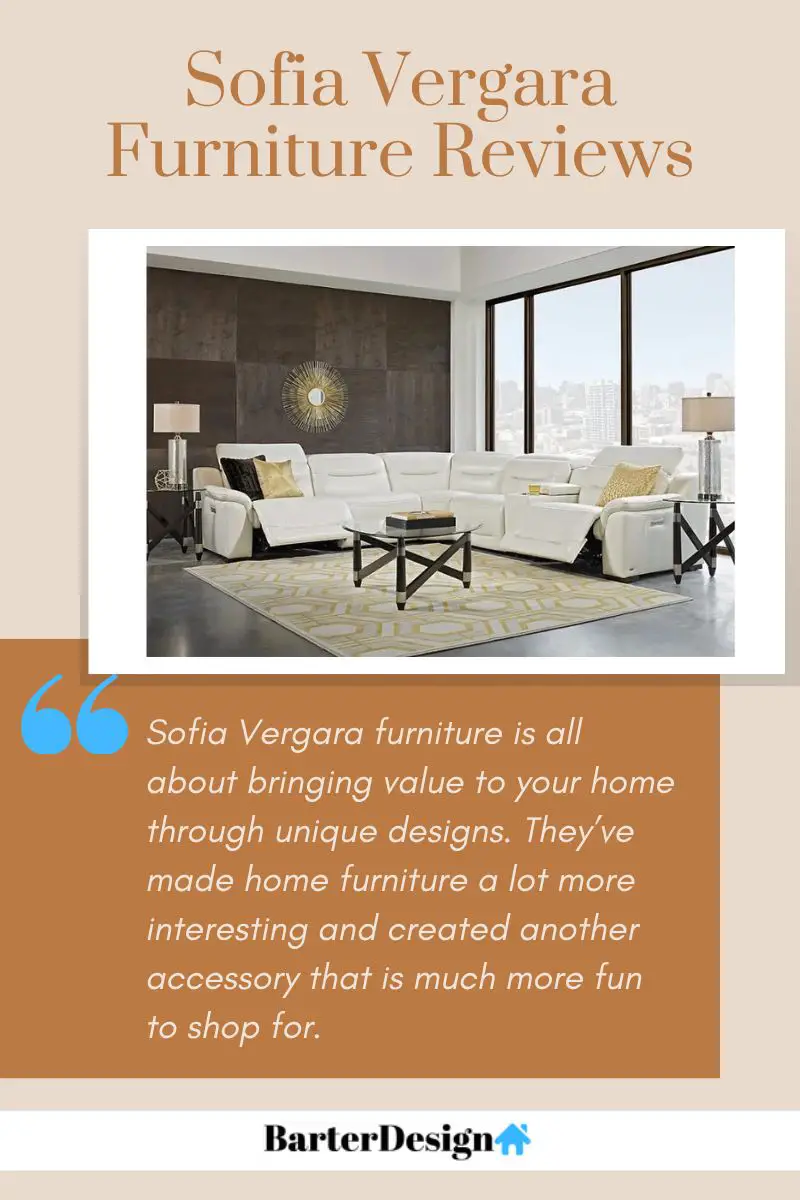 About Sofia Vergara Furniture​
This isn't the first time Rooms to Go have partnered with a celebrity to release a furniture range. The hugely popular Cindy Crawford collection took the U.S.A by storm and is now in thousands of homes. But these ranges aren't just popular because of the name, it's the unique style and design that is making the Sofia Vergara furniture so sought after.  
That being said, after hearing about Cindy Crawford and even another big name like Ashley Furniture you might me a little cautious with big names, but how about Sofia Vergara?
Rooms to Go itself was founded in 1991 and since then they've grown quickly. Now they're the no.1 independent furniture provider in America, with distribution centres across the country for you to find great deals in. Rooms to Go believe in value all of the time, and keep their prices competitive without flashy sales, this means you can always rely on a bargain.
The Sofia Vergara collection has been designed to bring sexy style and utility into your home with some unique pieces to keep your living room fresh.  If you are looking for other unique pieces you should check out England furniture as well!
Types of Sofia Vergara Furniture
There are over 14 different collections of Sofia Vergara furniture, most of with are living room sets. These sets include a variety of different pieces within them, like mirrors, chests of drawers and even lighting, but the centerpiece is the seating. The collections are available with:
Sofas
Sectionals
Chairs
Ottomans
Loveseats
Each living room set is made to fully reinvent your home, with each piece matching the style and colour of the others.  If you like the options available with Sofia Vergara, then I suggest you take a look at Cindy Crawford as well!
Here are some of the popular products of Sofia Vergara Furniture:
Sofia Vergara Capistrano Blue Leather Sectional Living Room
This Sofia Vergara Furniture type features blue top grey leather seats for a contemporary theme. The seats have tack arms and tapered legs for comfort. The quality of the leather feels durable and can last for a long time.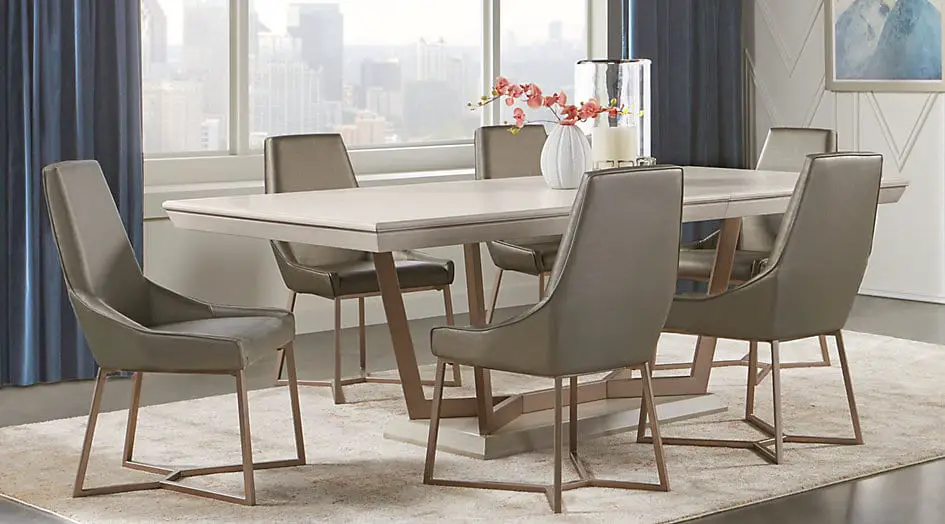 Overall, it's a classy-looking product for modern living room design with low maintenance. The product includes 5 pc sofas for the living room. 
Sofia Vergara Zamora White Leather Sectional Living Room
This Sofia Vergara product features 3 pc stylish, gleaming, and durable products for your living room. The supple top-grain leather highlights the theme of the product with a classy and contemporary fashion. 
It also has white covers and is easy to clean with any cotton cloth. In terms of material quality, it is durable. The material is pure leather which can last for a long time. However, the product doesn't come with accent pillows. 
Sofia Vergara Via Sorrento White Sectional Living Room
Unlike the previous products that use leather, this one uses polyester and polyurethane. It offers quilted back cushions, soft yet sturdy headrests, a bulky frame, and legs. The classy and refined style is perfectly complemented by white covers. 
Sofia Vergara Pacific Palisades Beige Plush Living Room
This product is also made with polyester with some classic traditional inspiration. It has bulky and sturdy arms and legs for sofas. It blends in well if you want a modern or contemporary theme. 
The product is also easy to wash and clean with mild detergent and cotton cloth. Overall, a really versatile and classy product with the downside of no accent pillows included in the package. 
Sofia Vergara Pacific Palisades Scarlet Plush Living Room
It's closely similar to the Pacific Palisades Beige Plush with scarlet as its main color theme. You get some comfortable headrests, chairs with tufted seats, and arm pillows. Overall, it's comfortable and easy to maintain.
Sofia Vergara Furniture Quality
Sofia Vergara is available through Rooms to Go outlets. Rooms to Go themselves are a distributor with different manufacturing facilities around the world producing their goods. This means the quality can vary slightly and may not be as high as some of the American brands.
However, Rooms to Go has vigorous checks on each of their furniture pieces before they're put on display of sold to try and keep the quality high. The infrastructure built up by the company means they have speedy delivery so you aren't kept waiting for the products.
Rooms to Go is known as one of the more cost effective brands that still offer value. The products are not as well made as a custom furniture company but It's still reliable to stand up to the daily wear and tear.
Aside from Rooms to Go, you can find other options that showcase almost the same quality and affordability. Just like Sofia Vergara furniture, this Light Gray Sectional with Storage Ottoman is both versatile and functional.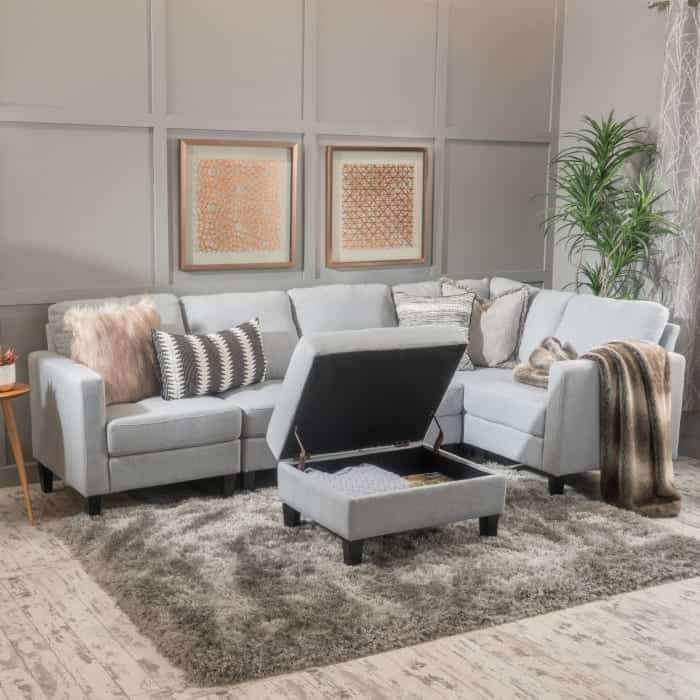 Sofia Vergara Living Room Sets
There are 4 different styles of Sofia Vergara living room sets available:
Power
Classic
Reclining
Sectional
Each of the collections is built to empower the room, with a classic feel. It incorporates modern comforts with traditional style to give a bold living room you'll be proud to show off. By infusing color into their design, it adds life to a space just like how this Weston Navy Loveseat does.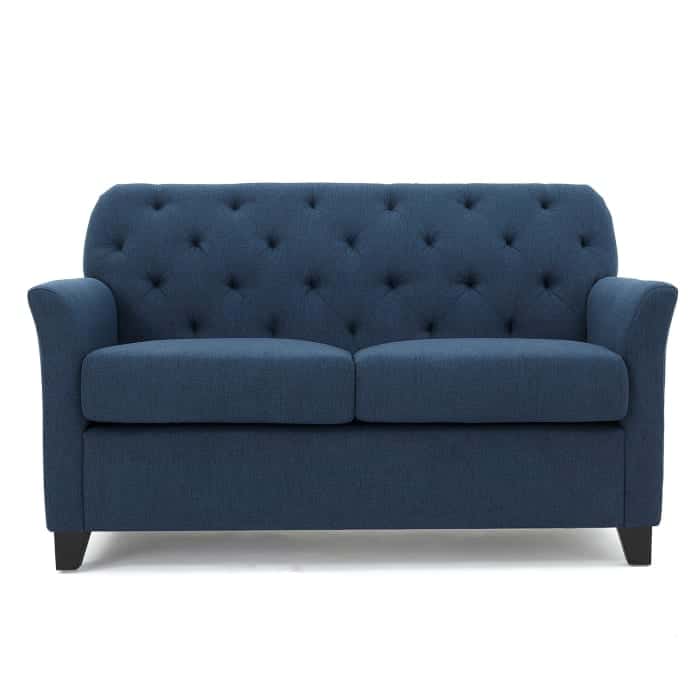 Each of the Sofia Vergara pieces features a note from the designer, Sofia Vergara, about the origins and inspiration behind the pieces. This gives a much more personal touch to the furniture and feels like it was made just for you. I've found that this type of personality is similar to Arhaus' living room sets as well.
For the furniture itself you can choose from stationary or a range of reclining options. These all features unique mechanisms that give a different range of motion. Reclining is the most popular option but power reclining and glide motion are both available as well. It just depends on you and your family's preferences.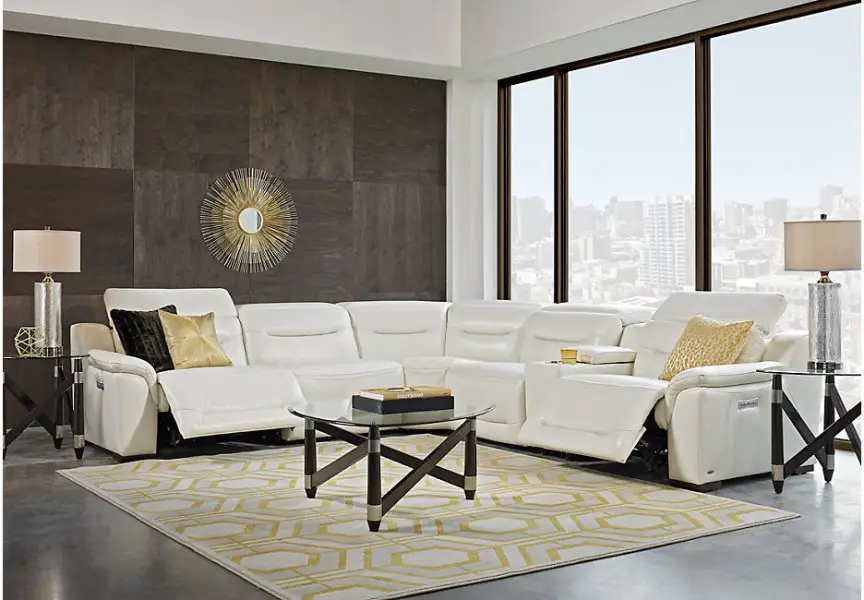 There are fabric and leather options for you to choose from. The different colours and feels of the material can make a big difference to your furniture so It's worth going and testing it out before buying.
Leather gives a classic look and more durability for your living room furniture while still being soft to the touch.  The leather is of similar quality of Franklin furniture leather quality.
If you prefer something made out of fabric, this Traditional Wheat Recliner has a similar style as Sofia Vergara recliners. Both pieces feature classic but modern designs that would suit any living space and provide comfortable seating.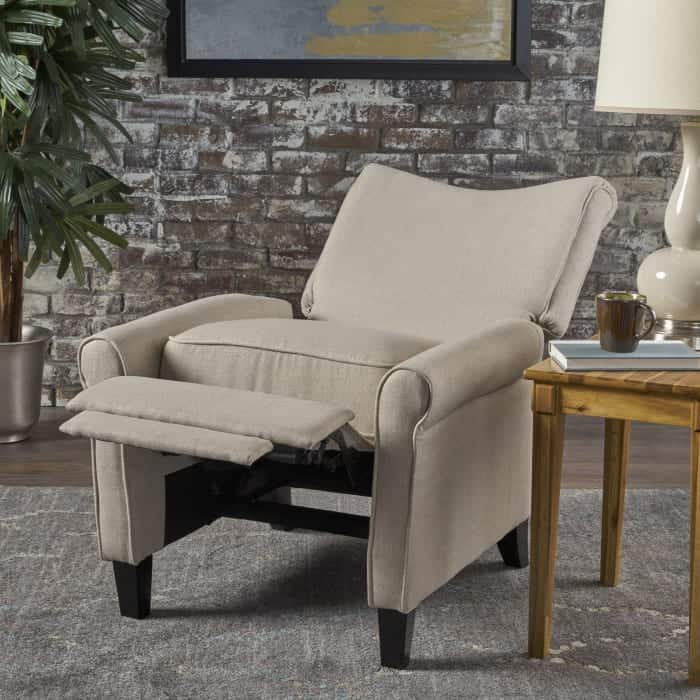 Sofia Vergara is all about the style. With bold colours and striking looks you'll find the unique textures and furnitures make a room come to life. It's best to incorporate as many of the matching units as possible but even just the sofas make a great addition to your home.
Sofia Vergara Furniture Review and Complaints
Customer reviews of Sofia Vergara furniture are very positive about the exciting energy put into the collections:
Sultry, sexy, spicy ladies need furniture too right? Of course. And Sofia's furniture is modern and affordable. So it fits!

– Tony S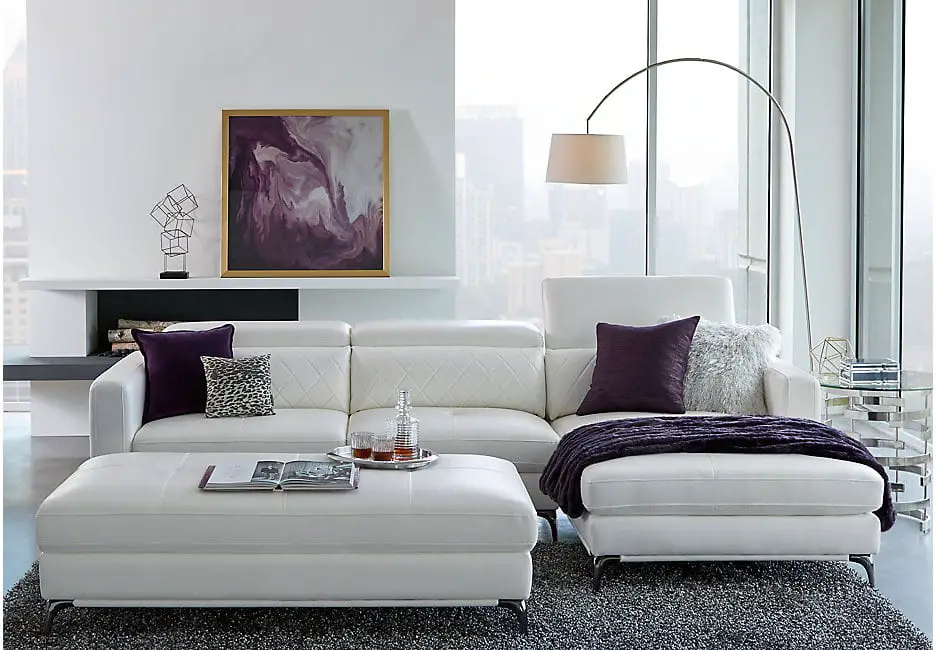 While people really appreciate the design there are criticisms of the quality in the furniture:
While the price makes you feel like you are getting a decent deal, the old saying, "You get what you pay for," comes to mind. I have purchased nothing from there, that I have not had problems with.

– Michelle A
Quality and durability of furniture can be a real concern and It's disconcerting to see these kind of reviews. The best bet is to find a local dealer you can trust who will be able to explain what you should expect and how long the units should last. Similarly upon delivery look for any defects so you can quickly report any problems.
Sofia Vergara Furniture Warranty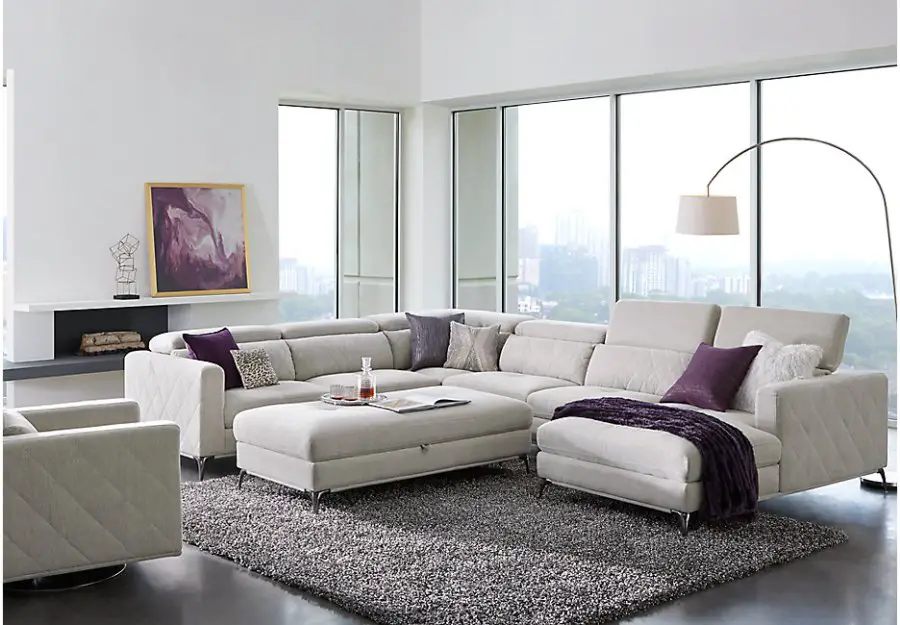 Rooms to Go offer a 1-year warranty on most of their products, including the Sofia Vergara collections. They also offer a 3-year guarantee on their fabrics because they are treated with a special 'forcefield fabric protection' designed to protect from wear. The warranty covers all defects in products and workmanship.
Always check with your furniture dealer about what exactly is covered by the warranty so you'll know where you stand if something does go wrong.
My Final Thoughts on Sofia Vergara Furniture
Sofia Vergara furniture is all about bringing value to your home through unique designs. They've made home furniture a lot more interesting and created another accessory that is much more fun to shop for. While the quality isn't competing with the top-level manufacturers the designs blow a lot of them out of the water and bring a fresh look to living rooms.
If you're looking to reimagine your home and living room then check out the fashion and style of the Sofia Vergara collections and you just might find what you were looking for.