As an Amazon Associate we earn from qualifying purchases.
Flexsteel Furniture is a well-established manufacturing brand within the U.S., operating in over 50 countries in the world, with over 1200 dealerships carrying their bonded leather furniture.
As you learn more about them, you see their operation is as slick as their website. If you haven't heard of them yet, this is your quick breakdown of who they are, what they're about, and what they can do for you.
Flexsteel Latitudes Review: Is Flexsteel Right For You?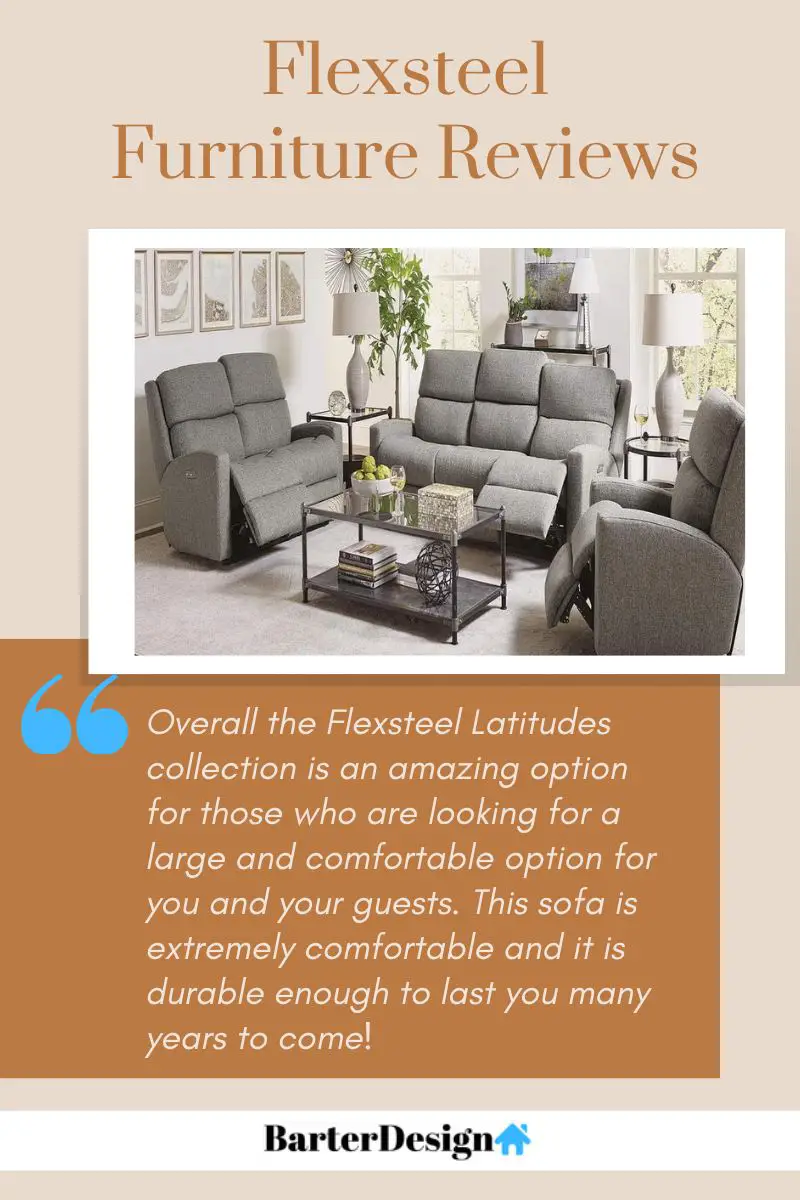 Flexsteel Sofa Reviews!​
Flexsteel offers a wide range of sofas with various styles, shapes, designs, and capabilities. They have multiple sleepers, leather couch options, lift sofas (if you want to double up with a bed), sectionals, and conversational sofas. From two-person love seats to larger units, there's much to choose from, and it might even provide some inspiration.
To celebrate their long history, they even reintroduced their iconic Thunderbird sofa that was popular in the 50s and 60s. Similar to this updated furniture is the Mid-Century Modern Gray Tufted Fabric Sofa, which has a classic but modern feel.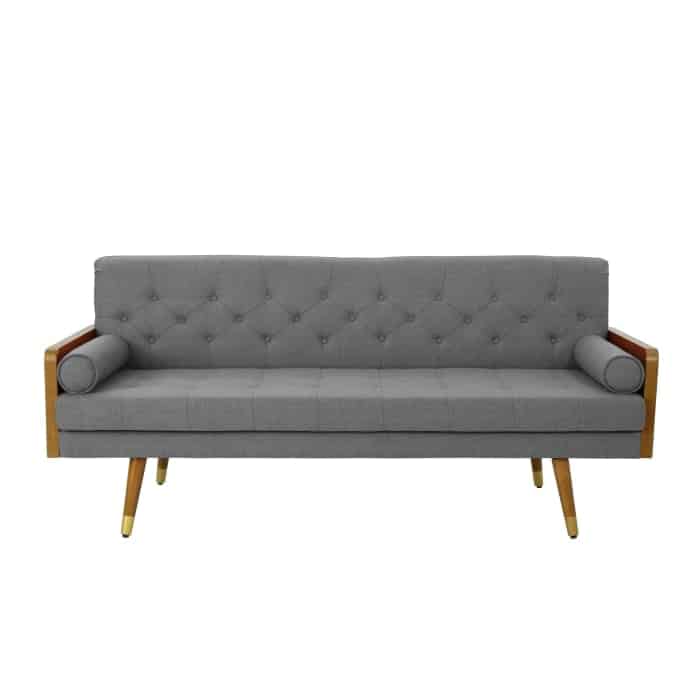 "We purchased the Flexsteel Sectional couch about three years ago. It has been the best furniture purchase we have ever made! We searched long and hard for the right couch.

We decided on the Flexsteel sectional because it was easily moved and split apart if needed for rearranging and moving. We liked the various, very durable fabric options"

– Amakin, Fort Wayne Indiana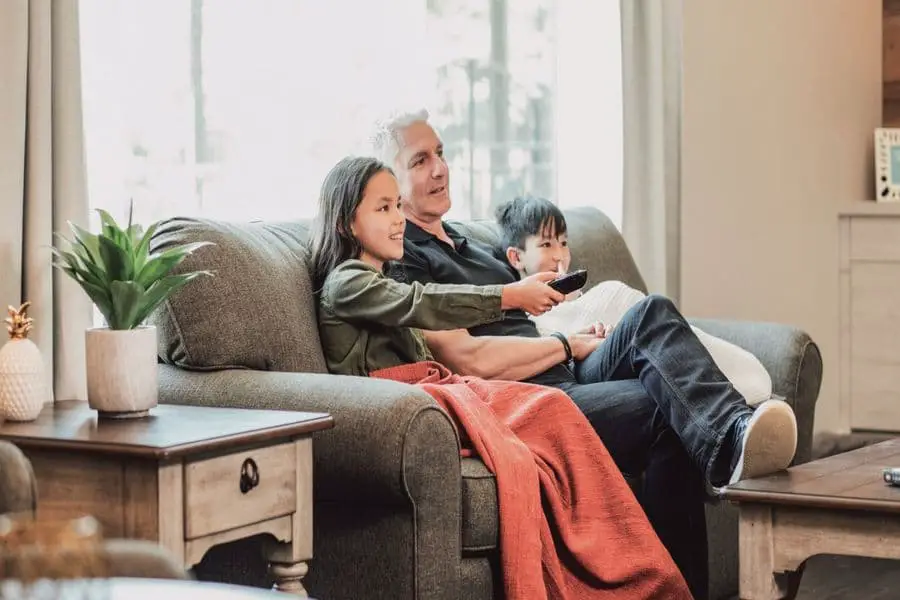 If you don't mind as much for the modern-day touches like USB chargers, I think the style of these sofas is similar to Catnapper sofas which could give you some more ideas. This Winston Gray Loveseat has the perfect mix of comfort and style minus the extra features.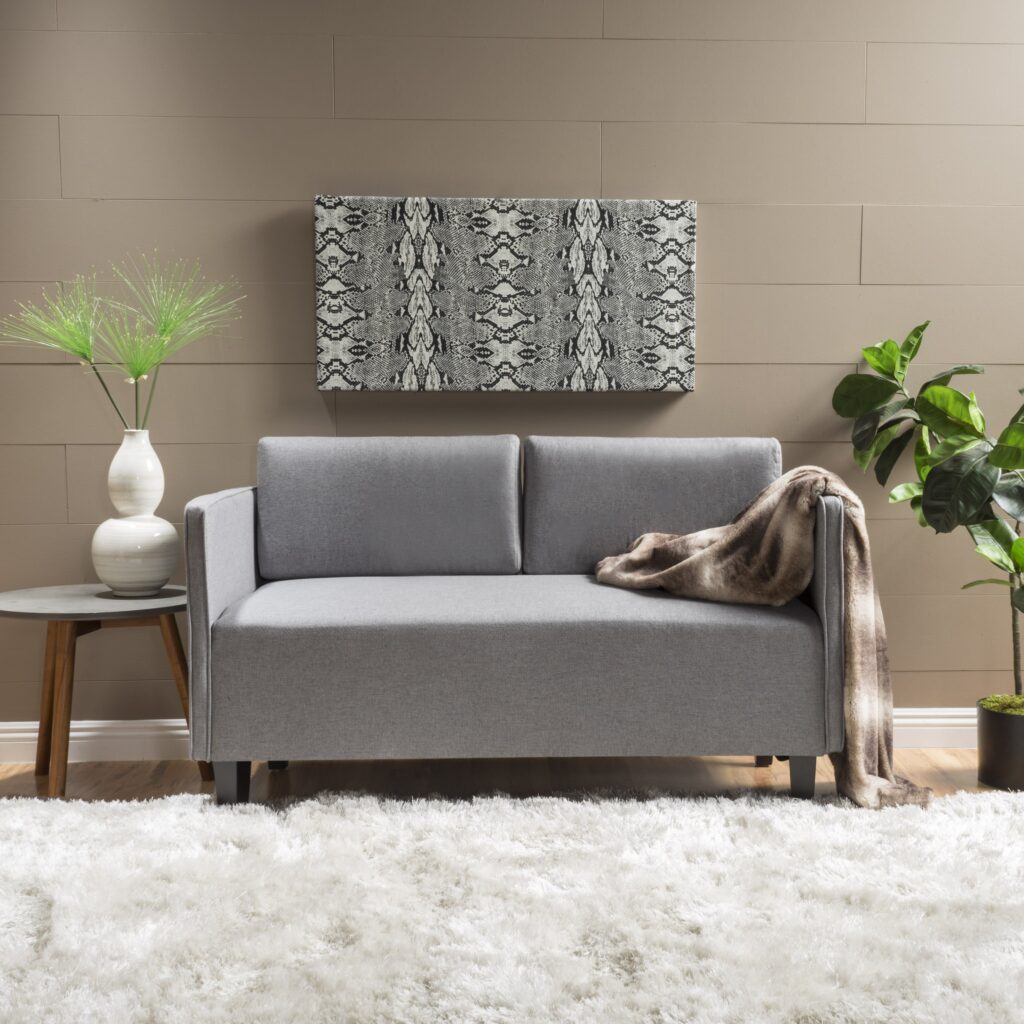 Flexsteel Recliner Reviews​
"I purchased a Flexsteel all leather recliner from another furniture in Santa Maria, CA in 1985 and I love it, and would never want another recliner!"  

– Mike O.​
Like the sofas, the recliners have customizable options for each unit. From fabric to features, you can see the modern twists Flexsteel has incorporated to give more practical use to the user.
They also allow for more traditional options with heavy-duty mechanisms and thread stitching. This combination of traditional crafting and modern conveniences makes the recliners popular.​  
Southern Motion and Palliser Furniture make similar recliners. Other than these brands, the details, and design of this Traditional Black Leather Recliner with Steel Cup Holders also remind me of Flexsteel pieces.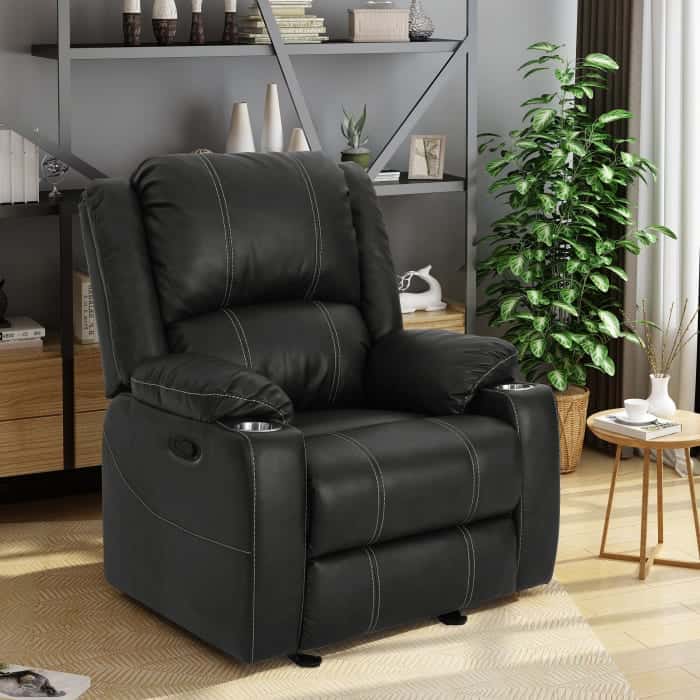 One of the most popular recliner sets by Flexsteel is the Latitudes Collection. This collection of loveseat recliners is known for being extremely stylish and comfy while maintaining a casual feel.  It is great for a relaxing home theatre setting and perfect for a family gathering.  
It features the simple but functional features you have come to expect, like rounded track arms and double-needle top stitching. These love seat recliners are extremely comfortable, with a firm backing that gives enough support but enough give to have you sitting comfortably!  
Flexsteel Furniture "Heart of Steel"​
During its lifetime Flexsteel has advanced the industry with its innovation and developments. The most significant is their "Heart of Steel" or blue steel spring. At the heart of their upholstery in all units is this unique spring which does not need retying or replacing but provides consistent support.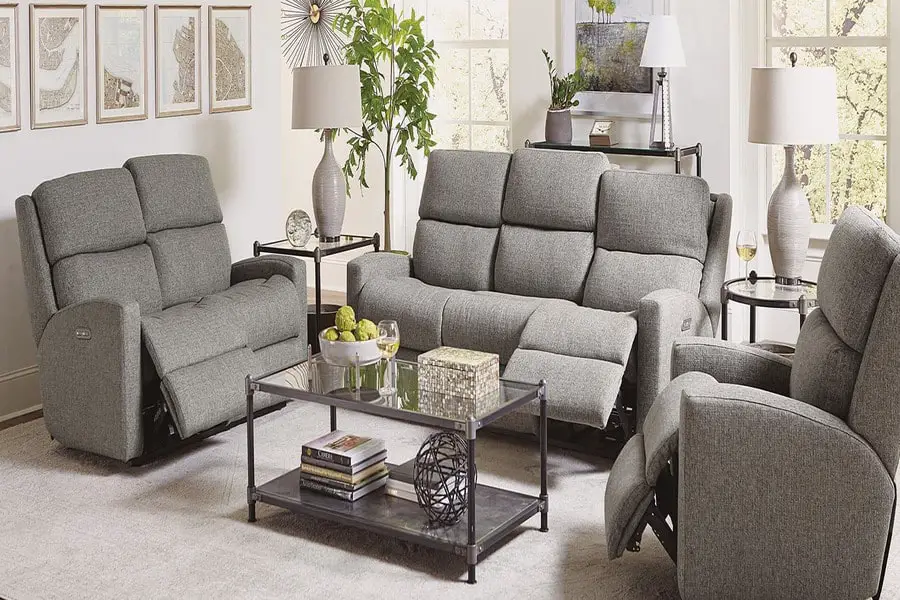 Flexsteel always looks to improve its products and advances to benefit the user. This testing, research, and knowledge are brought with them into the manufacturing process of their units.
"Just ordered six pieces for stock yesterday and its strong, well-built, and pretty much everything on it is fully warrantied. Frames, springs, cushions and motion mechanisms all carry limited lifetime warranties" 

– Dcollie
The theory and the value for true craftsmanship from Flexsteel remind me of Smith Brothers Furniture and Four Seasons Furniture.  These companies try to put out the best bonded leather furniture they can, but they don't manufacture; they craft!
Flexsteel Warranty Policy
Flexsteel offers a limited lifetime warranty on the internal structures of its upholstered furniture.
This great warranty includes the
springs
wood frames
metal bases
reclining mechanism
seat foam
feathers
They offer a 5-year warranty on the electric and mechanical components and the mattresses.
There is also a 1-year warranty of:
finished wood
plastic components
metal components
battery packs
bonded leather
filling materials
pillow fiber filling
upholstery materials
"Flexsteel Industries exchanged the sofa even though I purchased it two years ago, and the specific case wasn't under warranty."

– Rockintimes​
Flexsteel is willing to uphold its warranty agreement, but it's always worth checking with your dealer about the specifics.
Flexsteel Reviews​
Flexsteel customer reviews are almost all positive about the finished product, with users describing them as reliable and standing the test of time.
"Flexsteel has the best quality of furniture that I have ever owned!" – John W

– Rockintimes​
Flexsteel has had some criticisms made about a few lines in recent years after some outsourcing to non-U.S furniture manufacturers. Similarly, some issues have been raised about the bonded leather durability. Customer service, which is often a problem in the industry, has also been criticized, with users unsure whether to contact dealers or suppliers.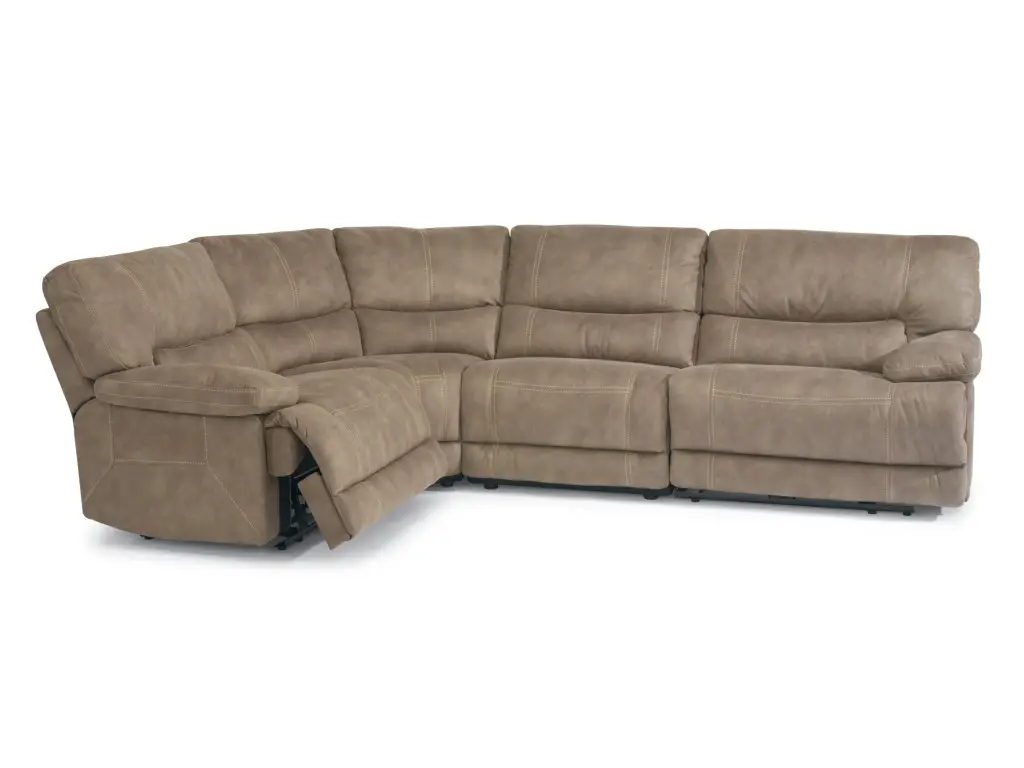 Flexsteel Latitude Reviews
You will need something special if you want something large and comfortable for your guests.  If you need something large, you must check out the Flexsteel latitude collection!  The Flexsteel latitude is really something special. It is a large reclining sectional sofa.  
The Flexsteel latitudes collection is manufactured with extremely durable upholstery to protect the real leather sofa from children and pets.  Along with this, this quality furniture collection has an extremely high level of comfort. Because the Flexsteel latitude is a reclining sectional sofa, you are given the ability to perfectly and accurately find the exact right position for you.  
This Flexsteel latitude also features a single full-support chaise piece that allows perfect comfort for people of any shape and size.  
Overall the Flexsteel Latitudes collection is an amazing option for those looking for a large and comfortable option for you and your guests.  This Flexsteel latitude sofa is extremely comfortable and durable enough to last you many years!
Frequently Asked Questions
What Makes Flexsteel Springs So Special?
Flexsteel Springs always come with their furniture, and it's popular. Whether it be Flexsteel sofas, Flexsteel recliners, or chairs, you can find Flexsteel springs when you turn the furniture upside down. The Flexsteel springs are made of high carbon banded steel. 
The steel is durable and holds its shape for a long time making your furniture usable for years. The Flexsteel spring plays a huge role in support and durability. It has a special C-shaped arch that provides balanced seating in sofas. 
Where Is Flexsteel Made?
Flexsteel used to have 4 to 5 producing plants in the U.S. Most of its furniture sales now come from its eCommerce channel. I may continue to see Flexsteel bounce back as it explores its digital options. 
Conclusion
Overall I hope you have enjoyed my Flexsteel reviews, and if you have any other specific questions feel free to leave them below. Thank you for visiting ConsumerHomeDecor!​