The full line of faucets available from Kingston Brass comes with lots of time and effort put into the design and functionality of each piece. Whether you are into the dark, romantic styles of the 19th century or the sleek and minimalist design of contemporary styles, you will find something you like. With the timeless shapes and durable materials of each faucet, you can find many great options that will fit perfectly with your kitchen's décor and style.
Kingston Brass Comparison Table
Having a well-functioning product is just as important as the aesthetics, and getting an option that is durable and will last for years is imperative. A well-made faucet will ensure that your water pressure is as powerful as it should be and that you can have hot and cold water on demand without wasting water and hiking up your water bill.
With the many available styles and models of kitchen faucets offered by Kingston Brass, there are a lot of options to pick from for your home. Although you can't go wrong with any of these choices, you do want to find the one that best matches your kitchen's design and that you will love for years to come. This requires some shopping around to find the perfect fit for you, but won't be difficult with these amazing choices.
In this article, we will review four of the best, and most universal, options that this brand offers and show you all of the features and specifications that make each model great. These have all been hand-picked and are our favorites of all the options available for their elegant design, superior functions, and many great features.
This Kingston Brass Concord kitchen faucet is a high-arc model that has a sleek and elegant look that will add the finishing touch to any kitchen. The spout has an 8 ½–inch spout projection and has over 7 inches of clearance. This is great for washing larger dishes in the sink so that you won't hit the faucet. This model also has a one-handle design that allows your counters more space without having a handle on each side of the unit.
The one-handle design allows you to have only a single handle on the right side of the faucet that can give you warm or cold water. Turn the handle away from your body to heat the water, and pull it towards you to allow cold water to come out. You can adjust the flow of the water by pulling the handle to the right, away from the faucet, to increase the power and push it closer to it to decrease it.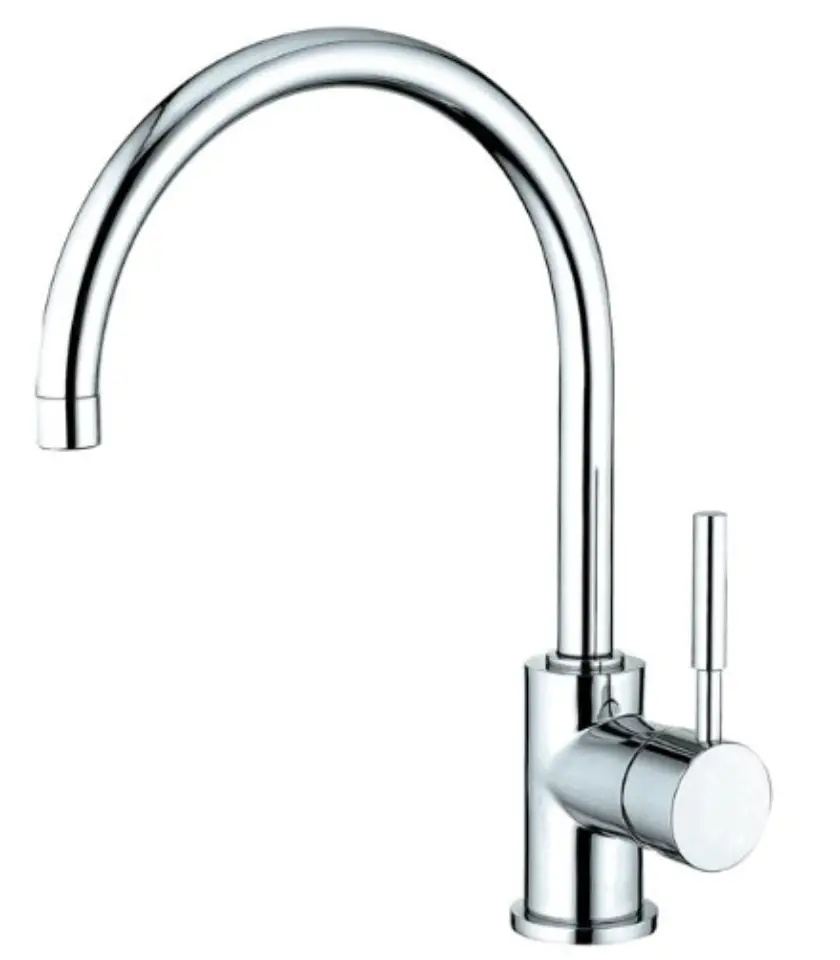 However, the one thing that this faucet doesn't include with your purchase is a side sprayer. This can be added on but it doesn't come with the faucet, which would have been a welcomed addition. If you like this model and want to purchase the side sprayer separately, you do have the option to do so if you would like that piece in your kitchen.
This model also comes with ceramic disc cartridges that are more durable than other plastic models. These cartridges help to conserve water usage and prevent splashing. These are attached to the head of the faucet and help to control the water pressure so that you have less water waste. It can also help to prevent splashing.
The faucet is made using solid brass which is one of the most durable materials used in the plumbing industry. Brass is both corrosion and rust-resistant and also doesn't require any high-maintenance routine care for proper upkeep. This is great for busy families who don't have the time to take care of finicky faucets. The outside of this brass faucet comes with a smooth, chrome-finished that will match with silver or stainless-steel appliances.
This contemporary option is the perfect choice for those who have a unique and eclectic design to their kitchen and want a solid piece that will bring it all together. With the chrome finish and high arch, it will not only complete the look you're going for, but it will also make a bold statement itself and make the whole look unified even with the different design elements.
This Heritage kitchen faucet is a beautiful and vintage-styled option that everyone in the house will love. The bridge design gives the faucet a more industrial look that adds a masculine feature to the home, and the vintage-inspired curves add a bit of femininity to the strong, solid design. The faucet has an 8 ¾-inch projection and almost 10 inches of spout clearance to allow for washing bigger items with ease.
The faucet doesn't require much for installation as it has only four holes that it needs to be attached by. This prevents you from having to deal with a more complicated installation and stops you from needing to make more holes in the counter in order to attach it. With maximum water flow of 60 PSI, you get the standard pressure that is best for handwashing, dishwashing, and filling pots for cooking.
The two-handle design comes with a handle on both sides of the faucet, one for the hot water, and one for the cold. Unlike the single-handle options, to make warm water you will have to turn on both handles to get a temperature that you like. However, with the industrial A-cross handles that are created with a traditional Victorian-era flair, you will not mind having two of them to look at.
This faucet model has 1/4 -turn ceramic disc cartridges that are to be attached to the faucet to adjust the water flow. These cartridges help regulate water usage so that there is no waste and more water is conserved. This can be a good thing for the environment, and it can help save you some cash on your utility bills.
The Heritage comes with a side sprayer included in the price of purchase and attaches separately from the faucet itself so you can place it at the distance you want. This sprayer has the same curved design and Victorian, antique style so it fits uniformly with the faucet and handles for the final décor piece of the room that brings the whole kitchen together.
This Deck Mount Kingston Brass Faucet is a transitional choice for those who want the best of both worlds. Maybe your design aesthetic is not fully contemporary, but also not completely antiqued, that is where this style of faucet works best. With a slightly more contemporary look than the Victorian-era options, but more traditional style than the contemporary choices, this model is right in the sweet spot.
This faucet has a high arch design that has 8 ¼-inch projection and almost 7-inch clearance that allows for cleaning moderately sized pots and pans in the sink without hitting the faucet head. This model has a PSI rate of 80, which will help rinse dishes better without having to soak them in hot water and scrub them. The signature solid brass construction that Kingston Brass is known for is strong and durable for long-lasting use.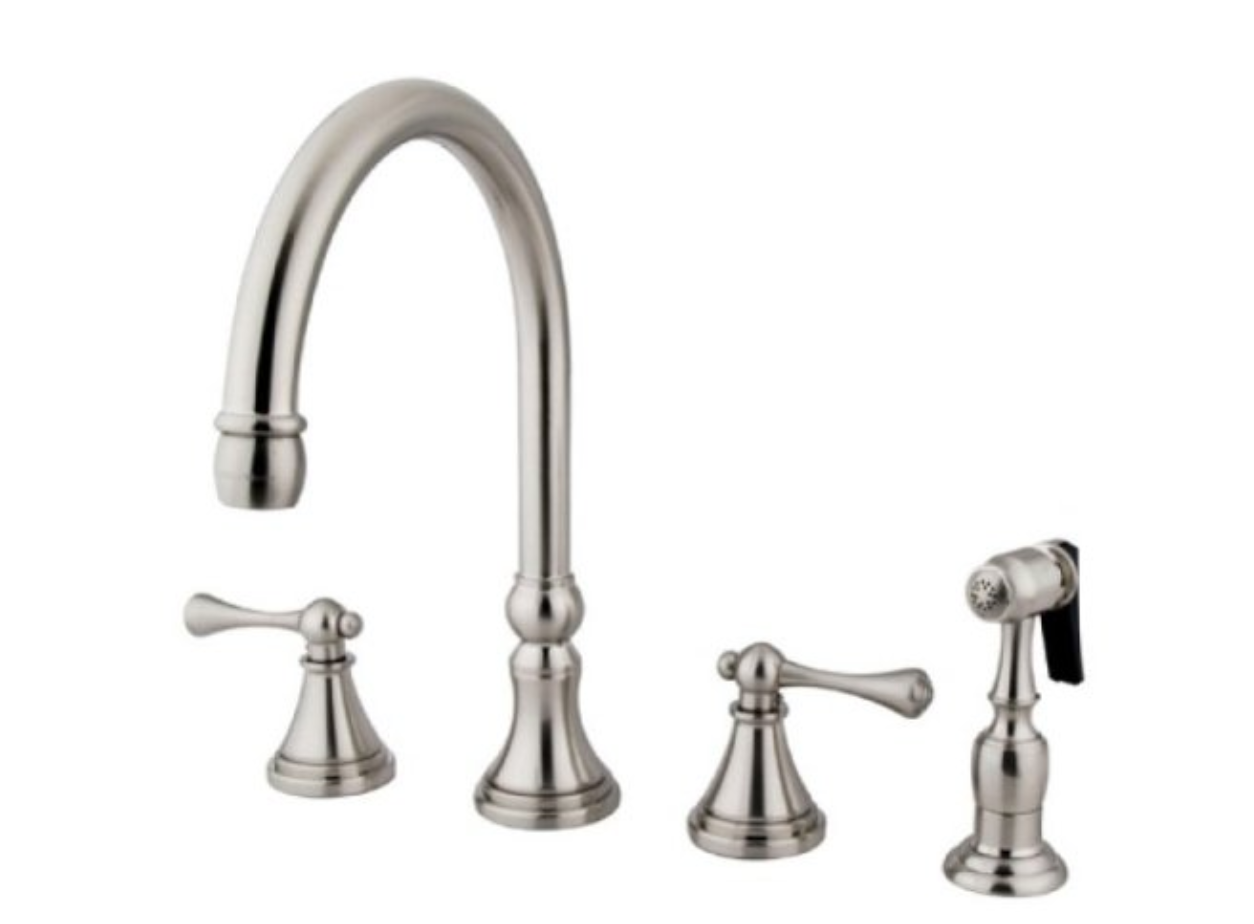 The Deck Mount faucet includes a side sprayer with the purchase price and is made as to the same style of the faucet and handles for a uniformed look. The side sprayer helps increase and concentrate water pressure to help power wash dishes or clean the sink. The sprayer comes off the base and extends to reach the farthest end of the sink and is able to reach around dishes easily.
This faucet comes with a removable aerator that is located under the spout's head that controls the water usage and prevents waste. This can help conserve water even during heavy use and help lower your water bill. This is also removable so you are able to take it out and replace it when needed, or remove it if you like.
Although this faucet is built with solid brass, it comes with a modern satin nickel finish that makes the product a shiny silver. This finish gives a chrome-look to the faucet without having the intense shine that chrome brings, and it allows you to match the color to stainless steel and silver appliances for a complete kitchen look.
The vintage wall mount faucet is a model that works for homes that have water lines that attach at the wall behind the sink, or for a redesigned kitchen with this attachment style in mind. The wall mount allows you to save space, and if you are remodeling, it gives you more room to extend your sink. This style is also something that is unique because it is not as usual, so it sets your kitchen apart.
The vintage-style design is seen in the curved faucet and the small shapely details that add extra depth and movement to the product. The swivel spout is movable so you can push it from side to side to help fill pots of water for cooking or have the water flow directly onto a large plate or pan for washing. This faucet comes with two handles that each has a special curved design to them that match the whole look.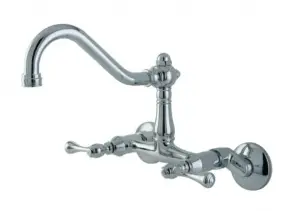 This faucet is built with solid brass, as are all Kingston Brass choices, so you know that you are getting a product that is made from the highest quality materials. Brass is rust and corrosion-resistant and isn't high maintenance when it comes to routine cleaning. The brass is also extremely strong and durable so the unit is built to last for decades of use.
This option also comes with ceramic disc cartridges that are drip-free and provide much longer use than the typical plastic cartridges. These discs help to prevent any splashing when the faucet is in use and also aid in water conservation even when the faucet is heavily used. These are also very easy to replace, so when you need to, it won't take up much of your time to do so.
Although this vintage faucet looks like it could belong in the Victorian Era, the polished chrome finish begs to differ. With a shiny chrome-plated finish that gives an incredible sheen to the faucet, this vintage-inspired option is brought into the present times. The chrome finish will help keep the faucet durable because of the added strength, and it is one of the most popular finishes because of how well it blends with any kitchen design.
Final Thoughts of Kingston Brass Kitchen Faucets
The Kinston Brass name is known for its superior brass construction and amazing design elements, but although all of their options are great, the models listed in this article are some of the best of the best. With these options, you get strength and durability with elegant and timeless designs that will fit with whatever décor you have in your kitchen.
Whether you are looking for a vintage option that will go with your floral Victorian décor, or you want a sleek and contemporary choice that will complement your modern design, you can find one that works for you in this list. Plus, with these options all having an element that will help conserve water while you use it, you can save some money on your water bill while doing some good for the environment.  If you're looking for a more technological design then check out our Brizo faucet reviews page.
Any of the choices above will fit someone's kitchen, but deciding which one will work for the style that you're going for is up to you. However, don't be afraid to mix things up and put a contemporary option with a vintage-styled kitchen, and vice versa. Styling your home means making it your own, and with these Kingston Brass kitchen faucets adding the perfect final touch to your space, you will finally feel at home at last.