If you buy something through a link in our posts, we may get a small share of the sale.
This original review was from a few years ago, it seems that Southern Motion's quality has dropped recently.  I will be working to do my own investigation and try to come up with a new review in the next few weeks.  So Please Take The Below Review With a Grain of Salt!
Southern Motion Furniture Review
​Southern Motion Furniture.  When I say that you will probably have one of two reactions.  You will either be jumping for joy because you know how great this brand is!  Or you will say "What the heck is Southern Motion Furniture.."
If you are looking for the extremely short answer to my reviews, I suggest you take a look at the Racetrack Recliner if you are looking for a new recliner, or if you are looking for something in between you should take a look at the Fandango Recliner Love Seat as well!
Don't worry if you had the second reaction and not the first one.  I was in your shoes at one point.  I had no idea what Southern Motion Furniture was, until one of my friends called me bragging about their new purchase. A brand new Sofa!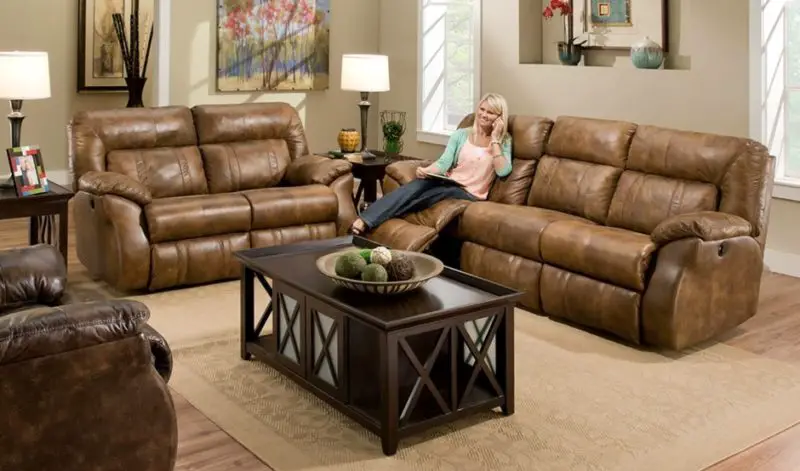 Southern Motion Furniture manufactures some of the best reclining chairs on the market!
That was the day my taste in furniture changed forever.  Ever since college I had always had cheap furniture and most of the time they were used furniture (Gross, I know.)  But after my friend showed me his new sofa, I was starstruck.  The first thing I said when I say down on his new sofa was "Wow!  So this is what a sofa is supposed to feel like!"
It's amazing what a difference a high quality set of furniture can make compared to the cheap stuff that most of us have used at one point in our life.
And Enter Southern Motion Furniture!
I will go more into depth about the history of Southern Motion, but I just want you to know that this American company produces some of the highest quality furniture products that I have ever experienced!
I have since been in the home decoration industry for many years, and part of my experience has been with furniture, and there are many great brands but this has to be one of the very best!
So without further ado! Here is everything you need to know about Southern Motion Furniture!
Southern Motion Furniture Reviews
So now I get to talk about what everyone wants to hear. THE FURNITURE!
I know most people are here to read about Southern Motion Furniture and not so much about their whole life story so I tried to keep the introduction short! So I guess the first thing to answer is "What kind of furniture do they sell Sell?".
Southern + Motion produces many different kinds of furniture and pieces but most popular are their Sofa and their Recliners!
Those are the two most popular products that are produced but they also make many other high quality products! They also produce chairs, sofas, stools, ottomans and a few other products.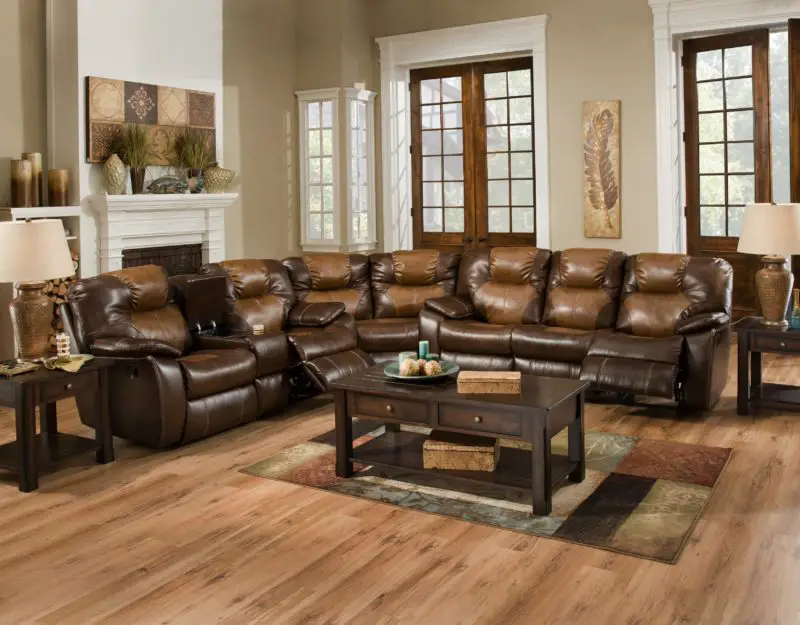 I have personally bought and used many different products that were produced by this company and I Absolutely Love Most Of Them!!
There aren't many furniture brands that I have a hard time thinking of negatives or cons for, but Southern Motion is definitely one of them!
I have been in the furniture industry for years and years now. And I have loved every part of working in this industry but the best thing about it is testing new furniture products!
I test and review dozens of home decoration products every single week. And there is nearly always negatives or bad things about products. I mean it is my job to find these negatives in the products so I can let the company know about these flaws as well as consumers about these negatives.
However, Southern Motion is incredible! SM has been around for nearly twenty years now, and I have been using their products in my personal homes for nearly that whole time!
Not only am I recommending their Recliners and their sofas to my peers, and I am recommending these awesome products to my close friends and family!
That is how much I love this brand! Every brand has their pros and cons, however Southern Motion is a brand that is filled with amazing Pros with nearly no cons at all.
The sofas and recliners produced by Southern Motion are the highest quality products, that are made out of the highest quality materials.
Not only will these materials provide you with an incredibly comfortable experience, they will also provide you with a piece of furniture that will last you for years!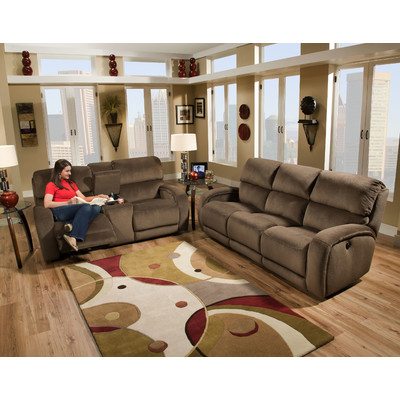 Many companies sell leather furniture, but then they end up tearing and scratching within six months of purchasing them. However, Southern Motion recliners have been proven to last years and years without tearing and chipping.  
These pieces are some of the most high quality products that there is on the market!
I personally guarantee you that if you buy any piece of Southern Motion Furniture, whether that be their sofas recliners, I know that will be the best decision that you have ever made!
These products will drastically improve the aesthetic look of your living room, as well as providing you with the most comfortable living product that you have ever felt!  I definitely suggest you take a look at SM products!
Southern Motion Recliners
Ah!  The recliner, one of the biggest things that Southern Motion is known for!  High end furniture connoisseurs know all about these recliners.
Reclining furniture is an art, often times it is considered a very difficult art to pull off.  But Southern Motion has been producing reclining furniture for many years now and they are leading the industry in this niche! 
SM is also known for their comfortable designed recliners for back pain! I would also recommend this Brown Faux Leather Reclining Loveseat if you are looking for another piece of furniture that offers ultimate relaxation.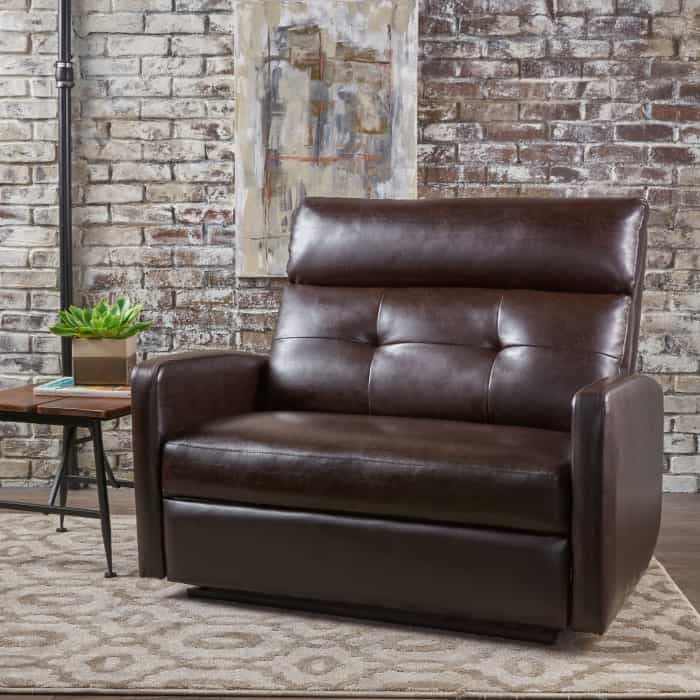 Reclining is what this company does, this is what they are known for! And they are amazing at it!  They produce some of the best recliners in the world!
So without further ado, here is my List Of The Best Southern Motion Recliners!
I hope you are able to understand why I love these recliners so much!  These recliners are absolutely amazing.
I have never felt a more comfortable recliner in my life!  These reclining sofas are made out of the absolute best materials.  So many times I see people spending thousands of dollars of furniture and then the material is so artificial that it ends up falling apart or ripping within a year.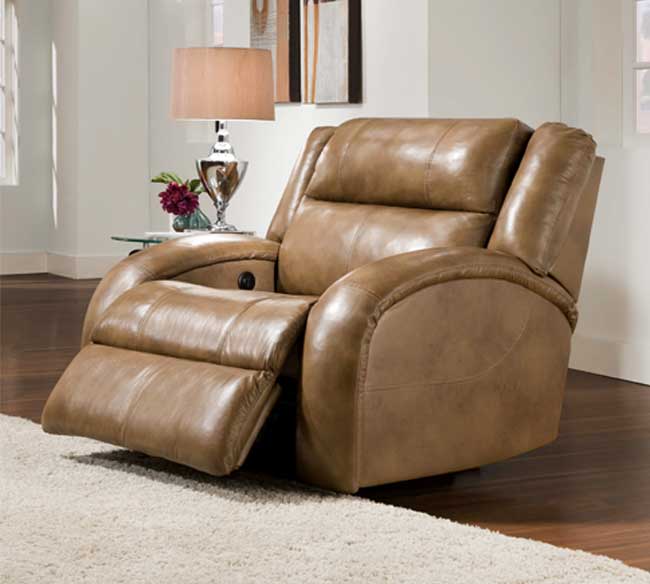 Southern Motion recliners are some of the worlds best!
These cheap, and fake leather furniture brands attract so many people just because of the price, but in the end they leave the customers disappointed because the product will end up breaking in a shorts amount of time.  
When you buy one of these cheap products, within a short amount of time you will be back on the furniture market for another piece of furniture.  Along with that, cheap recliners are bad on your back!
What is the Best Southern Motion Recliner?
Above I shared a few different recliners and they all looked great! They all look slightly different but they all are made of quality material and they are extremely comfortable.  I personally have owned a few of these recliners and my all time favorite is the Southern Motion Savannah Solarium Track Arm Rocker Recliner!  
It comes in a few extremely stylish colors, and it looks great!  This manual recliner brightens any room with its amazing colors and it's extremely comfortable design!  I love the design of this recliner, and it really helps to gather a room together.
As for the size, it is 41 inches high by  35 inches wide by 40 inches deep. It is a smaller recliner which helps to give you a comfy place to sit, without completely dominating a room with its size! It reminds me of this Red Leather Gliding Recliner that is also similar in size. It's as comfortable as it looks and makes a perfect statement piece because of its unique color.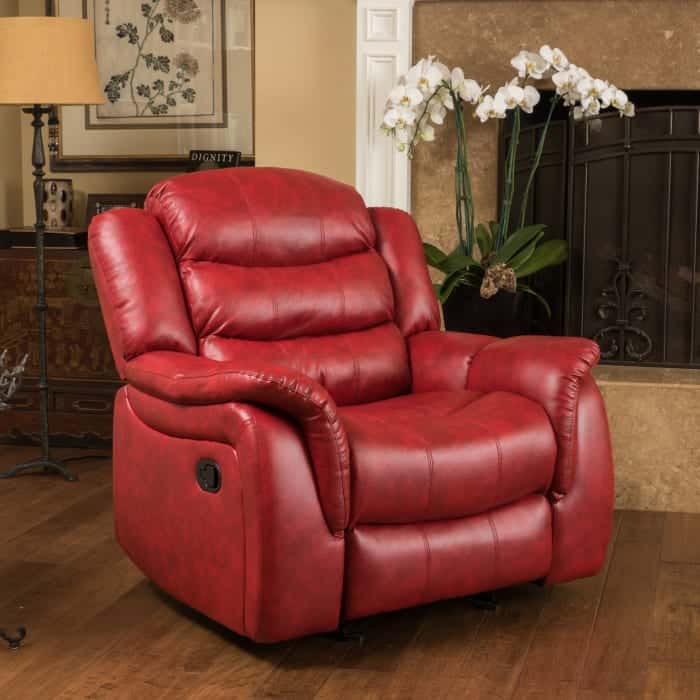 Southern Motion Power Recliner Reviews:
If you are someone that is looking for a new recliner, but having it featured a power recline option is a must, then have no fear! Thankfully, Southern Motion produces a handful of power recliners that are both made of extremely high quality and they are incredibly comfortable.
When I was first looking for a recliner, I knew I wanted one that was powered.  When I was growing up I had a powered recliner and there is nothing more relaxing than coming home after a long day and using the power recliner to lift your legs up!
That being said, if you are looking for a powered recliner from SM, then the best option is definitely the Pandora Wall Hugger Recliner! This recliner is a great polyester leather blended couch that features a power foot rest.  
As the name suggests this recliner is a wall hugger movement type which means it is designed to not take up as much space as other recliners.   This was something I was looking for, because I didn't want to sacrifice space just for my recliner.
One of the greatest things about this recliner is truly its comfort level. Because this is a leather blended recliner it really gives you a nice comfy place to sit down.  
Along with this, it has a thick cushion that really allows you to snuggle in and sit for long periods of time.  As for the reclining motion, it features a 145 degree reclining seat which is perfect to put your legs up after a long day.
Overall this oak colored power recliner by SM is truly a great recliner that is extremely well made and extremely comfortable!
If you like this design but are looking for a more affordable option, the Brown Faux Leather Push Back Recliner can be a great alternative. While SM recliners have better quality, you can't go wrong with its classic design and stability.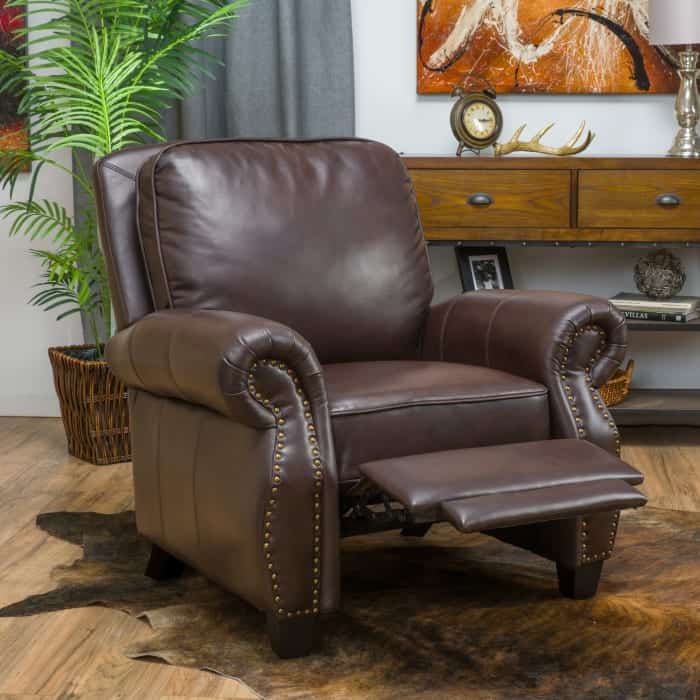 I hope this review has helped you find a quality sofa! If you want to purchase the best reclining furniture, you must purchase a high quality brand!  And if you want a high quality leather furniture that reclines you must purchase Southern Motion Recliners!
Southern Motion Sofa
The Southern Motion Sofa is the epitome of high quality sofas.  It is everything you look for when you want to purchase a sofa that is made out of high quality leather from a trusted brand.
For a quick overview of the best Southern Motion Sofa check out this table!!
Southern Motion has some of the most high tech and high quality sofas and recliners on the market. These  recliners and sofas are incredible!  And they have such a large variety to fit everyone's personal taste as well as to match with your living room!
This company has so many different products that is impossible to not find something you like!
I absolutely love this Southern Motion Sofa set!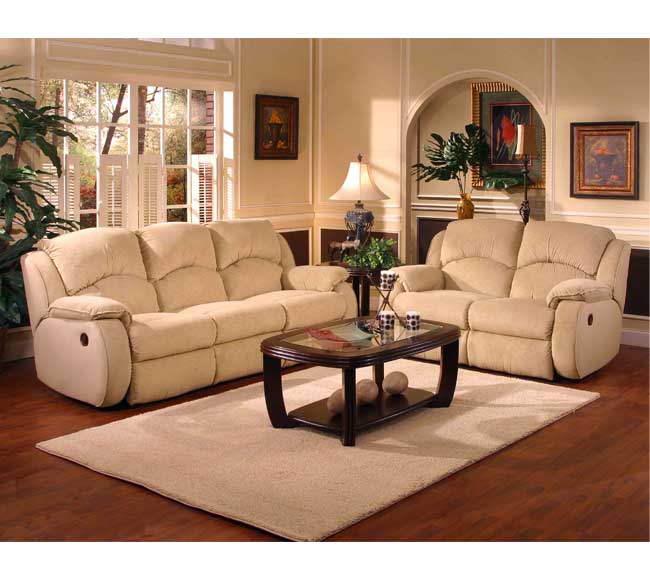 They have Cranston Solarium Hi Leg Reclining Chairs, Roxie Home Theater Chairs, Savannah Solarium Track Arm Reclining Loveseats, Fandango Double Reclining Sofas, and so so many more different styles and products!
No matter what you are on the market for, you will be able to find something that will overly satisfy your wants and desires!
I know it is hard to believe everything that you read on the internet, but trust me, Southern + Motion is the real deal!
In the past two years, I have been replacing all of my furniture at home and I am making sure that a majority of the furniture is Southern Motion because I love the brand so much!  If you are looking for a company that is similar to SM I suggest you take a look at Universal Furniture's Sofas.
If you are in the market for a sofa or any kind of reclining chair, I would highly recommend you check out the Cranston Solarium or the Savannah Solarium Tracker recliner.
What is the Best SM Sofa?
This great company offers quite a few different sofas as you can see from our comparison chart.  That might get you to thinking, which one is the best?  Thankfully I have either owned or gotten to extensively use all of these sofas and they are all pretty great!  But of course I have my own personal opinion!
My personal favorite is the Crescent Reclining Love Seat!  This is an extremely gorgeous looking piece, that not only looks great, but it also is extremely comfortable! This love seat features two comfortable seats on both sides with a convenient console in between them! This love seat is built with an extremely durable wood frame, and is featured in a great and comfortable genuine leather upholstery.
I have owned this love seat for the past eight years, and it still looks great! Along with the great comfort of this love seat is just the right size so that it doesn't dominate a room completely! This love seat is 40 inches high by 81 inches wide by 40 inches deep!
Overall this is an extremely elegant looking love seat that is extremely comfortable and it has the durability to last! I definitely suggest you take a look at this sofa if you are looking for a new piece in your living room!
Southern Motion Furniture Dealers
Now that you have read a bit of my post about this awesome brand, I bet you are all wondering where you can purchase some of these pieces of furniture! (At Least I hope you are!) So I know you are probably asking yourself "Where to buy Southern Motion Furniture?" I am here to help!!
The problem is that these pieces most likely won't be sold at your local small furniture store. Which is a problem that I ran into when I was first on the market for a reclining sofa set.
However, I have come across SM recliners and sofas at local art galleries.  It sounds odd, but some of my local art galleries also double as antique art dealerships, and because of the beauty and aesthetic appeal of these pieces of furniture they are one of the only SM Furniture dealers that I have found!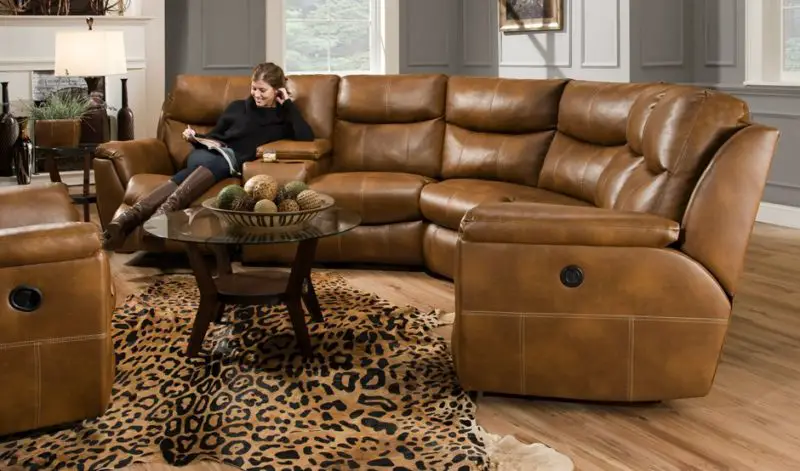 A list of the different kinds of Southern Motion Furniture Dealers!
So If you have any local antique art or fine decoration dealers near you, I would give them a call because they might be Southern Motion Furniture Dealers!
However, if you don't have any of these store near you, then I highly recommend that you check out their business website at SouthernMotion.com. The big problem with the Southern Motion website is that it really lacks pictures, and doesn't have that much information on it.  That being said, there are better options available.
Other dealers that are out there are websites like https://www.wayfair.com/
Wayfair has been an excellent choice for me as well as a couple of my very close friends when we have purchased brand new Southern Motion recliners and my parents have actually used them as well to purchase quite a few different pieces.
I highly recommend Wayfair and I can't speak highly enough about them!  They are one of the most reliable Southern Motion dealers!
That being said I would definitely ask around for dealers in your local area, but if not, then Wayfair is the ultimate solution for you, and they have fast and reliable shipping for anyone in the United States!
Please feel free to comment with any questions and problems you might have with where to buy Southern Motion Furniture.
Southern Motion Reviews
So I have gone in depth about different kinds of reclining chairs, and different kinds of products that Southern Motion Furniture produces, however, almost as important to the product reviews is a review of the actual company.
Many people will only purchase products from companies that they have previously purchased from or know a little bit of background knowledge on. This is what makes it so important for me to make a Southern Motion reviews section on my post!
I am just like many people who will do hours of research on different products and different companies before I ever even think about making a big purchase such as pieces of furniture or cars.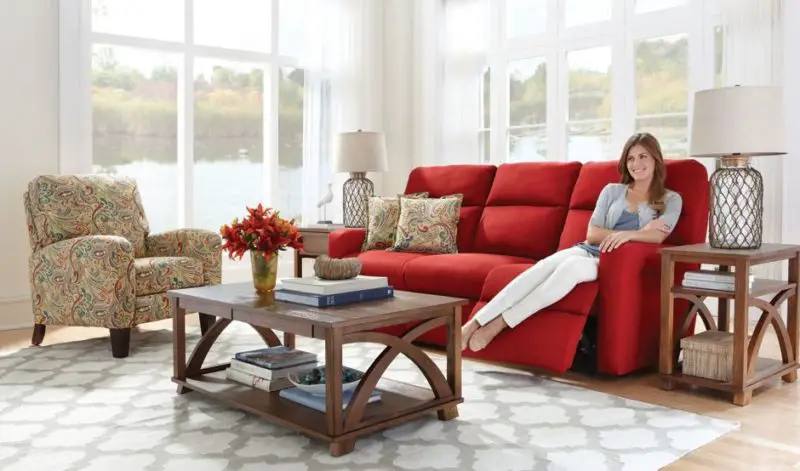 A complete look at Southern Motion and a company review!
Nobody wants to purchase an expensive product and then immediately regret it because they weren't satisfied with the product.  Often times people will buy a product online and then when it gets to their house they figure out it isn't what it was advertised to be.  
That is why I was so adamant about writing such a thorough blog post about this great company!
Southern Motion History
So here is a quick history lesson about the company!
Southern Motion Furniture was founded in 1996, and is a company that produces and manufactures high-quality leather reclining furniture pieces.  The company is based out of Pontotoc, Mississippi by Mr. Guy Lipscomb and Mr. Larry Todd.
Mr. Lipscomb and Todd have both been in the furniture industry for over 40 years and know the ins and outs of the business!  Although this company was only founded about twenty years ago, they have similar old time values like Havertys.
At Southern Motion Furniture you can see the amazing art of reclining furniture on display! The company is focused on reclining furniture and provides their customers with reclining sofas, recliners, chairs, loveseats, sectionals, and more recently home-theatre reclining chairs!
SM Furniture provides their customers with many different products and styles.  However, every single product is similar in the fact they are all well built and amazingly beautiful.  There is a reason many of these pieces of furniture are sold in antique art galleries.
The brand and products have been met with amazing customer reactions. Often times being rated as the number one brand for high quality reclining chairs.
I have done a lot of research on this company and I have yet to find any complaints that will alter your opinion on this brand.
The brand is incredibly professional and value their customers more than anything else!
I have been using Southern Motion Furniture pieces for many years now, and I will continue to purchase their furniture as well as recommend it to all of my close friends and family!
I know you will love this brand and company!
There is a lot to be said about this company but I have yet to hear nearly any Southern Motion Furniture complaints, which made my review easy!
Southern Motion Furniture Complaints
I have been trying to as much research as possible on any Southern Motion Furniture Complaints as I can, but this company is incredibly difficult to find complaints about!
Every single company has pros and cons, but it seems from my own personal experience and from other peoples experiences, that SM don't have many complaints!
One of the only things that I have found online is that there have been a couple of cases where people have problems with the delivery companies that deliver their recliners.
The claims state that the delivery companies have left the furniture on their front porch without offering to move it inside, and one or two cases have suggested that the furniture was damaged when it got to their home.
However, I believe that these complaints are mostly for the delivery company and the delivery company should be responsible and not Southern Motion Furniture.
The only other complaint that I saw was that the chairs and recliners were not weather resistant.  And this one seems like pretty basic knowledge.  These chairs are made out of high quality leather and are made to be put in a living room and not outdoors. These are not outdoor chairs!
I highly recommend finding outdoor chairs if you are hoping to put these chairs out in the natural weather conditions!
Here is all the complaints I was able to find about Southern Motion!
Those seem to be the only two complaints that I could find online!  And I know that I don't have any complaints from my personal experience!
Overall, all the products I have purchased through SM have exceeded my expectations and I truly have had a great experience with all of them!
I highly recommend this company to anyone!
For more product reviews please check out my homepage BarterDesign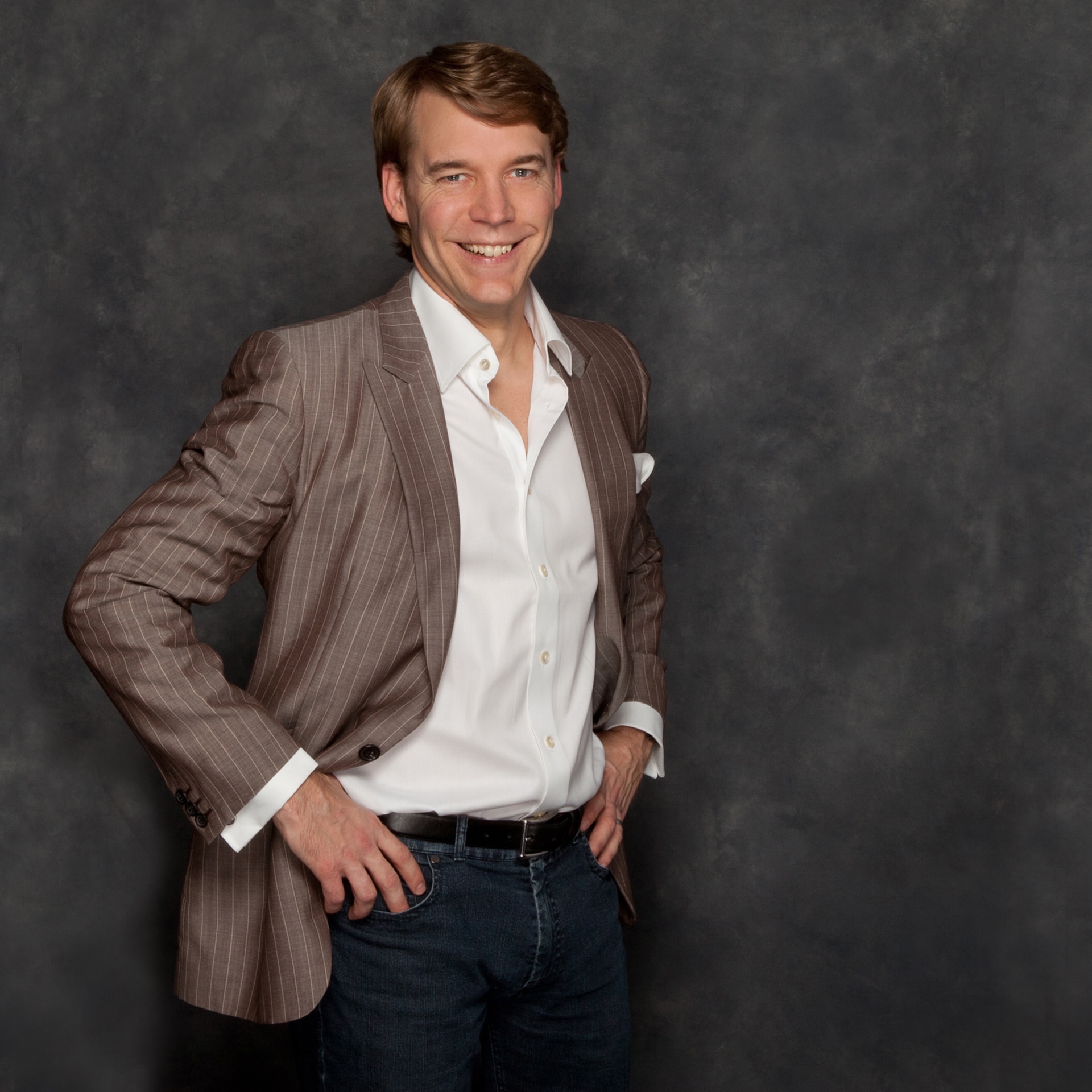 Brett E. is the Owner of BarterDesign.co.  Brett comes from a long line of craftsman and foreman, and has been involved with the construction and renovation world ever since he was a boy while working for his families construction and remodeling company.  After graduating with a a degree in Interior Design, Brett is the go to guy for any interior design or remodeling questions!