When it comes to kitchen sinks, two bowls are definitely better than one. Even though double bowl sinks were originally designed for hand-washing dishes, they're definitely still helpful even if you have a dishwasher. Having two separate sections in your sink will allow you to effectively double your efficiency in the kitchen. No more worrying about trying to prep food over a pile of dirty dishes. With a double bowl, you can keep all your dishes in one section, while leaving the other one free for whatever else you may need to do to prepare your dish.
Karran Sink Comparison Table
Even after deciding that a double bowl sink is the right thing for your kitchen, the options don't end there. Karran offers double bowl sinks in a wide variety of different materials and mounting styles. Whether you're looking for quartz or stainless, top mount or undermount, Karran has something that will fit your needs. Let's take a look at their top three models.
This sleek quartz sink is sure to fit any modern kitchen. Anyone looking for the updated farmhouse vibe will love this apron sink that allows the front to be exposed. With its equal bowls and stunning dark brown color, this sink is definitely meant to be the centerpiece of your design. While it looks beautiful, it also has some features that ensure it will last the test of time.
Stain Free: This high-density quartz composite is built to resist any stains or discolorations. No need to worry about vibrant pasta sauces or pigmented fruit ruining the look of your beautiful kitchen sink.
Heat Resistant: Boiling water and hot pans are no match for this durable sink. It's heat resistant up to 530° F and will not crack with changing temperatures.
Scratch and Chip Resistant: This sink is as solid as it looks. The quartz composite material ensures that no matter what you throw at it, it will stay looking fresh and clean.
One thing to note about this sink is that it's meant to be undermounted. If you're not familiar with sink installation, that means that the sink sits underneath your countertops instead of sitting on top of them. Undermount sinks allow you to have a smooth transition from your countertops to the sink without any lip.
When you compare this sink to some of the other models on the market, you'll find that this model gives you a great value for your money. It's priced lower than many of its competitors, but it still gives you that clean, farmhouse look. Although this sink is not eligible for Amazon Prime, the shipping is quite affordable at only $3.99 for a 60-pound item. This sink get high marks in style and affordability, making it one of our top three picks.
This next model from Karran provides more of a classic kitchen look. For those that prefer the clean style of stainless steel, this is definitely a great option. The brushed soft satin finish is sure to fit in with any design, and the equal double bowls allow for easy prep and clean-up. At only 30 pounds, this sink is easy to maneuver into place and tie your kitchen together. But the lightweight material isn't the only thing great about this sink. It also boasts some pretty impressive features.
Sound Absorbent Pads: If you've ever had a metal sink and a sprayer faucet, then you know how noisy they can get. Luckily, Karran has found a solution to this problem by installing high-density rubber pads on this stainless sink. These pads absorb sound so you can wash dishes in peace.
Lowered Bowl Divider: Double bowl sinks used to all have tall dividers to separate soapy wash water from clean rinse water. But now that these sinks aren't used primarily for washing dishes, the divider has been lowered. This allows you to have two separate sections without the divider getting in your way.
Undermount Installation: Mounting your sink underneath your countertops allows you to have a smoother transition between the two. If you're prepping something directly on the counter, the undermount allows you to just wipe your scraps directly into the sink with ease.
For this sink, it's important to note that it's recommended for new countertops only. Due to the unique size and mounting style, it will not work for existing sink cutouts. You also have the choice not to undermount this sink. If you have a solid surface or laminate countertops, you can bond it seamlessly with those countertops.
This sink is a great, versatile option for any kitchen renovation. The stainless steel material is timeless and fairly easy to maintain. The ability to mount it in different ways means it will work with a variety of different countertop materials. And its light weight makes it easier to install than a heavy quartz basin.
To round out our top 3, we've got this double bowl stunner from Karran. The black quartz composite is sure to be the perfect finishing touch for any kitchen renovation. With one bowl bigger than the other, you have ample space for dishes while also keeping a small space for prep and food scraps. Besides its sleek look, this sink also has some pretty great features.
Durable Material: Made from a mix of natural quartz crystals and UV-stabilized acrylic resin, this sink is made to last. The high-performance material is extremely durable and can stand up to whatever you may throw at it. And with this deep black color, you won't have to worry about any staining or discoloration.
Top Mount Installation: Unlike some of the other sinks featured in this article, this sink is meant to be installed on top of your existing countertops. This means that it can fit with a wide variety of different countertop materials and tends to be easier to install. Simply measure the correct size for the bowls, and you can drop your sink right into place.
Prime-Eligble: Weighing in at a formidable 42 pounds, this sink surprisingly comes with free shipping. If you're an Amazon Prime customer, you can get this sink within a few days and even return it for free if it doesn't fit your needs.
Overall, this sink check off a lot of boxes. It's well-designed, durable, and easy to install. If you're looking for a classic design that will fit your kitchen in both form and function, the QT-610 is a great bet.
Final Thoughts on Karan Sinks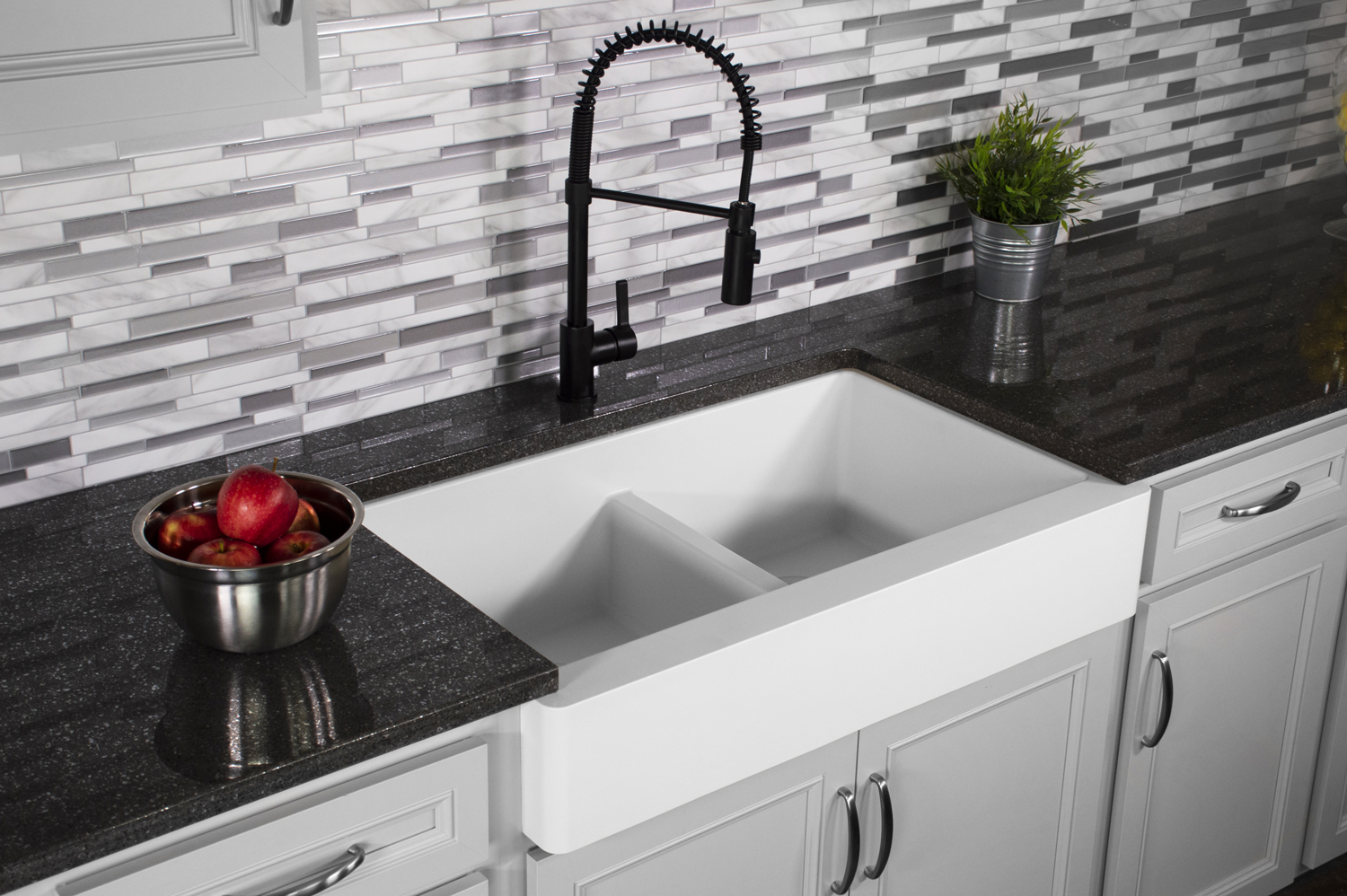 When choosing the right sink for your kitchen, there are a lot of different things to consider. What kind of countertops do you have? Are you installing it yourself? What style fits the rest of your design? A sink can often feel like just another appliance, but it really is a crucial part of the flow of your kitchen space.
If you have dishes that need hand washing but also need a bit of prep space in your sink, then the double bowl style will probably work best for you. Karran has a bunch of great options to choose from, so it's all about what fits with your specific design. Hopefully this article gives you a great place to start and helps you find the right sink for your home.