The house is centered around the kitchen, and Kraus recognizes that by focusing on the end user and providing them an exceptional product experience. Founded in 2007 and headquartered in New York, this relative newcomer to the faucet space came into the market with the intent to revolutionize affordable kitchen design, and they've done just that.
With their designs ranging from simple and clean residential models to ones with a sleek industrial aesthetic, these faucets are at home in a modern house or a trendy commercial space. Kraus performs all of its internal industrial design, product development, and engineering, so their products have gone through a rigorous in-house quality control process to ensure their products meet the highest standards of their customers.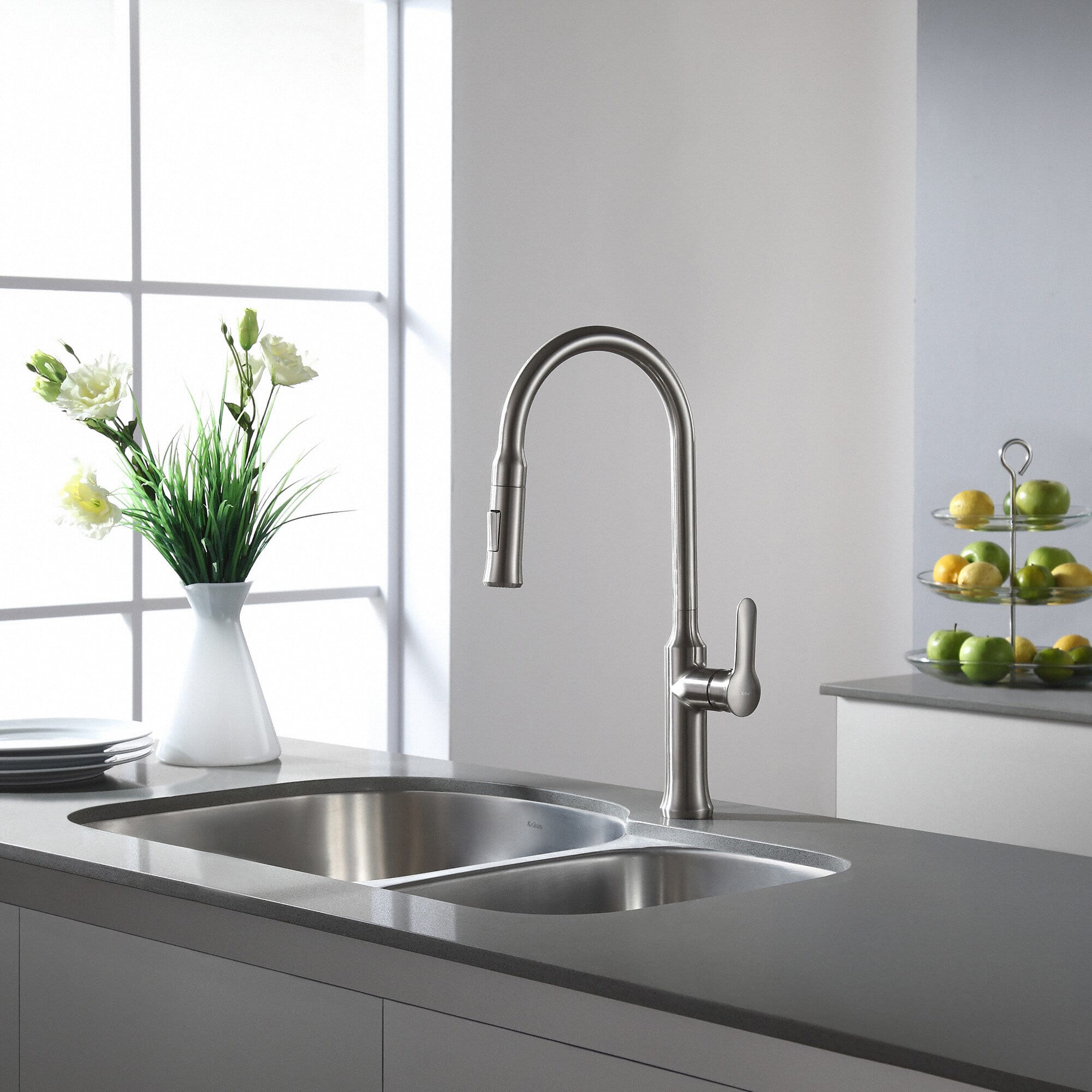 Their consistent 4+ star reviews on their faucets show they're succeeding in their goal to make high-quality faucets that are stylish and affordable for all users. Kraus provides many faucet options with different styles and finishes, so there is sure to be a selection to please any person at any price point.
Kraus Faucet Reviews – My Reviews
As mentioned above, Kraus makes great kitchen faucets, but they also make quite a few different models, so which do you choose?  Below I'm going to outline the top 6 Kraus faucets and what makes them so great!
This faucet with a high arc spring neck is a mid-range stainless steel model. It is deck mounted and comes in a spot and fingerprint-resistant finish making it a showpiece for any home's kitchen island. It also features a dual-function spray head that quickly switches from an aerated stream for every day cleaning to a powerful spray for heavy-duty rinsing. This faucet features a sturdy open coil spring over the neck and an arm with a secure docking station for the nozzle.
It comes with all of the needed mounting hardware and a plate to cover a three-hole sink style versus a single-hole sink. The faucet comes with two water-efficient and eco-friendly flow rate options. It has the 1.8 GPM (gallons per minute) flow restrictor installed, but a 2.2 GPM restrictor comes in the box and can easily be swapped out in areas of the country that don't require the lesser flow rate. Because it comes in four different finishes, you're sure to find the look you want at an affordable price.
Features:
Stainless steel flex hose
Dual function pull-out sprayer
21-inch tall faucet
360-degree swivel spout
6.4-inch spout clearance
8.5-inch spout reach
Single hole installation option
Includes plate to cover three holes
Deck mount
Single temperature control handle rotates front to back
Some customers expressed concerns about the plastic spray head and low water flow. The low water flow should be able to be resolved by using the alternative flow restrictor that comes in the box. Most faucets – even brands that are many times the price of this faucet – come with plastic spray nozzles, so Kraus seems to be in the majority with the plastic nozzle design feature in this price point versus having a metal nozzle.
The Esina has a modern and straightforward look that will help make your kitchen the envy of all of your friends. It's well suited for a residential buyer with its contemporary design. Its high arced faucet spout ensures enough room to accomplish any size task.
The two spray buttons on the dual functional sprayer head are hard plastic, so they won't wear out like soft rubber ones tend to do. Like most Kraus faucets, this is coated in stainless steel and features an all-BriteTM finish to keep your faucet free of water spots and fingerprints. This model comes in two additional finishes, so you can achieve the design you're aiming for.
Features:
16-inch hose
1.8 GPM flow rate
16.75-inch faucet height
9.7-inch spout clearance
8.8-inch spout reach
Deck mount
Single hole installation option
Includes plate to cover three holes
Dual spray nozzle
Faucet handle rotates front to back
Reviews from customers consistently praise its ease of installation and the many compliments they receive on the look of the faucet from family and friends. Some customers talk about the strong water spray, so you won't have to worry about your ability to blast crumbs off of your plates with this model.
There were a few concerns about the weight on the hose not being heavy enough to pull the hose all of the way back into the neck on its own. However, most customers voiced this as a minor issue and said it's easy to push the hose the rest of the way back into the receptacle.
If you're looking for stylishness and simplicity with incredible functionality in a faucet, this model may be for you. It has a clean, minimalist, and streamlined design that is an instant style upgrade for any kitchen.
A QuickDoc mounting assembly makes installation a breeze for any do-it-yourselfer. The Oletto features a single handle for operation, so it's a breeze to operate with one hand. The buttons on the nozzle to switch from stream to spray click into place to ensure ease of use. The 14-inch hose with a swivel adapter allows you to reach all areas of your sink.
Features:
Pull down nozzle
Spout swivels 360 degrees
Eco-friendly with 1.75 GPM flow rate
14-inch hose
Single hole installation option
Includes plate to cover three holes
Deck mount
Faucet handle pivots front to back
QuickDock mounting assembly
8.75-inch spout reach
8.25-inch aerator clearance
Similar to other pull-down models in this price range, the Oletto does not have a clip or magnet to hold the nozzle flush to the neck. Most customers do not have a concern about this, but the few who did mentioned they didn't believe the counterweight was heavy enough to pull the nozzle flush on its own. If you're not against manually fitting the nozzle into place, then this is a great and affordable option for a faucet with a very elegant look.
This commercial-style kitchen faucet will be an envied feature of your kitchen. Its high performance and low-flow Neoperl aerator on a 180-degree swivel spout neck ensure complete sink access. This industrial-style faucet comes with a heavy-duty spring design that fits over a sleek black hose, making it a popular match for many kitchen styles. This model also comes with a metal nozzle, which is essential to many consumers.
The LiteTouch flow handle makes it easy for you to turn your water on and off with one hand. This model comes with a unique three-function sprayer (spray, stream, and pause), so you always have the water flow you need for the job at hand.
Features:
23.3-inch faucet height
6.1-inch spout height
9.5-inch spout reach
36-inch hose length
1.8 GPM flow rate
Corrosion and rust-resistant
Faucet handle pivots front to back
Deck mount
Single hole installation option
Includes plate to cover three holes
This truly is a low-flow nozzle, so if you have concerns, a few customers suggest removing the aerators and restrictors from the ends of the hose. Removing the aerator fixes the problem, and the water flow is increased. This metal nozzle does have magnetic docking, so it keeps the nozzle snug against the neck when it's retracted. This faucet's ease of installation may make it an excellent choice for you.
The Sellette adds an elegant feel to any kitchen. It blends traditional design with a clean silhouette lending a unique look to any sink. Although it lacks a magnetic feature to hold the nozzle in place, the weighted hose ensures easy docking and firmly snaps the nozzle back into the neck. The dual-function sprayer allows you to go from an aerated stream to a powerful spray with the click of a button. The faucet also has a soft silicone end on the nozzle that makes cleaning mineral build-up a breeze with just the swipe of a finger.
This model boasts a single-handle design for precise temperature adjustment with only one hand. This flow control handle operates with a unique 90-degree forward rotation, so you don't have to be concerned about mounting this faucet with a sink that has minimal backsplash clearance.
Features:
17.63-inch faucet height
8.5-inch spout height
9.5-inch spout reach
360-degree faucet swivel
1.8 GMP flow rate
Deck mount
Single hole installation option
Includes plate to cover three holes
All mounting hardware included
Customers are ultimately happy with the Sellette. There was a concern that the stainless steel may not match other existing stainless appliances. However, that's to be expected with differing brands, so you should know when choosing a new faucet it might not be an exact match to existing appliances in your kitchen. There have been a few complaints about the nozzle spray leaking, but a call to customer service and some troubleshooting should take care of any issues of that nature.
The finish on this clean-lined pull-down faucet is corrosion and rust-resistant, which keeps the dark, oil rubbed bronze finish looking like new. This affordable faucet has all-metal construction, so the entire unit has a seamless look. The Neoperl aerator ensures you attain high performance with low water flow.
The dual-function sprayer provides two options of spray velocity to keep your dishes clean. This model has a convenient single-lever design to easily control the flow and temperature of your water with one hand. The clean lines and high arc on this faucet create a streamlined and contemporary look for your traditional or modern kitchen.
Features:
14.5-inch faucet height
8-inch spout height
9.3-inch spout reach
1.8 GPM flow rate
360-degree faucet swivel
Deck mount
Single hole installation option
Includes plate to cover three holes
Many commented that the water flow on this faucet is powerful, so filling pots and kettles quickly is a breeze! A few installers noted the water supply lines were missing or were on the shorter side. You can call Kraus for the missing lines, or you can purchase longer lines for under $10 each from a hardware store if you find you need them.
The nozzle on the pull-down is not made of metal, but that didn't seem to be a concern as it exactly matches the look of the rest of the faucet.
Final Thoughts on Kraus Kitchen Faucets
Kraus prides itself on providing cutting-edge designs with the industry's finest materials, so quality is of the highest priority for the company without sacrificing affordability. According to Kraus, their products are "engineered to be exceptional," and from the reviews, that seems to be the case in the majority of purchases.
All faucet models use premium ceramic cartridges to ensure long-lasting leak-free performance. With heavy-duty lead-free construction, these faucets are built to last. The faucets all feature a specialized finish to keep them spot and fingerprint-free, which makes for easy cleaning. They also come with a rubber or silicone nozzle face ensuring you can wipe away mineral buildup with ease.
The majority of the faucets listed have front to back rotating water flow handles, so confirm you have enough clearance around your sink for the back to front handle movement. In instances where you might not have enough space, you can adjust the handle to sit in front of the faucet, so you have the full range of motion on the handle. The KPF-1680SFS model does offer a 90-degree front-only rotating handle, so it's worth a look at that model if you're concerned about space between your faucet and backsplash.
These Kraus faucets all come with the needed mounting hardware and an optional plate to cover a three-hole sink style versus a single-hole sink. They are all deck mounted, so they contribute to an uncluttered look on any countertop. Swiveling necks on each of the models ensure you can reach all of the corners of your sink with effortless movement and the full range of motion of the spray head.  If you like this style but can't find exactly what you want, then consider checking out Brizo Kitchen Faucets because they have a similar feel to Kraus.
In the rare instance a customer experiences a difficulty, Kraus is quick to help troubleshoot the issue. If that fails to solve the problem, Kraus takes care of the customer by sending a replacement part right away.
Kraus provides limited lifetime warranties on the structure and finish of all faucets so that you can have peace of mind with your purchase. Make sure you register your product on their web page immediately after purchase, so your warranty is activated.
With a range of distinctive finishes for each faucet model, you're sure to find the best look and top functionality for your home. Experience the high quality of Kraus faucets and bring your best kitchen design to life.