As an Amazon Associate we earn from qualifying purchases.
Whether you consider yourself an artisan chef, or you're just somebody who can use a microwave, the kitchen is one of the most used rooms in your home. You'll spend a lot of time there and whether you live alone, or have a large family, you'll want it to be set up just right.
Moen Vs Kohler Kitchen Faucet Comparison Table
Having a good kitchen starts with getting the right equipment. Studies have shown that 60% of your time there will be spent in front of the sink, so finding one that fits your needs is really important. A good starting point is to think about how you use your sink and determine what you need.
As standard you will probably use it for washing dishes and preparing/cleaning food. Some households might need more features and busy homes could well need more than one sink. It's important to get all the requirements down before you start looking so you don't miss anything out.
But what makes a good sink? Well the faucet, or tap, is the most important thing. There's a surprising amount to consider when looking at faucets. There's a wide range of materials, designs and features that are built in, and if you're able to navigate the choices you can find some great value products.
That said, it can be difficult to know where to start. Finding the right brand is important for making sure you get a quality faucet. Many people have seen our Moen vs Delta comparison guide, but this is another great comparison.  Two of the best, and most well thought of brands are Moen and Kohler.
They each specialize in faucets and you'll find their products in homes across America. In this article I'll look at what makes these companies great, what's different between them and then review some of their best products.
Moen Vs Kohler Kitchen Faucets
What I have here is two very well respected brands with an impressive range of faucets. So the questions are then: how are they different? And which one should I choose?
Of course, it isn't for me to determine which brand to choose from, but what I have done is looked at how they measure up in terms of craftsmanship, style and price so you have a better idea of which will suit your needs.
Moen and Kohler Kitchen Faucet Craftsmanship
In their long history, Moen have continued to develop their construction techniques to keep their products cutting edge. They use machinery for the most part, but a lot of their products still feature handmade components, which adds to the quality.
Since the turn of the century they have outsourced a lot of their production to Asia which can sometimes mean a drop in quality, however Moen have countered this by putting robust quality checks in place for every product.
Kohler have at least 10 sub brands of product which are all designed slightly differently. They too, like Moen have kept their construction techniques current and use the latest machinery for their faucets.
Despite their growth, they haven't moved all their construction out to Asia yet and a lot of their sub brands are made entirely on shore. Again, they have robust checks in place for every product before it's released.
Both of these brands are high quality but in terms of construction Moen come out on top for me. Their faucets just last that bit longer giving extra value to the user.
Kitchen Faucet Style: Moen or Kohler?
Moen are a large company and have a lot of different ranges of products. It's not surprising for them to have a variety of styles to suit different buyer needs.
What you will find with Moen is they favour more traditional designs. Their more modern looks tend to be the traditional with a twist to bring it up to date.
Kohler are also a large company with a lot of different styles to choose from. With so many different collections they have something that will suit every home. Plus they have a lot of modern options which are different from anything else out there.
For me, Kohler edge it here simply because of the variety they have. Their modern designs are more cutting edge and they have some very striking choices.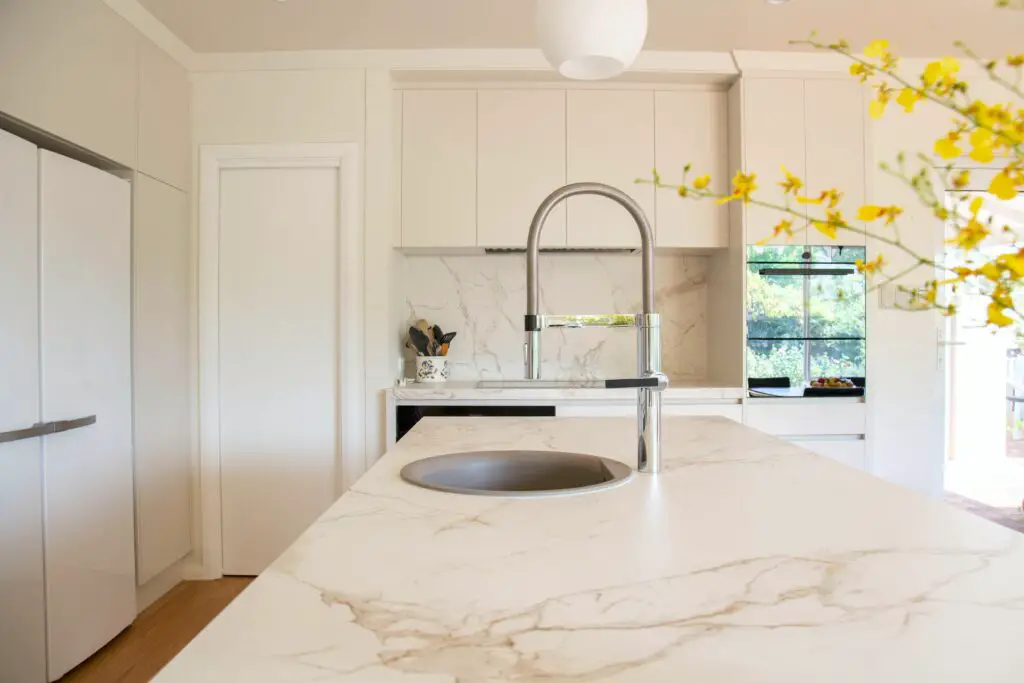 Moen vs Kohler Price Comparison
This is potentially the most important quality, so where do Moen and Kohler compare when it comes to price? Generally, Moen are more affordable than Kohler.
Of course, as with any brand, you will find a variety of different priced products. If you look around you can certainly find Moen or Kohler products which are affordable and offer a lot of value.
Moen Kitchen Faucet Recommendations
Moen 7185SRS Brantford One-Handle Faucet
Moen have a wide range of kitchen faucets and this is one of their best. It has a single handle, keeping you in full control even if you only have one hand free. The curvature has a traditional feel, but Moen have combined some modern features to combine the best of both worlds.
The Moen Brantford kitchen faucet has a pull down feature which allows for a controlled spray which you can direct easily. It's useful for rinsing dishes or cleaning vegetables while cooking and an important feature in the kitchen. Made entirely out of metal with a finish applied, it's resistant to staining and scratching so it stands up to heavy use.
Moen 7185SRS Key Features:
Power Boost Technology: Moen's patented power boost technology is built into this faucet. It's touchless, so you don't even have to use the handle to get the water to turn on and off.
The power boost feature provides 50% more power while still using the same amount of water. This is especially useful for cleaning dishes quickly in a busy home.
Spot Resistant: Moen have made this faucet really resistant to spots or staining. This is crucial for ensuring the faucet continues to shine even after prolonged use and makes sure the whole kitchen faucet lasts as long as possible.
Pull-Down Reflex System: Moen put in their pull down reflex system into this kitchen faucet. There's a 68 inch hose built into it which makes it incredibly versatile in the home. Plus it will automatically go back to the original state when you let go.
Easy Installation: This sink is incredibly easy to fit and comes with everything you need to get started. You should be able to do it yourself in under an hour and you won't have to pay a plumber to come and fit it.
Moen offer a lifetime limited warranty on this faucet. This protects all of the components, handle and spout for the full life of the product, but do be aware that this only covers material defects, not standard wear and tear.
Considering the quality of the faucet and the innovative features it's remarkably good value. This faucet should last a long time so it's a good investment. Definitely one of Moen's best.
MOEN 7430 Chateau One-Handle Faucet
The Moen 7430 Chateau kitchen faucet is simple, but elegant. It's got a clean cut silver look that works well in any kitchen, and the modern design is pretty attractive. Beyond the simple charm of this faucet there's a lot of great features built into this one that add value to your home.
Unlike other faucets, this doesn't have a pull down sprayer. Instead this is on the side of the piece which actually makes it even easier to use.
It features a single handle so you can control the temperature and flow rate easily while doing something else. Made from chrome, with a polished finish, it's resistant to staining and unlikely to rust or corrode.
Moen 7430 Chateau Key Features:
Durable Construction: This is no frills faucet but it's still made to last. The whole faucet has been constructed with chrome with the option of 3 different finishes.
These all help to protect the faucet and add to the quality of the piece. Moen have used modern techniques to craft this and it lives up to their vision of making products that last a lifetime.
No Stress Installation: Moen's unique Duralock Quick Connect system is built into this faucet to make installation a breeze. This is Moen's way of quickly attaching the new faucet to the water system so you don't need to use any tools. This is another way Moen makes life easier.
Aerated Stream: Moen have used their innovation to make this faucet efficient but powerful. An aerated stream allows you to have increased pressure so dishes are cleaned easily but it will only use 1.5gpm. This means no noticeable increase to your water bills.
Side Spray Feature: The spray nozzle is at the size of this faucet so you can use it only when you need to. This makes it simple to clean dishes or wash food without having to use the central sink space.
Again, this faucet is covered by a lifetime limited warranty. This will cover all the individual components from material defects or issues in construction.
It won't cover wear and tear but the chrome should help give protection anyway. It's a good warranty that offers the buyer a good level of protection.
Yes, it's simple but it's also very well made and looks good. It has Moen's signature quality and offers a lot of value at this low price.
If you're after a no frills faucet then this could be the one for you.
Moen 7594SRS Arbor One-Handle Kitchen Faucet
The last of my Moen faucets is the 7594SRS Arbor kitchen faucet. It too has a single handle for greater control and features the curve that so many Moen faucets have. It's a transitional model, suitable in most homes and one which will help make the sink the centrepiece of your kitchen.
Made with stainless steel, it's durable and stylish. It has a single curved handle and a pull down attachment for spraying dishes and preparing food.
The spout if over 11 inches high to give a large spray area, perfect for large sinks. Plus it's a single hole mount which is the simplest to install.
Moen 7594SRS Arbor Key Features:
MotionSense: This faucet features Moen's unique motionsense technology. This let's you use the faucet without having to use the handle. Water flow can be turned on and off with the turn of a hand keeping your faucet cleaner and making the kitchen even more hygienic.
Reflex Technology: The reflex technology makes the whole faucet smooth to operate. The handles and faucets all move effortlessly and will lock in place when needed. The pull down nozzle has a 68 inch hose which lets you use the faucet in multiple different ways.
Two Spray Modes: This faucet has a pull down feature with two spray modes. This lets you adjust and maintain the pressure you need, with the choice of a consistent or intermittent flow. It's another way Moen have built the product around user needs.
User Friendly: There's a lot of technology built into this faucet, but it's still very user friendly and easy to use intuitively. On top of this it's completely leak proof, and won't drip meaning you'll save on bills and won't create a mess.
Moen also cover this faucet with their lifetime limited warranty. All the individual components are a part of this cover and can be replaced if there are any issues or defects.
Moen has a dedicated services team which deal with warranty issues, so you shouldn't have any problems if you need to make a claim.
It has all of Moen's latest technology built in with a very handsome design.
Good craftsmanship and modern features come together well with this product, giving you a faucet which should really last. This is one of the best kitchen faucets around and could really add value to your home.
Kohler Kitchen Faucet Recommendations
Kohler K-560-VS Bellera ​​Pull-Down Kitchen Faucet
Looking at Kohler's range of kitchen faucets there's a lot of great models to choose from. The Kohler Bellera faucet has a transitional style that works in every home.
It features an elegant curved neck and a single handle. It's a simple faucet, but one that looks great and works well.
A single handle controls the temperature and water pressure of the faucet so you can multitask with ease. Made entirely out of metal it has a 'vibrant stainless' finish which protects the faucet from spots of stains.
Kohler K-560-VS Bellera Key Features:
3 Function Spray Head: Kohler have incorporated their unique 3 function spray feature into this faucet. You can choose from boost, sweep and spray technology each giving a different way to use the product. The boost function is particularly useful because it gives 30% more pressure, perfect for tough stains.
Magnetic Docking: This faucet features a pull down spout with Kohler's unique DockNetic technology. This holds the spout in place and helps prevent it becoming loose or leaking over time.
Long Lasting Quality: Kohler have made a number of choices with the design and construction of this faucet that makes it last longer. Ceramic disc valves are used in the spout which are well above the industry standard. These are durable and will help the whole unit last much longer than alternatives.
High Spout: This faucet has a very high spout, over 11 inches tall. This is high enough to fit the largest pans underneath and fill them, and the faucet works best in combination with large sinks.
Kohler, like Moen, offer a lifetime limited warranty on most of their products. All of the components and fittings of this faucet are covered for the life of the product. As always, do make sure you read the terms and conditions before purchase to avoid any surprises down the road.
It offers a lot of features you may not have realised you wanted, but once you have them you'll struggle to live without.
It's durable and sturdy, a model that should last a good few years. Overall at this price it's really good value and will add a lot to your home.
KOHLER K-10433-CP Forte Kitchen Faucet
The Kohler Forte faucet is simple but stylish. On face value it's a more basic faucet, but once you scratch the surface you can see all the quality they've poured into it.
It's silver, and mirrored and adds a clean look to your kitchen. It's spot and stain resistant so it should keep its look with minimal maintenance.
This is another single handle faucet so you can control it all with minimal effort. It has a pull out hose with two spray features and has all of the quality Kohler put into their products.
It's a smaller model, well suited for a small sink in a less busy household. Made from polished chrome it's resistant to corrosion which adds to the longevity of the faucet.
Kohler K-10433-CP Forte Key Features:
2 Function Spray Head: Kohler are known for taking existing functions and building on them. They've included 2 functions in their spray head; stream and spray. The spray feature has up to 50% more power making it ideal for deep cleaning.
Easy to Maintain: Kohler have made this faucet easy to maintain and clean. The spray nozzles are made to resist the build up of minerals which can occur over time, especially in areas with hard water. The polished chrome prevents any staining so the whole faucet can be cleaned with a quick wipe.
Extremely Durable: Like other Kohler products, they've made this faucet to stand the test of time. It features the ceramic disc valves which help the faucet work well for longer, and Kohler have used premium materials that guarantee it will last.
25 Inch Hose: The pull down spray hose is 25 inches, much longer than some other faucets. It means it can be used even if the sink is full and makes the whole faucet more versatile.
Kohler also give a lifetime limited warranty on this product. It gives that extra level of protection and helps add to the long term nature of this faucet. Everything is covered from defects, but not standard wear and tear, so make sure you clean and maintain your faucet as much as possible.
It's stylish and useful, well suited for a large or small kitchen. This isn't the most advanced faucet but what it does have is a few key features that make life easier.
Plus it's designed and constructed well so it should last at least 5 years.
KOHLER 15160-CP Coralais(R) Kitchen Faucet
Kohler 15160-CP Coralais is maybe the most well designed faucet on my list and the aesthetics will make you stop and take notice. It's polished chrome which is so shiny you can see your face mirrored in it, giving a great look to your kitchen. The design is modern but the handle still has a traditional feel to it, giving the best of both worlds.
Beyond the look, the faucet works well too. It's smaller than others, but has a 9 inch spout reach meaning it gives a wide enough spray area for even the largest sinks.
There's a pull down spout too which gives a focused spray. Ergonomically designed, this is a user friendly sink and the handle fits comfortably in your hand. Elegant, advanced and powerful, Kohler have done well with this one.
Kohler 15160-CP Coralais Features:
Touch Control: The pull down spray head can be controlled with a touch control located at the base of the unit. This is perfect if you're busy preparing food or cleaning and might not have a hand free.
Water Efficient: This faucet has a flow rate of 2.2gpm, which is regarded as very low water usage. This doesn't impact the power of the product but does mean over the year you'll use considerably less water than with some alternatives. Ultimately this means savings on your water bills which is always good news.
Variety of Models: If you decide you really like this faucet, but this specific design isn't for you then you don't need to begin the search again. Kohler offer 4 different models, each with unique materials and colouring so you can match the faucet to your home.
Kohler protect the faucet, and the buyer, by offering a lifetime limited warranty. This covers all the different parts, but also protects the faucet from any leaks or dripping. There are plenty of cases where Kohler have honored the warranty without issue, so you shouldn't have a problem getting a replacement if needed.
Kohler know their stuff and they've made another faucet that is for the long haul. Innovative but simple, it's a great asset to any home. Definitely a strong option from Kohler.
History of Moen
Al Moen founded Moen back in 1937. He was inspired after an incident with an old faulty faucet that almost burned his hands, and he set out to change things. He began with the invention of the single handed faucet, and from there the company grew.
Innovation has been at the heart of the Moen brand for over 80 years. In fact they've been responsible for a lot of the developments in the industry. A lot of their key advancements have been creating corrosion free components for faucets which help add to the longevity of every sink.
Moen prides itself on making products that last a lifetime. The focus is making faucets that can be relied on and really do last. The material choices and construction techniques all help ensure that the faucets will last and offer a premium level of quality.
Moen have carved out a place for themselves as market leaders for sinks and faucets. They now trade in countries all over the world and have products in homes everywhere.
History of Kohler
Kohler also have a very long history, dating back to 1873. They're one of the oldest family companies around and over the past 140 years they're diversified and grown massively. The company has taken twists and turns but what's kept it on course has been the lofty vision of creating a better world.
Kohler have designed their product range around user needs. Their expert engineers have innovated their products so that they add more to the user than other brands.
They've been at the forefront of exploration when it comes to faucets. They've not shied away from trying new materials, and they were one of the first to produce stainless steel sinks and accessories.
Kohler now operate internationally and you'll definitely have come into contact with some of their products even if you didn't realise it. They're definitely a premium quality brand that offer a lot to their consumers.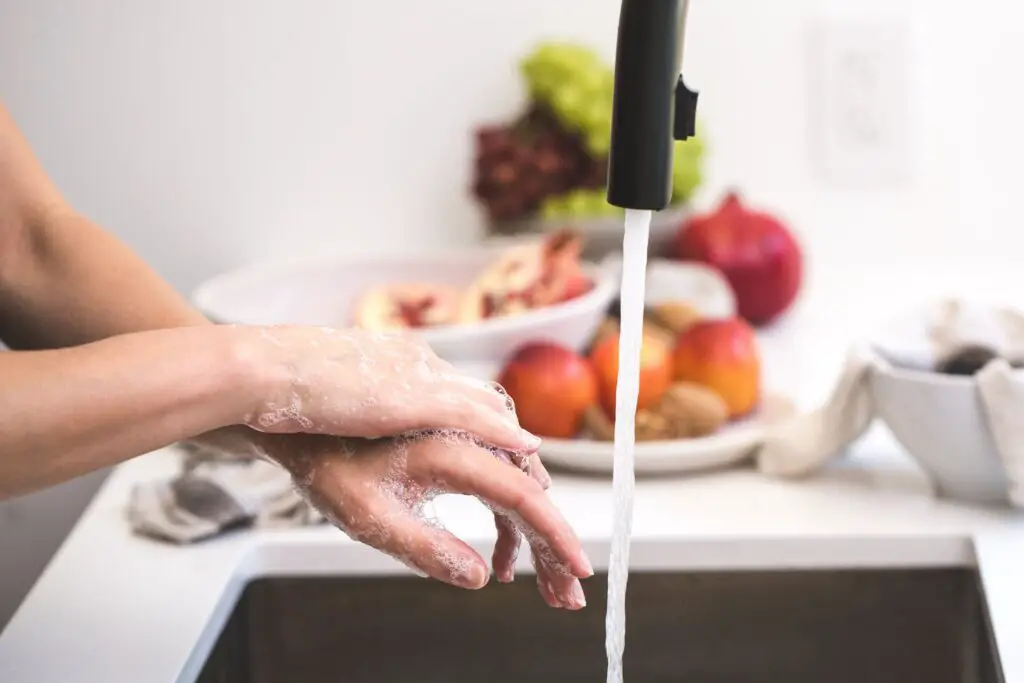 Which Kitchen Faucet Is Better: Moen or Kohler?
So who's better, Moen or Kohler? The truth is they're both good brands that produce great quality faucets.
They both know how to make the most of the latest technology to enhance their products for the user. Plus they both know how to make faucets attractive, with some striking styles.
You really can't go wrong with Moen or Kohler. All of these faucets offer great value because of the combination of quality craftsmanship and innovation.
Even though they vary in price they are all affordable and you shouldn't have to break the bank. Any of these faucets will help transform your kitchen and make life easier. So If you're looking to upgrade, this is a great place to start.