As an Amazon Associate we earn from qualifying purchases.
It's amazing how long somebody can take to pick the perfect shower. They want to make sure it has all the features they want and all the functionality to make the overall showering experience better for them.
Of course it's always good to take your time to realize what it is you want, you also need to think of the bigger picture and what other features are essential for your shower to work well. The number one factor is of course, the drain.  If you've read our shower pan guide then you have heard about the benefits of Schluter!
In this way, any good shower starts from the ground up. The drain should be as efficient as possible, able to deal with large volumes of water and drain it quickly. The bathroom industry is really booming and I'm seeing more drain designs than ever before.
In this crowded marketplace it's important to remember that function is greater than form, and a high performing drain is better than a stylish one. Any other features you can get above performance are just extras.
Over the last few years there's been a real DIY boom. People are looking to save a few dollars wherever they can, and one of the best options is to do more things around the home yourself.
People are even willing to take more risks and they're now even willing to give their toilets and bathroom refit a go. Manufacturers have cottoned on to this and are now realizing there's a gap in the market that's waiting to be filled.
Companies have now started created shower system kits. These are whole kits with all the materials you need to set up your own shower system.
Think of it as adult lego, but more challenging and ultimately more rewarding. These shower systems are designed to be easy enough for you to do yourself and if you're confident enough you can actually end up with a fantastic shower at a low price.
Schluter Shower System Review
After talking with experts in the industry, plumbers, builders and doing research online, the same name kept coming up over and over again, Schluter. Well, the Schluter shower system kit to be exact. Schluter have put together a full DIY kit for building your own domestic shower.  If you're building using a Schluter kit, you should consider a new shower valve and shower faucet as well!
It features a drain made from stainless steel and PVC. This is a durable combination which is resistant to staining, spots, water damage and corrosion. It comes with a 108ft unique Kerdi membrane that has been developed by Shluter.
This is a pliable waterproofing layer that is fit directly to the walls underneath the tiles. It's easy to put up and incredibly tough, keeping the moisture from damaging your home.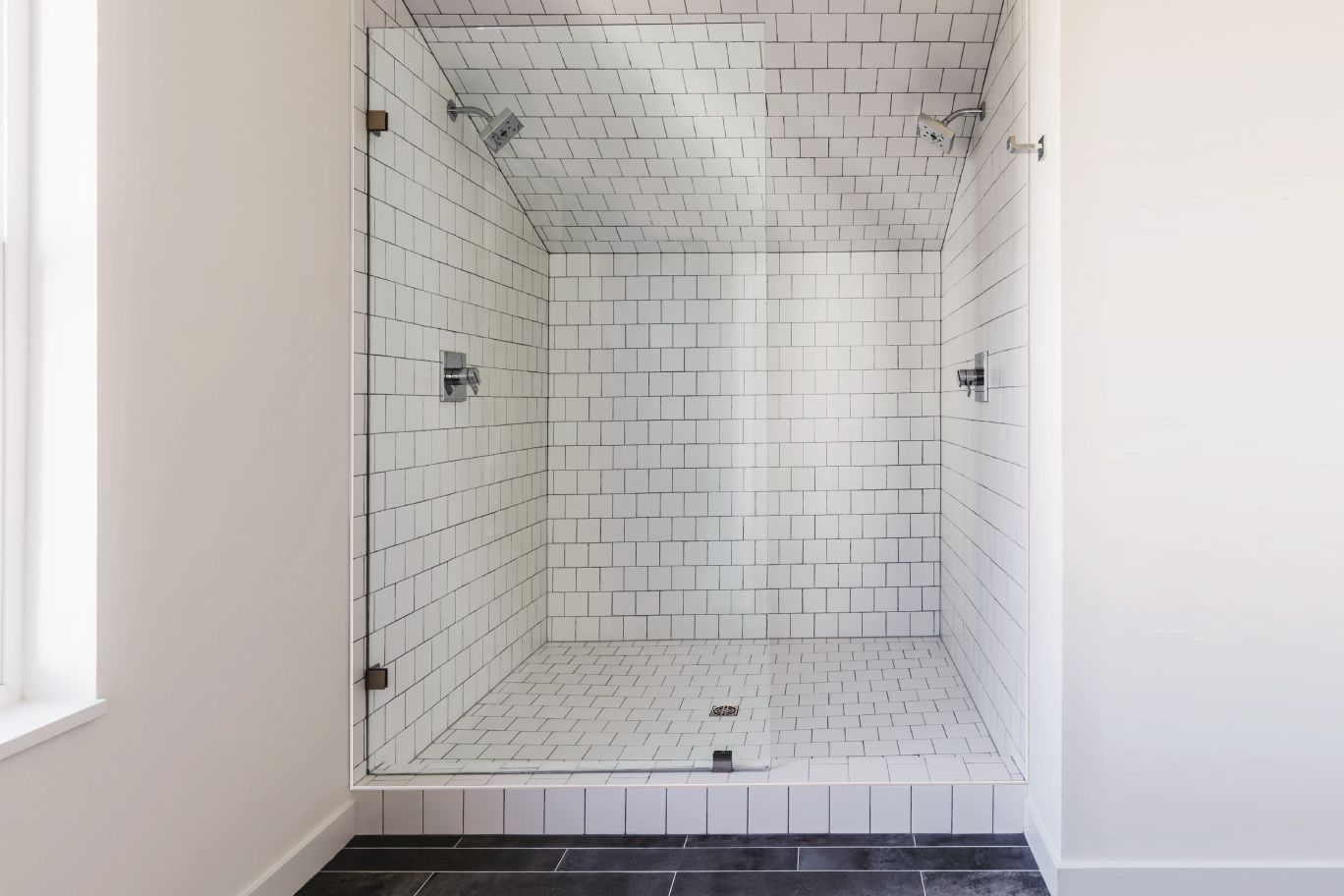 The shower tray itself is 32 inch by 60 inch and features a central drain. A slight incline from the outside in helps ensure that all the water will make its way down the drain without any issues.
The Schluter shower system features everything you need to fully set up a domestic shower. It's one of the best rated on the market and has all the qualities you would expect from this brand.
Schluter Shower System Benefits and Features
Schluter clearly have experience creating shower systems that work in the domestic environment. This shower system kit has a couple of key features that help it stand out from the crowd:
Fully Waterproof: When fitting a shower you have to make sure the whole unit is fully waterproof. If you don't it can lead to water damage, mold, mildew and rust affecting your toilet bathroom and even spreading into your whole home.

Schluter have created their unique membrane which goes directly onto the shower walls. This combined with the tiling on top helps create a seal around your shower that keeps the moisture in. The shower tray fits snugly into the walls, stopping any potential leaking or dripping before it has the chance to start.
Quick Installation: This is a self installation shower system so the speed will largely be determined by you. However, Schluter have done everything they can to make it as fast as possible. There aren't many parts and the guidance is pretty clear.

They have a range of video guides online which show all the actions needed in detail so you can mirror exactly how they do it. Plus they have a dedicated customer services team on hand to offer assistance where needed.
Save Money Compared to Competitors: Compared to other shower system kits, the Schluter is generally 10-15% more expensive. However, it's still very good value. When you consider the quality materials, and construction quality of the parts you know you're going to have a shower that's durable and long lasting.

When you also factor in the money saved not having to pay professionals to come and fit it you can quickly see how much money you're saving in the long run.
So what is the key benefit of this product? It lets you take the quality of a professionally fitted shower and have all the enjoyment that comes with it at a fraction of the price. The shower system kit is perfect for any home shower and offers all the materials and components needed to get started.
The unique membrane fitted between your wall and tiles helps protect from moisture, helping keep your bathroom in good condition for the long run. This means you can fit a shower system that really lasts, giving great long term value.
Schluter Shower System Reviews
With any DIY product you really need to look at the reviews to get a good idea of how intuitive it is. On average this is rated 4.2 out of 5, which is very high for this type of product and highlights how much effort Schluter have put in.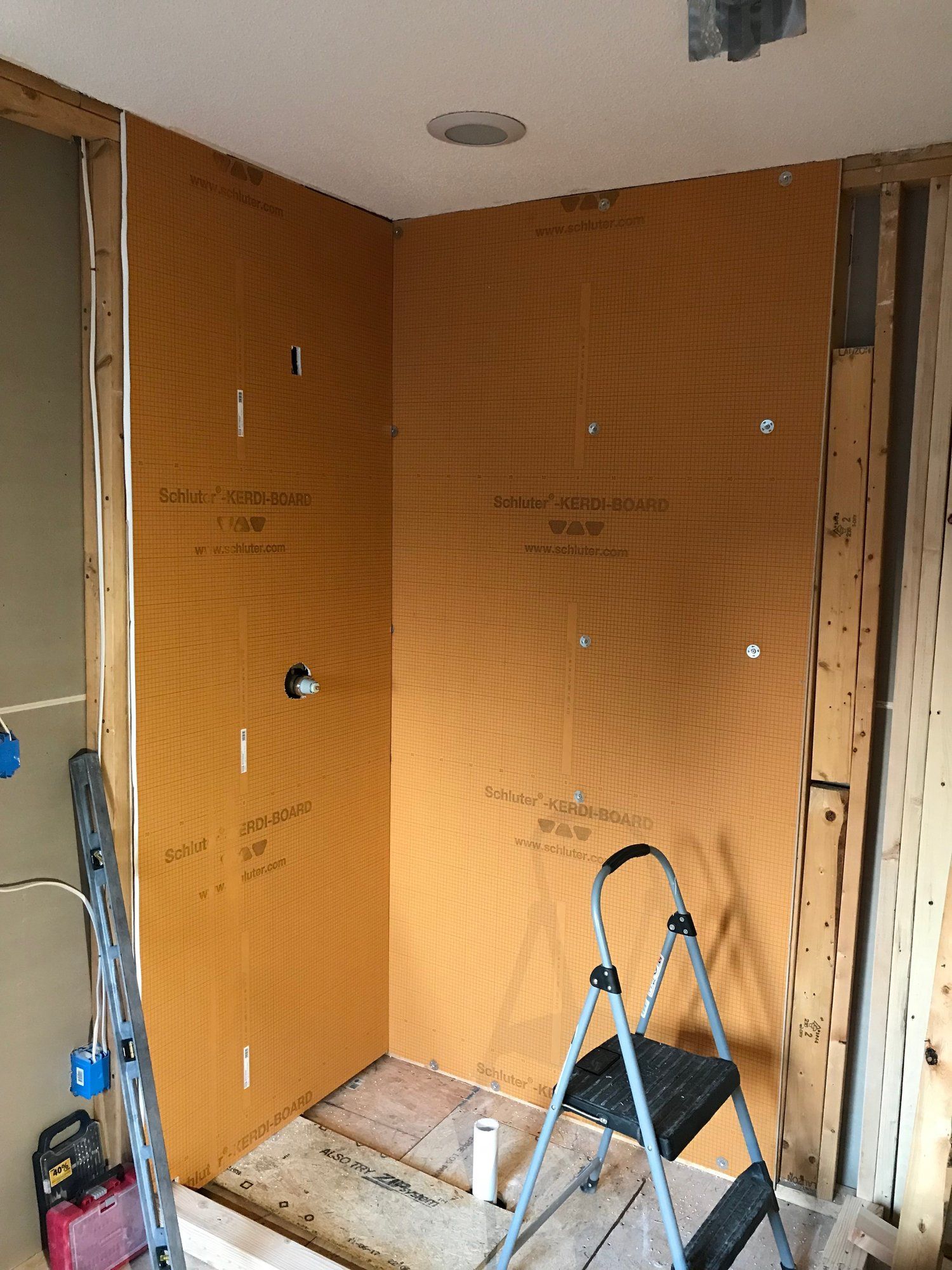 Schluter Shower System Warranty Policy
Schluter offer a 10 year limited warranty on their shower system kit. This covers all of the different components included in the kit, but only from manufacturing or construction defects.
This won't include any damage during assembly or standard wear and tear. Make sure you read the full terms and conditions before buying so you have a clear idea of where you stand if anything goes wrong.
About Schluter
Schluter are a German brand who are well known for their build quality and craftsmanship. They've been operating for almost 50 years (since 1975) and during that time they've diversified their product range and expanded operations internationally. Now Schluter products can be found in homes across the world.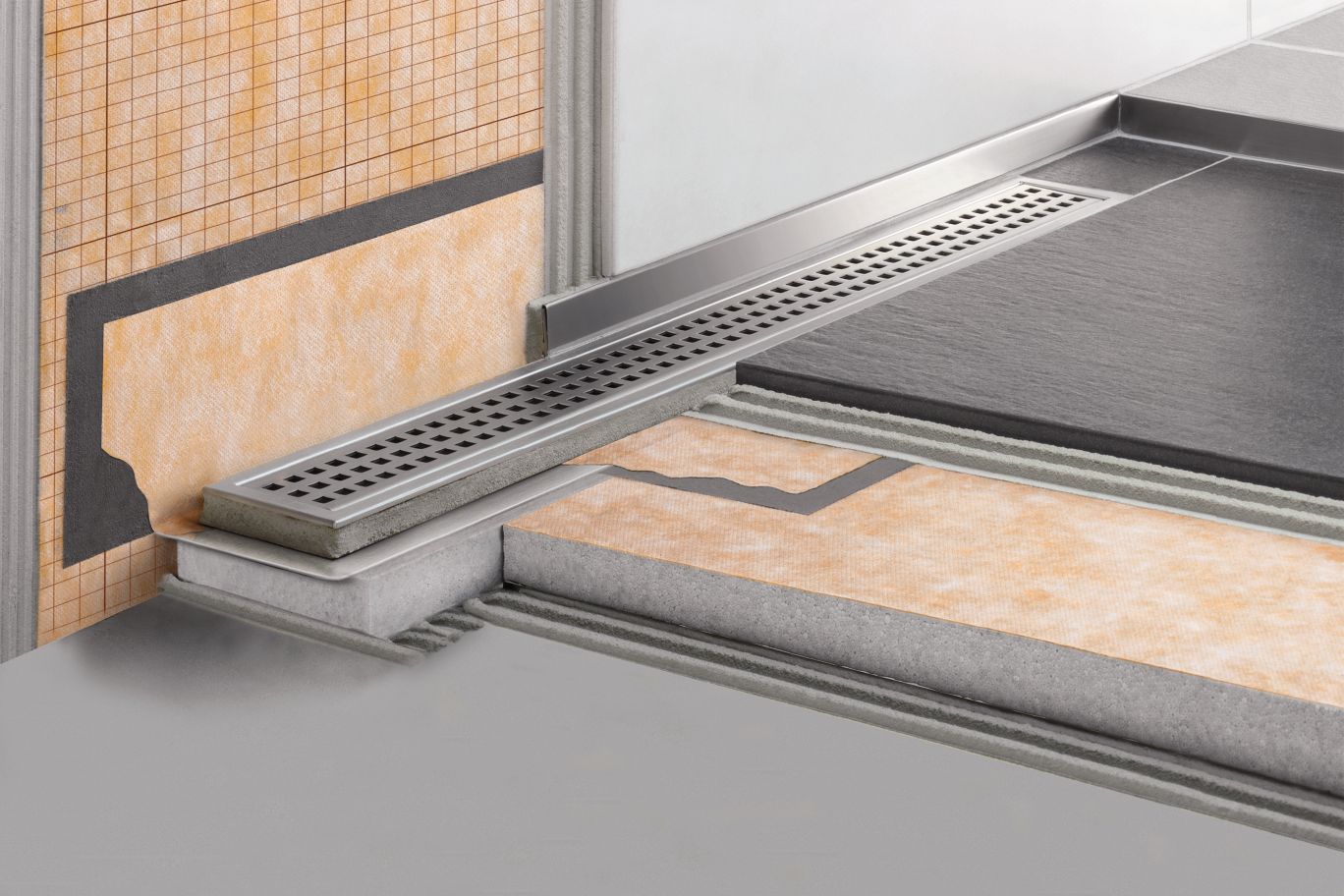 Schluter started off as drainage specialists. Throughout the 1970s and 80s they continued to install kitchen sinks, outdoor drains, faucets, sink drains and shower drains. Gradually, they started to build more features into their products and eventually they expanded into all bathroom wears.
Schluter have managed to stay ahead of the curve by continuing to be dynamic and innovative. They've created modern solutions to modern problems by reevaluating their products and basing them around the users needs.
In 2018 they launched their Kerdi-drain and Kerdi-line ranges. These are ultra thin shower drains which blend into the floor giving the whole shower a seamless look.
It's this combination of modern style and advancement that makes Schluter such a strong brand. It's also what makes their products so attractive to the customer.
Final Thoughts on Schluter Shower Systems
Building your own shower isn't something everyone considers doing. It can be challenging, and even with the clearest instructions there can be errors or mistakes made in the process. When you're dealing with a shower system the stakes are high because any error could lead to water damage that will impact your whole home.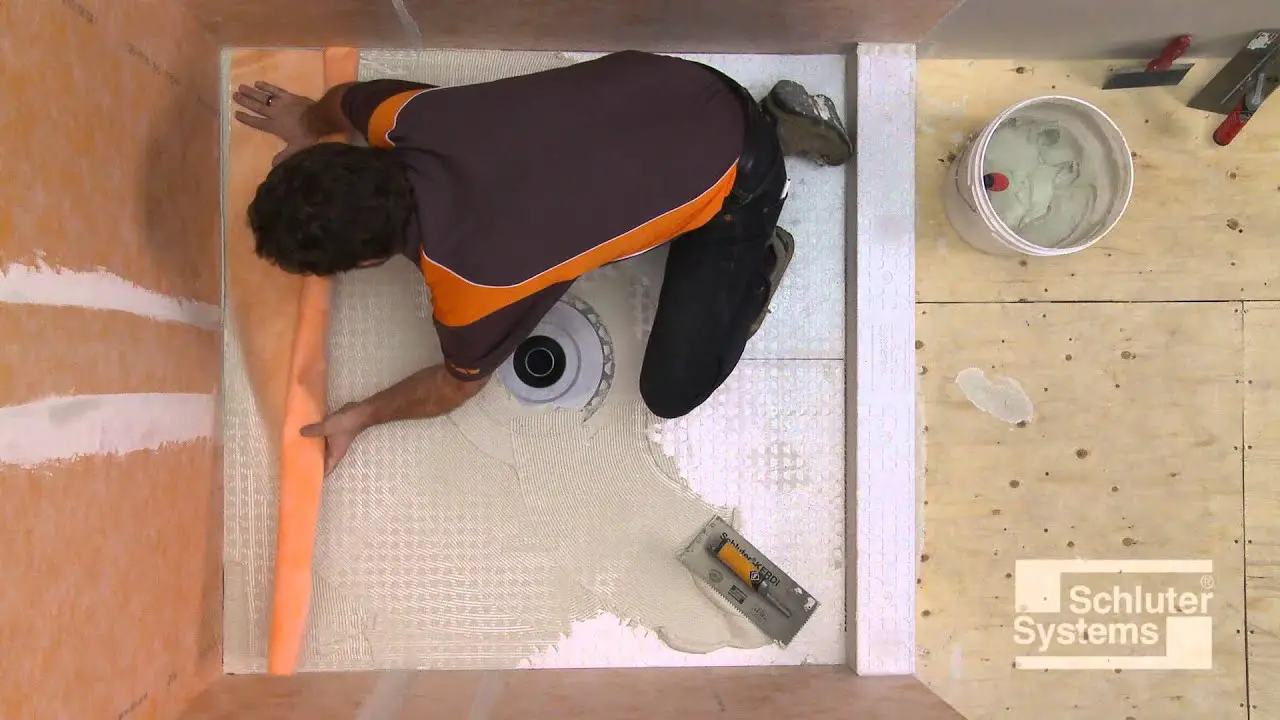 Schluter have created a kit that takes almost all of the hassle out of installing your own shower. The Kendi membrane offers increased protection and makes it difficult to make any glaring errors.
Plus the instructions and guidance are well presented and their customer services team can help you out if needed. On top of this, everything is covered by their warranty to give that extra layer of protection.
The Schluter shower system offers a lot of value to the home. If you have the time, patience and enough skill to put this shower together, you'll find it saves you a lot of money in the long run.
If you're interested in a non-DIY method then you can either hire a professional to install it or you can take a look at the Vigo shower enclosure.  Remember, building your own shower system isn't for everyone, but if you have your heart set on it you won't find much better than the Schluter shower system kit.