As an Amazon Associate we earn from qualifying purchases.
From the mind of CEO Steve Bell, Bellmont is a family-run business that has grown from humble beginnings into a well-known cabinet maker in the U.S. The strong family work ethic that began the Bellmont company still exists today as they strive for the best products and to give more space options to customers.  
In this Bellmont cabinet reviews guide, I will go through and talk about the history of Bellmont Cabinets, the specifications of their designs, along with sizes, styles, quality checks, and some reviews on their products!
About Bellmont Cabinetry​
Innovation, functionality, and trend-setting cabinet fashion are at the heart of what the company does. For over 30 years, Bellmont Cabinets have been striving to make furniture that meets three of these criteria. It is constantly reevaluating and researching to find better solutions for customer problems.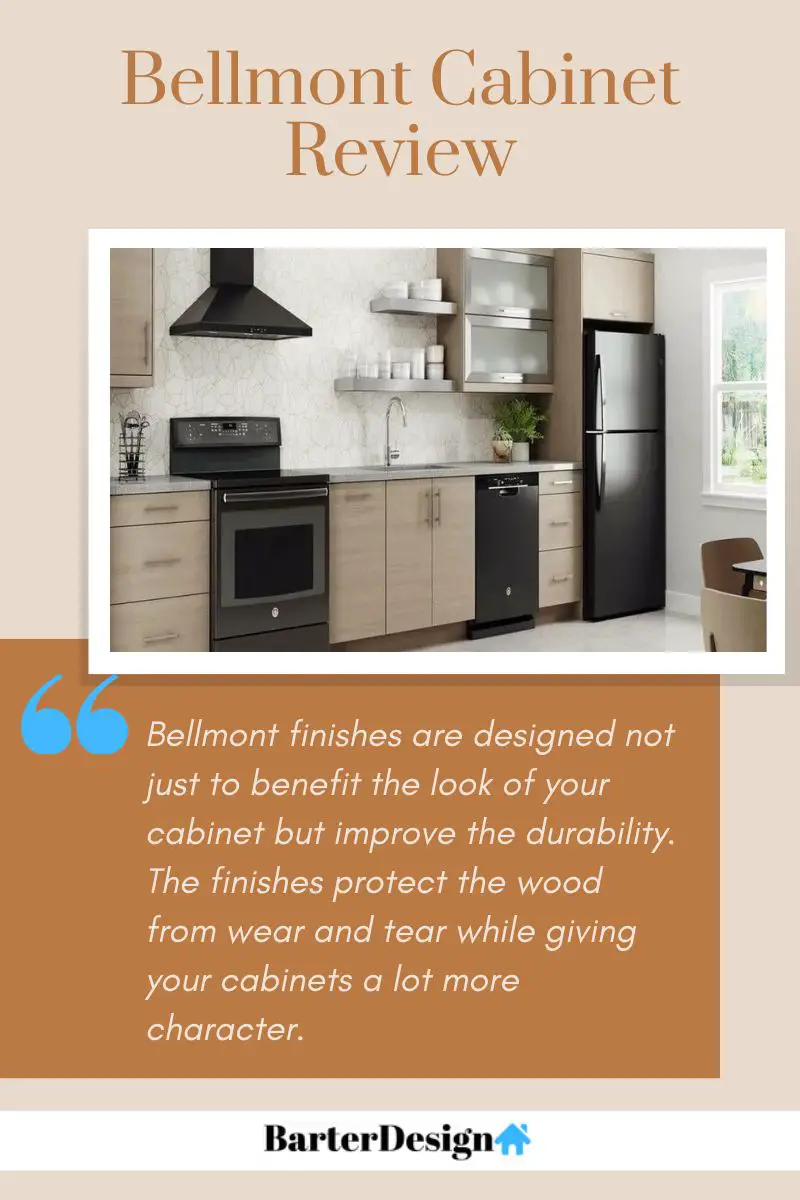 It produces one of the best frameless cabinets available. It's designed to give maximum utility with more storage and easier usage. The frameless cabinet range of the company just shows its mix of traditional construction and modern convenience.  Other frameless cabinet frame manufacturers include Wolf, Homecrest, and Waypoint Cabinets.  
Based out of Sumner in Washington, Bellmont Cabinets is a truly American company and has grown on the back of its hard work in the industry. Founded by Steve Bell in 1988, the business believes in being a responsible business, both with respect to its customers and to the environment around them. They believe in sustainability and look to replace everything they use.
Types of Bellmont Cabinets
Bellmont Cabinets produces space solutions for the whole home. The business company offers special pieces, and accessories, although their kitchen cabinets are the main event. It divided its furniture cabinet into two different collections.
The cabinetry lines have been well thought out from design to manufacture. The 1900 and 1600 collections are made with different materials. Despite that, they incorporate features that make them durable and show that Bellmont knows what they're doing.
1600 Series
The frameless cabinets from the Bellmont 1600 series are the budget line from the furniture makers. With more basic features, you can choose from urban, transitional, or classic styling. The company allows you to match your cabinetry to existing furnishings so they don't stick out in any space.
If you're looking for other budget brands that still give you good value, I would suggest you look at Brookhaven and Fabuwood Cabinets. 
1600 Series Specifications
⅝" full top construction
¼" back panel with ⅝" fastening strips
⅝" white melamine and particle board interior
⅝" shelves
Toe Kick
Standard access dovetail drawer
Concealed hardwood dowelled joints where the top meets the bottom and sides
1900 Series
The 1900 series from Bellmont is the premium cabinet line of home furnishings with detailing and extras, letting you maximize kitchen space. Made with specific artistic choices, the company does a great job of giving an international feel, incorporating style elements from Italian influences.
They are similar in craftsmanship to the 1900 series would be Hampton Bay Cabinets.  Check out my Hampton Bay business review here.
Bellmont 1900 Series Specifications
¾" thick full top
¾" cabinet construction
¾" Shelving
Concealed dowel joinery
Range of interior material options
Solid wood dovetailed drawers with full extension and under-mount glides
Soft close mechanisms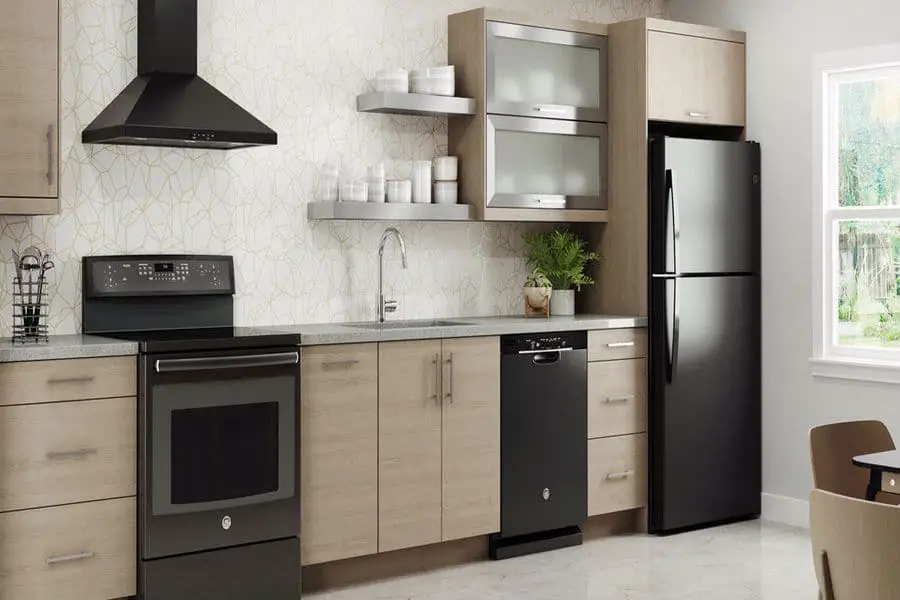 Bellmont Cabinets Reviews
Bellmont Cabinets offers hundreds of doors to choose from that you can use for your next kitchen remodel.
Shapes and overlays: Choose from different shapes and overlays to give a traditional or modern feel to your cabinet. Once you've decided on the kitchen design, Bellmont Cabinets lets you choose your material. Popular choices include maple, laminate, and veneer.
Light and dark options: Each of these gives a different look to your cabinet and your kitchen, yet it best suits a more traditional home. There is a range of light and dark options for the different styles in the 1600 collection.
Colors: The 1900 collection has a wider range of more refined door colors. Unique blends and textures let you add sophistication to your cabinet and make it stand out for all the right reasons.
Finishes: Bellmont cabinets come with a range of different finishes. Staining, painting, and glazing are available for both product lines, and there are multiple methods used to bring out the natural color of the wood.
Utility options: Common options from include extra drawers of shelving. However, you can opt for deep roll-out trays or full-height pull-out drawers.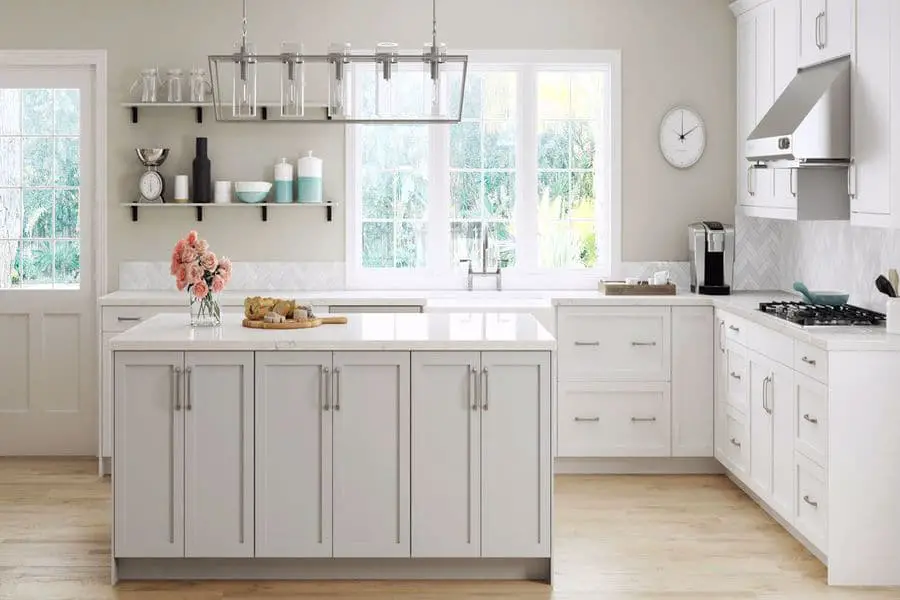 Related Questions
Does Bellmont Cabinets Offer Customization?
Yes, one of the best things about the Bellmont company is its customization process when planning a kitchen remodel. What I love the most about Bellmont Cabinets is that they send custom product samples so you can mix and match colors, materials, and finishes. Talk about the ultimate tactile experience at the convenience of your home.
Does Bellmont Cabinets Offer a Warranty?
Bellmont stands behind its cabinets by offering a lifetime warranty. This covers all material and workmanship defects in the Bellmont products for as long as you own them.
Why Should I Choose Bellmont Cabinets?
You should choose Bellmont Cabinets if you want a myriad of versatile choices, including a color-select program and built-to-order styles. From fully adjustable soft-close motion for door hinges to satin etched cabinet doors — the Bellmont company does a great job of providing the best products in the market.
Final Thoughts on Bellmont
The 1600 cabinet series has some issues with quality control, and the units aren't always standing the test of time, yet they are very affordable. On the other hand, the 1900 series from the company is well made, durable, and has some excellent style choices, although it's noticeably more expensive than the budget line.
That being said, there is value to be had from both series from Bellmont Cabinets, as they both have some cool and useful features for making the most of your home space. If your budget can stretch, it's a much better space option for creating a kitchen design, and in the furniture industry, you do get what you pay for from Bellmont. If you are interested in other cabinet reviews, check out my kitchen product reviews page.