As an Amazon Associate we earn from qualifying purchases.
Hampton Bay have over 25 years experience of creating custom and semi custom cabinets. While they aren't the oldest company around they've made an impression in the industry and become a household name.  After reading my Hampton Bay cabinet reviews article you will learn why these cabinets are a great choice for someone that is looking for an affordable cabinetry solution.
Hampton Bay manufacturing is primarily based in Florida and they outsource some of their production to Asia in an effort to keep their costs as low as possible. This allows Hampton Bay to provide some of the best value on the market.
Hampton Bay cabinets are only available through Home Depot, as the cost effective cabinet supplier to homeowners.  Other quality brands found only through Home Depot are Kraftmaid, American Woodmark and Thomasville cabinets.
Hampton Bay Cabinet Reviews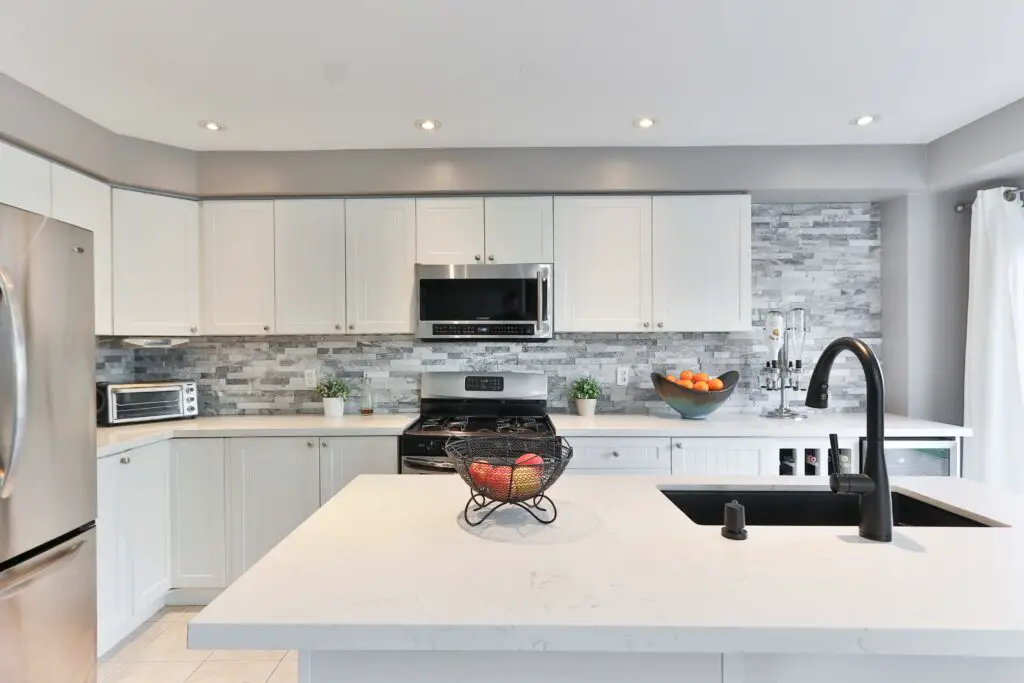 Hampton Bay provide storage solutions for the whole home, including bathrooms and offices. Since their founding they have specialized in kitchen storage and kitchen cabinets. They've moved from strength to strength, adapting with the times to keep their designs fresh and innovative.
Hampton Bay boast one of the most impressive ranges of cabinets around, with a huge range of different styles and choices. They are the cabinet maker for the modern era, designed around the active homeowner.
Hampton Bay offer their cabinets in plywood or hardwood with some furniture board options. The hardwood offers the sturdiest cabinets and best coloring, though is more expensive. Hampton Bay cabinets have a whole range of choices to fit your budget, but you do get what you pay for.
Hampton Bay Frameless Design
Hampton Bay have developed their frameless design to allow for full access into the cabinets. This lets you take full advantage of the storage space and make the most of your kitchen. The frameless design is just one of the ways Hampton Bay is using innovative design to bring value to your home.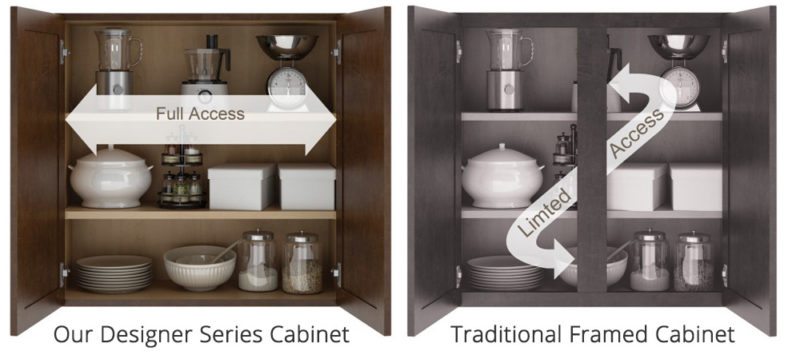 Hampton Bay Cabinet Doors
Another of Hampton Bay's real selling points is their door selection. They have over 100 different types of door available for your cabinets and a range of options to customize them further.
All of Hampton Bay Cabinet Doors are designed with fashion in mind and made to be attractive as well as durable. The most popular options include their Maple & Oak and their Aluminum Accent door.
Hampton Bay Finishes
Hampton Bay Cabinets have several different methods to give the best look. These range from staining to glazing to painting, with each method being used for a specific reason. The finish colors are varied with the most common being:
Natural
Espresso
Stone Grey
Spice
Depending on your finish method and coloring you can end up with very different pieces of furniture. It's the perfect way to take a semi custom unit and make it unique to you.
Hampton Bay Cabinet Upgrades
Hampton Bay keep things simple when it comes to upgrades. They have a lot of innovative features including soft closing drawers and more durable wood options.
All of these add-ons are simple and kept inexpensive to the user. My advice is to check out all the options and select the extras you can afford, they can really make a difference to your kitchen cabinet.
Hampton Bay Cabinets are all customizable easily and adjustable to fit your needs. There are a number of functional choices to make when selecting your cabinet so be sure to go through everything while you're in Home Depot.
Hampton Bay Cabinet Sizes
Hampton Bay produce several varieties of cabinet, but their base cabinet is their most popular. The sizes may vary slightly but generally they are built to the following specifications:
Tops: 5/8″ Plywood rails
Bottoms: 5/8″ Laminated furniture board.
Ends: 5/8″ Laminated furniture board.
Shelves: Fully adjustable 3/4″ Laminated furniture board.
Backs: 1/4″ Laminated furniture board with 4″ x 5/8″ plywood mounting rails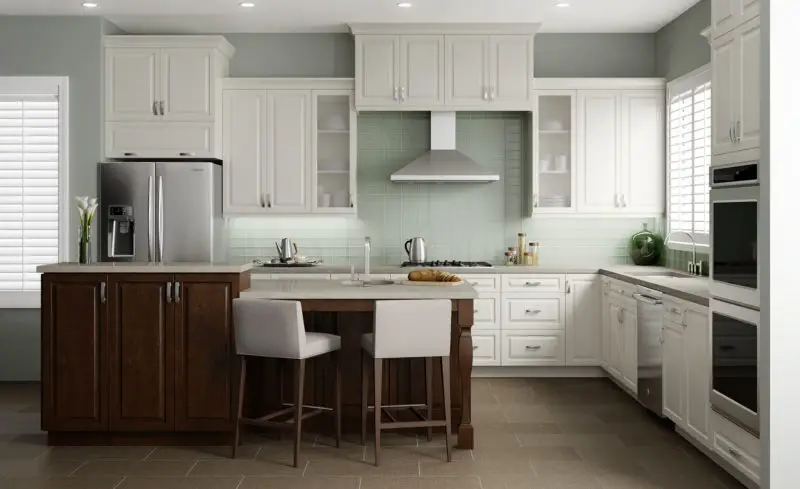 Hampton Bay Cabinets are semi custom and are available in a range of sizes. They go up in 3" jumps. If you choose to upgrade your drawers then instead of plywood you'll have furniture board and a soft close function. The mechanism in the drawers is covered by their warranty.
Hampton Bay Cabinet Quality
Hampton Bay make their cabinets with a lot of the same specifications as high end cabinet makers. The full back panel in each of their units provides additional stability to the cabinet, increasing its lifespan.
There are a lot of different options and upgrades available, my advice is to upgrade where you can for the best unit. Glass options are very popular with Hampton Bay and can provide a high class look for your kitchen.
Hampton Bay cabinets are pre built, which makes installation really easy. With nothing to build the unit can be fitted very quickly, removing the complicated process usually involved.
Hampton Bay bring 25 years of expertise to each of their kitchen cabinets. They aren't as good quality as the high end models but they are well designed and well built, the end results is a product you can rely upon.
Hampton Bay Cabinet Warranty
Hampton Bay offer a lifetime warranty for all finished cabinets. This includes all materials and workmanship for each of their kitchen cabinets and shows their willingness to stand behind their products. There are user reviews of them honoring the warranty but be sure to check in Home Depot for what exactly is and isn't covered.
Hampton Bay Cabinetry Reviews
With all reviews there tends to be a mix, and Hampton Bay is no exception. While some people are very pleased with their purchase there are criticisms of the quality of material and of manufacturing.
"Craftsmanship very poor, damaged edges on some cabinets, damaged doors on some cabinets, hard to level, some not square" – Ron
The choice to move their production out of the U.S does seem to have harmed the quality of their products, with buyers being unhappy with the cabinets.
However some people seem very pleased with their purchase and would order again:
"These cabinets get such a bad rep and it's unwarranted. I got a full kitchen delivered to my home and everything came within 6 weeks in great condition. They're built way better than the box cabinets from Menards and Lowes" Jordan
All in all the reviews come out mixed for Hampton Bay, a lot of people expected more and were disappointed. My advice if you do order is to make sure everything is up to scratch when delivered and scrutinize everything.
Are Hampton Bay Cabinets for me?
Hampton Bay Cabinets are not the best quality product around, in fact most comparisons are made with Ikea. There is stiff competition at the moment in the furniture industry and therefore lots of options to explore for kitchen cabinets. Hampton Bay are not top of the line, in fact they're near the bottom of the mid/low range market.
However that doesn't mean they aren't for you. There are some issues with manufacture but generally the cabinets are coming in ok condition.
The real problem will be that they won't last as long as you'd hope. In the cabinet industry you really do get what you pay for and Hampton Bay are offering a really great price for the buyer.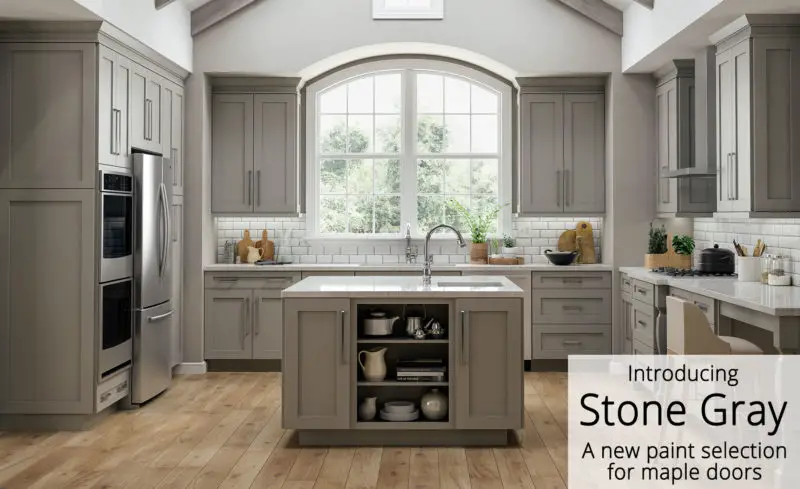 Hampton Bay have lowered their quality by outsourcing their production, but have kept their prices competitively low. Hampton Bay don't have the history or character of other cabinet makers and are a budget alternative.
If you can afford to go for one of the other mid range brands then go for it, but If you're on a very tight budget they're a good option, be sure to purchase all the upgrades you can.  If you are looking for another cabinet company that has not moved their production overseas I would suggest looking at Diamond cabinets and Merillat cabinets.
Hampton Bay are making semi custom cabinets as simple as possible, be sure to check them out in your latest home depot if you need an affordable kitchen cabinet.