One of the most used rooms in your home is your kitchen. It's used for cooking daily meals, baking for the holidays or birthdays, friendly gathering, and that fresh and delicious cup of morning coffee. Out of everything in your kitchen, you likely get quite a bit of use out of the faucet you already have.
Whether you're filling your water jug, washing some fresh picked berries, or just doing the dishes from dinner, it's important to have a high quality faucet.
To improve kitchens everywhere, well-known and trusted companies like Delta, Kohler, and Moen have been making and improving on touch faucets. There are many times when this technology can come in handy, no matter your lifestyle. The majority of people love having a touch kitchen faucet when their hands are dirty from cooking or full of things to wash. With the simple and light touch from the hand, wrist, or arm, the faucet will turn on!
It doesn't matter if you're buying your first home, building a house, or just completing a few things that have been on your home improvements to-do list, it's important to make sure you're buying the right product. To help you find the best bang for your buck, we've found the four best touch kitchen faucets that are on the market today! Let's take a look at in-depth reviews to find the perfect match for you and your home.
Touch Activated Kitchen Faucet Comparison Table
| Product Name | Image | Rating | Learn More |
| --- | --- | --- | --- |
| | |   |   |
| | |   |   |
| | |   |   |
Top 4 Touch Kitchen Faucet Options – Touch Activated
Starting us off is the Delta Single-Handle Essa model. Delta is well-known for making high-quality products that are innovative and unique. This kitchen faucet has a magnetic docking system that helps to keep the faucet in place with ease. This feature can actually make the faucet more reliable and long lasting, since there won't be any damage from drooping or hanging hoses. This faucet also has InnoFlex PEX supply lines that are built into the product to prevent any unwanted leaks.
The design is simple and modern, making this a great choice for any kitchen. It is available in a handful of different finishes including chrome, arctic stainless, matte black, and venetian bronze. Because kitchen faucets aren't the most inexpensive addition to your home, you'll likely enjoy the limited warranty that the Essa comes with.
It has a pull down sprayer so you won't have to sacrifice convenience when switching to one of the best touch kitchen faucets.  If having a pull down is a must have for you, then check out our best pull down kitchen faucets guide!  The hose is over 1 ½ feet long and gives you the option of different modes including spray and stream.
Many users have expressed enjoyment out of the design of this faucet. It gives you high-clearance and it can swivel in any direction. Because this is a Delta faucet, it is built to last two times longer than other touch kitchen faucets that are on the market.
With an eight inch configuration, this product can be installed in either one or three hole sinks. You can easily turn this faucet on or off by touching anywhere on the base of the Essa. This is perfect for busy parents or those who have trouble with joint pain!
Pros:
Swivels 360 degrees
Touch sensitivity is high
It looks great in any kitchen
Arched spout allows for extra clearance
Cons:
Some parts are plastic which isn't too durable
The price may be steep to some (quality definitely makes up for it though)
Next we're going to take a look at the Moen 7594RS Arbor On-Handle touch kitchen faucet. Moen is another popular brand that makes durable and reliable products. As you can see, this is a beautiful faucet that is sleek and modern. All color options offer a spotless finish which is a big plus for many consumers.
In addition, it is designed with stainless steel that has spot resistant technology that keeps pesky water spots and grubby fingerprints at bay. It is available in silver stainless steel, oil-rubbed bronze, and matte black.
If you have an active kitchen that sees a lot of cooking, baking, or a lot of messy hands, the Moen 7594RS is the best touch kitchen faucet for your home. Have you ever been washing the dishes and needed a lot of water pressure to help get off a stubborn stain on your favorite dish? This faucet has Power Clean spray head technology that is packed with water pressure. It can easily be switched on and off as needed.
We can't talk about this faucet without talking about the hose with a built-in Reflex system. The hose moves with ease and doesn't get caught up or stuck at one length. The faucet itself sits at about 16 inches tall with a spout reach of around eight inches.
Similarly to the Essa, this Moen model also comes with a limited warranty, which can come in handy for homeowners. If you have any issues with this touch kitchen faucet, Moen will take care of it. It can easily be installed using one or three holes, whichever works best for you.
Pros:
Power Clean brings a ton of extra water pressure
It has a spot resistant finish
The lifetime warranty saves you on spending too much on repairs
The hose stays in place when not in use and won't get caught up or tangled
Cons:
Motion sensor can be a bit touchy (though this can be fixed with the warranty)
Delta makes another appearance with the Leland model from their touch kitchen faucet collection. You're already well aware that Delta is a trusted company that many homeowners enjoy. The Leland model makes the cut for several reasons, but one thing that stands out is it's durability. Because appliances like faucets can get expensive, you may as well purchase one that will last a couple of decades.
The Leland has the Diamond Seal Technology directly from Delta. This technology proves that Delta products tend to last double the amount of time than competitors. It's also incredibly easy to install and can fit into all one or three-holed sinks. Many other sink faucets can get build up around the spout.
The Delta Leland is designed with soft rubber spray holes that make it easy to wipe away mineral residue with a washcloth or paper towel. This is one of the best touch kitchen faucets for the ShieldSpray technology that it has. This is an intense jet with a ton of water pressure to help you fill bottles quickly or get rid of annoying stains, saving you a ton of time in the long run.
The hose is 20 inches long and like the Essa, comes with a magnet docking feature. This extends the life of the hose and is perfect for households with children who tend to forget to put things back in their place. This faucet has InnoFlex PEX supply lines that are built into the faucet to prevent any unwanted leaks. There is also Delta's Touch Clean technology built-in that makes it easy to keep this faucet looking spick and span.
Another thing that this faucet has in common with the other Delta model on this list is that some parts are made with plastic. This is a strange choice for the company, since the faucet is far from inexpensive. With that being said, that's a small price to pay for such a high-quality faucet. There are multiple finish options available to help you find a Leland faucet that will fit right into your kitchen design. You can choose from chrome, matte black, article stainless, and venetian bronze.
Pros:
Looks good in just about any kitchen
There are three spray settings for convenience
You can easily control pressure and temperature by touch
It's easy to clean with the Touch Clean Technology
The long hose gives you more control
Cons:
Some parts are made with plastic
The price point is higher than other touch activated kitchen faucets
Some users report that the pressure fluctuates.
Last but not least, The Kohler K-560-Vs makes the list with one of the four best touch kitchen faucets on the market. As you can tell by the name, this is a pull down kitchen faucet that allows you to easily control the water as needed.
The faucet can swivel up to 360 degrees, allowing for flexibility when filling large plant pots or cooking dishes with water. It has an extra high arch that allows for extra clearance when needed. The Bellera is equipped with a three function spray head that has options such as Boost and Sweep Spray to make your kitchen tasks a bit easier.
The Boost feature will pump up the water pressure and flow rate to save you time. The Sweep Spray action turn the pouring stream into an intense blade of water. This can also come in handy when needing to reach items that are on the counter. The sleek finish makes this the perfect addition to any kitchen sink.
It is available in three different finishes including vibrant stainless, polished chrome, and oil-rubbed bronze. The Kohler Bellera is easy to install and can be done by just about anyone. There's no need to hire a professional! Like the other touch kitchen faucets on this list, this one also has a magnetic docking technology.
Kohler's DockNetic technology keeps the sprayer in place when not in use. This kitchen faucet comes with a lifetime warranty that will save you from spending and stop stress in its tracks when it comes to home improvement. It is made with high quality materials and is durable and reliable. There are multiple finish options if you need a specific color such as black or silver to fit in with your kitchen's aesthetic.
Speaking of finishes, this faucet is resistant to corrosion, scratching, or anything else that could impact the finish. There is also a convenient handle that is built with a sturdy ceramic valve. This faucet has a fill rate of around 1 ½ gallons per minute, saving you plenty of time! Whether you're looking for a new touch kitchen faucet to save you time, help get rid of stubborn stains, or to help water your plants, this Kohler model is a great choice!
Pros:
It's incredibly easy to install
The DockNetic technology allows the hose to easily dock when not in use
There are multiple finish colors available
It has three different spray stream options
Cons:
The price is high
User support is not available on the weekend
What Is A Touch Activated Kitchen Faucet?
A touch activated kitchen faucet is a faucet you can turn the stream of water on or off simply by touching a certain part of the faucet.  You can do this by touching it with your fingers, elbow, or even your forearm.
This means if you're carrying a bit pot that you need to wash you don't need to completely free up a hand to simply turn on the water.  Just touch the activation spot with your elbow and your water is on! 
This is heaps easier than traditional faucets, and really makes things much easier in a busy kitchen.  I've found that I no longer have to put everything down just to turn the water on so I can actually start washing the dishes or pots.  Just give it a quick tap with my elbow or forearm and the water gets going and I can start cleaning.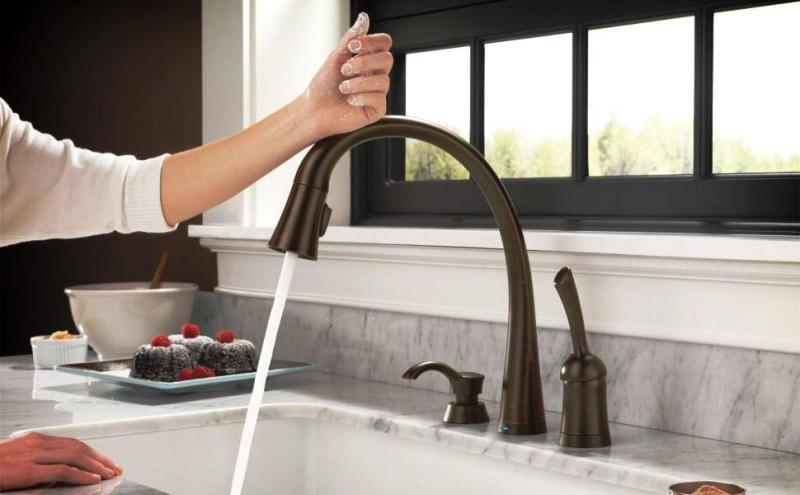 Along with this, I've noticed that I don't have to clean my faucet as often because i'm not touching it as much with dirty parts of my hands/arms.  For example if I was making cookies and my hands were full of flour, with a traditional faucet I'd have to grab the handle and get flour all over my faucet (which I'd have to clean after I wash my hands), but now I can turn the water on with a clean part of my hands/arms.  
Final Thoughts on Touch-Activated Kitchen Faucets
Now that you know about a handful of the best touch kitchen faucets that you can buy, we hope your decisions is a bit easier. Getting new appliances can be fun. It doesn't need to be as stressful and overwhelming as it could be. Having a touch kitchen faucet has plenty of amazing benefits. Having one in your home is essential, especially if you cook a lot or have a never ending pile of dishes to get through.
They're easy to install and are one of the most long lasting kitchen appliances there is. It doesn't matter if you have an entire house to yourself or you have a dozen kids, a touch kitchen faucet is always a great addition. All of the products listed above come from trusted brands that each come with their own list of amazing qualities. Remember to always compare one product to another to get the best product for your needs.
This will also help you decide which touch kitchen faucets have the features that you need in your home. While one person may need high water pressure, another may need a lot of clearance. Whatever the case may be, you're one step closer to adding a new touch kitchen faucet to your home! Be sure to pick a finish that fits perfectly with your kitchen's aesthetic and consider opting for one that is easy to clean or fingerprint-resistant! Happy shopping and thanks for reading our extensive reviews!