As an Amazon Associate we earn from qualifying purchases.
CR Laine have been producing furniture for almost 60 years and have emerged as one of the premier furniture manufacturers within the U.S. Founded by Clarence Roseman back in 1958, the company had humble beginnings but strong traditional values. Soon the company grew and diversified their product range and now they're a household name when it comes to furniture.  
In my CR Laine Furniture Reviews guide I will go over CR Laine's history, the type of products they produce, the quality of their furniture, and their furniture warranty.
About CR Laine Furniture
Based in Hickory North Carolina, CR Laine is proud of It's American manufacturing. Unlike a lot of the competition who have outsourced to cut costs, CR Laine believe in doing things the old fashioned way and overseeing the whole process. This allows them to keep tight control of the products and regulate the quality of every unit. All CR Laine Furniture is finished by hand making each piece unique.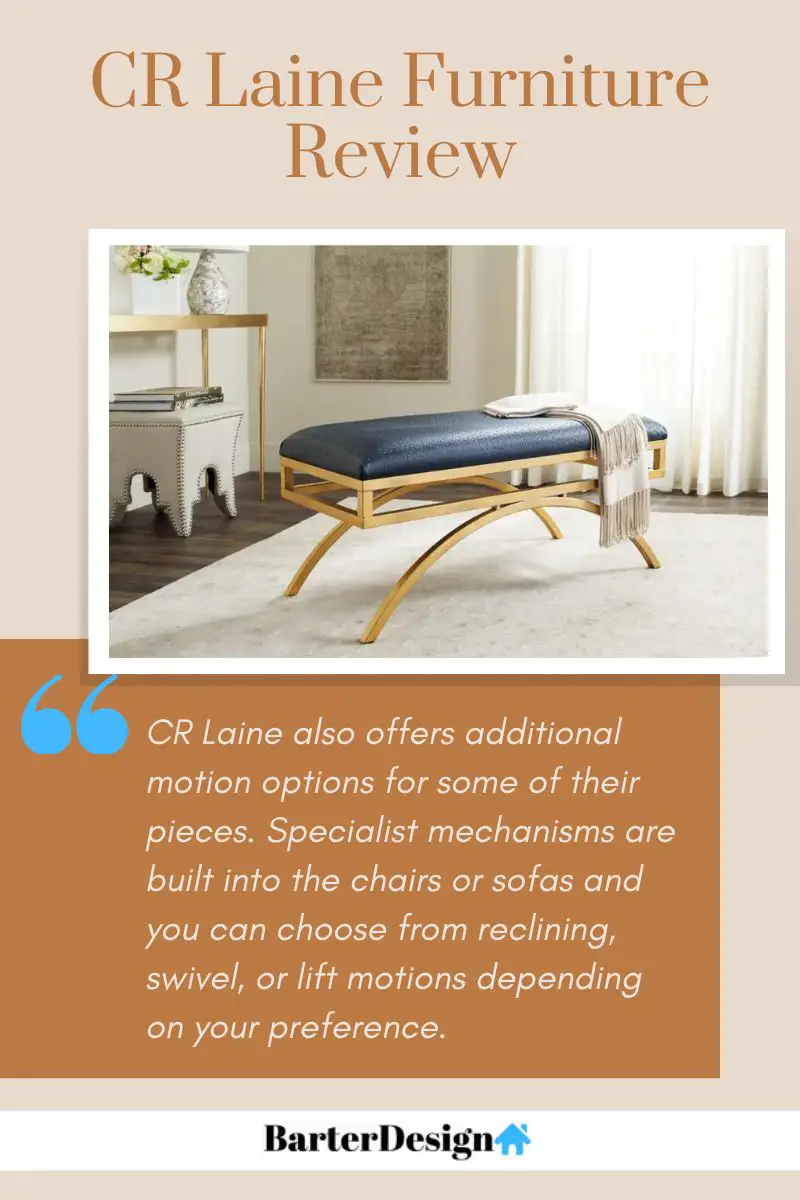 CR Laine Furniture was built on the idea of creating inspiring upholstered furniture through innovation. There are 3 main aspects that CR Laine focus on in their furniture: Style, Comfort and Colour. It's CR Laine's belief that these three attributes working in unison creates the perfect piece and really adds value to a home.
CR Laine Furniture is made by expects with a long history in the industry. The all American production is a major plus for them and means their quality is likely to be high. Let's take a look at their main product ranges.
Types of CR Laine Furniture
CR Laine are a full supplier of home furniture, with collections for every room in their house. They have products for dining rooms, bedrooms, home office, entertainment suites, storage solution, specialized kids products and of course a living room range.
CR Laine's living room selection, specifically their upholstery, is where they cut their teeth and still homes their most popular products.  I would say their upholstery is on par with the quality of Flexsteel.
CR Laine furniture is built using the best materials available and with modern techniques. They have high standards when it comes to their furniture with standard specifications including:
Frames made from 5/4" Kiln Dried Hardwoods
Fitted Joints- glued and dowelled twice
Reinforced angled corner blocks- for even greater stability
8 way hand tied double cone steel coil springs within the frame
Cushions featuring high resilience soy based foam wrapped in fibre
Hand cut and hand tailored fabrics and materials
CR Laine know their way around furniture and their skilled employees are familiar with a lot of advanced techniques to make their furniture durable. The specialist techniques are backed up with specialist materials. All of this means greater comfort in each unit and longer lasting quality.
CR Laine create some of the best bench crafted upholstery around by constantly reevaluating their processes and products. They're always looking for new materials or innovative additions to their pieces which has resulted in a varied and diverse portfolio of products.
CR Laine are upholstery specialists and have been fitting out living rooms for almost 60 years. Let's take a look at their main product ranges.
CR Laine Living Room Reviews
The living room is the centre of the home both for family and for guests. It's important to fit it out how you'd like it, with all the furniture that matches the decor. With CR Laine Furniture you can choose from:
Sofas
Loveseats
Sectionals
Chairs & Chaises
Ottomans
Benches
Accent pieces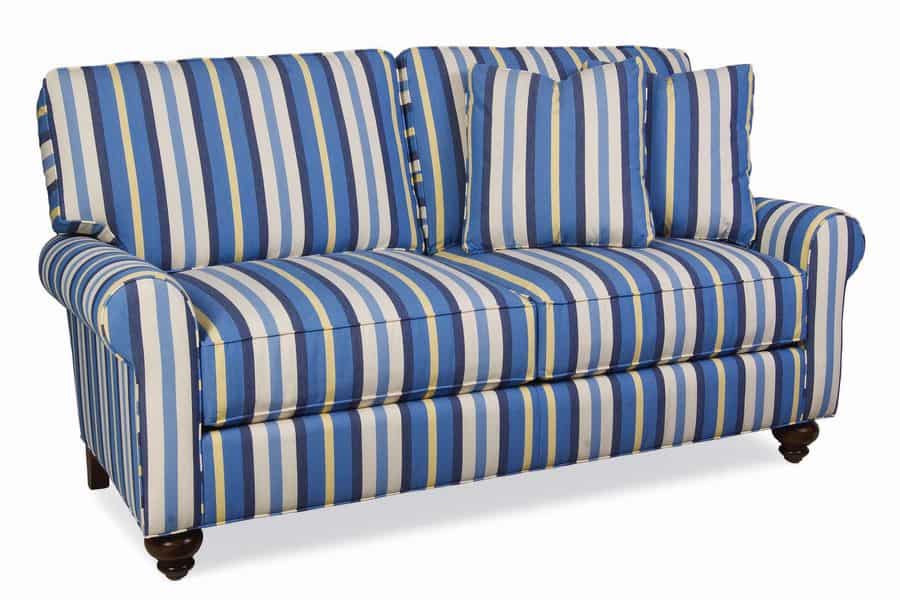 Each CR Laine piece comes with different features to fit a different need and for each of these products you have the choice of traditional, modern or contemporary models. CR Laine also give you the option of creating your own furniture, where you select the shape, size, colors, design and any extra fittings. You can do this through their website or in store.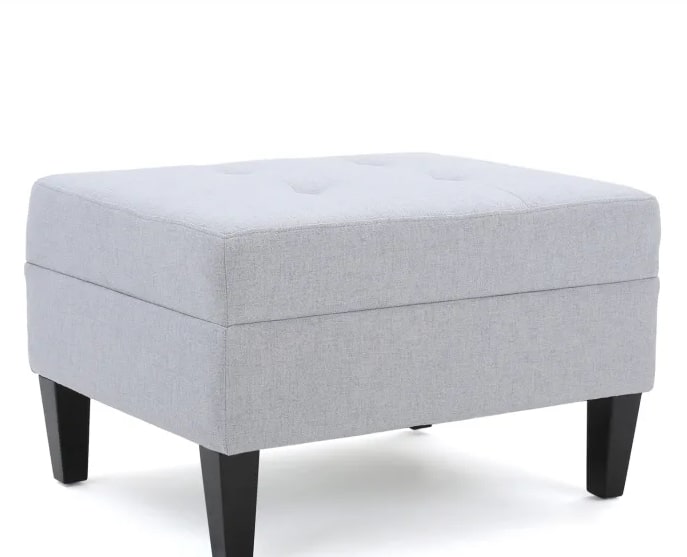 At CR Laine, you can mix and match your design preferences, as well as adding furniture accents that matches your living room. If you prefer to add an ottoman or two to your living room set, this Zahra Dark Gray and Dark Brown Tufted Fabric Ottoman has refined tapered legs that is aesthetically similar to CR Laine products.
Sofas have traditionally been the chair of choice and CR Laine have a wide selection to choose from. The size and shape of each unit varies depending on the style you choose but with over 100 different collections there will be one to use your free space effectively.
Once you've settled on a unit you have a range of options to choose from to personalise your sofa. Colour is a speciality of CR Laine and there are over 100 different fabrics to choose from to give you the ideal shade. There are 9 different primary colour groups to select from and 8 different pattern selections:
Check/Plaid
Floral/Damask
Geometric/Chevron
Novelty/Exotic
Performance/Sunbrella
Solid
Stripe
Website Exclusives
These vary dramatically from the bold to the subtle and each has a very distinctive look. These can bring together a room or make it clash completely, your best bet is to go into your local dealership and see samples of each before deciding (except the website exclusives where you'll have to gauge it based on digital images).  If you are interested in floral then Benchcraft and Ashley furniture both offer pretty good floral options.
The fabric choice available from CR Laine is really impressive and gives the customer fairly tight control over the design process. There are also a number of leather sofas available. These provide a classic look to your furniture and have the benefit of being more durable against wear and tear. Choose from a variety of leather shades with unique rubs and finishes.
CR Laine has over 50 different finishes to enhance the coloring of their pieces. These differ massively and they have everything from English Antique to Granite colors. CR Laine also offer additional motion options for some of their pieces. Specialist mechanisms are built into the chairs or sofas and you can choose from reclining, swivel or lift motions depending on your preference.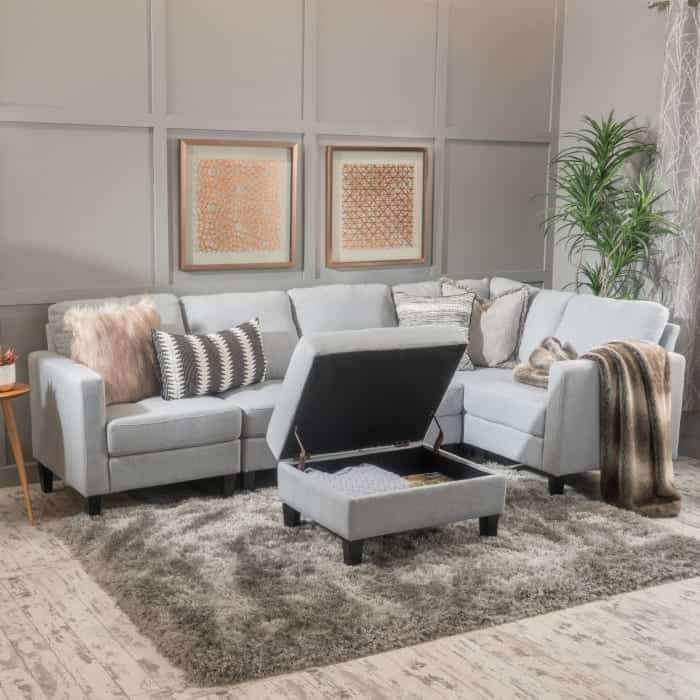 Nothing beats a classic design and fabric for a sofa, and CR Laine is known for pieces that can easily fit in any type of home. If you love their design but wishes for a more affordable unit, this Light Gray Sectional with Storage Ottoman is a great addition to any family home.
All CR Laine sofas feature hardwood or hardwood composite bottoms and frames to make them sturdier. All the upholstery is done in their facilities in North Carolina. The result is a highly customizable, well made piece of furniture which can add something to your living room.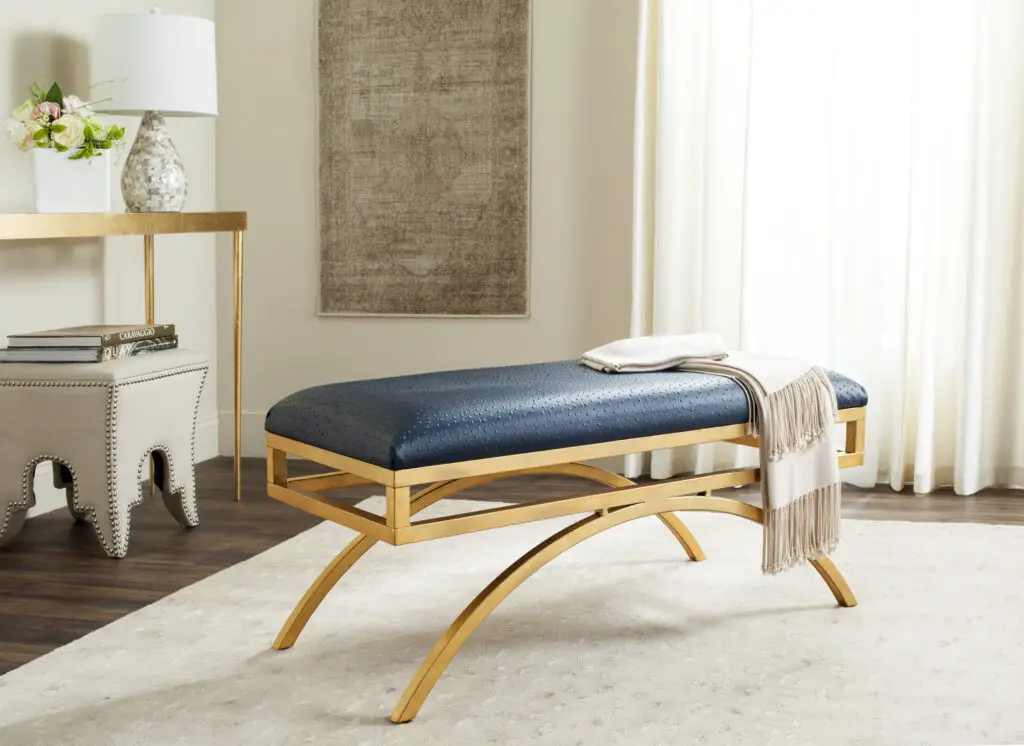 CR Laine makes it easy for their customers to customize their living room any which way they want. If you already bought a focal sofa set from CR Laine, but wishes to save on your furniture accents, this Amelia Linen Arch Bench is a great alternative.
CR Laine Furniture Reviews
CR Laine Furniture have established themselves as a popular choice in the market and this means there is a lot of customer feedback about the brand. The majority of the reviews are of customers who seem very pleased with their purchase. Criticisms of the units are generally to do with the construction errors:
"I purchased a sectional from Whitley Galleries, manufacturer C.R. Laine (lifetime warranty. It arrived defected (left side one inch taller then the right side)"
There is absolutely nothing worse than waiting for your products and then they arrive faulty, especially with a company like CR Laine Furniture who aren't the cheapest around. However mistakes do happen with every company and that's why it's worth understanding your warranty and what your rights are.
Overall CR Laine's American production seem to be doing a good job, with only isolated incidents of mistakes or poor quality. The units are made to stand the test of time and bring value to homes for a number of years.
CR Laine Warranty
CR Laine offer a fairly standard warranty that covers all defects in workmanship and materials. The products are covered for one year from purchase, but this doesn't include any standard wear and tear so be sure to check the best ways to maintain your quality furniture. It's always worth double checking with your dealer what is and isn't covered so you know where you stand if something goes wrong.
My Overall Thoughts on CR Laine Furniture
CR Laine Furniture are offering some impressive choices when it comes to fabrics. There are more colours, patterns and designs available than most other brands. But despite this focus on the upholstery the frames and woodwork don't suffer. All of CR Laine's products seem to be well built and durable.
It's always worth spending a little more if your budget allows so you get the best quality materials in your furniture. This pays dividends in the long run and gives you peace of mind. With CR Laine if you can afford to spring for their higher tier products then do it, and leather is always a solid choice for sofas and recliners.  
If you're looking for similar levels of fabric quality but with a little cheaper price, then I suggest looking a Rowe for quality fabric.
Overall CR Laine Furniture have struck a very delicate balance between price, style and quality and are bringing value to homeowners across America. Find your local dealer today and see what products are best suited for you.  Checkout other furniture reviews here.