The kitchen sink is the cornerstone of the modern home. It may not seem vital at first, but the more you think about it the more you realize that you spend an awful lot of time over your kitchen sink washing dishes, preparing food and generally keeping your kitchen clean.
Blanco Kitchen Sink Comparison Table
If you're looking to upgrade your kitchen, or you're just renovating your home, then you should look to start with the sink. Getting the right kitchen sink will help you keep your kitchen hygienic and protect your family. It will also bring the whole room together.
So what makes a good sink? Style is important of course, your sink will get a lot of use and a lot of people will be looking at it. Features are also important, having a range of different ways to use your sink is always important and will help you get the most from your sink.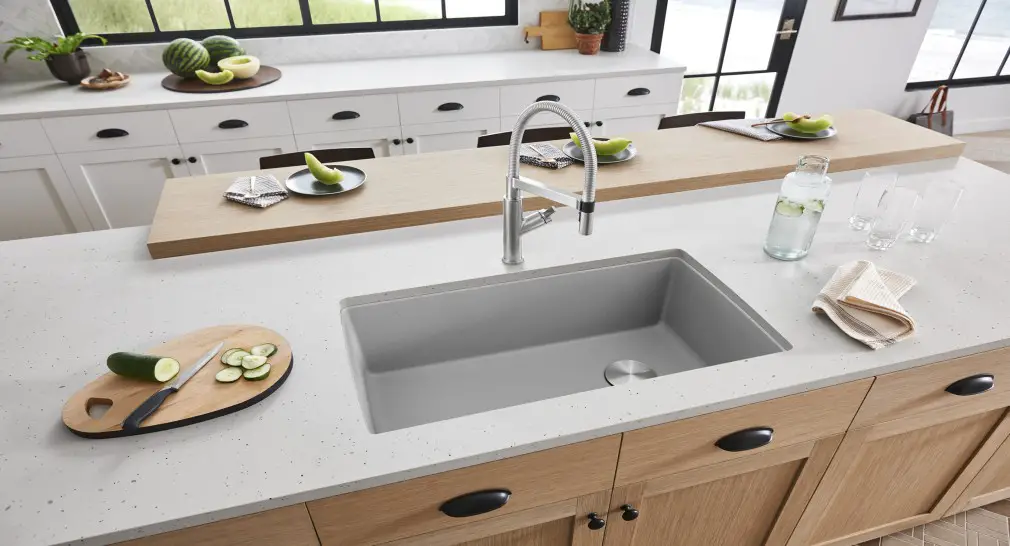 While other factors come into play, nothing is as important as quality. The materials and construction techniques used will all determine the quality of your sink and in turn that will impact how well it works and how long it will last. If you want a solid sink that can stand the test of time then you have to go for quality above all else.
It's difficult to know you're getting quality, but choosing the right brand is the best place to start. There are a lot of well known brands in the kitchen sink arena but Blanco are one of the best known. Blanco manufacture a whole range of well designed and innovative products which meet the user needs. In this article we'll explore some of the key benefits of Blanco products and what separates them from the competition.
Sleek and stylish, the first sink on our list is simple but attractive with signature black or 5 more colours to choose from. It's made from silgranit which features 80% granite making it strong, and durable. This is a sink made for a hard working kitchen that sees plenty of use, be that a large family or just a small household that enjoy to cook.
At 32.5 inches long, 22 inches wide and 9.5 inches deep this is a large sink. It's perfect for resting large trays, pots or pans if you want to soak, and the drain is located to give maximum surface area. It's a single hole drop in sink making it one of the simplest varieties to install. Blanco have made this one very simple and even the most basic DIYer can set it up in less than an hour.
Blanco 440914 Sink Key Features:
Heat Resistant: The Blanco Diamond sink is incredibly durable. This is a result of the materials used and the construction quality we see from the brand. The granite composite allows this sink to handle heats upwards of 500 degree fahrenheit and very low temperatures. You can dump the used pans straight in without risk of damage.
Easy to Clean: The durable material helps protect from any scratching or denting plus it's very easy to maintain. The silgranit is very resistant to any staining or spots on the surface allowing you to clean the whole unit with a simple wipe of a cloth. This helps your kitchen remain hygienic and spotless.
Fast Drainage: There's nothing worse than a slow draining single bowl sink because it means you can't fully use the product. Blanco have optimized the angle of the sink and placed the drain in the best location to empty quickly. They've used draining grooves in the basin to prevent water pooling and to let water flow as efficiently as possible.
Blanco 440914 Diamond User Reviews: ​​​​
Blanco are one of the market leaders so their products get a lot of attention. This is always good because customer and user feedback can really help determine whether to go with a purchase or not. Over 90% of users seem very pleased with this sink, and positive reviewers are quick to praise both the design and functionality of the unit.
Some negative feedback has been generated by those who were delivered a cracked sink. This appears to be isolated incidents but you should always check the entire unit upon delivery and report any issues to the manufacturer as soon as possible. However, overall this is a very well thought of product which should give you some confidence if you're thinking of buying.
Blanco protect their products and offer a lifetime limited warranty on this sink. This will guarantee it against any material defects or construction issues that may occur, but not daily wear and tear.
In terms of price, this sink is mid range and depending on the exact model will cost around $400-500. At this price there's a lot of value given the quality of the product. Plus it's made to last so you should get a lot of use out of it. Durable and stylish, definitely one to consider if you're in need of a new sink.
The next sink on our list is a double bowl, giving you more space to use the sink effectively. This makes it well suited for larger homes or those with kitchens that see a lot of use, but it can also be a useful addition even for those who live alone. It has the Blanco minimalistic style and again, is available in a range of colors.
At 39 inches long, 28 inches wide this sink is huge. The main basin is 9.5 inches deep giving plenty of room for large pans, and the secondary basin is 8 inches which still allows for plenty of use. The whole unit is made from silgranit which provides durability and protection to the sink. Plus, it's another drop in sink so installation shouldn't be too taxing.
Blanco 440180 Key Features:
Clean Look: The elegant style of this sink can't be ignored or overstated. It's the perfect centrepiece for your kitchen and is sure you get several compliments from family and friends when they see it. The silgranit not only gives a very clean look but also gives that stone feel. This makes the whole sink feel that bit more premium in your home.
Resistant Material: The silgranit is extremely tough and won't scratch easily, but it's also non porous. This means it's unlikely to stain and should be simple to clean with rounded corners in the basin to prevent any built up on dirt.
Unique Thin Divider: Blanco have been around the block and it's these small features that really show it. The divider between the two sinks is unobtrusive and actually looks very stylish. Both bowls are large enough to use separately offering that extra level of utility to the user.
Blanco 440180 User Reviews:
This is another popular sink with a lot of feedback. Over 86% of users seem really pleased with the product and positive reviews seem to indicate it's a very popular sink for those renovating their home. There is some negative feedback about the cleaning of the sink and you do need to be careful. Try to avoid chemical cleaners that are overly strong as these can damage the materials. If this happens you may not be covered by the warranty. Overall however there's a lot of happy customers, which is always good news.
Blanco also offer a lifetime limited warranty on this product which covers the materials and components from any defects. Again, this won't cover daily wear and tear so it's useful to put in a solid cleaning and maintenance routine.
Priced at under $400, this sink offers a great deal of value. It's large, has great aesthetics and easy to maintain. Blanco are a reliable brand that know their craft so you'll also get a long life from the product. Overall it's offering a great deal and it's definitely one to look at closely to see if it will suit your home.
Simple but effective seems to be the tagline for Blanco sinks, but it's never been truer than with this product. It has a modern minimalistic feel that gives it a level of sophistication you wouldn't expect from a sink, and it's certainly one that would be at home in a modern home.
At 32 inches long, 19 inches wide and 10 inches deep this sink gives a lot of volume to make the most of. It's undermount and made to be easy to install, with all clips and accessories needed provided as standard. It's made from silgranit which offers robust, durable protection, making it well suited for the busy home environment.
Blanco BL440150 Key Features:
Durable Construction: Blanco have done everything they can here to make a sink that will stand up to anything. The silgranit is incredibly durable and will deal with high temperatures. Plus their advanced construction techniques mean that the whole unit should have no issues, giving you greater peace of mind when using it.
Large Volume: This sink is large, larger than you realise until it's in your home. While this may mean it takes up space in your kitchen it also means you can use it with even the largest trays. You can put a lot of pots, pans and dishes in the bowl to get them away from the surface. This helps keep your whole home clean and tidy.
Geometric Design: Blanco have used a crisp and elegant design here, with angles exploited as much as possible to add to the aesthetics. It's available in signature white, or 5 other options, so you can customize it to match your existing set up. Versatile and stylish, it offers the best of both worlds.
Blanco Percis User Reviews:
With 87% user satisfaction, there is a lot of positive feedback about this sink. People seem really impressed with how Blanco have combined the style with the functionality to make a sink that works well and looks great. Some users have fed back that hard water can have an impact on your drains. If you live in an area with hard water then you should consider looking at additional filters for your drain, however, this shouldn't impact the sink itself. Overall, there's a lot of positives and the majority of users seem really pleased.
Again, Blanco offer a lifetime limited warranty on the entirety of this sink. It helps give that extra level of protection and it's always good to know you're protected from any defects.
This is certainly a premium product but depending on your make and model you may only pay $400-500 for it. This means you can get a lot of value and spend mid range money to get a product with high end longevity and quality. Certainly one to consider when upgrading your home.
The final sink on our list is another double bowl sink, giving that extra versatility in the kitchen. It's available in a range of matt colors which may not be everyone's preference, but can really add something to your kitchen. It's another simple, but stylish sink that will help enhance your home.
This sink is 33 inches long and 26 inches wide, meaning it will fit in medium sized kitchens without dwarfing everything. Both of the bowls are 10 inches deep, giving maximum space for dishes, pots and pans, and making the whole sink really useful. It's made out of the granite composite silgranit, offering the same level of protection we've seen in the previous sinks on the list.
Blanco Performa Key Features:
Easy Installation: Blanco have designed this sink to be easy to install so you don't have to get a professional in to do it. Full guidance and materials are provided with the purchase and you should be able to fit this in a couple of hours. Do make sure you carefully read the manual though as mistakes during installation may void the warranty.
Quick and Easy Cleaning: This is another kitchen sink that's easy to maintain. This is primarily down to the silgranit composite which is resistant to staining, but also because there are rounded corners in the bowl to prevent any build up of water or dirt. This means you'll save time as you won't need to constantly scrub to get it looking perfect.
Deep Bowl Depth: Often with double bowled sinks you'll find the smaller bowl is less deep. While this isn't an issue, it's definitely nice to see the same functionality on both sides of the divider. At 10 inches deep it's difficult to imagine any pots of pans you can't submerge to soak overnight. This helps make the sink a real asset to your kitchen.
Blanco Performa Sink Reviews:
User feedback is very positive with over 90% customer satisfaction. Those who own the sink have a lot of positive comments, specifically around the look and feel of the sink but also about how well it functions day to day. It's clear there is a bit of a divide over the matt finish. It isn't for everyone so make sure you know what it will look like in the context of your home before buying.
Blanco offer their lifetime limited warranty on this sink to give the customer protection against any defects. Again, this won't cover any wear and tear but the strong granite should protect against that.
Priced at under $400 this is a real bargain that offers good value to the customer. It's simple but effective with a lot of space for dishes and two bowls for extra utility. It's stylish and won't scratch or dent, definitely a strong sink to consider for your home.
About Blanco
Blanco are a German company who have been operating since 1925. The company was founded by Heinrich Blanc and they launched with a single product, the tin plated water trough. Over the years that followed they continued to expand and diversify their product range to meet the user needs. Despite difficult economic conditions in the 20th Century they never stopped advancing and adapting to meet user needs.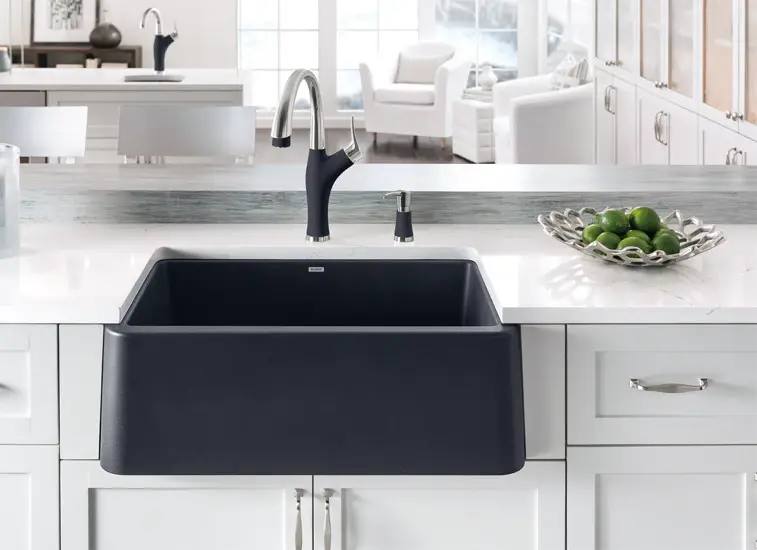 Now, nearly 100 years later, they operate internationally and you can find Blanco products in homes around the world. While the materials, designs and technology have changed, the mission has remained the same for years.  Similar to Kohler and Franke, Blanco has a rich history of quality products and craftsmanship.  Blanco seek to create a wide range of products to suit a variety of tastes, but at the same time they have a focus on premium quality. It's these two ideals merging that has put them at the top of the kitchen sink market.
These days Blanco are making more products than ever across all borders. While other brands are coming and going, Blanco continue to manufacture kitchen sinks which stand apart from the crowd.
What Makes Blanco Sinks Different
Blanco have managed to dominate the market for generations by combining various factors you would expect to see in good sinks. These are the key features that make Blanco stand out.
Design:
Blanco do have a range of styles but they specialize in minimalist designs. These really give the German engineering feel, with precision builds that really accent the look and feel of the sinks.
Quality of Sinks:
 Of course Blanco haven't built their reputation on style alone. Blanco produce high performing, cutting edge kitchen sinks which do more than you would expect. They use high end materials, normally premium stainless steel, and have advanced construction techniques that help create sinks that stand the test of time. It's this quality that has made satisfied customers across the country and grown the Blanco brand.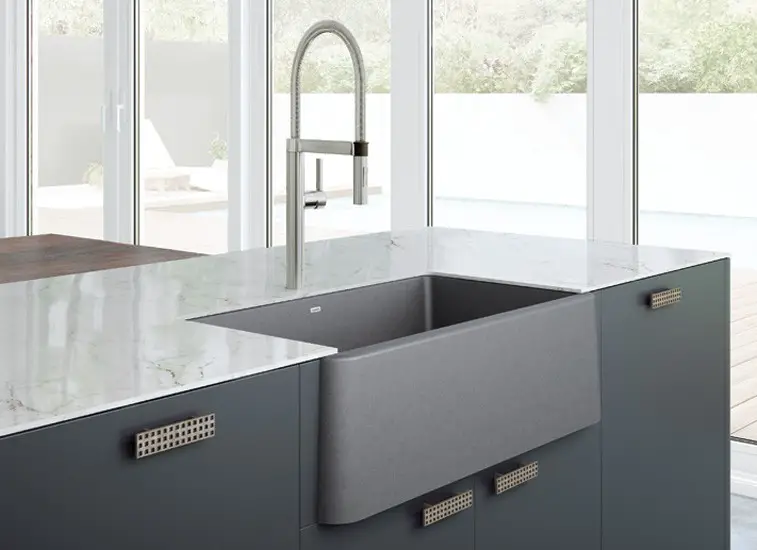 Reliability:
Reliability for us comes down to three key factors. Reliability that the product is in good condition when it arrives, confidence that it will function as you expect, and finally knowing that it can stand the test of time. Blanco are well known for their quality and we've already spoken about it, but they also put in several layers of quality controls to ensure that every unit is shipped in good condition. They also run extensive product testing whenever they develop a product, limiting the risks of major or minor issues. Blanco also use high performing materials giving you a range of quality products that you can rely on.
Variety of Products:
One of the best elements of Blanco is the variety you can get from their products. They have sinks in all manner of shapes and sizes so they can be accommodated in any kitchen. Whether you have a lot of free space or a smaller kitchen you'll be able to find a Blanco product that works for you.
On top of this Blanco make a variety of accessories to accompany their sinks. Everything from soap holders, removable shelves and raised grates can help you get more from your sink and adapt it to your home. In Blanco products all of these extra accessories are included making life easier.
Types of Blanco Sinks:
Blanco offer a wide variety of sinks in various sizes and in different shapes with alternative designs to meet all needs. There are three main types of Blanco sinks: stainless steel, fireclay and silgranit. Blanco has used these to meet different needs as each of these materials have unique qualities.
Blanco Stainless Steel Sinks:
Stainless steel sinks are the most common in the world and Blanco offers more of these than any others. Stainless steel has a number of qualities that make it perfectly suited for kitchen sinks. It's heavy duty and resistant to scratching or denting so even if you drop heavy pans it won't impact the surface. It's also water resistant, an important quality for a sink which will have to deal with a lot of water. Stainless steel sinks are also resistant to spots and staining.  Blanco use high quality 16 gauge thick stainless steel in their sinks. This premium metal helps protect the sink and will help it function effectively to give your sink a longer lifespan.
Blanco Fireclay Sinks:
Blanco specialise in a range of fireclay sinks which are made using a premium clay compound. These are heated in a kiln and molded into the right shape to be used in a sink. Fireclay sinks are not as durable as stainless steel but they're still solid. They offer a much more traditional, rustic look that can add a lot of character to your home.
Blanco Silgranit Sinks:
Silgranit is a new material that's starting to be used more and more for sinks. It is roughly 4/5s granite with ⅕ ceramic. This gives all the durability of stone and in fact the material is non porous so it's much easier to clean. On top of that it's easier to clean and won't stain. Blanco offers a whole range of these heavy duty sinks in a range of colors, offering a very attractive alternative to stainless steel sinks.
Final Thoughts on Blanco Sinks
Blanco are one of the better known kitchen brands and operate all over the world. They have a long experience creating kitchen sinks and have used it to create pieces that will stand the test of time. They're also continuing to push ahead in the industry, developing and implementing technology into their products.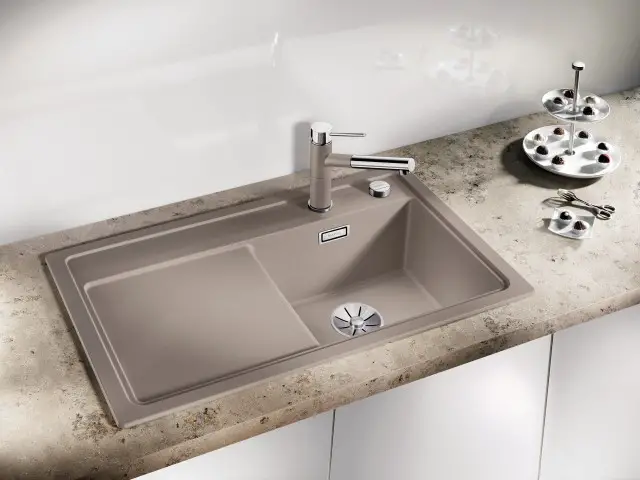 Blanco sinks are well made, stylish and reliable. If you're looking to upgrade or renovate your home then Blanco are a great choice because they've made it easy. Their sinks are easy to install and will instantly transform a room. So if you are looking for something new then Blanco are one of the best brands out there to help get the kitchen sink you really want.