When everyday people think of kitchen sinks, they usually see that old dual-basin stainless steel model in their heads. You know the kind: it's shiny surface is dulled by too many doses of Comet. It's compartments are too small to fit all your dishes – let alone something like a frying or a roaster pan. And it's dark gray color matches nothing else in the kitchen, leaving the sink sticking out for all the wrong reasons. 
But ask a professional in the home remodeling field what they see when they think of a kitchen sink and they're sure to ask for a few follow up questions. Like: what material is it made of? What color scheme are you looking for? Would you like a dual or single basin? Where would you prefer the drain – center, right or left? And what about the style of the sink? Are you looking for an over or undermount or what about an alternative style with a more modern design or a more multifaceted function?  I'd also suggest you take a look at our Elkay Sink Reviews page or our Hahn sink reviews page.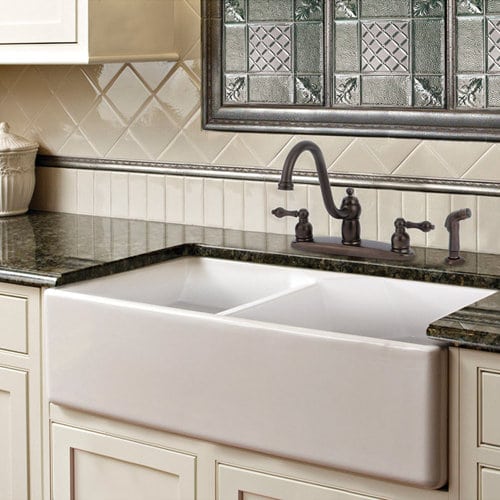 Maybe you've started your kitchen remodel with the first person's reaction to kitchen sinks, but by now you know that kitchen sinks can be so much more than what we used to think of them as.
Take Barclay's Fireclay line of kitchen sinks for example. Customers who install one of these high-end, high-performing sinks aren't just thinking about that standard stainless steel model – and they're not getting it either.
Instead, they're installing an aesthetically pleasing sink that can hold up to the harshest wear and tear without cracking or chipping, all while affording you the space you need to take care of the nightly dishes easily in one fell swoop.
Fireclay sinks are molded from clay, giving them a quality craftsmanship not equaled by carved or cut out varieties. The clay is then baked and dried and an enamel is applied. The sink is baked again at an extreme temperature fortifying its strength and durability.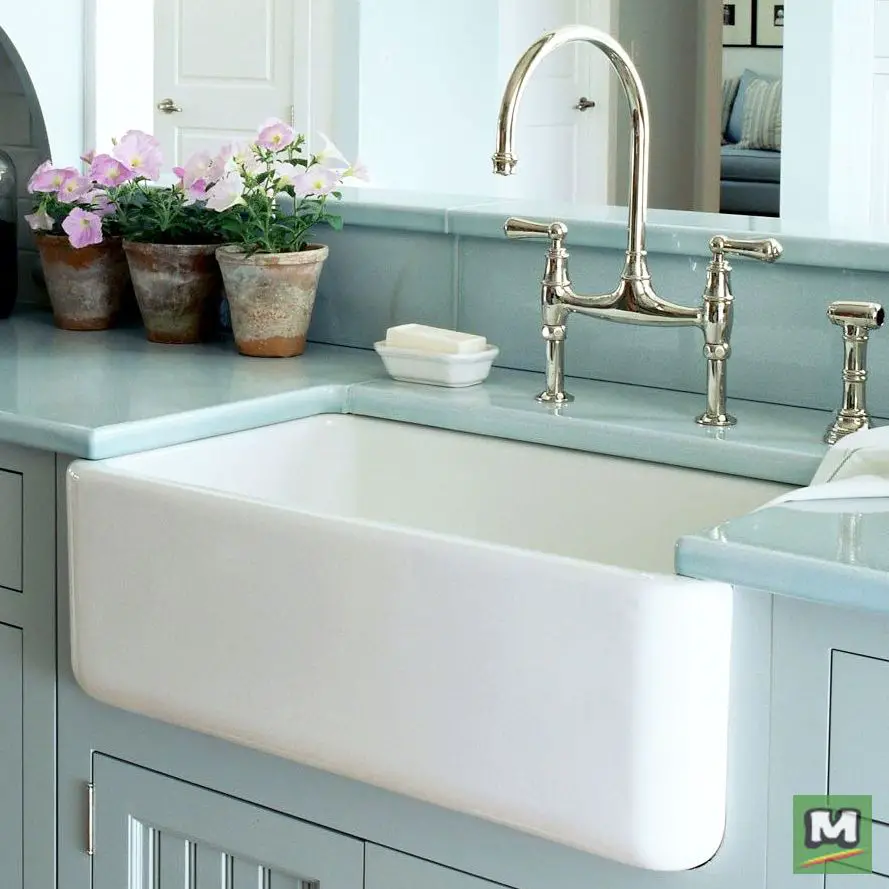 This care and attention makes Barclay's Fireclay product line one to consider when you're planning your kitchen remodel.  Here are just a few of their models of sinks to consider:
Get your weightlifting belt out to help install this absolute monster of a kitchen sink.  Tipping the scales at a generous 114 pounds, the FS30 Fireclay Farmer Sink is everything you want in the traditional farmhouse style with the strength and durability to boot.
Not only is the sink sturdy in its manufacture because of its 16 gauge stainless steel undercoating, it also boasts an expansive cleaning area at 29.8 x 17.9 x 10.  This surely negates any of the issues you might have with the traditional double-basin sink, allowing maximum space for nightly clean up operations as well as bigger jobs after hosting a party or other get togethers.
One major concern of any white sink is whether or not it will stain, crack or chip.  Customers report limited to no issues with any of these occurrences, though a bottom grid or rack may be a smart additional purchase to keep the bottom of the basin from being exposed to extra wear and tear.  Customers also report that the sink cleans easily with non-abrasive cleaners and a soft cloth.
Take Note:  The sink's weight requires bracing during install as an undermount sink.  Be sure to get some help lifting the sink (even if you do own that weightlifting belt) and consider all of your options for bracing before you get too far into you sink installation.
One More Thing:  The sink's drain is set up off center, but has the option to be installed on either side, giving you even more flexibility in your installation and cabinet use.
Model Number: FS30
Rating: 

​4.5/5.0

Weight: 114 Lbs.
The Hayley single bowl is another farmhouse model from Barclay.  With hollowed out walls, you might expect the sink to be lighter than its single bowl cousin, but it's still a hefty 107 pounds, cutting no corners when it comes to durability.
The striking rectangular design of the Barclay Hayley sink puts a modern, angular take on the traditional farmhouse, merging style with all of the perks you come to expect with a large, single basin sink. 
The 18.5 x 36.5 x 10 specifications mean ample area to clean all kinds of dishes – no matter how many you'd like to throw in at once.
And the versatility of the Hayley model is also noteworthy.  It can be installed as either a top or undermount sink, giving you the option to have the style of sink you like and have it fit your vision of your remodel or design.
Take Note: The fireclay sink has a 3.5 inch center drain, unlike some larger, single basin models.
O​​​​​ne More Thing: The sink is finished on all four sides, which is another of its versatile elements to consider.
You know that Barclay's vision of a farmhouse kitchen sink means a large cleaning space with a top-of-the-line construction, when one of its smaller models, the Gannon sink, comes in with a measurement of 27.5 x 16.5 x 9.  And those are its inner dimensions.
While the other two models on the list are standard farmhouse models, the Gannon adds a 1" rim around the sides and front of the sink, giving it a noticeable, stylish twist on the traditional farmhouse sink.  Should you choose the Gannon sink, you would want to make the rim a visible portion of your sink, though all four sides are finished.
The sink is another of the fireclay models, meaning it will stand up to heat, stains, cracks and chips. And its smooth, non-porous surface is easy to clean with soft cleansers and damp cloths.
Take Note:  The Gannon model is one of Barclay's newest offerings, so it doesn't have any Amazon reviews to rely on.  Caveat emptor, buyer beware, seems like it might fit here, but when you review Barclay's other products and see how customers rate them for quality and delivery you might feel a bit more bolstered.
One More Thing:  One more noteworthy piece to the Gannon model's puzzle is its size.  While the other models we've looked at check in easily over 100 pounds apiece, the Gannon is 67 pounds, and it still features the same fireclay construction that point to its strength and durability as a focal point of your kitchen for years to come.
Final Thoughts on Barclay Sinks
Farmhouse sinks appear to be here to stay as a viable, focal point of a kitchen remodeling effort.  Barclay's models are customer approved because of their sturdy construction and striking designs, not to mention their generous interior dimensions to carry out the most important task of a kitchen sink: making your nightly clean up easy.
Good luck as you search for the right model to fit your needs!