The right kitchen sink will complete your home. It's one of the hardest working and most used pieces of equipment that you'll ever own and you shouldn't underestimate how much time you'll spend using it. The design and style of your sink will also play a huge role is the overall look of your kitchen as a centre-piece of the room.
Elkay Sink Comparison Table
Given the importance of the kitchen sink, when it comes to choosing it there's a lot to consider. You'll need to consider the look and feel, making sure it matches your existing set up and your tastes. You'll also need to consider the materials which will play a huge role in how the sink functions but will also impact the aesthetics.  If you are looking for a stainless steel sink, then you should explore Elkay!  With their great customer service, and quality craftsmanship you are right to trust them!  You should also explore all the different features available as more and more technology is being used to innovate the traditional kitchen sink.
Even once you've considered all your needs and wants it can be difficult to know where to start. There are now thousands of companies around the world producing kitchen sinks and each of these has hundreds of different ranges to choose from. You can really find yourself getting lost in the noise and it can be challenging to find the right one for you.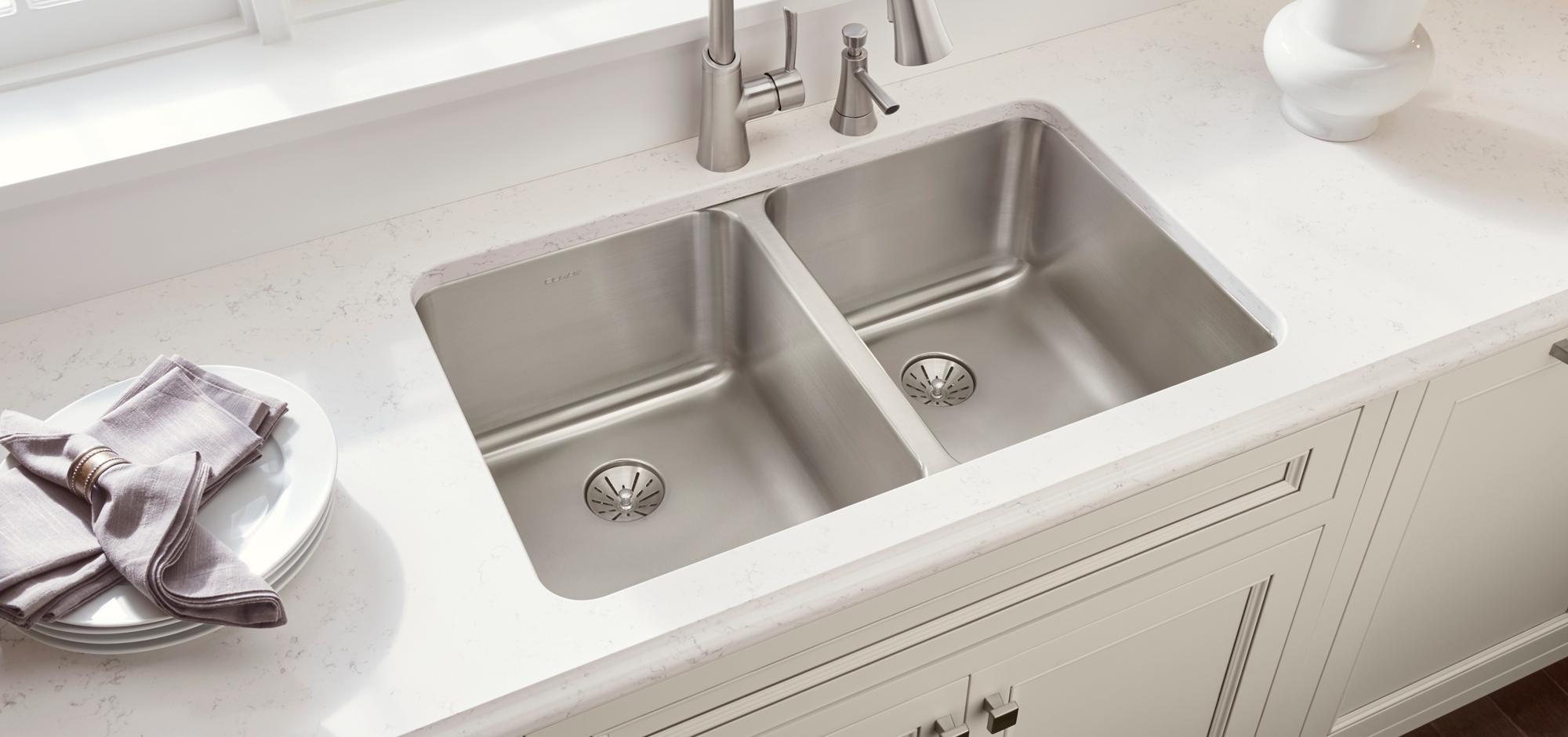 For us, it's all about the brand. Finding a brand you can trust is half the battle because then you can reliably explore their selections and pick a model that's to your tastes. In recent years we've started looking to Elkay more and more often when it comes to recommendations and they are one of the more popular brands around.
Elkay started as a family enterprise in the 1920s. They were based in Chicago with a focus on creating high quality kitchen sinks. For almost 100 years they've remained family owned and stayed true to this idea of quality. They are now heavyweights in the industry and have a wide range of different sinks to choose from. In this article we'll explore some of the best Elkay sinks and the features that make them so popular with homeowners around the world.
One of the most popular sinks that Elkay produce is the Quartz classic single bowl. It's elegant, but simple with a design that isn't audacious but still leaves a mark in the kitchen. It's made from granite composite which is a popular choice for kitchen sinks because of its durable nature which prevents scratches and clean cut look and feel.
Elkay specialize in creating larger sinks and at 24.6 inches long, 18.5 inches wide and 9.5 inches deep this thing is big. With this large single bowl you'll have space for anything you'd normally do with a double bowl. The 9.5 inch basin leaves plenty of room for soaking deep pans or just piling dishes in to get them off the surface. Plus the plug is optimally located towards the back to allow you to make better use of the space. This is a heavy duty product built for longevity and it's fairly easy to see what's made it so popular.
Elkay ELGU2522GR0 Key Features:
Damage Resistant: The entire sink is made from granite composite which offers almost unparalleled protection and durability. The material won't scratch or dent so you can use it for heavy pans with confidence. It's also stain proof and given it isn't metal it won't rust or corrode from prolonged contact with water.
Noise Proof: Elkay have used modern technology to improve this kitchen sink. They've used padding underneath which helps limit the vibration. This means there's less noise from running water into it, a really useful feature in a small home where you don't want noise to spread.
High Volume, Low Space: Elkay have made this single bowl kitchen sink incredibly space efficient. It's deep so you can use it for high volumes of dishes but it's not overly wide. This means even a small kitchen should have room for it.
Elkay Quartz ELGU2522GR0 Review:
Whenever you're considering a new product from the home you should always consider customer feedback and a kitchen sink is going to see a lot of use, so you really need to know what you're buying. Elkay products are very popular to it's not normally hard to find customer feedback.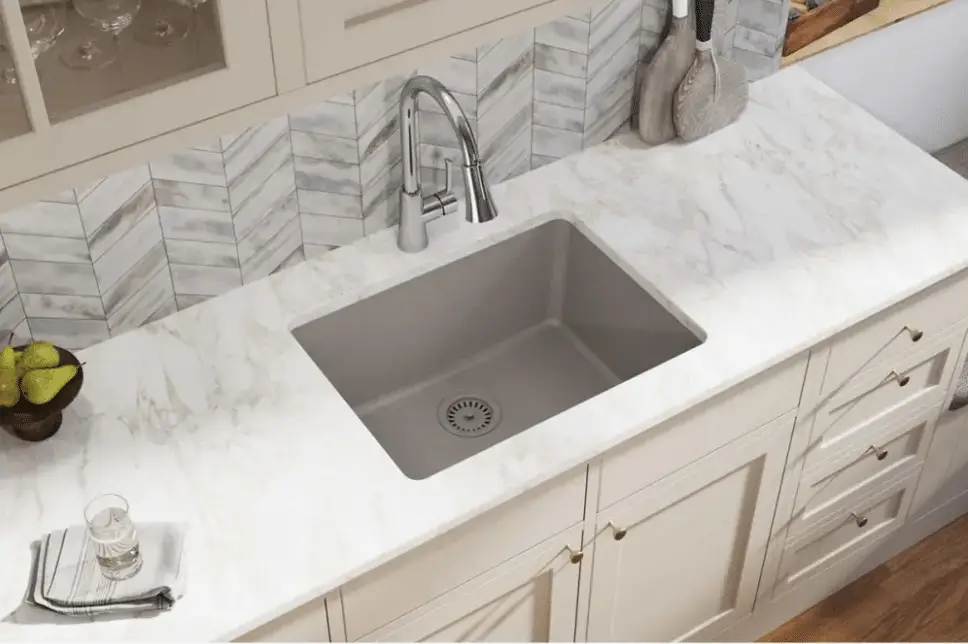 User feedback for this is very positive. Over 95% of users seem really satisfied with the sink and specific positive feedback praises the depth of the sink, and how easy it is to maintain. Some feedback suggests that installation of this sink can be challenging but it is an undermount fitting and these are normally the simplest.
If you aren't confident with DIY you should always consider getting a professional in to help you rather than risk setting it up incorrectly. Overall the reviews are saying this is a great sink which adds a lot to the home.
Elkay offer a limited lifetime limited warranty on this model. This covers all the materials and workmanship for the life of the product but won't cover wear and tear. When shopping online or from a distributor you should always check their policy too, as it can vary slightly from retailer to retailer.
Priced at under $300 this is a sink that offers a great deal of value. It's stylish and functional, and while it's a deep single bowl it's not overly wide. This means that even small or medium sized kitchens can enjoy all the benefits of this premium sink.
The next Elkay sink on our list is made entirely from high grade stainless steel. Stainless steel kitchen sinks are currently the most popular as the metal offers a very high level of durability that other materials don't match. It's resistant to scratching, denting and corrosion making the Elkay Crosstown a single bowl kitchen sink for the long haul.
At 31.5 inches long, 18.5 inches wide and 9 inches deep this is another deep sink. It's single bowl and there is a lot of space for dishes, trays or pans as needed. It also features an offset drain, with drainage grooves in the base of the bowl to help water flow efficiently and quickly when emptying. Elkay have designed a modern and effective sink here which will add a lot to any home.
Elkay ECTRU30179RT Crosstown Sink Key Features:
Long Lasting Quality: Elkay have used T304 18 gauge stainless steel in their product. This means it's really reliable, has great durability, and thick metal which offers greater protection from even prolonged use. This is the type of material you would see in premium sinks that last years, but without the huge price tag associated with them.
Easy Clean: The stainless steel is resistant to damage and easy to clean. The whole product is geometrically designed and has rounded corners on the inside of the single bowl. This helps stop any water pooling and bacteria lingering in the sink. You can simply wipe the whole sink down with soap and a sponge with the confidence it will be clean.
Quiet: Elkay have used their noise reduction technology with this sink too. Stainless steel sinks would historically be very loud as water hits the metal, but Elkay have fitted their noise dampening pads, so you can use this sink even late at night without fear of waking others.
Elkay Crosstown Review:
This is a high performing sink which gets very good reviews across the board. It gets over 93% satisfaction and a lot of the positive feedback is about the size and utility of the sink. Owners seem impressed with how well it can handle large utensils and bulky pans, and some even prefer it to two bowled sinks. In some limited cases there seems to have been damage on the metal before it was even set up. This shouldn't happen but if it does then you should contact the seller immediately for a replacement.  Thankfully with stainless steel sinks from Elkay they usually offer a great warranty so you won't have to worry about this type of damage with Elkay's customer service.
Overall there's a lot of positive chatter about this single bowl sink which should give you confidence if you're thinking about buying it.  Elkay also offer a limited lifetime warranty with this product but again, you should check the seller's terms and conditions before purchase.  Stainless steel sinks usually have a pretty long life cycle, and if you're looking for one, check out our stainless steel sink guide here.
The lifetime warranty won't cover wear and tear and you should ensure the sink is fitted correctly so that the warranty remains valid. It may be worth getting a professional to assure the work even if you're a regular DIYer.  Stainless steel sinks can be tricky to install if you've never done them before, so definitely consider a professional.  That being said, Elkay's customer service is very polite and helpful.
Priced at under $250 this sink is an absolute steal. It has quality material, great quality Elkay craftsmanship and it looks great. Plus it's all backed up by their warranty. This is made to last and at that price it's very good value.
This Elkay Quartz Classic has a lot of style and character to it. The curved edges help it stand out from a primarily square or rectangle market, and it's well suited for anyone who likes to stand out. Quartz is known to be a very durable material and it will help protect the sink from scratches to give it as long a lifespan as possible.
The basic specifications of this undermount sink are 33 inches long, 20 inches wide and 9.5 inches deep. This offers a great deal of space to use the sink, but you can also get it made deeper if needed. The undermount installation is fairly simple to fit and allows the sink to attach seamlessly into your work surface. This offers a great deal of functionality and will work very well in a modern home.
Elkay ELGUS3322RBQ0 Sink Key Features:
Heat Resistant: This sink is heavy duty and resistant to any kind of scratching on the material. It's also basically heatproof and can withstand temperatures up to 535 degrees fahrenheit. This means you can put hot dishes or pans straight in there with no risk of damaging the basin.
Stain Proof: As well as being incredibly durable, this Elkay kitchen sink is made to be easy clean and prevents scratches. It's resistant to staining or smudges and you should be able to clean the whole sink with nothing but basic soap. Do be careful using strong chemical cleaners though, as these can leave marks on the surface, but other than this the durability is unmatched.
Rich Style: One of the most stand out features of this sink is the style itself. It's very well put together and uses materials and colors which come together beautifully to create a sink that makes your whole kitchen look more modern and stylish.
Elkay ELGUS3322RBQ0 Review:
This is another very popular kitchen sink and with 97% user satisfaction it's genuinely difficult to find many negative reviews. Positive reviews praise the style and also how quiet the sink can be. The Quartz itself is naturally sound resistant and Elkay have used 21st Century technology to limit the vibrations and make the whole thing practically noiseless.
The isolated incidents of negative feedback seem to be because of materials defects. These are few and far between but you should always check your product carefully on arrival so you can report these issues as quickly as possible. Overall this is a very well thought of kitchen sink with some of the highest levels of customer satisfaction I've ever seen.
Elkay protect this sink with their lifetime limited warranty. This covers the whole sink for the life of the product but won't cover daily wear and tear so to get the most from your kitchen sink you should make sure you perform regular cleaning and maintenance.
Elkay specialize in making good quality sinks at affordable prices. This sink can be yours for under $350 which, when you consider all the quality and features, is incredibly good value. Modern, effective and with fantastic feedback- this is definitely a sink to consider in your home.
Elkay are masters of creating simple, elegant sinks that look unobtrusive but do a lot. The Quartz Classic ELG2522PT0 does just that with a rectangular bowl made that looks chic in any kitchen. The minimalist style compliments modern homes very well, but actually looks good in traditional homes too.
At 25 inches long and 22 inches wide this is a more compact sink which can be installed in smaller kitchens without dwarfing the whole space. However, it's still 9.5 inches deep to give a lot of vertical room for stacking dishes or soaking large pans. It's available in over 9 different colour patterns to let you have full control over the look. With a lot of style and functionality, this sink will enhance your kitchen.
Elkay ELG2522PT0 Key Features:
Easy Installation: This is a drop in sink which means it's fitted straight into a hole in your work surface. You can normally do this yourself if you're comfortable with DIY and it can be done in under 30 mins. Elkay include everything you need for installation other than tools so there shouldn't be any hassle.
Scratch and Chip Resistant: Elkay have created an extremely durable sink which is very difficult to scratch or dent. The worry with heavier materials like Quartz is that they will chip, but Elkay have used a unique finish to help protect the materials and prevent scratches. All of this makes it a sink which will stand the test of time while keeping it's flawless look.  The durability is unmatched!
Fast Draining: Elkay have designed this sink to promote the fast flow of water through the drain. It's placed centrally and the whole basin is angled in so you won't have to wait an age for it to fully empty. This really useful in single bowl sinks where you don't have the option of just using the other basin while you wait.
Elkay Quartz ELG25255PT0 Review:
With 96% user satisfaction you may struggle to find a better rated sink in this price range. A lot of the positive reviews and from people impressed with the size and depth of the sink, and a lot of users seem to be using this as a laundry sink because of the dimensions. There isn't a lot of negative feedback at all except for isolated incidents and overall this is very highly rated sink.
Elkay also offer a lifetime limited warranty with this sink to give the buyer protection. It will cover the unit but individual sellers may have their own policy so it's worth reading it over so you know where you stand if anything goes wrong.
Priced at under $300 this is another good value sink for your home. It's made well, with quality materials that all come together in a stylish way.  Along with this, the durability is quite high.  If you're looking for a premium sink at a low/mid range price then this is definitely one to consider.
About Elkay Sinks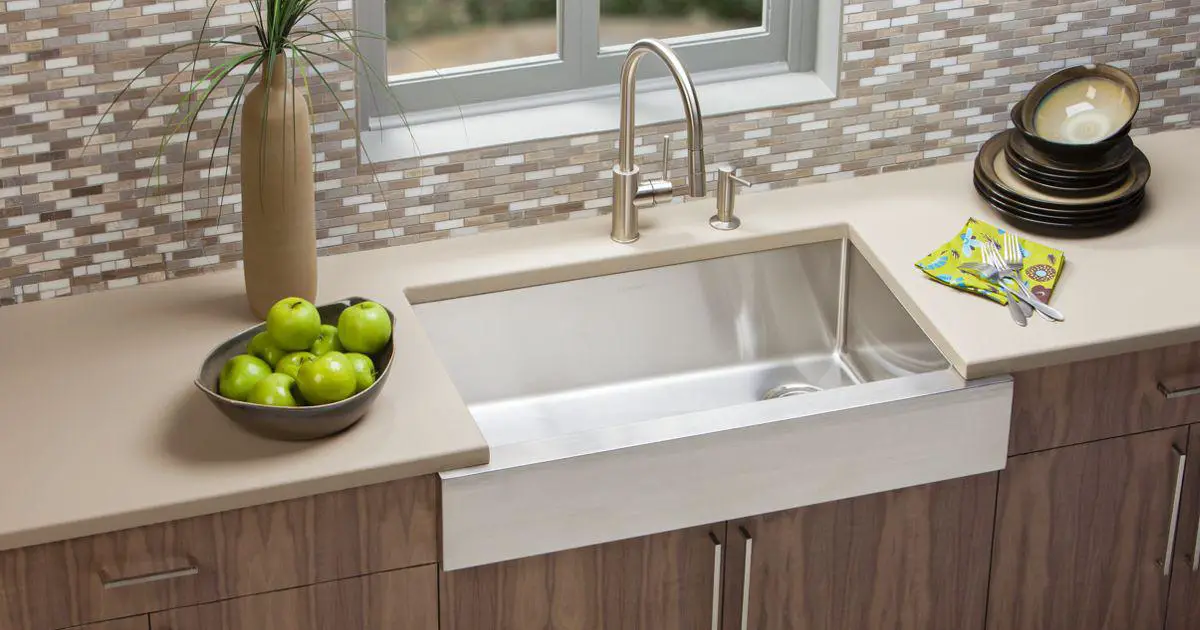 Elkay have proved time and time again that they understand user needs and absolutely know how to create a great sink. Over the last 100 years they've developed their craft and infused traditional quality with modern technology. The result is some high performing sinks that will transform your home.
If you're looking to upgrade your kitchen then an Elkay sink is a great idea. All of the sinks on our list offer great value, no matter if you're looking for stainless steel sinks or quartz, there's something here for everyone. They are premium quality with durable materials which helps prevent scratches, they have excellent features and they are made to last. All of this without a huge price tag so they are accessible to everyone. Elkay sinks are stylish and user friendly so if you need a new kitchen sink they should be the first port of call.  You don't need to worry about durability with Elkay items and products.  If you are looking for a stainless steel sink, then Elkay is a great choice!