Research shows that roughly 75% of the time spent in the kitchen is at the sink. It's one of the most important pieces of equipment in your home which is essential for cleaning, washing and preparing your food, so getting the right sink is vital.  When you're spending this much time in your kitchen, you need to ensure that you have the best stainless steel sinks possible!
When picking any fitting for your home you want to make sure you find one that fits your needs. There are now hundreds of different manufacturers with thousands of different sinks, and it can be difficult to know where to start. In order to narrow the field you'll need to have at least some idea of what you want before you start the search.
Stainless Steel Comparison Table
The most important factor is the quality. Solid construction will mean your sink won't cause you issues and means that you'll get a much longer life from it. This ultimately means it works better and you get much more value for money.
Good build quality comes from both the material and the manufacturer. Stainless steel sinks are now by far the most popular on the market both for their style and durability. Steel is resistant to corrosion, staining and denting making it the perfect material for a kitchen sink. If you want the best kitchen sink you should always go with stainless steel.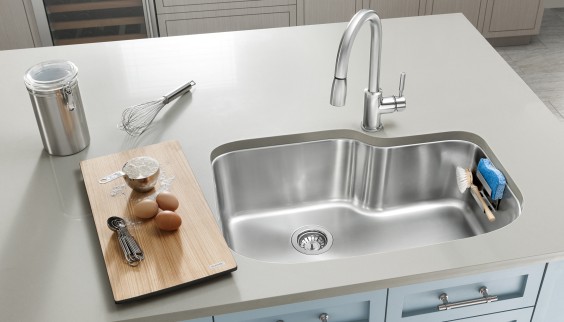 Alongside build quality you should consider the other features available. Companies are now customizing their products to meet user needs and these days there is some impressive technology in some units. You can find unique spray features, extra deep basins, dual or even triple sinks. This allows you to pick your sink, and not just another generic model off the shelf.
The best place to find kitchen sinks is always online. This is where you'll get the most choice and the best prices. In order to give you a head-start on what might work for you we've put together our list of the best stainless steel kitchen sinks. This buying guide article will introduce you to their details and their top features, and hopefully will help you find the sink which will improve your current kitchen set up.  I hope you enjoy our buying guide below!
Simple but stylish, the ZUHNE Modena is one of the best stainless steel sinks available on the market. It's well suited for larger households with a wide and deep basin that can hold a lot of dishes, or be used to soak large dishes or trays. Along with this, with a deep basin like this you can even put in a dish drying rack.  It's made entirely from stainless steel and scratch proof, protecting it for even intense wear and tear.
This rectangular sink is made from 16G stainless steel, one of the best grades available. It's 1.5mm thick offering protection from accidental damage. It's a surface mounted model, one of the simplest to install. On top of that the tap is highly efficient, using just 1.7gpm. It's modern and effective and a real asset to any home.
ZUHNE Modena 32 Inch Stainless Steel Sink Key Features:
Extra Quiet: The Zuhne Modena has won customer awards for it's quiet function. The finish on the metal helps contain the sound of water hitting it and keep noise when cleaning to a minimum. This is a really useful feature for smaller households or those with young kids you don't want to wake.
Dual Function Sprayer: The faucet features a dual function sprayer, making it more useful in the kitchen. The pull down sprayer can be used to rinse off food or plates plus there's a pause function so you can easily control the flow with one hand.
Deep Basin: With a 10 inch deep basin this sink has much more area than other models on the market. This means that large pots or pans can be soaked overnight or you can store lots of dishes in there.  I would definitely recommend a sink of this size if you're looking for extra space.
Comes With a Basket Strainer: As an added gift this size sink features a free basket strainer.  If you've never used a basket strainer it really gives you the benefits of a commercial sink, within your home.
Easy to Install: Pretty straightforward installation, and definitely an easy to install sink.
Zuhne Modena 32 Inch Stainless Steel User Reviews
When considering any home purchase it's prudent to check user reviews and feedback to make sure it's up to scratch. The user feedback for this kitchen sink is extremely positive, with over 93% of buyers satisfied with their purchase. Positive reviews praise the heavy duty and sturdy nature of the sink, people also seem to appreciate the value that comes with the lower price tag.  Along with this, I've noticed that this basin doesn't keep water spots like some other basins i've used in the past. It would be safe to say this is probably one of the best stainless steel sinks on the market, and you'll be extremely happy with this sink!
Priced at under $400 the Zuhne Modena offers a lot of value and size for the price. The build quality and durability all add to this and it should perform well for years. Zuhne offer a lifetime limited warranty on the sink. This helps protect the sink and ultimate helps guarantee it's a long term investment for your home.
Ruvati are a relative newcomer to the kitchen appliances market, but since their foundation in 2009 they've created quite a stir. They've made a name for themselves by creating high end pieces at the low/mid price range, giving a great deal of value for all of their sinks.  Even though their new, this is still one of the best stainless steel sinks I've used!
The Ruvati Top Mount Sink stays true to this business model. It has a deep rectangular basin that allows for maximum utility. It's made from 16 gauge stainless steel which gives reliable quality, and also features an ultra thich 8 gauge rim which fastens securely to your work surface. It also has a number of other user friendly additions, like soundproof padding, to make your life at home easier.
Ruvati RVH8115 Sink Key Features:
Unique Finish: Ruvati have a range of unique finishes they apply to their metals. This sink features a brushed finish which helps to protect the metal from any scratching or corrosion. This helps preserve and maintain the whole unit throughout the life of the product.
Drop-In Fitting: Ruvati have made this sink easy to install so that anyone with even limited DIY experience can do it. It's top mounted and you should be able to just slot in the sink and connect the plumbing for easy installation. This can be done in under 30 mins so there's no waiting around.
Zero Radius Edges: To give the stainless steel sink a more modern look Ruvati have given the basin zero radius edges. This rounds the corners and allows you to use all the available space for maximum utility.
Features a Free Basket Strainer: Having a basket strainer in your sink gives you the ability to dry everything much easier and away from the garbage disposal, so I recommend a basket strainer if you haven't used one!
Ruvati RVH8115 Stainless Steel Sink Reviews:
The Ruvati Top Mount sink has very high levels of customer satisfaction, with over 96% of users giving positive feedback. Common praise of the sink is around the simplicity of the installation and the impact it can have on the home. Users seem impressed with how well it functions and how much more they can get from their kitchen now. There are a small number of negative reviews, but these seem to be isolated material defects. Overall this single bowl sink has a pretty durable basin finish, and I haven't seen any issues with water spots, and is quite easy to clean.  Upon receipt of the product make sure you carefully check everything so you can flag any issues right away.
Priced at under $250 there is a lot of value to be had here for the price. It's stylish and modern and while it is on the simple side, it's built to last. Ruvati also offer a lifetime limited warranty that protects against any material or construction defects. This helps ensure you get the most from the product and can give you, as a customer, that extra level of confidence when buying. Definitely one to consider for your home.
Kraus are a well known brand in the homeware arena and specialize in bringing the qualities of high end products into their affordable ranges. This stainless steel sink has a modern style and is made to be extremely robust. It's a large option and will work will as the centrepiece for a large kitchen that sees a lot of use.
This rectangular model features a brushed satin finish which enhances the coloring and helps protect the sink. This is a farmhouse design which gives it a distinctive charm that stands out in the kitchen, mixing traditional elements with modern convenience. Made with 16 gauge steel and weighing 57 pounds, this is a heavyweight sink that's made to last.
Kraus KHF200-36 Key Features:
Extremely Durable: Made from thick 16 gauge T304 (high quality) stainless steel, this sink is made to last. It's resistant to all scratching and denting, and won't rust even after years of use. The finish also makes this easier to clean and maintain, adding to the longevity.
Rear Set Drain: The Kraus stainless steel sink features a 3.5 inch drain which is large enough to drain water quickly. It's positioned at the back of the sink so you can use all the available space as effectively as possible when working with the garbage disposal.
Large Volume: This sink is absolutely huge and is actually used in some commercial environments. It's 10 inches deep, 36 inches wide and 21 inches long, giving you plenty of room to submerge all your pots, pans and dishes as needed. This is definitely a sink for a kitchen that sees a lot of use.  If you are looking for size and deep corners for dishes, then this is the one for you!
Kraus KHF200-36 Stainless Steel Sink Reviews:
Looking at the feedback you can see how well thought of this sink is. Over 90% of users seem really pleased with the product and would recommend it to others. Some of the key positives reviews focus on the high grade construction and how sturdy the sink is. Some users have reported issues with denting on the metal but this is most likely a specific flaw in that unit. Krauss offers a full warranty on their products which help protects from any defects, so you can apply for a replacement if this happens. Their warranty should really be the standard for sink warranties.  Overall, a lot of positive feedback that praises this kitchen sink.
Priced at $400 there's a lot of value here. The materials and construction quality are those you would typically see from something twice the price and the durability of the product helps ensure this is a long term investment. Krauss also offer a lifetime limited warranty for as long as you own the product. Overall this is a very well made and attractive piece that will certainly add a lot to your home.
Zuhne are the stainless steel kitchen sink specialists so it's no surprise they've featured on the list twice. This farmhouse kitchen sink has a very attractive design which will be well suited for more traditional homes. It's another very large size sink that offers ample space for a lot of dishes.
This is a premium sink that focuses on simple quality, and should be used as a standard against others. The industrial grade stainless steel is 25% thicker than other models and is suitable for use on commercial sinks in busy restaurants. It's elegant and attractive with a rounded front that gives you greater volume in the basin but also makes dishwashing more comfortable.
Zuhne Prato Farmhouse Key Features:
Three Mounting Options: There's nothing worse than finding the stainless steel sink you love and realising you can't install it in your kitchen. Zuhne have countered this by offering three different mounting options for easy installation. The undermount is best for the farmhouse design, but if that isn't an option you'll still be able to install this sink in your home using a different method.
Unique Undercoating: As well as a finish, Zuhne have their own unique DualPro undercoating. This helps protect your cabinets from any water damage that might come as a result from the sink, allowing you to keep your kitchen clean and dry.
Premium Materials: Zuhne have spared no expense with this stainless steel kitchen sink, using high grade 16 gauge steel throughout. This, combined with their advanced build techniques, has led to the creation of a very reliable sink that offers some quality not seen in other similar priced products.
Zuhne Prato 36 Farmhouse User Reviews:
Over 95% of customer feedback about this stainless steel sink is positive, which is incredibly encouraging as a buyer. Owners of the product seem impressed by how large and attractive it is, with precision geometry adding to the overall look of the product. It's difficult to find much criticism of the product and it's clear to see that people appreciate what it can bring to the home.
Zuhne offer a lifetime limited warranty on this model too, guaranteeing the materials from any defect for the life of the sink. This offers some more protection for the buyer. Priced at just $350 there's a lot to be excited about here. It offers impressive features and durability normally only seen in high end products, but for a fraction of the price.
Kraus have put a lot of innovation into this double bowl stainless steel sink to make it one of the most popular on the market. In the first instance it's perfect for busy kitchens with two extremely deep bowls. Each of these has enough room for large pots or pans so you can use one for soaking and one for other activities.
Kraus market this as their indestructible sink. It features 1.5mm thick 16gauge steel that's unlikely to dent or scratch even if you drop a cast iron pan in there. A commercial grade satin finish is applied all over the sink to give it a shiny look, and increased protection. At 32 inches wide, 19 inches long and 10 inches deep there's an awful lot of volume to play with, making it a very versatile model.
Kraus Standart Undermount Sink Key Features:
Kraus Drainage System: Kraus have more experience than most when it comes to sinks and faucets, and they've poured that expertise into this undermount sink. The sinks gently slope down to the drains which are located in the optimal place for draining. This means you can empty the sink extremely quickly if needed.
Soundproofing: Kraus have applied their NoiseDefend sound guarding to this undermount sink and fit extra fit pads. All of this works to insulate the stainless steel sink and stop noise spreading throughout your house. Perfect for those who often use the kitchen late at night but don't want to wake the family.
Doublebowl: This is the first undermount sink on the list to feature a double bowl. If you have this space this is a key benefit as it allows you to use the sink more intelligently. A real asset for those with children who are constantly using the sink.
Kraus Standart Stainless Steel Sink User Reviews:
Generally, users seem impressed with the sheer size of the stainless steel sink and how well it performs in comparison to other more expensive models. Some owners have criticized this sink as being difficult to clean and that can lead to staining. This doesn't seem like a common occurrence but if purchasing this sink you should be prepared to clean it more often than some others. Overall a lot of very positive feedback that should give any buyer a high level of confidence.
Kraus give a lifetime limited warranty for this product that covers all of the individual components. It's priced at under $300 which is incredibly affordable given the materials and build quality. If you're looking for a durable, well built, double bowl kitchen sink then this is almost certainly the one for you.
You may be forgiven for thinking at a glance this is similar to the other Kraus double bowl stainless steel sink above, but in reality there are a number of key differences. Firstly, this is a farmhouse sink which has the distinctive curvature that really stands out in the home. It provides some elegant style that works well in traditional or modern homes. Secondly, unlike the previous models the two sinks are not evenly sized, with a smaller sink for washing or preparing food while the other is for dishwashing.
This is another cutting edge product from Kraus that surpasses all the modern standards. It features 16 gauge stainless steel that makes it durable and dent resistant. At 36 inches long, 21 inches wide and 10 inches deep this is another extremely large sink that will be right at home in a busy kitchen.
Kraus KHF203 Farmhouse Key Features:
Easy Installation: This stainless steel sink has been designed to be easy to install and everything you need to do so will come with it. It's lighter than some alternatives so even though it's large you should be able to do it on your own with minimal challenges.
Rear Set Drain: Kraus have moved their drain to the back of the basin to free up as much space as possible. This means you can rest pots, pans, dishes and trays in the sink without covering the plug, meaning it can still be used fully. It also helps make sure the sink will drain effectively and quickly.
Elegant Style: Build quality is important when it comes to a kitchen sink, but the style is also crucial. Your sink is something all visitors will notice so having the right design will go a long way. The Kraus farmhouse double bowl kitchen sink has the rounded apron front which makes the whole sink look elegant and attractive. This sink probably has the best aesthetics out of all the models on the list.
Kraus KHF203 Sink User Reviews:
91% of the owners of this stainless steel sink have indicated they are pleased with their purchase. Positive reviews praise how robust and effective the sink is, especially given how easy it is to install. Some reviews have criticized how large the sink is and how it can dominate a kitchen. It's worth bearing in mind that this is definitely on the larger end when it comes to sinks and you need to make sure you have enough space. That being said, it's well made, stylish and practical so if you measure up correctly you can end up with a sink that will really benefit your home.
Priced at $450 you can consider this a pretty solid investment. Kraus know their craft and they have made a sink that should definitely stand up to heavy use. On top of this Kraus offer their lifetime limited warranty so you can even more long term protection. This is the perfect combination of style and utility and definitely one to consider for your home.
Ruvati have pushed the boundaries again by creating this versatile and effective  stainless steel sink. This is your perfect easy upgrade sink. It has straight edges and it's lightweight allowing you to drop it directly into the hole without any hassle. It's the perfect choice if you want a new sink without any difficulty.
The Ruvati double bowl stainless steel sink is made with 16 gauge stainless steel construction. It's been shown to be up to 37% thicker than alternatives in this price range, making it a much better value sink. It's 33 inches wide, 22 inches long and 10 inches deep, with two bowls. All of that means more area for more efficient use in your kitchen.
Ruvati RVH8050 Key Features:
Fast Draining: Ruvati has designed this sink to drain quickly when needed. It's sloped down to the plughole but there are also drain grooves in the base of the bowls. This helps all the water to flow out of your sink so there's no residue for bacteria to hide in.
Commercial Grade Finish: Ruvati use a brushed finish you would normally see on commercial units in restaurants or bars. This offers increased protection from wear and tear, but also helps cover up any scratches. It also adds to the overall look and feel of the product, helping bring out the style of the sink.
Pre-Drilled: Ruvati have really made it simple with this sink. It's a top mount, so it slots right in, but the single hold for the faucet is already drilled into the unit for easy installation. This means less work for you and typically this sink will only take 20-30 minutes to install.  If you're looking for additional accessories then this might be the one for you due to the easy drop-in and mounting.
Ruvati RVH8050 User Reviews:
This is one of the highest rated stainless steel sinks available on the market with 98% customer satisfaction. Positive reviews don't just praise the features and quality of the sink, but also how well it suits their kitchen and adds to the overall style of their home. It's pretty difficult to find any negative reviews of this one which is always really encouraging if you're thinking about buying.
Ruvati offer a lifetime limited warrant on this sink that protects all the components for as long as you own it. As with all warranties you should make sure you fully understand the policy, but feedback online suggests Ruvati do honor their warranty without any fuss. This double bowl sink is competitively priced at $350 and has features you would normally expect from something high end. Ruvati have outdone themselves here and have made a sink that will improve any kitchen set up.
Mowa are another well known brand who have been creating kitchen sinks for decades and this is another great stainless steel sink. Almost all of their products have handmade elements, helping keep the construction consistent and of the highest quality. This Mowa stainless steel sink features their unique drain grooves which give optimal drainage, helping stop any residual water from staying in the bowl.
Mowa use AISI 16 gauge steel that's high quality. It's more than 25% thicker than cheaper brands, offering more protection and longevity. At 33 inches long, 22 inches wide and 10 inches deep it's another large sink that should be able to cope with whatever you throw at it. It has a brushed satin finish and an extra thick 9 gauge mount to make the over-mount fit much sturdier.
MOWA HTS3322 Sink Key Features:
Easy Clean: Mowa have designed this stainless steel sink to be easy to maintain. The brushed finish helps resist any corrosion or staining and the ZeroRadius rounded corners make it much easier to wipe clean the bowl. The geometrically straight sides ensure you can use the area to the maximum so it's perfect for leaving dirty dishes in if you want them off the kitchen counter.
Handcrafted Design: Mowa like to handcraft elements of their sinks. For this model this includes a stone guard undercounting which is applied by hand and works to minimize any noise. So even though this is a deep stainless steel sink, the water hitting the basin shouldn't be too loud.
MOWA Customer Service: Mowa pride themselves on going the extra mile for their customers. They offer all the installation components as standard but also have a 24 hour a day direct line you can call for support during setup. This is a really useful feature if you're new to DIY or haven't done any work like this before.
MOWA HTS3322 Sink User Reviews:
This is another sink where the users are extremely positive in their feedback. Those who own the sink seem really pleased with the neat and elegant nature of the product, and how the quality is impressive for the price you pay. Despite 88% of users being happy with the product, some have criticized the drainage of the sink. If your sink won't drain properly then you can have some serious issues as it can make your whole kitchen unhygienic. This seems to be an isolated incident but if you notice it then you should call Mowa's customer service line directly and ask for assistance. Overall however, these seem like isolated issues and not something you should be worried about if you're on the fence.
Mowa offer a lifetime limited warranty on their kitchen sink which covers all the different components, however do be careful when installing because any mistakes here can void the policy. Priced at $300 this stainless steel sink offers a lot of great value. The design and construction choices really pay off and for this price it's a sink you should certainly consider.
This sink may look simple, but when it comes to KOHLER you know there's more than meets the eye. The Vault sink offers a clean modern look with brushed stainless steel that enhances the visuals. The tight corners give you maximum space in the basin so you can use every inch available.
Unlike the other sinks on the list, the KOHLER Vault is on 18 gauge steel. This is still a premium quality and combined with their unique finish it's sturdy enough to deal with day to day kitchen chores. It's a top mount installation that has an apron front, meaning it tucks in nicely and doesn't eat into your kitchen space. At 36 inches long, 25 inches wide and 10 inches deep, this is a big sink and perfect for busy households. Remember, this means you'll need a cabinet space of at least 36 inches to house it.
Kohler K-3942 Steel Sink Key Features:
SilentShield Sound Absorption: KOHLER have developed their own SilentShield technology to help insulate your sink and keep noise to a minimum. A combination of an undercoat finish, and padding help ensure that the noise won't travel out of your kitchen. Perfect if you have young sleeping children you don't want to risk waking.
Four Faucet Holes: There are four different holes drilled into the KOHLER Vault. This allows you full flexibility when choosing faucets or accessories to attach into the sink and makes for an easy installation.
Heat Resistant: The stainless steel construction in this model is protected by the finish and fully heat resistant. This means you can rest hot pans in there directly, and you can use the edge as an extension of your kitchen surface if needed.
Kohler K-3942 User Reviews:
With over 80% user satisfaction there are a lot of clear benefits with this sink. Positive feedback indicates that users appreciate how effective the sink is, and how it can make daily life easier. Some reviews have indicated that there were issues when the sink arrived, denting and scratching that was there before they even used the product. KOHLER are normally one of the more consistent brands but you should still check any new product head to toe when delivered. If there are any issues contact the provider right away and they should arrange for a replacement as soon as possible. Overall however, a lot of positives and the issues seem to be few and far between.
Priced at $600 this is one of the most expensive stainless steel kitchen sinks on the list, but that doesn't mean it isn't good value. KOHLER understand sinks and have created this modern, stylish product to enhance your kitchen experience. There's loads of room to use and with 4 different faucet holes you can truly make this sink your own. Plus you have the KOHLER lifetime limited warranty to protect your product, helping make sure it will stand the test of time.
The final Ruvati model on our list is the Workstation. This is the one stop shop when it comes to a stainless steel kitchen sink. It has a track which allows you to slide components back and forth and comes with built in accessories. This includes a solid wood chopping board, stainless steel colander and a dish drying rack. This isn't so much a kitchen sink, but more of a full kitchen fit out.
This sink is 32 inches long, 18 inches wide and 10 inches deep. The sink is 3.5 inches wide and suitable for quickly draining the full sink in a matter of minutes. The sink is also compatible with most garbage disposal units. The whole Ruvati Workstation is built to transform your kitchen and make it all function better. It's the perfect accessory for those who cook and clean regularly and makes the whole kitchen experience better.
Ruvati RVH8300 Workbench Key Features:
Durable and Long Lasting: Ruvati have used 16 gauge premium stainless steel for this unit. It features the Ruvati brushed finish which compliments the metal and helps offer increased protection. You can use this sink with confidence that it won't rust, corrode or stain.
Sharp and Modern Design: Ruvati have opted for a very modern feel with this sink. The straight outside edges and mixed with zero radius rounding in the bowls. This allows you to use the full volume of the sink without impacting the aesthetics.
Extra Features Included: The chopping board, roll out drying rack and colander are all included with this product. This means better value, plus you save space by having these included in the space of the sink.
Ruvati RVH8300 Sink User Reviews:
93% of user feedback about this sink is positive and it's hard to many negative comments at all. Customers seem pleased both with the quality and functionality of this sink, and it's clear Ruvati have done their research before releasing this product to the market. One criticism that has been made is that the metal can be susceptible to scratching if rubbed too hard. So our advice would be to take it easy and you should get a lot of use out of this sink.
Priced at under $400 this is a very affordable piece of equipment that should save you money in the long run. It's made to last, like all Ruvati products, and will last much longer than alternatives in this price range. Ruvati also back up this sink with a lifetime limited warranty so you can use it fully with confidence that all the components are protected. Useful and attractive, this sink can really transform your kitchen.
Firebird have created a more compact stainless steel sink with dimensions of 25 inches long, 22 inches wide and 9.5 inches deep. Despite being smaller, it's still capable of dealing with large loads of dishes and big pots and pans, but it won't dwarf the entire kitchen in the process.
Firebird have designed this stainless steel kitchen sink for easy installation. It's top mount, meaning it should slot right into your counter with ease. It's built with 18 gauge stainless steel which isn't the thickest on the market, but still very durable. There's a built in side tray which allows you to leave cutlery in to dry, but you can unclip this to expand your sink if you need extra space. Firebird have also made this sink with insulated rubber on the base to stop any excess vibration and limit the sound it makes.
FireBird Topmount Kitchen Sink Key Features:
Easy to Clean: Firebird have created this sink to be user friendly from start to finish and it's one of the easiest to maintain. There's a brushed finish which protects from staining and zero radius corners prevent water from gathering. This means there's much less chance of staining or rusting so it's an easier sink to keep clean and maintain.
Handmade Quality: The basin of this sink is handmade by Firebird to give that consistent quality across the piece. Draining grooves are built into the metal to help with the flow of water and the centre sink is placed optimally for fast draining.
Versatile: This stainless steel kitchen sink is versatile with a number of built in features to make it more useful for the customer. It's lightweight and easy to install, a really good choice if you want a quick upgrade in your home.
FireBird TopMount Sink User Reviews:
85% of users seem really pleased with this product and there are a lot of positive reviews. While this might not be the high end, premium quality of more expensive sinks it still offers a lot in terms of quality and aesthetics. Some users are disappointed by the thinner metal but realistically for this price it's made with decent materials. All in all a popular sink and the user feedback should give you a lot of confidence when considering this product.
Priced at just $200, one of the best features of this Firebird stainless steel kitchen sink is the price and is perfect for those that are budget friendly. It isn't as premium as the others on the list, but still offers an impressive Plus there's a 1 year warranty to protect all of your components against manufacturing errors. Affordable, stylish and effective, this is definitely a sink to consider when browsing the market.
Best Stainless Steel Sink Brands to Choose From
The best way to guarantee quality is to go for a brand you know you can trust. These days there are so many different brands it can be hard to choose and you have to bear in mind that just because a brand is well known, they may not be the best to procure a sink from.
In order to get the right mix of quality, features and price you need to go to a specialist. All of the brands on the list above are well known for their kitchen sinks, but here's our top 4 kitchen sink manufacturers that produce consistently impressive products.
Kraus: Krauss are extremely well known in the household arena. They have a long history of producing innovative solutions for day to day problems, and you'll struggle to find any home that doesn't have at least a couple of Krauss products.  Krauss have made their name by offering durable products that last. They have a vast range of kitchen sinks but specialize in making heavy duty, long lasting sinks that can stand up to heavy wear and tear. For a combination of effectiveness and value, Krauss are definitely a brand to watch out for.
Ruvati: Ruvati may not be as well known as a brand like Krauss, but they offer well designed sinks that enhance your home. They design and produce their sinks abroad but have stringent quality checks in place to ensure consistency of product to the user.  Ruvati make a wide range of deep sinks that are well suited for high volumes of dishes or larger pots of pans. They've worked to make life easier and their stainless steel kitchen sinks are treated so that they're much easier to clean and maintain. Useful, affordable and long lasting, Ruvati are a solid brand when it comes to kitchen sinks.
Kohler: Kohler are another very well known brand for kitchen sinks and all manner of other products. They have a well earned reputation for crafting intelligent products which are made so precisely there are no flaws. This means they have longevity and are an asset to any home.  Kohler design and manufacture stainless steel kitchen sinks for professional environments, as well as domestic. The combination of build quality and advanced technological features means they make difficult tasks much easier. This translates to less time doing chores like washing dishes in the long run. A great addition to any home, Kohler sinks are one to look out for.
Zuhne: Zuhne are another well known brand that are in more homes than you may realise. When it comes to kitchen sinks they don't cut any corners and only use the best materials. This, combined with their cutting edge manufacturing process, means their sinks are reliable, durable and effective.  Zuhne are another stand out brand for their quality, but they also offer some impressive and stylish designs. They have a range of products suitable for any home and can fit in with whatever style or set up you currently have. For those who want style and utility at a competitive price, Zuhne are a great option.
Stainless Steel Sinks Design and Structure
Before deciding which stainless steel kitchen sink to add to your home it's important to consider the design and the structure. Knowing what the options are and how they will translate into your home will help you make the best choice.
You should first consider the design. Stainless steel sinks offer a lot of variety when it comes to the look of the product, but you'll need to find one which fits in your existing set up. Rectangular sinks are the most popular and are the most practical option, however if you have less space you make to consider something else. You should also consider how many basins you need and what kind of look you want; traditional, modern or transitional.
Stainless steel sinks are made by molding sinks into a specific shape. Every company has their own nuanced manufacturing process but there are two main types of build: fabricated or drawn stainless steel sinks.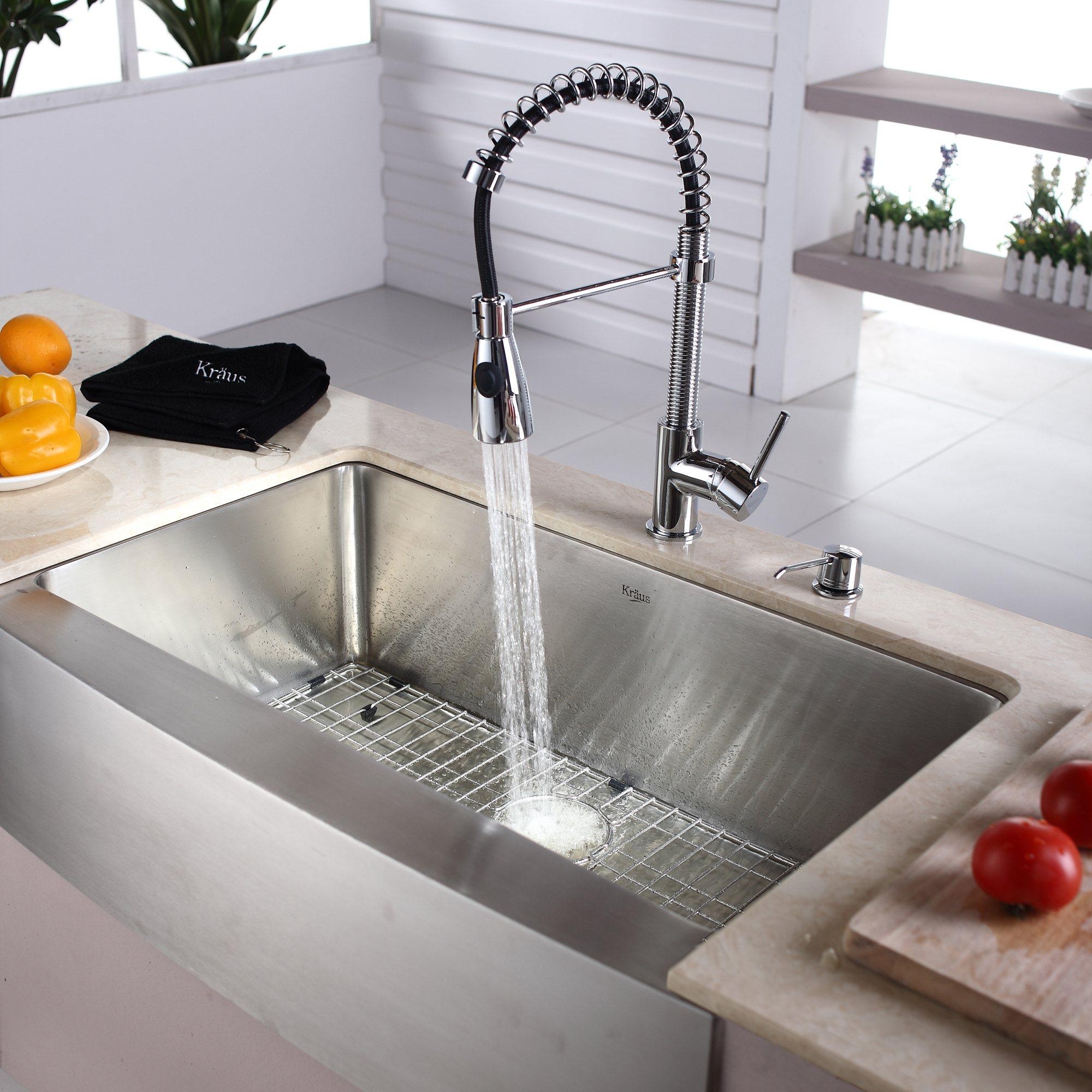 Fabricated stainless steel sinks are constructed by bending the steel into geometric angles. This is done to give more space for dishes and made sure no area is wasted. Thicker steel is used for this and you'll often find the price is higher because of it.
A drawn stainless steel sink is made by pressing the steel into a mold. There are therefore no seams and the whole sink is essentially one piece of metal. These are rounded bowls which are generally easier to clean and can be more affordable.  This shape is similar to what you'd see on a quartz or porcelain sink, so if you're interested in these materials check out our Blanco kitchen sink reviews page!
When selecting your stainless steel sink it's important to consider the design and structure. Generally fabricated stainless steel sinks are better quality and will last longer, but they will cost you more, so it is impacted by your budget.
Sink Steel Gauge Level:
When we talk about sink gauge it's referring to the thickness of the metal. The higher the number the thinner the steel, so 16 gauge is thicker than 18 gauge. Generally speaking most sinks are either 16 or 18 gauge but thicker steel is better. It's more durable and long lasting and will be resistant to denting or scratching.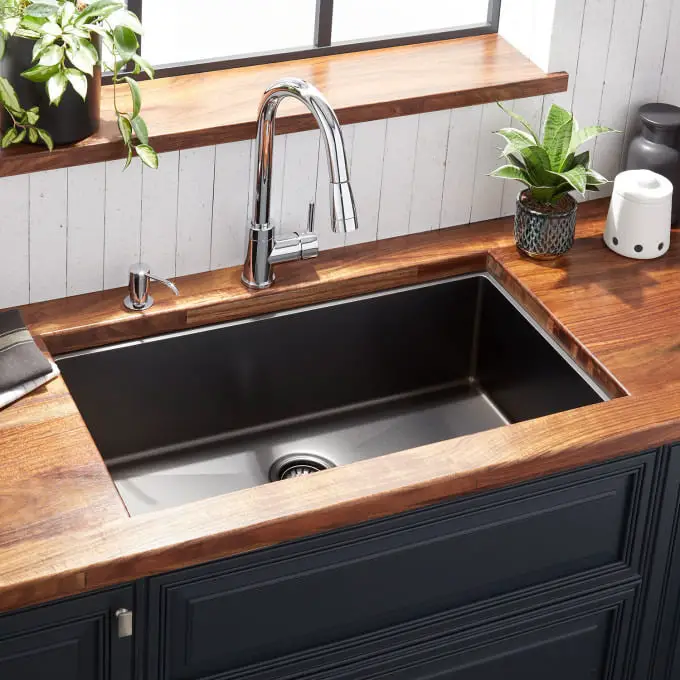 18 gauge steel is often found in smaller sinks that may not see as much use as larger ones. This is normally fine for them but you should always look for 16 gauge if possible. The thicker steel will be more expensive but in the long run will help your sink last. This ultimately means you could save money in the long run. When shopping for a sink always remember, the lower the gauge the better.  That being said, depending on your budget you might want to look at different gauge types.
Sink Mounting Style and Type
There are a number of different options for how a sink will fit into your kitchen. The main two options however are undermount or drop in sinks and if you aren't looking for it then it can be hard to see the differences.
Drop-In Sink:  A drop in sink, as the name suggests, is where a sink is literally dropped into the hole in your counter. The lip, or rim, of the sink is therefore above the surface and exposed on the top of the counter. This can present some challenges in cleaning as dirt can be trapped under the surface rim.
Undermount Sink: An undermount sink is attached below the counter top meaning there is no visible edge or rum. This allows you to use the space more effectively and you can wipe right up to the edge where the sink drops down, making cleaning easier.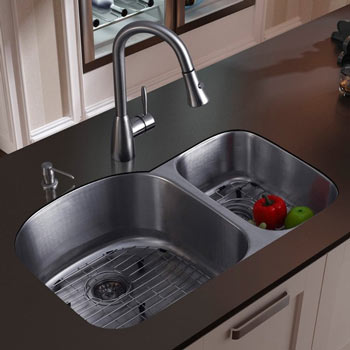 Drop in sinks are much easier to install and will generally be cheaper. Undermount sinks are slightly more complicated but allow for more efficient use of the space. It's also worth considering what setup you currently have, as you may have to do some preparation work if you're intending to switch from one to the other.
Stainless Steel Finish
Stainless steel is used for kitchen sinks because it's more durable and long lasting than other materials. It's resistant to a lot of common problems which impact sinks and helps you have a piece which will stand the test of time.
Manufacturers use a finish on their steel to help protect it for longer. This helps reduce any denting or scratching, helps protect from corrosion and can make the whole sink easier to clean. On top of that it makes the sink look better.
There are two main types of finish used; mirrored polish finish or brushed satin finish. The mirrored finish is generally the most popular and is seen in a lot of homes. It essentially makes the whole sink reflective making it look ultra clean, perfect for those who love to show off.
The brushed satin finish is less shiny than the mirrored finish but offers increased protection and still helps the metal look cleaner. People will sometimes opt for the brushed satin finish because it's easier to maintain and streaks, finger marks and other stains won't be as noticeable than with the mirrored polish finish.  Finishes are an important factor both for longevity and aesthetics. Make sure you explore these options as you would with any other feature.
Sink Bowls
The sink bowl, or basin, is one of the most important factors in selecting your kitchen sink. First you should consider how many basins you want. Many families opt for 2 these days as they then have space to leave dishes soaking while actively using the other one. For some people a single bowl is preferable because they have less space.
You also need to consider the size of the sink bowl. Deeper is generally better especially when dealing with larger pots, but smaller households may only need a small sink and if your kitchen is more moderately sized you don't want to take up valuable surface space.
It's worth carefully considering what type of sink bowl/basin is preferable in your home before you start searching as it will help you narrow down the options quickly.
Holes and Accessory Points
When browsing for a new kitchen sink you should consider your sink holes. Some kitchen faucets will only require 1 hole, but most need 3 holes in your kitchen counter for plumbing and attachments. More advanced faucets may have features that need extra holes added in.  To make your installation easier, then definitely become familiar with holes and accessory points.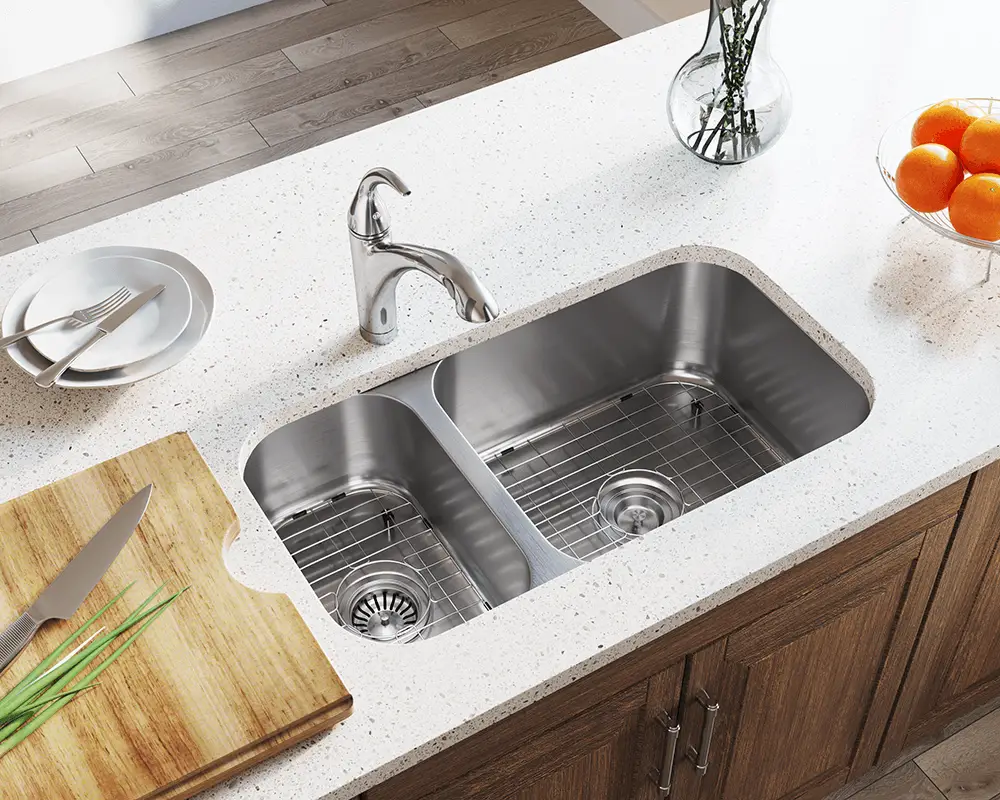 When considering which sink to fit in your kitchen you'll need to see how many you currently have and how many will be needed. In some cases you may need to drill some new holes. This is relatively easy but will need to be done before your new sink is fitted. In some cases you may need fewer holes and you'll have to cover the unnecessary ones.
In a new home or kitchen you shouldn't have any difficulty, but if you're changing out one sink for another then the easiest option will generally be to follow suit and find a sink that needs the number of holes you currently have.
Final Thoughts on Stainless Steel Kitchen Sinks
The kitchen sink can be the centrepiece of your kitchen and will ultimately be one of the most used fixtures in your home. These days you can't just settle for function, or form, you need a combination of both, you need some of the best stainless steel sinks for your needs as well!  No matter the budget and price or design you're looking for, there is something for you!
Stainless steel sinks offer increased durability and thick steel will help your kitchen sink last for years. The stainless steel is also very stylish, with a number of different designs that can transform your kitchen. The finishes used by manufacturers help improve the look and you can easily see why stainless steel sinks are by far the most popular choice on the market.
Along with being a little more durable than traditional sinks, stainless steel is also easier to clean.  When you're cleaning your sink multiple times per week you realize that the ease of cleaning is a huge benefit!
When selecting a new stainless steel sink it's important to explore all the options, but also to keep in mind what will work to fit your specific needs. There are literally endless choices out there these days and you don't need to settle. So take your time, consider the brand, style, quality and features, and you should end up with a kitchen sink that really enhances your home.  I hope this buying guide was helpful, and if you have any questions or concerns please leave a comment!