Stainless steel sinks have been growing tremendously in popularity the past few years.  And although they might seem like they're all the same, when you get into the nitty gritty, there are hundreds of different choices on the market.
When you've done a little bit of research on sinks, you've probably come across the brand TopZero.  TopZero is a sink brand that primarily manufactures high quality stainless steel sinks.  If you are really interested in stainless steel sinks, check out our guide to the best stainless steel kitchen sinks!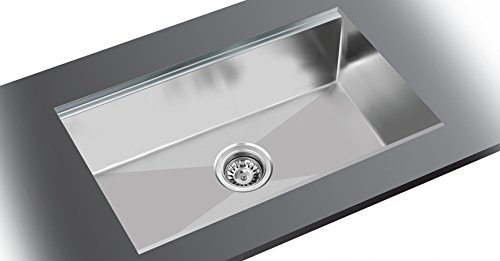 When looking over TopZero's products you'll start to notice that they don't offer simple run of the mill sinks, they offer sinks that are premium material and craftsmanship, and they also are designed for some serious kitchen use.  These sinks are designed to be slightly larger than traditional kitchen sinks, and allows you to have a little more wiggle room.
TopZero designs their kitchen sinks out of 16 gauge stainless steel which gives you a premium material that will last you for years on end!  This luxury material not only looks great, but it feels great as well.  A great benefit of 16 gauge compared to other gauges is that i've found that it is a lot less likely to dent or bend, which means if you do accidentally drop something heavy into the sink you won't have to worry about dents or punctures.  So if you're someone that constantly uses your sink, then TopZero would be a good choice for you based off it's durability, and will help give you that peace of mind.
TopZero TZ.S773 Sink Review
One of the most popular TopZero sinks on the market today is the TopZero TZ.S773 Kitchen Sink!  This sink is designed to give you a larger sink that is for serious kitchen users.  This sink is designed to be deeper than the majority of other single bowl kitchen sinks, so you have room to maneuver.  One of the main features you'll notice with this sink is it's rimless edge.  The TZ.S773 is designed to have a disappearing edge which gives it an extremely sleek and modern design.  This style is something that immediately brought my eye to TopZero sinks and it can make other kitchen sinks look clunky and outdated.
This sink is designed in Europe and manufactured in Fort Lauderdale, Florida, and the craftsmanship is extremely high.  Designed with 16 gauge stainless steel rather than the more traditional 15 gauge, it is a bit thicker and a bit higher quality.  This steel is designed for both looks and functionality.  There is quite a bit of sound absorption in this sink which actually reduces the amount of clanking and clattering which you usually find in stainless steel sinks.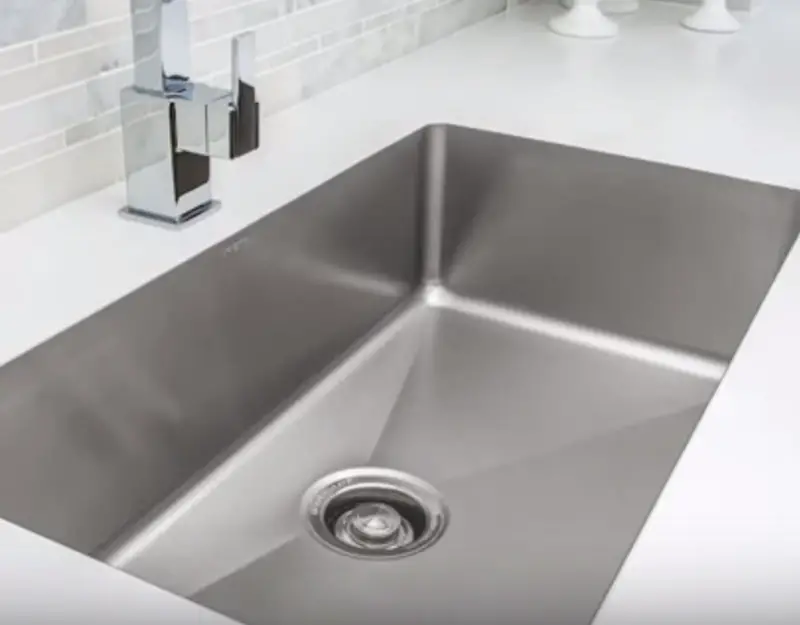 Overall the TopZero TZ.S773 stainless steel kitchen sink is a great sink for anyone who is looking for a sleek and modern sinks that has superior craftsmanship.  This sink looks and feels like it was properly made, and I think you'll be owning this sinks for many years to come.  Overall I would really recommend this sink to anyone who wants a new stainless steel design.  The only downside of this sink, is that because TopZero is a European brand, they don't sell all of their kitchen sinks in the USA.  That being said, if you can find these sinks then I definitely suggest you give it a look!
TopZero Sinks – Manufactured in USA
When looking for a new sink, you have every right to be curious where the sink is manufactured.  There's definitely a correlation between craftsmanship and the country it's manufactured in.  That being said, you have nothing to worry about with TopZero sinks, they are manufactured in Fort Lauderdale, Florida and they are made with extremely high levels of craftsmanship.
How Big Are TopZero Sinks?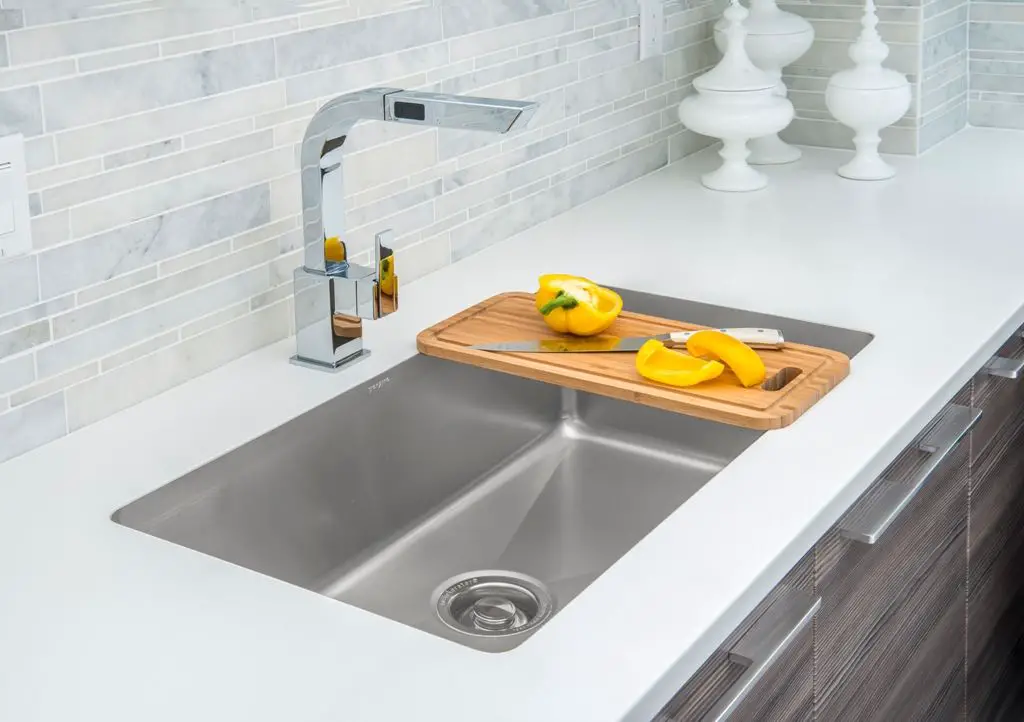 As mentioned earlier, TopZero sinks are generally on the larger side.  That being said, they offer probably close to 100 different sized sinks so you'll definitely be able to find a sink that fits your needs perfectly.  One thing I have enjoyed about these sinks is that they are usually a bit deeper than other kitchen sinks, so that gives you a bit more room to play with.
Maintaining Sinks by TopZero
With any sink, you should definitely be aware of how hard it is to clean and maintain.  The beautiful thing about TopZero sinks and other stainless steel sinks is that generally they are extremely easy to clean and maintain.  You shouldn't have to worry about stains sticking around or having to use special cleaners just to get it looking back to prime conditions.
Durability and Longevity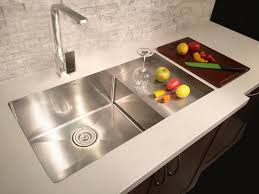 Similar to craftsmanship, if you're paying good money for a new sink, you'll want some reassurances that it's going to last for years rather than months without any signs of wear or tear.  Thankfully, TopZero has done a good job or keeping their standard of craftsmanship high.
There aren't any glaring flaws that could cause durability issues, and I've had no experiences that would cause me to believe that these won't last longer than a few years.  I believe that these sinks are built for years of use!
Designed With Noise Reduction In-Mind
Many peoples main gripe with steel sinks is that they can be extremely loud and clatter when bumped by plates or silverware.  Thankfully TopZero heard our complaints and designed their sinks with noise reduction in mind.  These sinks are designed to help absorb as much sound as possible, so you don't get a headache due to clanging noises!
Final Thoughts on TopZero Sinks
After taking a look at TopZero sinks you'll begin to realize that they truly offer a huge amount of variety in stainless steel sinks.  They offer sinks in just about any size and depth which really gives you the variety to find something that is perfect for your needs.  Along with this, because the USA models are manufactured in Fort Lauderdale you can feel pretty confident that the craftsmanship is extremely high.
Overall these are very high quality kitchen sinks, that I would recommend to anyone that is looking for a stainless steel kitchen sink.  They are designed with usability in mind, and for those who really use their kitchens.  These sinks are as close to commercial kitchen while still keeping the sleek modern design of home kitchens.