As an Amazon Associate we earn from qualifying purchases.
Vanguard Furniture began very humbly with 1 factory and 2 employees. They began by producing just one piece of furniture, a velvet chair. Over 45 years have passed and Vanguard have cemented themselves as one of the leading furniture manufacturers in the industry.  
In this Vanguard Furniture reviews I will talk about the history of Vanguard, some of their values, reviews on their living room products, and their warranty policy.
About Vanguard Furniture​
Vanguard is still family owned with the same work ethic as it had in the beginning. They now have 6 different manufacturing sites with a 40,000 square foot facility in High Point, NC. Vanguard are a fashion driven company looking to bring the latest furniture fashion trends directly to the customer.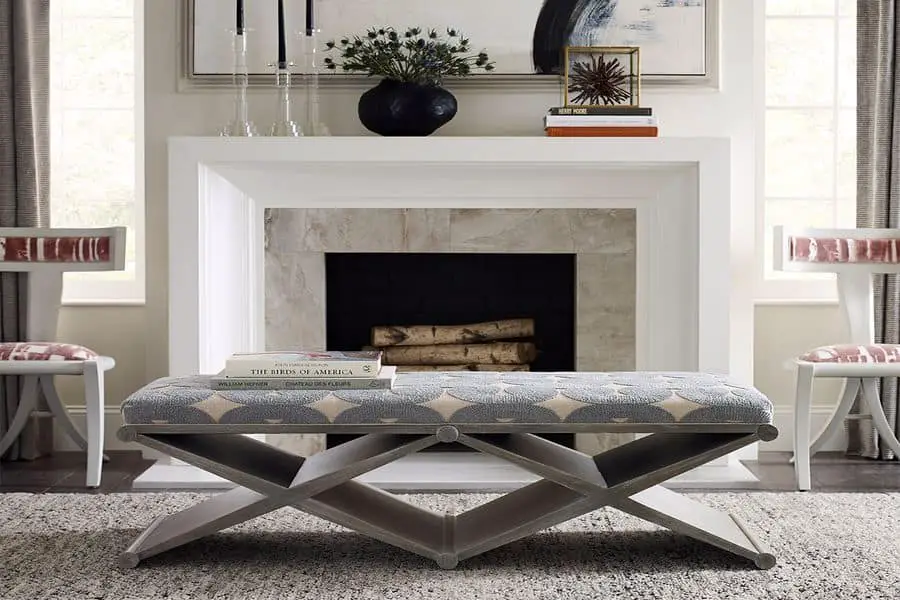 Vanguard believe in efficiency and making the most from resources. They've adopted a policy of "lean manufacturing" where waste and inefficiency are eliminated. This has lead to a very hard working and effective infrastructure within the company, allowing them to work well and pass on savings to the customer.  
Based on quality and craftsmanship I would compare Vanguard to Elran furniture because they are similar price range and quality.
Vanguard's mission is to be the most customer- centric company who deliver unparalleled quality and service. They're looking to achieve this by constant self examination and continuous improvement, not just of their products but of their services. Let's take a look at their collections and see how they've developed their brand so effectively.
Types of Vanguard Furniture
Vanguard divide their furniture by room with collections for living room, dining room, bedroom and home office. Within these collections are tables, chairs, accessories and storage solutions. Vanguard have taken time to develop some genuinely useful products for use around the home which use sometimes limited space very effectively.
Vanguard believe in traditional American craftsmanship and unlike a lot of their competitors they have kept all production within the U.S.  Similar to this if you are looking for other American crafted furniture's I would suggest Palliser furniture as well!  This let's them keep control over the whole production process and implement checks to ensure their products are of the highest quality.
Vanguard have highly trained artisans who hand finish each of their products. The end result is that no two products are ever alike, with unique coloring. The quality remains the same across the board and Vanguard stand behind their products.
Vanguard produce some very well made cabinets, tables and chairs but their living room collection is extremely impressive. Let's take a look at the options.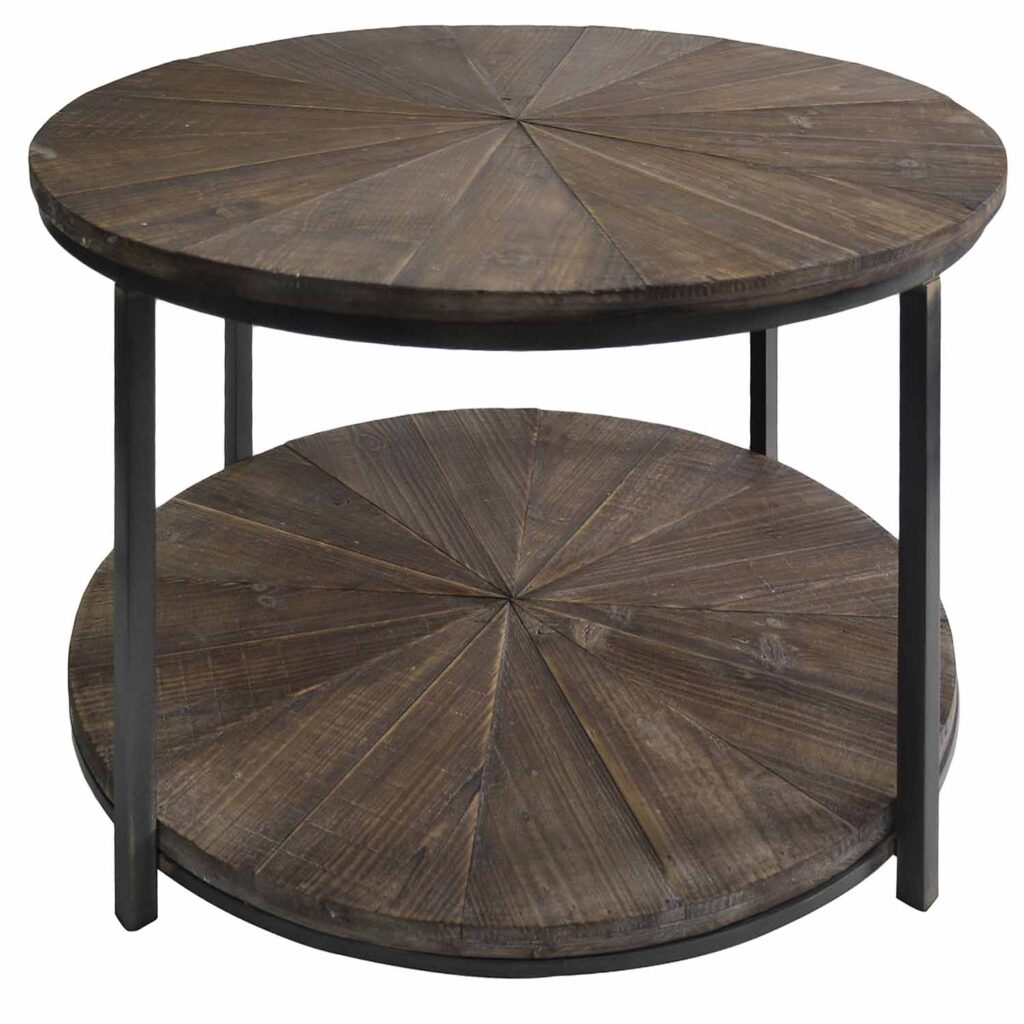 One quick look at their product catalogue, and you can easily see their impeccable craftsmanship. Aside from well made sofas and chairs, their tables are also unique and great accent pieces. If you love their design but wishes for a more affordable brand, this Laurel Round Wood Planked Coffee Table is a great find.
Vanguard Living Room Furniture Reviews
Vanguard have over 1300 different pieces for the living room divided into 10 different collections. Vanguard have talented in house designers who help create the products on offer. Each of the pieces is designed in a particular style, these include traditional, modern, transitional and contemporary.
When selecting your living room furniture you'll have plenty of options. Vanguard seating choices include:
Sofas
Loveseats
Recliners
Sectionals
Chairs
Ottomans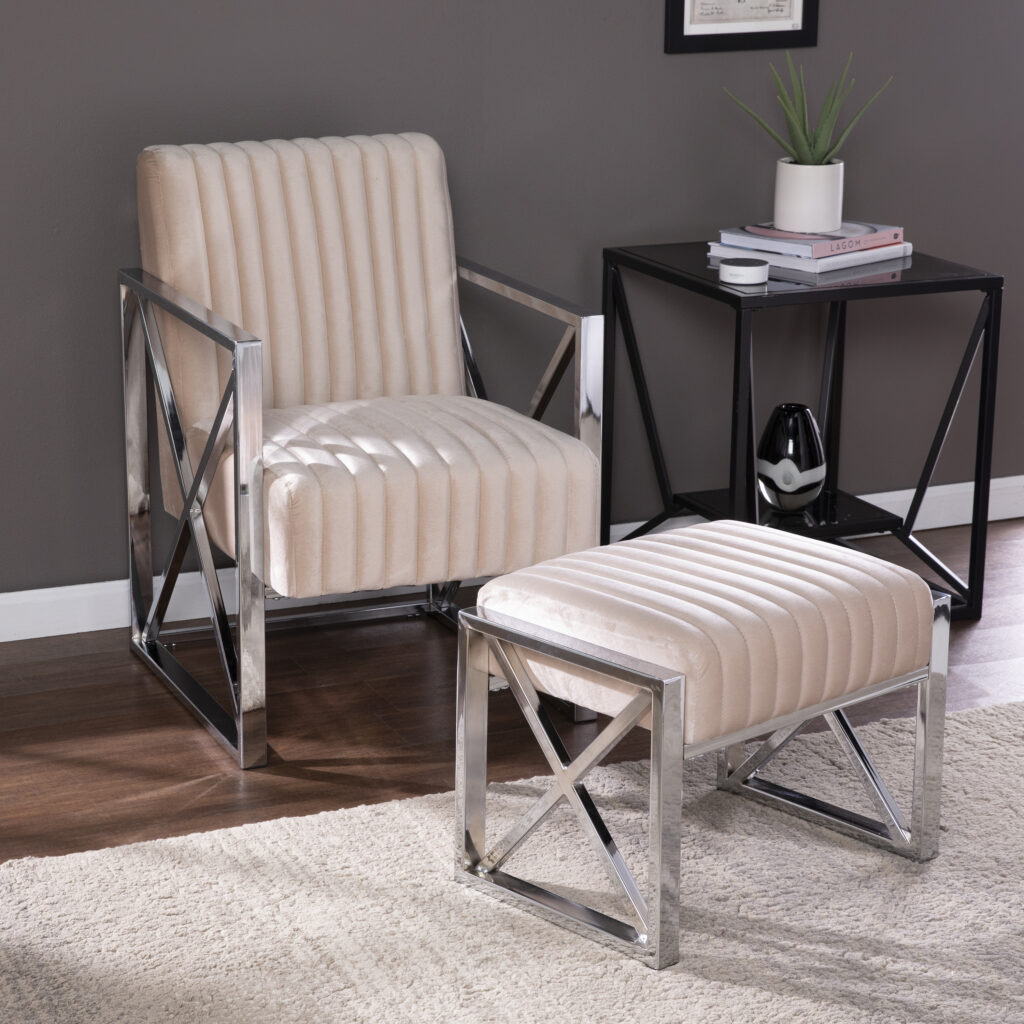 Their chair selection is remarkably diverse, that it can cater to any type of home. From solid wood to stainless steel legs, they are all available in their store. If you are looking for a different brand with the same style, this Shawn Velveteen Accent Chair and Ottoman is upholstered quite elegantly just like Vanguard Furniture.
Sofas are traditionally the most popular option and Vanguard have almost 200 to choose from. The sizes and shape of Vanguard sofas differ greatly depending on the style but they have created specialized furniture to fit in any space.  If none of this fits your needs, then check out my Bel Furniture Reviews.
Vanguard sofas and chairs come with a choice of materials. Vanguard has one of the most extensive selections available with over 2100 different materials. There are 11 different color families and the fabric materials include:
Luxury Composite
Performance
Crypton
Outdura
Sunbrella
Silk
Speciality
Velvet
Washable
Each of these have been specially created not just to give a distinctive look and feel but to give your furniture increased protection. The performance fabrics are more suitable for busy households with children or pets and give protection against staining.  If you are looking for other durable fabric choices, my Art Van Furniture reviews article gives you some great options!
For a classic look and increased durability there are several different types of leather available for your furniture. These range from white to black and include unique finishing and staining, making your furniture unique.
Vanguard also offer a range of different cushions to complement your furniture. These choices include:
Poly Dacron Tight Seat (Firmest)
Bliss Spring Down (Firm)
Majestic (Semi Soft)
Feather Lux (Semi Soft)
Bliss Down (Soft)
Relaxed Down (Softest)
Each of the cushions are specially crafted using specialist materials that give the unique feel you desire. They make a big difference to the comfort of your sofa, loveseat or recliner so it's definitely worth taking the time to explore your options.
Vanguard also offer a range of motions of their chairs and sofas. These include reclining, power reclining, gliders, lifters and swivel chairs. Specific mechanisms are fitted into the units which allow for this range of motion.
Lifters are perfect for less mobile individuals because it allows for easy standing and sitting. If you aren't sure then your local dealer will be able to show you each.  Similar to Arhaus Furniture, Art Van works hard to provide recliners and fixed positions seats.
Vanguard have created a living room collection with an incredible amount of choice. From style, to design to features they've put it all in the customer's hands with a very personalisable set of products. It's always best to go into your local dealership or showroom and try out what you can.
This will let you see and feel exactly what you're getting and will help narrow down the wide selection for you. It's always worth taking a big of extra time to find the right fit for you, especially when you're hoping the furniture will last for years.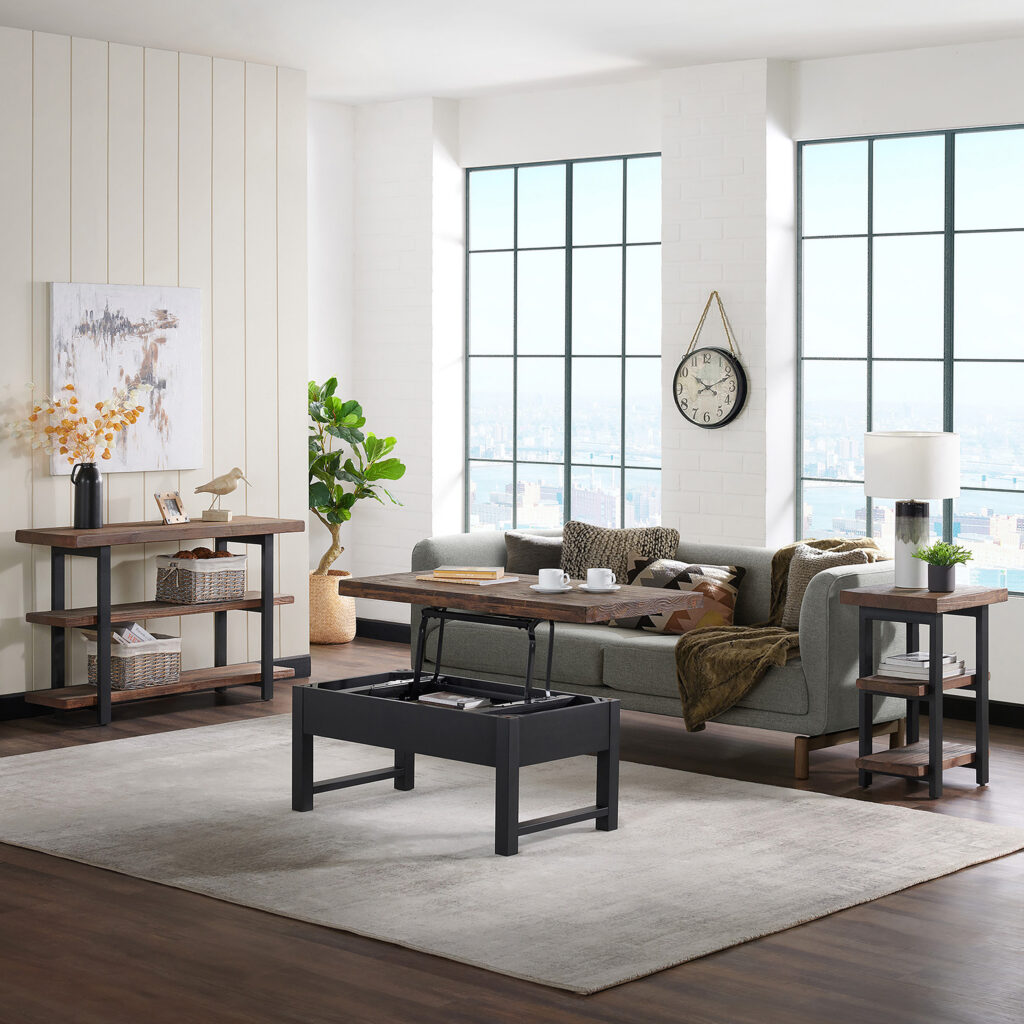 Sometimes, it can be time consuming to select various pieces to fill a living room space. That is why furniture collections can be quite a big help for those who have limited time. If you wish to own a living room set that looks exactly like Vanguard Furniture at a fraction of a price, this Pomona 4-Piece Living Room Set is a wonderful pick.
Vanguard Furniture Reviews and Complaints
Vanguard have some of the most positive reviews of any of the furniture industry and people won't hear a bad word said about them:
"I don't who would write a negative review about Vanguard they make an excellent product!"

– Peter G.
Some criticisms of Vanguard seem to be centred around their warranty as some customers have had difficulty getting it honoured. There is always a lot of fine print surrounding warranties and guarantees, and It's worth taking the time to work out exactly what you're entitled to. A lot of the time you have to be careful how you treat the materials, a sales agent should be able to guide you through it.
Overall customers seem pleased with the price, quality and durability of Vanguard's furniture and agree that it offers some great value.
Vanguard Warranty Information
Vanguard stands behind it's products and craftsmanship with a warranty that guarantees all workmanship and material defects. The springs, frames and seat cores all have a lifetime warranty. Mechanisms are covered for 5 years and products for 1 year.
Fabrics are not covered but will be considered on a case by case basis. The warranty does not cover standard wear and tear so be sure to look up the best procedures for protecting your furniture. As ever check with your dealer to see exactly what the warranty covers so you aren't caught out.
My Final Thoughts on Vanguard Furniture
Vanguard have a product selection and customization options that allow you to make any of this pieces your own. They've got a large selection of products that are all built well and It's no wonder they're flourishing as a company.
Vanguard have shown themselves to be a good supplier that's on price point and offering some great value for your home. They're nearer the top of the mid range budget but are offering some very well designed and built products. Be sure to check them out when refitting your dining room or living room.  Check out my other furniture reviews!