As an Amazon Associate we earn from qualifying purchases.
Thomasville Furniture have humble origins but have grown to be one of the industry leaders. Founded in 1904 in Thomasville, North Carolina, they've spent the last 100 years perfecting their craft and products. Now they boast a wide range of different hand made pieces with are designed to benefit the home.  
In this Thomasville Furniture reviews guide we will learn quite a bit about the history of Thomasville furniture, the types of furniture they produce, the quality of these pieces, and their furniture warranty information!
About Thomasville Furniture​
Thomasville pride themselves on their dynamic and flexible spirit. They've followed the fashion trends, and made a few of their own, to keep their products fresh and relevant to the people of today. Thomasville always keep their products centered around innovation and quality.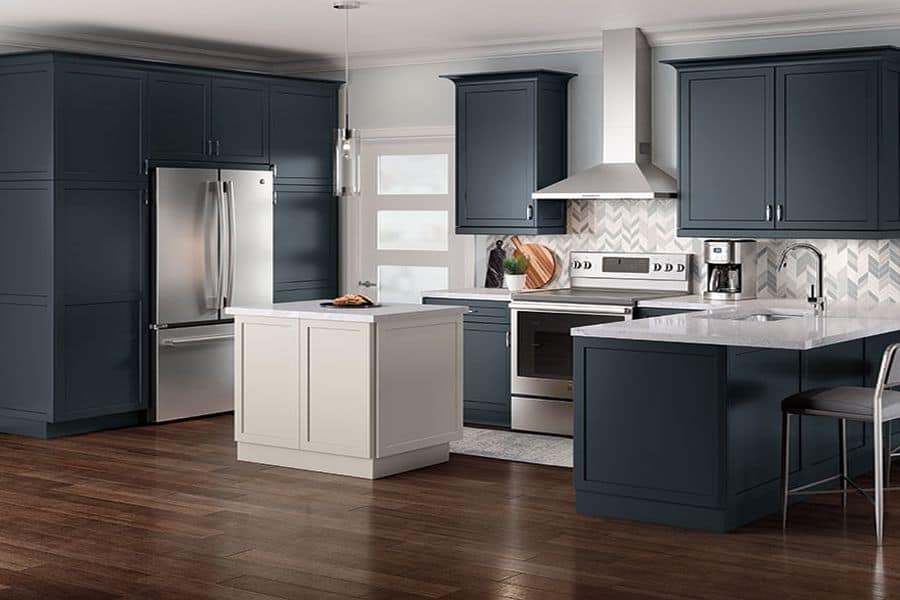 Thomasville Furniture is all about the people. First are foremost the customer is at the heart of what they do. Every piece, from design to delivery, is made to bring value to the buyer.
Thomasville also take pride in their employees, training skilled workers and treating them well so they continue the tradition of high quality craftsmanship. If you like the values of Thomasville, then you should take a look at Smith Brothers furniture as well!
Thomasville furniture can be seen in homes across America with very popular ranges and collections. Thomasville furniture is available through their Home Furnishings stores, for cabinets and other units they have Thomasville Cabinetry.
Thomasville is about self expression through your furniture, let's take a look at some of their most popular products.
Types of Thomasville Furniture
Thomasville furniture is designed to benefit the whole home. They have ranges for the living room, dining room, bedroom, home office and décor pieces. While each of these ranges has some nicely produced pieces, it's the living room furniture that stands out as their most popular line.
Thomasville also have unique collections that aren't available anywhere else. One of their most popular is the Ellen DeGeneres collection. The ED collection has been designed with the input of one of the country's favorite celebrities. The collection features living room, dining room and bedroom sets.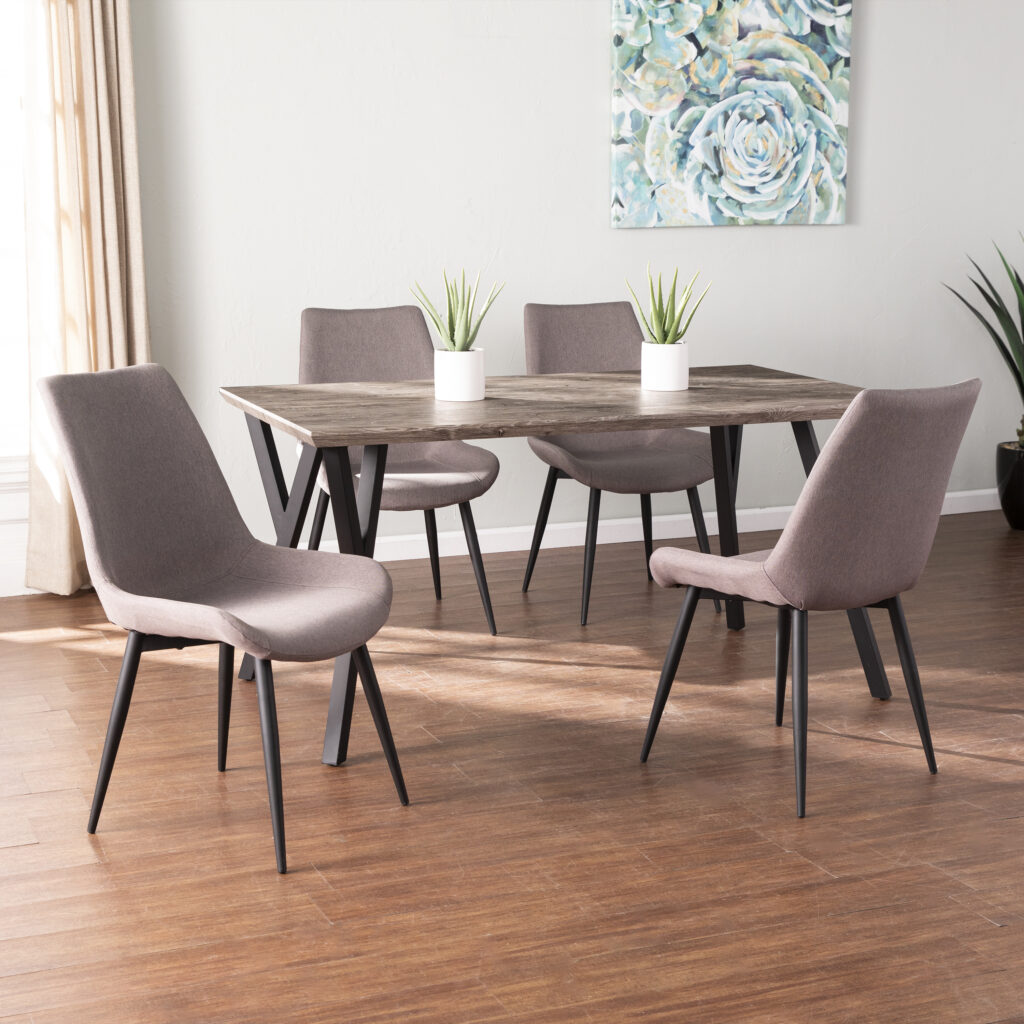 Their furniture collection even includes dining room pieces. Most of their popular items are pretty traditional, but they are built with care and quality that can withstand years of use. If you want a more affordable dining set that is a lot cheaper than Thomasville, this Aymard Contemporary 5 Foot Dining Table shares the same aesthetic as their brand.
Thomasville Furniture Quality
Thomasville furniture have chosen to keep their production within the U.S. While this is more expensive It gives them much greater control over the manufacturing process, allowing a greater level of quality.
Thomasville have over 100 years of experience when it comes to furniture building. Thomasville furniture does all have a traditional feel but they've managed to adapt and change with the times. Their furniture has modern features and a lot of their products are built with solid hardwood.
All of this means it's built to stand the test of time and should last. If you are looking for another company with a small town feel, then Franklin furniture or Huntington House.
Thomasville furniture is not as well made as the high end brands, but for a mid range furniture provider they are fairly reliable.
Thomasville Upholstery
Thomasville upholstered furniture is some of the most popular around.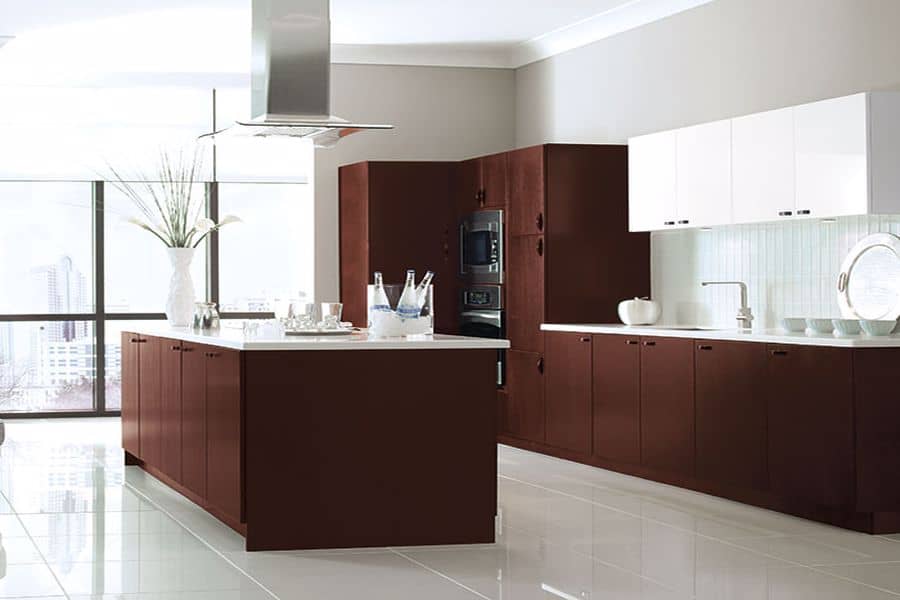 Choose from:
Sofas
Loveseats
Sectionals
Chairs
Chaises
Ottomans
Each of these have been designed and built to utilize the available space of your living room most effectively. Beyond size and shape you can choose the style of your piece. Thomasville living room furniture generally falls into one of four categories:
Traditional
Modern
Contemporary
Transitional
This allows you to match furniture to your existing home decorations and build upon the existing look you already have. While there are distinct differences between each, Thomasville do favor a more traditional style and a lot of their furniture has a very classic look.
Thomasville let you select the firmness of your sofa or chair. Different cushions let you select how exactly your sofa will feel and give you the maximum comfort.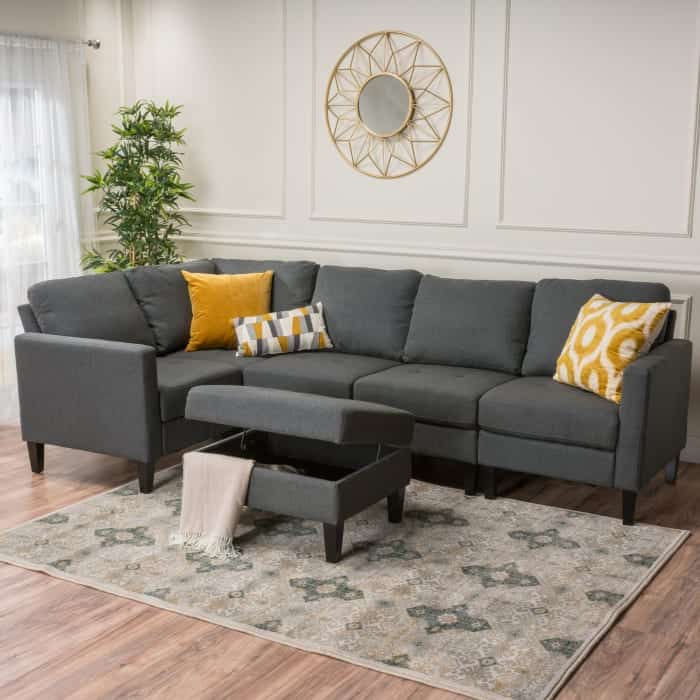 Depending on your current needs, Thomasville sells a wide variety of sofas and sectionals. If you wish to own a mid size sectional that can give you the best experience of comfort in your home for a fraction of a price, this Gray Zena Sectional with Storage Ottoman perfectly fits the bill.
Thomasville excel when it comes to the choice of fabric. They have over 500 different choices available, these don't just range between different colors but different textures too. Your seating can have a distinctive feel and look depending on your preferences.
Thomasville also have a range of leather furniture. This gives a classic look and can really improve a room. Leather has the added quality of being durable but still soft to the touch. Choose from a range of different colors and be sure to check out their material care guide when you purchase.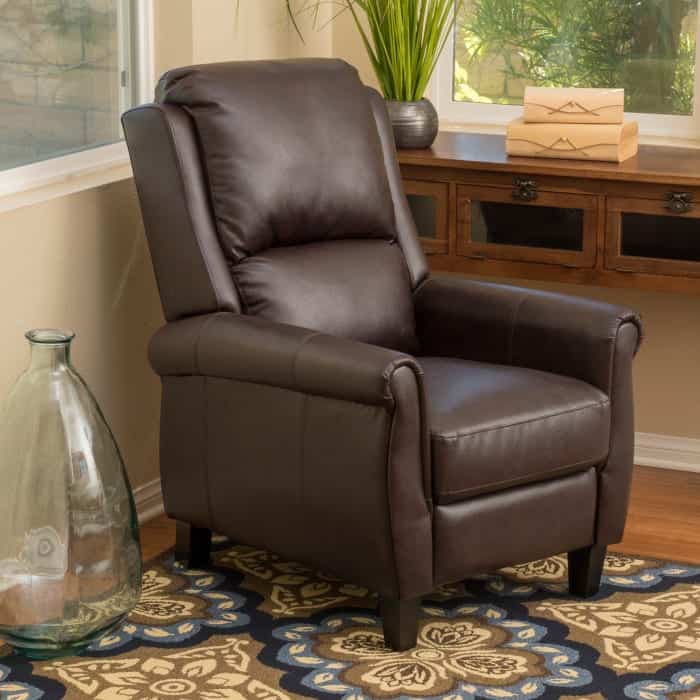 Leather can be a bit pricey and a trusted brand like Thomasville might exceed your limited budget. This Brown Two Tone Polyurethane Leather Push Back Recliner, which is made from polyurethane leather is pretty easy to maintain and although cheaper, can still be comparable to Thomasville furniture.
There are motion options available for Thomasville chairs. These include reclining, power reclining and swivel so you can get the maximum comfort from your living room furniture.
Ellen DeGeneres Collection
No review of Thomasville furniture would be complete without mentioning the Ellen Degeneres collection. A popular choice for a lot of furniture makers is to get a celebrity in to put their name on a range. There's debate over how much actual input the big name usually has on the designs but a lot of them have produced some off the wall fashion choices.
The collection has two main style themes to choose from:
Relaxed Mid Century Styling
Combining Danish and Italian influences these products are a lot more free flowing, with unique shapes and designs. All of them have hand made elements and look custom made for you. The mid century styling is created with walnut veneers, brass hardware and bronzed glass, giving a relaxed and warm feel to the style.
Rustic Modern Designs
Inspired by Scandinavian antiques this range is all about the attention to detail. Designed to be ornate but still modern they feature oak with metal and stone. With deep frames and hand-crafted detailing the rustic modern design makes your furniture like a work of art.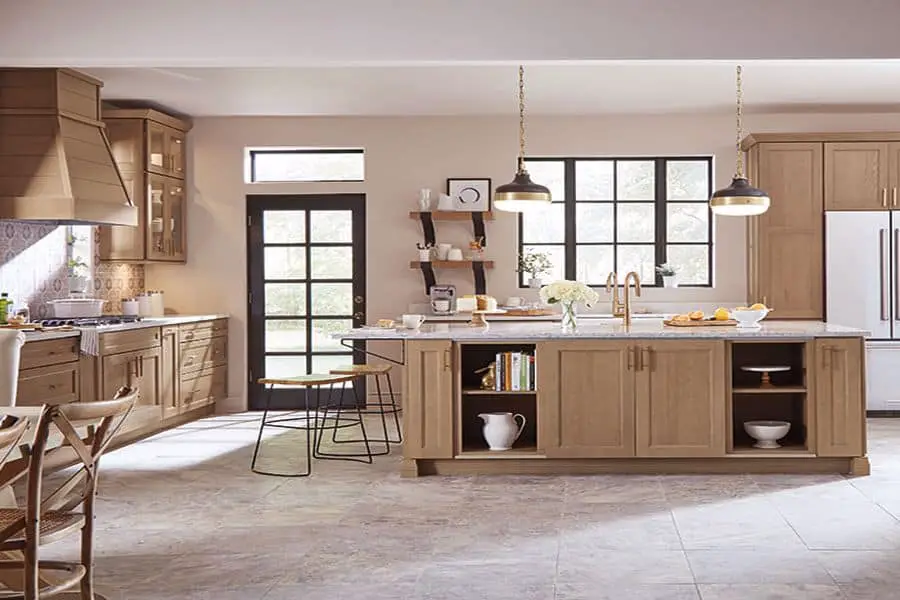 Both of these styles have the touch of Ellen Degeneres' personality to them and give your home furniture some character It might not have had before.
Thomasville have shown they really understand the demand for personalization in the home furniture industry. On their website they have a customization tool so you can play around with the different options available. This is useful before you go to a dealership so you aren't totally overwhelmed with all the choice on offer.
Thomasville Furniture Reviews and Complaints
There are mixed reviews of Thomasville furniture but a lot of customers swear by it:
"We have had a Thomasville dresser for about five years now. I just ordered two nightstands to go with it. The dresser is outstanding in all respects. I expect it to be around longer than me."

– Andrew D.
However there have been increasing criticisms of the brand because of a dip in quality:
"I have bought Thomasville furniture before but never will again. At nearly $1000 this kind of quality should never leave the manufacturer. "

– Jeff D.
There is evidence that Thomasville has begun to outsource some of their production to China and to Mexico. This can mean the quality is not as high as in previous years and you have to be extra vigilant. Check and double check upon delivery and make sure you're familiar with your warranty in case something goes wrong.
That doesn't mean Thomasville Furniture is poorly made or that it can't give good value. For the price point they're offering some solid products, you just need to be careful to make sure there aren't defects before you use them.
Thomasville Furniture Warranty
Thomasville offer a warranty on their products to protect against any workmanship faults or material defects. Sleeper mattresses, fabrics, leathers and electrical components are covered for 1 year. Cushions and mechanisms for 3 years and frames and springs for 5 years.
Always check with your dealer about your specific products before purchasing so you know exactly what's covered in your products.
My Final Thoughts on Thomasville Furniture
Thomasville have proved they're doing something right to have survived this long in a competitive industry. Their ability to keep up with modern trends while keeping their values is admirable and means well designed furniture across the board.
Thomasville have dropped in quality lately and reviews can paint a pretty damning picture. However always remember that bad reviews will outnumber the good and look instead to try out the products. Thomasville have a variety of products and customizing options that let you personalize the furniture the way you like it.
Wherever possible upgrade to hardwoods and durable fabrics to give a longer lifespan.
If you're looking for furniture with a mid range budget Thomasville have some excellent pieces that can certainly bring value to your home. Check them out today at your local dealership.