As an Amazon Associate we earn from qualifying purchases.
Get ready.  You're going to read the word "durable" about five hundred times in the next five minutes or so.  I'll try to use some synonyms – tough, resistant, unbreakable – but you're smart. You know that those are really just cover words for "durable".
Why will I use the word so often?  Well, if you're thinking about installing a quartz kitchen sink, then I need to address the largest selling point of the basins.  Sure, they look great and can come in a bounty of colors and sizes to fit your remodeling project down to the most minute undertone of color. 
And sure, there are a variety of price points to get the kind of quartz kitchen sink you want, without having to wreck your renovation budget to do so.
Quartz Kitchen Sink Comparison Table
Elkay Quartz Classic Greige
Elkay has a long history of manufacturing quality kitchen sinks right here in the U.S.A.  But that time-tested tradition doesn't mean you'll have to settle for an outdated product sampling.  If you're interested in Elkay, then I have a whole page based on Elkay reviews.  Instead, the Quartz Classic Greige is about as modern and updated a model as you'll find.
First off, the sink is an undermount, allowing you to tie the versatile sink to a range of color schemes in your remodel.  Greige is equal parts grey, beige and brown and as a result, the sink's color pairs really well with grey and white countertops, but can also adapt to darker tones as well.
I've touched on a sink's toughness already, but it can handle a lot as well.  With dimensions of 24.5" x 18.5", the bowl is big enough to handle almost all of your larger kitchen tools.  However, it's also not the largest model on this list, giving you some flexibility in countertop space and adhering to previously cut cabinets, if that how you're attacking your renovation. 
The sink fits into a 30 inch cabinet opening. And with a bowl depth of 9.5 inches, what you lack in horizontal space is made up for in vertical cleaning area with one of the deepest sinks on the market.
The Classic Greige sink is about as inexpensive as you can find on the quartz market.  That doesn't mean the product is low quality, however as it touts all of the same durability features common to other quartz sinks.  It's surface also works as a deterrent to the spread of bacteria, adding another layer of protection to the sink.
Like most single basins, the Classic Greige has a tendency to have drainage issues.  The large, open base of the sink can sometimes pool water. Users have still rated the sink highly, and one pointed out that despite this tendency, the sink "won't stain."
Sink Specifics:
Model Number: ELGU2522GR0
Weight: 26 Lbs.
Drain Opening:  Center, back – must purchase drain fitting/flange separately.
Rating: 4.8/5
Elkay Quartz Classic Putty
No, this isn't a copy and paste error.  Elkay's other entrant into the quartz contest is the Classic Putty model, which is an interesting and bold color choice should a home remodeler choose to make it.
The Putty sink is a combination of brown, grey and off-white coloring.  The distinctive color has a subtle undertone of pink and brown, allowing it to match dark wood cabinetry and a variety of countertop colors.
The other distinctive feature of the Putty sink is its dimensions: 25" x 22" x 8 ¾".  Instead of adhering to the traditional rectangular kitchen sink style, this sink almost seems like a perfect square.  That doesn't mean it won't fit traditional kitchen sink cabinet cut-outs, however. The Putty still fits in the 30" cabinet opening.
And of course, the Putty sink is as durable as the others on this list.  Elkay notes the sink is impact, scratch and heat resistant up to 535 degrees, not that you'll ever be testing that limit.
The Putty is also a top mount sink, allowing drop-in installation.  The intriguing shape and color of the sink combined with its drop in design makes the sink more likely to be a focal point of your new kitchen.
Despite the fact that the sink is a drop in, there are no pre-cut holes in the sink.  A circular drill can be used to manufacture them, but you'll need a strong tool set or skilled contractor to make sure it looks professional grade, if that's the route you take.
Sink Specifications:
Model Number: ELG2522SD0
Weight: 29 Lbs
Drain Openings: ​Center and Back
Rating: 4.7/5
Kraus KGD-412B Quarza Granite
The other side of the color spectrum is Kraus's Quarza Granite sink.  The deep grey color could pass for black if it had the right combination of countertop and depending on how it is installed. The Quarza can be a drop in or an undermount install, giving your renovation the option to show off that color even more, or have it add an understated tone.
The Quarza Granite model touts its durability but two features attempt to back this claim even further.  First is the UV-stable material the sink is manufactured using. This means the sink is designed to never fade, even though the Granite color is as dark as it is.  The second factor is the sink's non-porous material, which means it actively resist dirt and food stains even as it maintains its luster and smooth finish.
The sink comes with one pre-cut hole, but fabrications for other cutouts as well.  This gives you even more flexibility with your accessories and more decisions to make when it comes to installation.  The 30 ¾" x 20 ⅛" x 8 ¾" dimensions also offer flexibility in terms of how many dishes and cups will fit in the ample single bowl when dinner is over.
The Quarza kitchen sink offers one more feature to help keep spots and stains out of the sink – rounded corners.  Some modern variations on single bowl sinks have turned to straight edges, which look contemporary but can spell trouble when cleaning time comes.  Combining the rounded edges with the non-porous material means the Quarza sink should be a bit easier to maintain than some other quartz models.
The shipping on some kitchen sinks is the ultimate factor in a negative review for buyers, and this is the case with the Quarza sink.  Multiple reviews report cracks in the corners of the sink upon arrival. If you can, perhaps attempt to purchase the sink in person at your favorite home improvement store to avoid the mess of a return.
Sink Specifications:
Model Number: KGD-412B
Weight: 32 Lbs
Drain Opening: Center, Back
Rating: 4.2/5
Blanco Precis Single Bowl Silgranit
Blanco touts the Precis Silgranit sink as "space saving" and while that may be true in some ways, it's still a more than functional 27" x 27" x 9.5" in its dimensions, making it an easy fit for a 30" cabinet.
The undermount sink is a darker shade of gray – metallic gray, to be exact.  The color opens up a range of countertop and cabinet choices and the intriguing shape of the sink will allow it to be the focal point of the room, should it need to tie the other pieces of the renovation project together.
And the name Silgranit isn't just a contemporary take on a color swatch. The sink is actually has 80% granite content, again pointing to its extreme durability to handle all of your kitchen tasks.
The sink is protected by a lifetime limited warranty on all stains, scratches and chips.  It too boasts a nonporous surface that resists wear and tear from household acids and cleaning solutions.  Overall I've had good experiences with Blanco as you can see from my Blanco Sinks Review page.
Like other single bowl sinks that don't come with strainers or sink plugs, the Precis Silgranit may pool water upon draining.  Be careful to get the strainer as flush as possible during install or some water may stay in the bowl as a result.
Sink Specifications:
Model Number: 522428
Weight: 33.7 Lbs
Drain Opening: Center, Back
Rating: 4.6/5
Factors in Choosing the Best Quartz Kitchen Sink
But ultimately, the biggest check mark in the column of quartz kitchen sinks is the durability the bowls provide.  
Why are they so durable? Quartz is a natural stone that when combined with resins, polymers and pigments during the manufacturing process can produce a nearly impenetrable surface.  The sinks are an engineered composite of quartz with various ratios of natural elements to composites, depending on the company.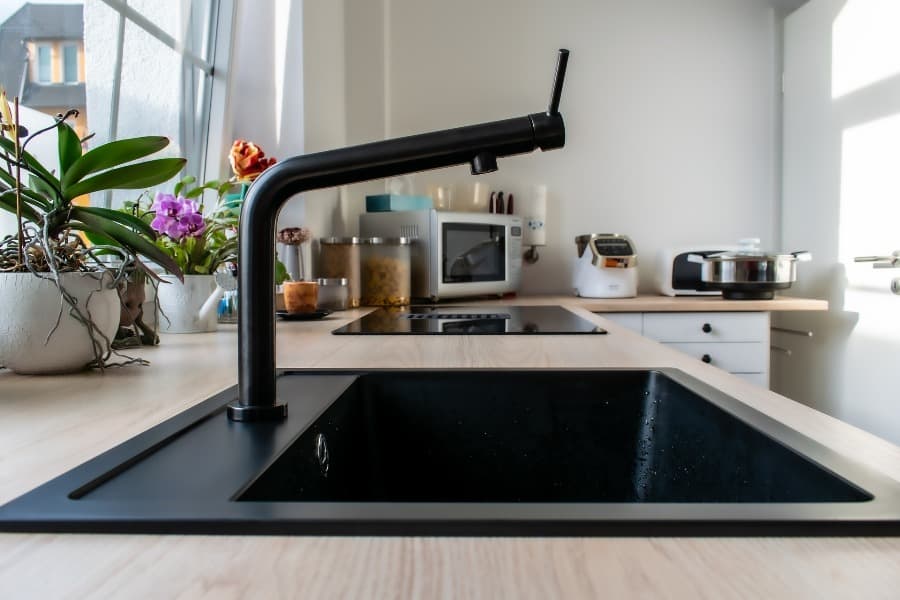 When the process is completed, the sinks have the look, and sometimes feel of marble, without coming close to touching it's price tag.
Quartz sinks are engineered to withstand almost anything you can throw at them – from the heaviest frying pan to the roaster to the sharpest knives in your drawer. The composite material is chip and crack resistant, and the special design of each manufacturer will most likely deter heat, scratching and staining on the surface area of the sink.
Further, most of the composite materials not only offer a variety of color palettes to fit your remodeling plan, they will keep that color as long as you keep your sink.  The special engineering of the sinks means the color won't fade, keeping your modern and contemporary design as fresh as the day it was installed.
So, if the sinks won't crack or chip or fade, how can I distinguish one sink from another to find the perfect fit for your remodel?  That's where the following four sinks come in. Each is a bit different take on the updated quartz design with a variety of prices and specifications to match your project perfectly.
Final Thoughts on Quartz Kitchen Sinks
Quartz kitchen sinks have two of the most important selling points of any modern kitchen sink: their strength to stand up to the toughest kitchen mess you can throw at it and the clean, crisp look of the stone as it combines with any number countertop and cabinet designs.
Add in the affordability of the models on this list, and you may not need to look any further in the quest for your next kitchen sink.  Good luck in your search and on your remodel project!