As an Amazon Associate we earn from qualifying purchases.
Bradington-Young are the furniture specialists operating all over the U.S.A. Their headquarters is still based where it all began, Hickory and Cherryville, N.C.  In this Bradington Young Recliner reviews guide you will learn about Bradington Young history, the types of recliners they offer, the quality of their recliners and their recliner warranty.
History of Bradington Young Furniture
Bradington-Young have a fairly long history in the furniture industry and have been practicing their craft for over 30 years. In this time they've diversified and grown their product range massively with more products than ever before.
At the heart of Bradington-Young is the saying 'Build high quality products for a fair price'. This is how they began and is still how they operate today. For Bradington-Young this all begins with the materials used.
Bradington-Young have experts searching for improvements all the time. They have hundreds of different fabrics and leathers available, setting themselves apart from the competition.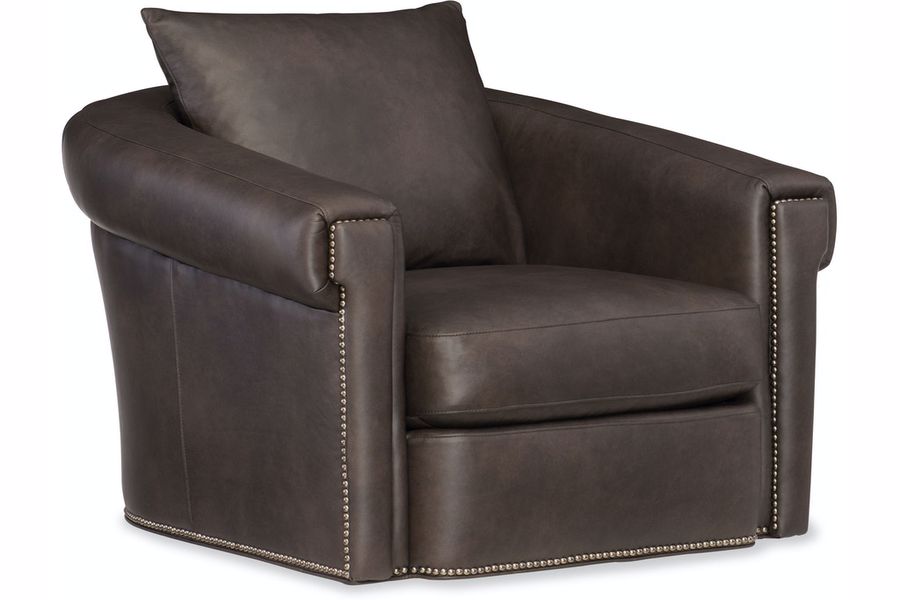 As the furniture industry has developed and changed, Bradington-Young's ethos hasn't. They know how important comfort in the home is and work hard to provide that luxury feel at an affordable price.  Has Bradington Young made my list of the best back friendly recliners?
Types of Bradington-Young Recliners
Bradington-Young have developed an extensive product range in their 30 years operating. They now produce full ranges of upholstered furniture including: sofas, sectionals, ottomans, and entire living room collections.
While all of these products are good, the highlight of their collection is their recliners. Designed, sketched and finally produced by skilled artisans, they combine comfort and luxury with utility, using the most advanced technology in their mechanisms.
Bradington-Young specialize in the traditional style of recliner and chair in the home but they also produce modern and contemporary pieces. This allows you to pick the recliner which best suits your home, without having to compromise.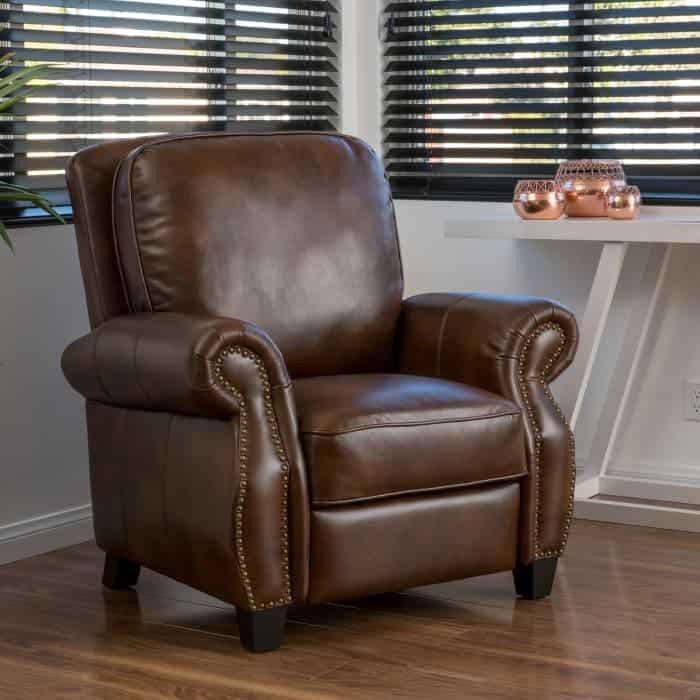 If you like the classic feel of Bradington-Young recliners, this Brown Two Tone Polyurethane Leather Push Back Recliner has similar aesthetics at a more affordable price point.
Whether you're looking for a modern recliner which is all about comfort, or a more traditional piece to fit an older home, Bradington-Young have one of the most complete collections of recliners on the market.  There's a reason Bradington Young has made my list of recliners good for back pain, check out my complete list here.  Let's take a closer look at the specifics of the chairs.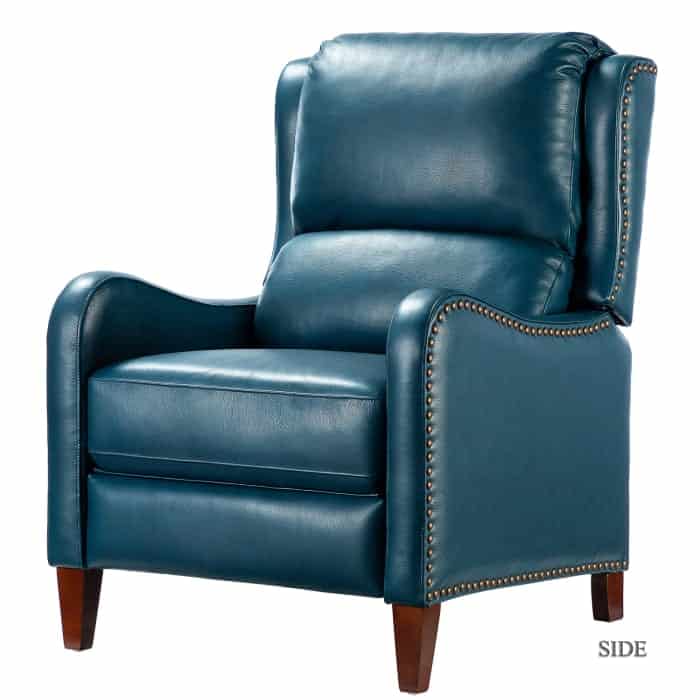 Bradington-Young offers different kinds of recliners, from classic and simple to furniture with bold colors and modern designs. This Ada Genuine Leather Recliner is a pop of color that can brighten any part of your home. It looks similar to Bradington-Young recliners and upholstered with top grain leather.
Bradington-Young Recliner Specifications
Bradington-Young take a lot of effort to ensure they're using the best materials. They source the best quality wood and leathers from around the world, combining complementary colors and textures.
Bradington-Young still have skilled artisans overseeing the work on every single unit. There are over 200 different leathers to choose from. These vary in color and texture, but with unique finishes so your unit is one of a kind.
For recliners the material you chose will be a personal preference, but leather gives a distinct and classic look plus increased durability to put up with wear and tear.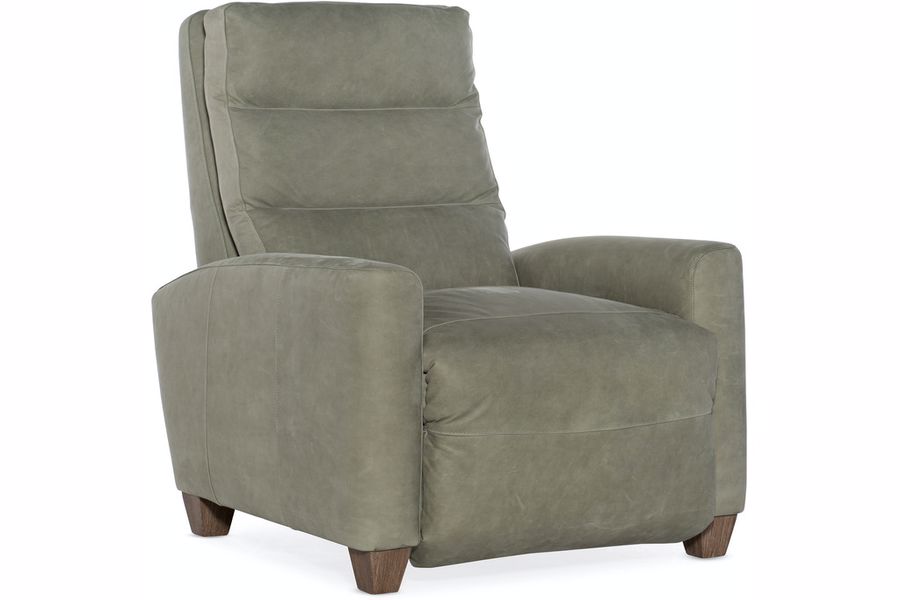 Underneath the upholstery, each Bradington-Young recliner is built solidly. The frames are made from 7/8″ laminated hardwoods giving them a robust and sturdy feel. The recliners also feature genuine eight-way hand tied custom coil construction.
This has been tested to ensure the highest levels of durability and reliability. The design and manufacturing choices all come together to produce a range of recliners that will stand the test of time.
Bradington-Young offer a lot of choice when it comes to their recliners. You can choose the materials, coloring and the size but you'll also need to consider the motion. The choices include:
Rocking
Reclining
Swiveling
High leg reclining
Different Bradington-Young recliners have specific and unique mechanisms to give the full range of motion that you're after. This means you can get the most use out of your recliner, combining comfort and relaxation.
Overall Bradington-Young have a range of well designed and well made recliners that are made to do the job. There is a fair amount of choice compared to some brands, but the quality seems to remain the same. They definitely favor more traditional styles, but modern preferences are catered to as well.
When choosing either the materials, coloring or mechanisms it's always worth coming into a store when you can. You'll get a much better idea of how things will look and feel and also how much space they may take up. If you can't make it into a dealership then make sure to check images and specs online fully.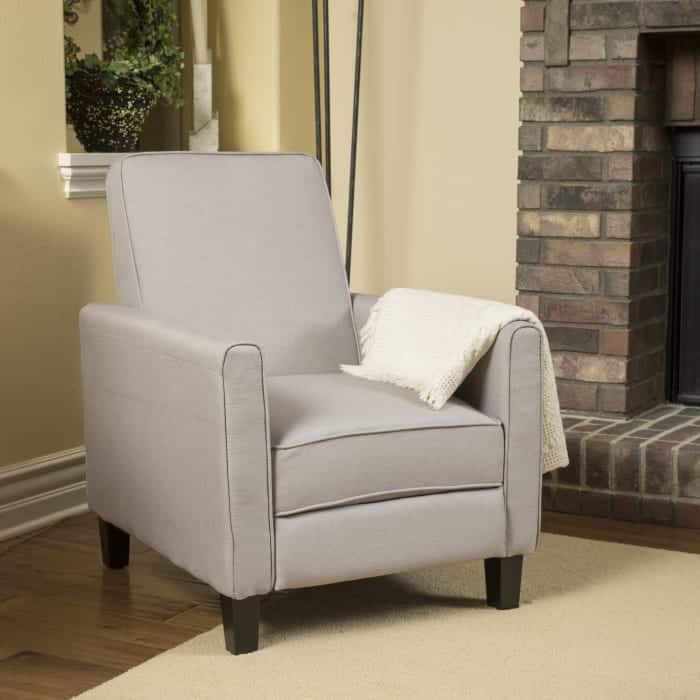 Aside from leather crafted recliners, Bradington-Young also offers recliners wrapped in fabric materials. Similar to their fabric line, this Wheat Upholstered Recliner is small enough to fit even smaller houses without compromising quality and comfort.
Types of Leather Used in Bradington Young Recliners
There are different types of leather used in a lot of Bradington Young recliners. Each has their own unique design and their own distinguished features. 
Married Leather
Some recliner manufacturers use imported leather from China, Mexico, and Vietnam. Bradington Young recliners also sourced their leather internationally. However, they make their recliners in the United States, specifically in North Carolina. 
Married leather is what you call a leather when you buy the recliner directly from Bradington Young itself. As such, you should inspect the type of leather used when you buy from a furniture store. 
Finished Leather
If you want a recliner that won't easily fade because you use recliners daly then you should check out finished leather. Finished leather is stain-resistant and generally has consistent colors. 
Finished leather also requires less maintenance compared to other leather options if it's graded leather. 
Aniline Leather
Bradington Young's aniline leather is considered the best option in terms of quality. Aniline leather has rich colors with some natural markings and grain. 
The colors of the leather can change depending on use as well as the texture. It can also be affected by exposure to sunlight and changes in temperature. 
Aniline Plus Leather
Aniline plus leather is aniline dyed too. However, it has better protection against spills and stains because of the added clear topcoat finish. The clear topcoat finish may affect the color of the leather though. 
The leather can also fade because of temperature changes and being exposed to sunlight. Hence, recliners using this leather are best suitable for indoor use. 
Nubuck Leather
Nubuck leather has a rugged appearance if you want to have that design. The surface of the nubuck leather has a nap identical to that of a suede. 
However, one thing to be wary about is the texture can change easily. The natural oils in your skin can stain the leather and even change the texture. Hence, it's better to place it within a cool temperature environment.  
Bradington-Young Warranty
Bradington-Young stand behind their products by offering a limited warranty. Frame parts and cushion cores are covered for the lifetime of the product. The reclining mechanisms and springs are covered for 3 years and the filling materials and battery packs are covered for 1 year.
All of these warranties cover the various elements from any workmanship or material defects, not standard wear and tear.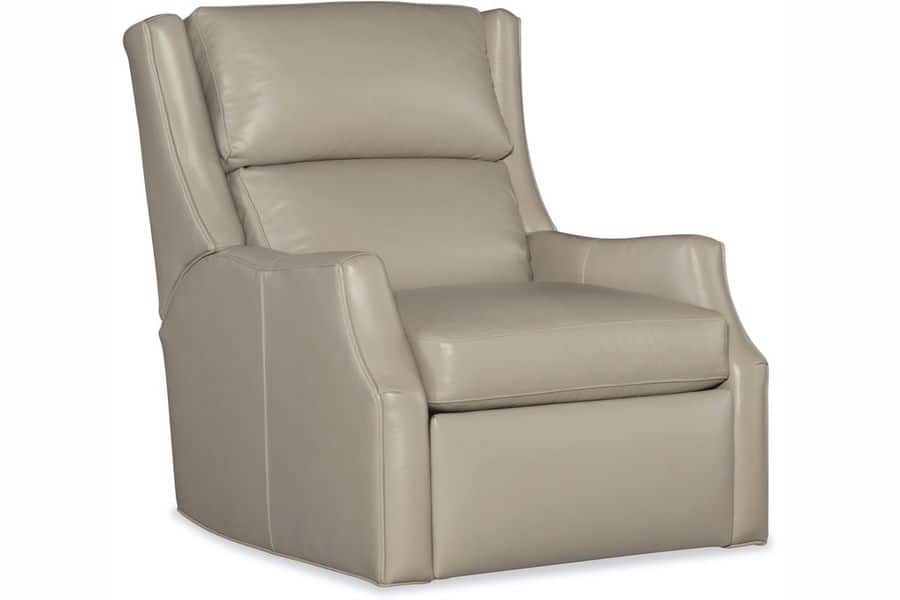 Bradington-Young Recliner Reviews
There are contrasting reviews of Bradington-Young which tell very different stories. Some people swear by the brand and love the recliners on offer:
"After long searches, I decided to get the Bradington Young large sofa and matching recliner. The leather is so beautiful, and 7 years later look brand new"

– Heather P.
Of course mistakes do happen with every company, but it still makes me a little wary. When ordering Bradington-Young furniture be sure to check carefully every item that's delivered and report it immediately so it can be replaced.
My Final Thoughts on Bradington Young Recliners
Overall Bradington-Young seem to be making some pretty good furniture and their recliners seem decent. They have a very good choice available, particularly in types of leather, that I haven't seen in other brand in this price bracket. I also think that the styles they produce are very in fashion and suitable for a number of homes.
There are some isolated incidents of poor quality products being delivered. This is slightly troubling and could indicate that the consistency of the brand isn't there as much as it needs to be.
Bradington-Young aren't the cheapest brand out there, but they certainly aren't extortionate.  B-Y is pretty similar to barcalounger in terms of comfort and style.They seem to have made a pretty good balance between price and quality, giving the customer some good value.
Bradington-Young are definitely one to consider if you're purchasing a new recliner.  I hope you enjoyed my Bradington Young recliner reviews guide, and it has helped you make a decision!