As an Amazon Associate we earn from qualifying purchases.
Costco are one of the best known companies in the world. They're renowned for their cost effective value and their wide range of products. They have everything you could possibly need for your home in their stores and people are impressed by their diverse product selection.
They have built a good relationship with the customer and people trust in their goods and services.  In this Costco laminate flooring review you will learn about Costco as a company, the types of laminate flooring they offer, the quality of this laminate flooring, and their warranty information!
About Costco Laminate Flooring!​
Costco are known for their cost effective products and they are bringing you laminate flooring with the same budget mentality. While it is affordable that doesn't mean it's without quality and their laminate flooring is proving very popular in homes across the country.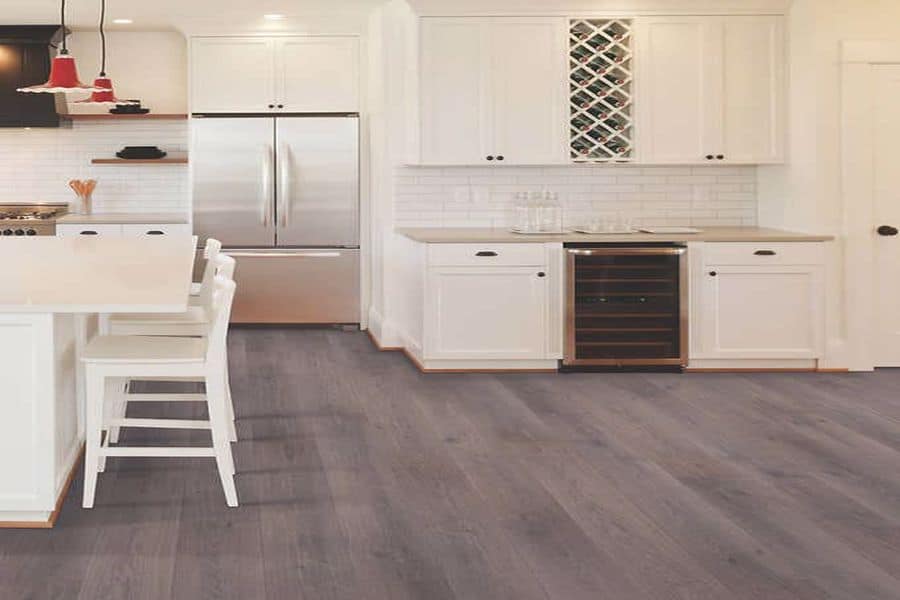 Harmonics is the official flooring provider for Costco. They specialize in matching laminate to existing wood grain, to give the look of hard floors without the cost or upkeep. They can handle every step of the process, from design choices to installation.
Let's take a look at what they to offer. Similar to Allen Roth Flooring, except Allen Roth is sold through Lowe's.
Harmonics Laminate Flooring
Laminate flooring simulates wood within the home and it much easier and cheaper to install. Hardwood flooring is expensive and difficult to maintain, so more households are turning to laminate solutions.
Harmonics offer five different choices of laminate:
Newport Oak
Designed to emulate the European white oak, the Newport Oak is one of the most popular choices for homeowners. It's made with realistic design features, like knots and splits, with intricate detailing to make it look as authentic as possible. With edges to help define each blank it's the perfect choice for a more traditional home.
Planks per carton: 10
Sq. Ft./carton: 20.15
Plank: Single Plank
Plank width: 6 1/8″
Plank length: 47 1/4″
Plank thickness: 5/16″ (8mm)
Underlayment: Pad attached 1/16″ (2mm)
Savannah Hickory
The Savannah Hickory laminate flooring is deep and rich, with ornate graining details to give an authentic feel. It's luxurious feel is great for warming a room and works well with multiple furniture types. This is a great choice for modern or traditional homes.
Planks per carton: 12
Sq. Ft./carton: 20.6128
Plank: Single Plank
Plank width: 5 1/4″
Plank length: 47 1/4″
Plank thickness: 5/16″ (8mm)
Underlayment: Pad attached 1/16″ (2mm)
Silverleaf Oak
For a classic hardwood look that's been created with a twist, the Silverleaf Oak is proving popular with customers. With wide, well defined, planks that feature graining and knots the square edged panels feature a variety of shades of grey. Ideal for a variety of different styles of home.
Planks per carton: 9
Sq. Ft./carton: 22.0864
Plank: Single Plank
Plank width: 7 1/2″
Plank length: 47 1/4″
Plank thickness: 5/16″ (8mm)
Underlayment: Pad attached 1/16″ (2mm)
Spiced Applewood
The Spiced Applewood laminate offers a warm and welcoming vibe to everyone who comes into your home with blended textures detailing. The wide planks feature knots and graining to give a more realistic look to your flooring, while the Spiced Applewood coloring works with most existing furnishings.
Planks per carton: 10
Sq. Ft./carton: 20.15
Plank: Single Plank
Plank width: 6 1/8″
Plank length: 47 1/4″
Plank thickness: 5/16″ (8mm)
Underlayment: Pad attached 1/16″ (2mm)
Sunset Acacia
The Sunset Acacia laminate is the richest and most luxurious design offered by Costco. Autumn colorings gives a rich and warm feel, which is exotic but welcoming. The intricate graining and textured look is done to mimic the look of acacia hardwood. The wide panels and square edges give a classic look. Well suited for traditional or modern homes.
Planks per carton: 9
Sq. Ft./carton: 22.09
Plank: Single Plank
Plank width: 7 1/2″
Plank length: 47 1/4″
Plank thickness: 5/16″ (8mm)
Underlayment: Pad attached 1/16″ (2mm)
Harmonics Flooring and Costco are offering a good range of choice for your laminate floors. While costs do vary, the main differences are between the designs and coloring. When making your choice consider your current furniture and the look of your home.
Costco offer a sampling service, so make the most of it. It's worth taking a little more time to get the laminate which best compliments the existing décor.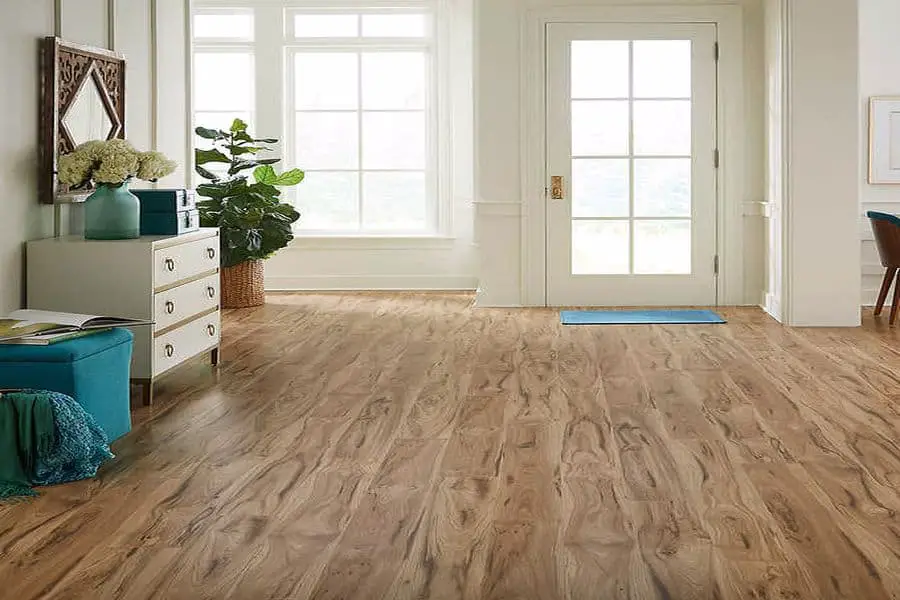 Costco Laminate Quality
Costco laminate flooring is budget but is still made to do the task. It's abrasion resistant meaning it can take significant wear and tear. This is essential in a busy household with lots of coming and going.
It's made to be resistant to any tearing or gaps in the laminate, useful for homes with pets.  If you have pets then I suggest you take a look at the rug doctor because it not only cleans rugs but also floorings as well!
The laminate is made to be stain resistant with built in technology to prevent any fading of the material. It's also built to be water resistant with a tough design layer that won't let much through.
With laminate flooring you do tend to get more the more you spend. Costco is offering some of the lowest price laminate around but that means it doesn't come with all of the same protection and features of the more expensive options.
However for the price point the laminate offers good protection for your floors and is both stylish and effective.
Costco Laminate Durability
The layers used to make the laminate flooring protects the laminate from damages. The layers act as the protective sheet for the laminate. It protects really well and helps retain its new look for a lot of years. 
The more layers you have, the more durable your laminate flooring will be. However, you should also take thickness into account. 
Costco Laminate Aesthetics
Costco Laminate contains an imprint of stone tile or graining at the top of the laminate flooring layers. It provides a realistic touch to the hardwood flooring and tile floors. The laminate flooring complements easily with most types of furniture. 
Costco Laminate Finishing
Costco laminate flooring finishing looks decent. It looks like it is excellent hardwood flooring. Costco offers it at a low rate. They know how to make their finishing look good on the surface. 
Be aware that low cost means fewer features and protection. It may appear excellent on the surface. However, you should focus more on durability. 
Costco Laminate Installation
Costco have made their laminate so it's easier than ever to install. The paneling fits together neatly and it's easily doable in a free afternoon. They have guides online on how to fit it from start to finish.
There is an installation service available at an extra cost but there could be a wait for the next availability, depending on your region.
Costco Laminate Flooring Review and Complaints
With so many thousands of people visiting Costco every day it's unsurprising that a lot of people have tried and reviewed the laminate flooring. There are a variety of different opinions on the laminate flooring, with the majority of people praising it for it's simplicity and style;
"it's an all-round decent floor. I think it's been just over 1.5yrs or something like that, and we're extremely happy with the floors"

– M. Dennis
The durability of the laminate has surprised many people given how affordable it was, and people seem to really enjoy the different designs offered by Harmonics.
Common criticisms of the product are to do with limited protection:
"We have a young pup indoors, and I'm now sure this stuff would NOT be up to the task."

– Raheem M.
With limited resistance to heavy products and water damage you do have to be a bit careful with the product. However most users are finding it's simple to install, doesn't chip easily and it great value for your home.
Overall Costco laminate is a good option for those who don't want to spend too much on their flooring. It's really popular with people who have used Costco products before and trust in the quality.
Costco Laminate Flooring Warranty
Costco have taken the time to make their laminate well and back it up with a lifetime limited warranty. This covers all defects in materials and workmanship, giving you some peace of mind when you purchase.
Choosing Costco Laminate Flooring
With a range of designs and styles available, Costco have shown that they know their way around the laminate flooring market. They understand what people are looking for and have some pretty well made choices.
Costco have done well to separate themselves from other laminate flooring at this price level, showing their product to be more durable and longer lasting than the others.  Along with this, with Costco flooring, you can also use Teak Oil to help keep your hardwood floors looking good!
While the product does have some flaws, especially around moisture control, there are a number of inexpensive products you can use in combination to give the well rounded protection you want.
If you have the budget to spend more then it might be worth looking at some other brands, but if you want a product that does what it says and little more then it could be the one for you.
The bottom line is that Costco are offering you value. Costco have a fairly limited choice of laminate flooring, but it's affordable and when used with other products to help protect it from moisture and abrasion it can be a great option in your home.