As an Amazon Associate we earn from qualifying purchases.
Choosing curtains is often more challenging than it first seems. Besides needing to look for high-quality curtains, you will also need to figure out what curtain size and pattern is right for your rooms. This brings me to the question, "do long curtains make a room look bigger?"
The answer may surprise you.
Do Long Curtains Make a Room Look Bigger?
Long curtains make a room look bigger by making the walls appear higher and leaner. They have the same effect on windows as stiletto heels have on a woman's posture. Curtains that go from ceiling to floor will result in the space looking larger than it is, but you could settle for curtains that are an inch off the ground to make cleaning up easy.
Using a short curtain is only right when the space doesn't allow it – think there is a radiator or bed headboard in the way. Long curtains not only make the room look bigger but also improve the aesthetic of the room, making it appear luxurious and comfortable.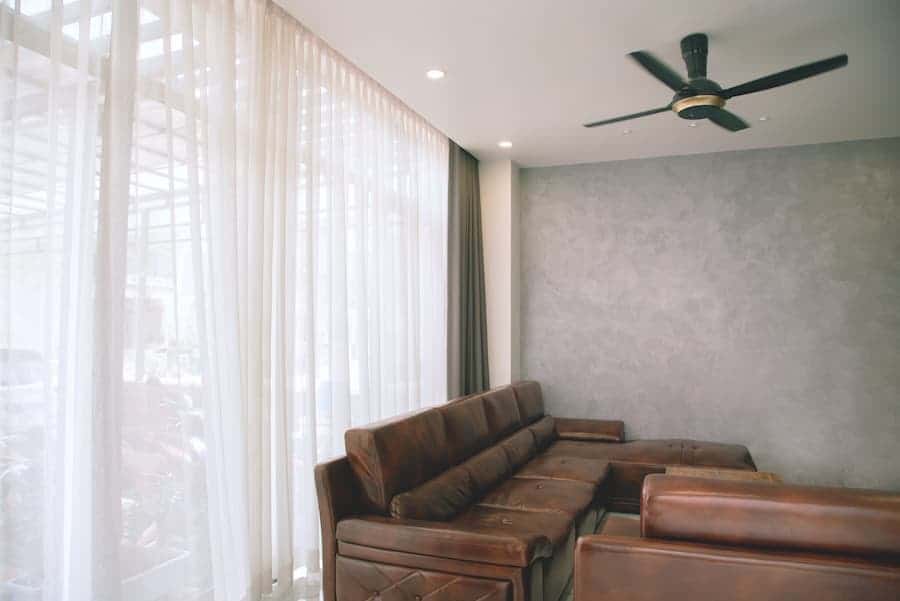 Curtain Tricks to Make Your Room Look Bigger
Installing long curtains to make a room look bigger takes a bit of skill and know-how. Here are some tips you must know:
#1 The Rods Must Extend Beyond the Frame
Placing curtain rods strategically could help you change how large the windows look. Installing rods overhanging roughly 15 inches off the edge of the window frame is not always possible, but if you pull it off, the curtains will trick your mind into thinking that part of the wall is glass. It's a neat trick to make the window appear bigger.
#2 Layer Curtains and Shades
Strategically installing window shades will make the windows look taller than they are. The way to do this is to hang shades right under the curtain rods of your blackout curtains. Besides making the window appear larger, it will also give the room a high-end look.
#3 Cover Walls with Curtains
Curtains that go from ceiling to floor and wall to wall confuse the perspective and hide where the windows stop and start. Covering walls with curtains is a good idea in smaller rooms.
To pull this off, you will need to install curtain rods near the ceiling, ideally two inches below the ceiling molding. Couple this with ceiling-to-floor curtains to make the room look bigger than it is.
#4 Use Patterned Curtains
Using a curtain with vertical patterns draws the eyes upwards, adding height to the windows. On the other hand, using curtains with horizontal patterns creates the illusion that the windows are wider than they are.
Conclusion
Whether you have a small room or a large one, using long curtains is the right way to give the space a touch of style. Positioned right, long curtains can make a room look bigger than it is. Using a short curtain is only right if there are obstacles below the window that do not allow for a longer curtain.