As an Amazon Associate we earn from qualifying purchases.
Fimous Garden Furniture is popular for outdoor design for home backyards. They are known for their rattan garden furniture. In this article, we'll look at how good Fimous Furniture is and whether we can recommend them to you.
Fimous Garden Furniture Review
Fimous Furniture is a famous furniture brand on retail platforms like eBay and Amazon. It's popular in the UK and has built a reputation for furniture that is easy to build and good customer service.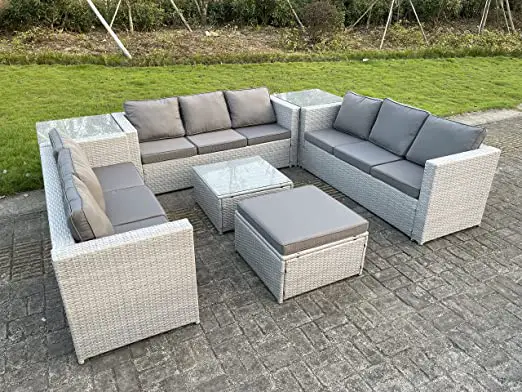 What Is Fimous Garden Furniture?
Fimous brand started in 2019, marketing itself as an affordable retail garden furniture. They first distributed their products on retail platforms like eBay, Amazon, and Onbuy. It took time to establish its brand, and now Fimous Furniture has its own website and following.
Fimous is also known for its reasonable prices like Gilman Creek Furniture, excellent customer service, and on-time delivery service. They also have excellent customer feedback and rarely get complaints from their customers. Fimous Furniture is a young company that has already gained an excellent reputation, so expect this brand to stay for a long while in the furniture industry.
Why Rattan Furniture?
Rattan is a common outdoor furniture material. It's primarily used because it is resistant to UV light, so its color won't fade when exposed to the sun. It also requires less maintenance because it's hard to wear and durable quality.
This material also has a great aesthetic look and has been popular for a long time. Most famous furniture brands use rattan for outdoor furniture products and will likely stay that way long.
Rattan needs to be handmade to ensure the weaving quality is excellent. If any thread is loose, the whole furniture gets compromised. It may wear out faster, and the aesthetic look must also be corrected.
Pros of Rattan Furniture
Good aesthetic look that matches with most common garden themes
Resistant to UV so that it can be exposed to sunlight
Requires less maintenance, so you won't have to allocate too much time to it
Cushions can be customized so you can have more options for design
Recyclable materials if you are concerned with the environment
Cons of Rattan Furniture
Loose weaves in rattan can easily compromise the quality and durability
Premium product and will be more expensive
Features of a Fimous Garden Furniture
Fimous Furniture offers a variety of furniture. Here are some popular furniture types available:
Rattan fire pit sets
Rising table set
Rattan dining set
Rattan sofa set
Rattan table
Rattan chair
Rattan sofa
Rattan stool and rain cover
We'll focus on their patio furniture, like the rattan fire pit and outdoor dining sets. Most of their outdoor dining sets are made for summer, and the design fits summer very well. Most of their rattan products are entirely handmade and of good quality.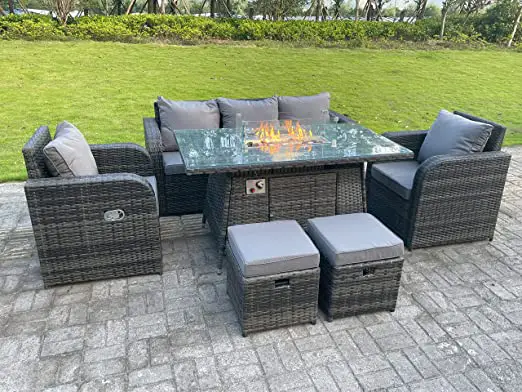 Quality
Regarding quality, the outdoor dining sets are made with powder-coated metal frames and can be placed outdoors for the year. The products are durable. However, if you plan to place them outdoors the entire time, they may experience wear and tear, especially in the winter.
Design
Fimous Furniture mainly uses neutral colors for its furniture design. However, they do mix up the design and innovate yearly. Most of their designs are modern and fit well with the outdoor look.
The manufacturer does update the designs from time to time. It also listens to customer feedback and has followed through with new designs and features.
Warranty
All products from Fimous Furniture have a free warranty ranging from 12 months to 3 years, depending on the product. You also don't have to fill out forms because they have a record of your purchase to check your warranty eligibility.
However, make sure that you follow the manufacturer's warranty guidelines. If you don't, you might be unable to avail the warranty.
If you need help with warranty claims, you can email sales@fimous.com or customer-service@fimous.com. You must prepare photographs of the damage or a video and briefly explain what's wrong with the item. They are prompt with replies, and you can expect a replacement or full refund if you follow the correct steps.
Customer Service
According to customer feedback, the customer service is superb, and will help you with any queries. We haven't found any lousy customer reviews related to customer service. Hence, you should consider this brand if you value good customer service.
Pros
Excellent customer service. Answers your queries promptly and will communicate with you until your query is resolved
Handmade products of outstanding quality
Durable and can last for a year outdoors with only minor wear and tear. We do recommend using protection or storing them during the winter
Quality materials for excellent durability and features
Easy to assemble
Modern design fit for your garden or yard
Cons
Screws may not be up to your quality, so replacements may be needed
Design is limited, and the colors also are limited to neutral colors
May have problems with the fire pit. It can be easily solved with customer support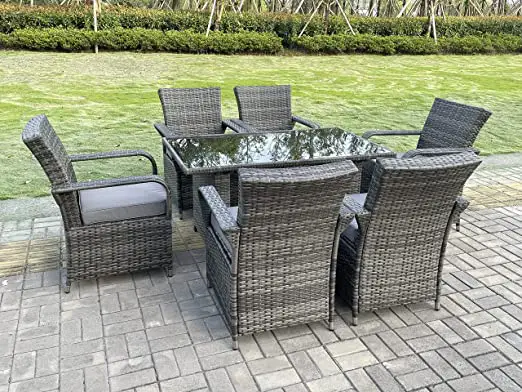 Related Questions
Where Is Fimous Garden Furniture Located?
Fimous Garden Furniture is the main head office at No.60 Beiping Road, Qiijashan, Beilun District, Ningbo, China. They also have a warehouse in the UK located at Bays 1-2, Unit 23, Meon Vale Business Park, Campden Road, Long Marston, Straford-upon-Avon. They also sell in the United States in retailers like diy. com and OnBuy.
Who Are Fimous Garden Furniture Delivery Partners?
Fimous Garden Furniture delivery partners include:
-Palletforce
-Parcelforce
-Hermes
-TPN
-DPD
-Yodel
It takes around 24 hours to be dispatched from their warehouse in UK and China.
Is Fimous Garden Furniture Customer Care Good?
Fimous Garden Furniture has good customer care based on customer feedback and reviews. The company has a full-time real-person customer care online team that will address your concern.
Conclusion
Fimous Garden Furniture is a Chinese furniture company that has international reach. They mainly focus on rattan furniture, which is premium quality furniture. The company has excellent customer care and warranty, and we can recommend their products to those who want to add rattan to their furniture piece.