If you're remodeling your home then one of the most important features will be the kitchen sink. It's one of the hardest working fixtures in your home which is essential for keeping everything running smoothly. It's also one of the most important features for the look and feel of your kitchen. By picking the right sink you can pull the whole room together and transform your home. Get the sink right, and the rest will follow.  Check to see if Hahn makes our top 10 list of best stainless steel sinks as well!
Hahn Sink Comparison Tables
Unfortunately, it's not always simple picking the right sink. There are a lot of different factors you need to consider and all of them are important to varying degrees. We've already mentioned style but it's worth taking stock of your existing set up. Your sink should compliment it and certainly not clash, so you should be thinking whether you want modern, traditional or transitional before you even start looking.
Beyond style is the longevity. A good sink is a real asset and you should be able to use it with confidence. By selecting a well made sink with the right materials you can help ensure it lasts longer and gets you better value for money in the long run.
You'll also need to look at the features of a kitchen sink. While the concept of a sink has remained unchanged for hundreds of years, the technology and innovation has continued to push the boundaries. You can now find truly impressive products that have been modernized to meet user needs. When looking for a sink you should always consider the stand out features.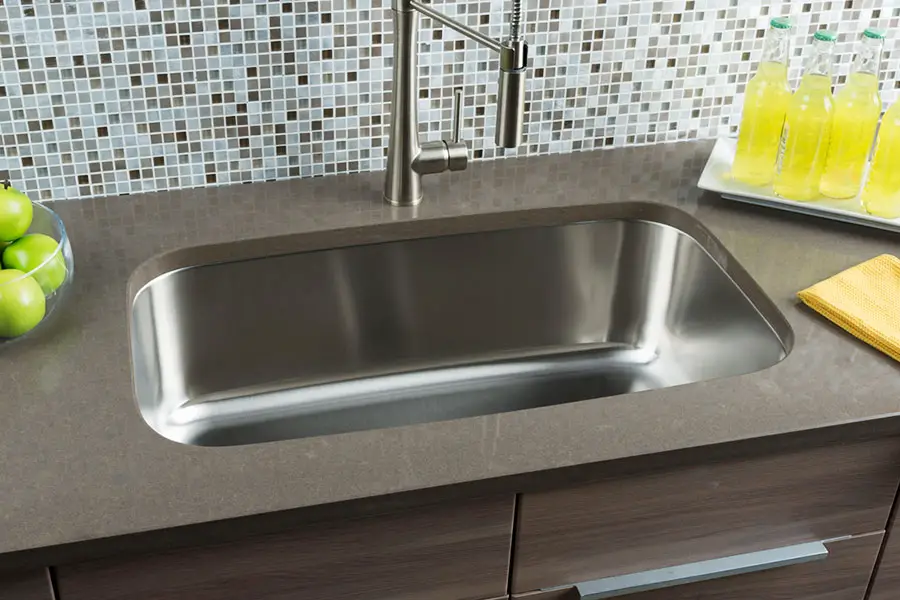 In a saturated market filled with thousands of products from hundreds of retailers it's normal to feel overwhelmed. You should always start by finding a brand you know, like and trust. This will help you narrow down the search but also ensure you're getting a good product that hopefully offers some value for your money.
Hahn have spent over 40 years creating luxury bath and kitchen products for homeowners. They've focused their business model on building trust with their customers, offering consistent quality that you can rely on. They do this primarily by using premium materials, but also with advanced construction techniques that give precision products every time.
Based in the US, they have produced literally millions of products. They've made a name for themselves by offering the features and quality of high end products at much lower prices. They have a diverse range of products to meet all needs and these days you'll find Hahn sinks in homes across the world.
Let's explore some of the best Hahn sinks and the features that make them so popular.
The handmade ZR003 looks simple enough, but don't be deceived it's a high performing kitchen sink. It has the size and efficiency of a modern product with the simplicity of a simple design, and it's elegant enough to leave it's mark in any home.
This rectangular sink is 33 inches long, 18 inches wide and 10 inches deep. It's comfortably large enough for big pans and durable enough to deal with heavy use. In fact it's a popular model in commercial kitchens that see much higher use than the average domestic home. Hahn have put a lot of expertise into this sink and used premium materials. The end result is a sink that looks good and performs excellently.
Hahn ZR003 Single Bowl Key Features:
Consistent Quality: Chosen to use a handmade approach with this sink. This not only ensures the quality of the product, but also the consistency of every single one that leaves the factory. Meaning you can order this sink with confidence that what you see is what you get.
Premium Steel: Stainless steel is used for this sink because of its durability and reliability. They use T304 16 gauge steel which is premium quality and one of the thickest on the market. This means the sink won't scratch, dent or otherwise get scuffed even if you happen to drop a heavy pan in there by mistake.
Sound Reduction Coating: Steel sinks can often be noisy with large volumes of water hitting the basin. They also have used a sound reduction coating on the base of the bowl to reduce vibration and therefore limit any noise produced. Perfect for smaller homes where sound easily travels.
Hahn ZR003 Sink Reviews:
User feedback is now readily available online for almost every product and it helps us make an informed decision about the products for our homes. Hahn kitchen sinks are well known and popular so it's normally easy enough to find a range of feedback from those who own the product.
The ZR003 kitchen sink is very popular with a lot of positive feedback online. Users seem to really like the simple, but sleek design and seem particularly impressed with the quality of materials used in the construction. There is very little in the way of negative feedback about this sink which is incredibly rare in the kitchen sink industry. This is quite reassuring that this product can perform well under pressure and is a real asset to the home.
Hahn stand behind the ZR003 kitchen sink by offering a lifetime limited guarantee. This covers all the components of the sink for the life of the product but not from wear and tear. You should therefore look to maintain your product appropriately and clean regularly to get the best from it.
Priced at under $350 this is a very good value sink. The quality of the steel alone is encouraging but you also have a sleek and sophisticated design to bring your kitchen to life. This is definitely one of their best, and certainly one to consider for your home.
Hahn have developed their chef series are highly durable that can perform well in domestic or commercial environments. The SS006 is another simple, but stylish design with a unique mirrored finish which helps enhance the natural aesthetics of the steel.
This is a more compact sink at just 21 inches long and 17 inches wide, however it retains all the useful functionality with a 10 inch deep bowl. This allows you to have the functionality to soak pots and pans even in a small kitchen, giving you the best of both worlds. This is a robust single kitchen sink with a lot of quality and can certainly handle heavy use.
Hahn Chef SS006 Sink Key Features:
16 Gauge Steel: When it comes to stainless steel sinks, the thickness is important. 16 gauge is about as thick as you can get, making the whole sink more durable longer lasting in your kitchen.
Drip Guard: With stainless steel condensation can be a real issue and it builds up faster than you think. They have developed their unique drip guard which helps protect against any condensation forming, and ultimately helps protect your surfaces from water damage.
Satin Finish: Applied their satin finish to the stainless steel. This offers increased protection from wear and tear making the whole sink much more resistant to scratching, denting or rust. It also helps enhance the natural coloring, helping your whole unit look like new for longer.
Hahn SS006 Sink Reviews:
With over 95% customer satisfaction this is a very well thought of kitchen sink. There are plenty of positive reviews online which praise the simplicity and functionality of this single bowl sink, and how easy it is to fit with drop in installation. Some negative reviews have criticized the noise of the sink, however they also have used their sound dampening pads on the base of the bowl to reduce this. These reviews seem isolated and overall the feedback about the Hahn SS006 is very encouraging.
Hahn offer a lifetime limited warranty on this kitchen sink which protects all of the components from any material or workmanship defects. This includes the additional sink grate and basket strainer that are included with the product.
Priced at under $200 it's difficult to not see the value here. For a 16 gauge stainless steel sink with a 10 inch bowl you could easily pay double that, but Hahn specialize in making their premium products affordable. Compact but effective, if you have a small or medium sized kitchen this is almost certainly the one for you.
The SS004 Double Bowl offers all the quality we expect from the brand but now with the extra functionality of two basins. Double bowl sinks are very popular in busy households because they allow you to be productive and efficient in the kitchen. This is another modern and sophisticated sink which is perfect to bring a touch of class to your kitchen.
The whole double bowl sink is 32 inches long and 21 inches wide with a 60/40 split for the bowls. Both of the basins are 9 inches deep meaning you can use either, or both, for soaking large pots or pans. The whole unit is made from premium stainless steel that is not only durable, but corrosion and rust resistant. This is another another popular sink that's stylish, efficient and robust, adding a lot to the home.
SS004 60/40 Double Sink Key Features:
Premium Steel: The quality of any kitchen sink starts with the materials, and have cut no corners here. The whole sink is made from premium T304 stainless steel. It's 16 gauge so it's thick, durable and reliable making the whole sink that much more long lasting.
Sound Deadening Pads: Hahn have used their sound deadening pads to make this whole single bowl sink as quiet as possible. These attach to the base of the two bowls and massively reduce the vibration that is created when water hits. The result is a quiet sink that you can use at any time without waking people up.
Easy Maintenance: Designed this sink to be simple to clean and maintain. The stainless steel is resistant to rust and staining with a satin finish that helps protect the materials. You can clean the whole sink simply with a cloth and some soap, with no need to harsh chemical cleaners or scrubbing.
Hahn SS004 Double Sink Reviews:
Again, Hahn have managed to get over 90% customer satisfaction with this product which is remarkable. Positive reviews praise the look and feel of the product, and thanks to the design choices it's easy to maintain the brand new look of the sink. Some users have said this is a more difficult sink to fit and it is undermount which is more challenging. If you're comfortable with DIY you should be fine, but if not you should consider getting an expert in because a mistake during installation can impact your warranty.
Hahn are proud of their craft and stand behind the SS004 with a lifetime limited warranty. If you're buying from a third party it's worth reading their full terms and conditions and in some cases the warranty may be voided if installation isn't done correctly. It may be worth getting a professional to assure the work after installation if you're unsure.
Priced at under $250 you can get a lot of bang for your buck with this sink. The materials are solid and combined with this construction quality this sink should last you a long time. Plus it's stylish and has two bowls for better usage. Overall a very good sink and a great asset to any home.
The last Hahn kitchen sink on our list is the heavy duty single bowl EVO30S. This is made entirely from high grade steel which offers the classic clean cut look. They have enhanced this with precision geometric straight lines with the undermount design that adds to the sophistication. This is a sink that can work in any kitchen no matter what your existing style is.
At 38 inches long, 18 inches wide and 10 inches deep, this single sink is huge. It has more than enough room to fit a high volume of dishes in and it's difficult to imagine owning a pot or pan that won't fit in. This is a beautiful and functional sink that's perfect for any home, and have really shown their attention to detail with the one.
Hahn EVO30S Sink Key Features:
Central Drain: Used a central drain with this sink to allow water to flow as quickly as possible. This means you can use and reuse the sink without having to wait for a slow drain. The 3.5 inch drain opening is compatible with most garbage disposals and you can easily hook it up to your existing unit if you have one.
Rounded Corners: Despite the appearance of rectangular, precision lines, the inside corners of the sink are actually rounded. This makes it much easier to clean and prevents the water from pooling. This ultimately helps reduce any lingering bacteria and makes the whole sink easier to maintain.
Premium Stainless Steel: 16 gauge is used here to give a thicker, more robust sink. It's premium quality, above the standard for this price range, and has the Hahn satin finish to give the metal a cleaner look and increased protection.
Hahn EVO30S Reviews:
It's more difficult to find user thoughts of this sink but what you can find is very positive. There is a lot of praise around the quality of the materials and how well it compliments any style of kitchen. Again, there is some feedback about the installation and some challenges faced by the undermount system. It can cost to get a plumber in to fit your sink but you shouldn't underestimate how much time and stress it can save you in the long run, so don't be hesitant to call them if DIY isn't your thing. Overall, users seem impressed with the Hahn EVO30S and how much it can add to your kitchen.
Hahn cover this sink with a lifetime limited warranty. This not only protects the sink itself, but all the accessories included. This is above industry standard and shows that they have faith in their products.
Priced at under $250, this is another great value sink. For a low end price you're getting premium stainless steel and high end quality in the manufacturing, making this a very attractive prospect. Good looking and durable, this is a sink that will last you years and for this price it's a great investment.
Final Thoughts on Hahn Sinks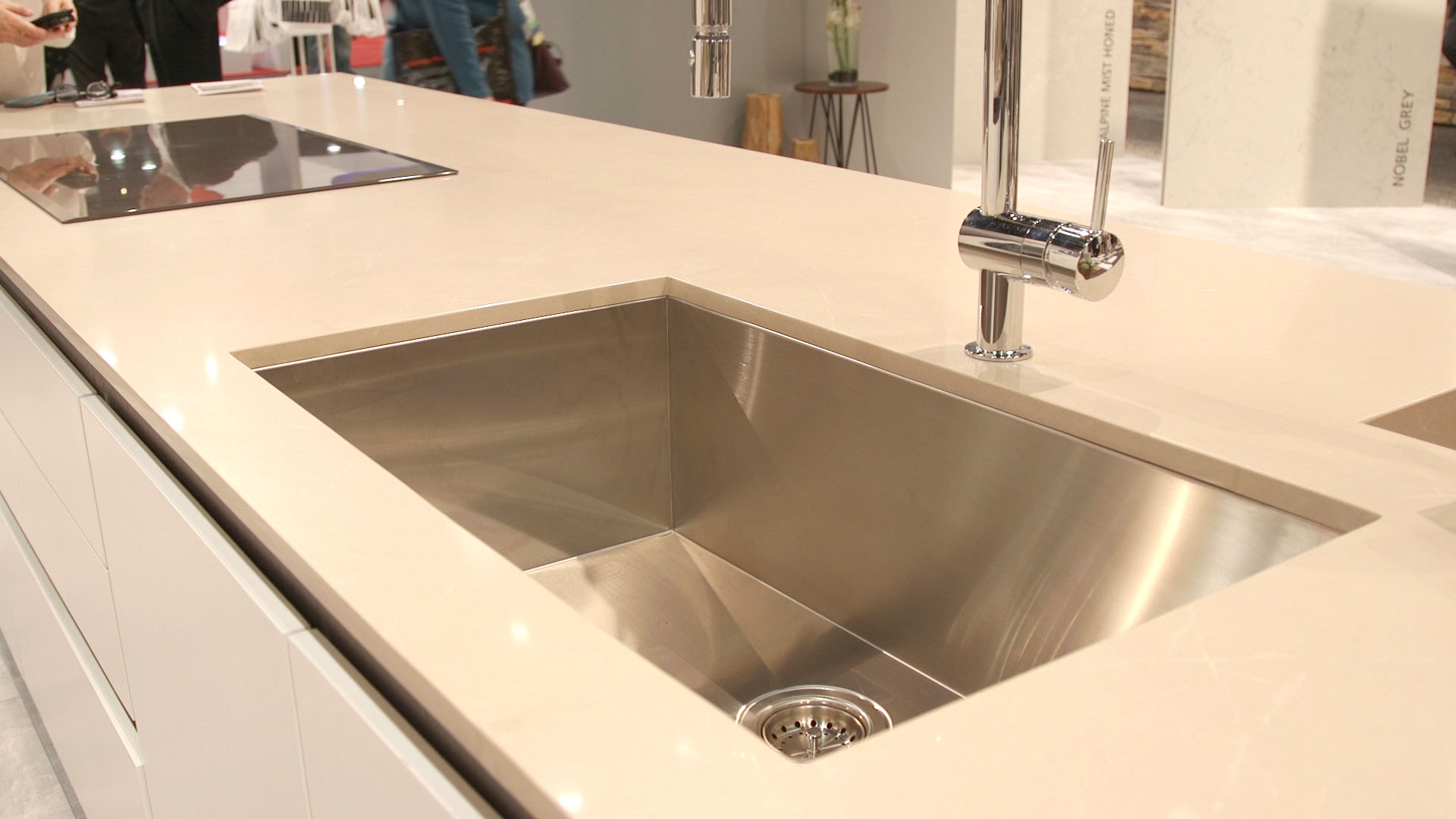 Hahn are a well known name in the industry who have continued to grow year on year for over 4 decades. The company has always had a focus on providing quality of high end products without the huge price tag of the high end ranges, and they've achieved their goal by creating some stunning, reliable and durable sinks.
All of these products here offer great value for money. The premium stainless steel helps ensure longevity and the simple designs help to enhance the look of your kitchen with their undermount designs.  If you want a good value sink that ticks all the boxes then look no further, because they have really outdone themselves with these sinks.   If you're looking for other options than stainless steel, then consider taking a look at our Blanco silgranit reviews page!