Whether you're one of the thousands of homeowners knee-deep in a home remodeling project who is attempting to flip your property into hard-earned extra cash, or one of millions of others who are trying to keep up with the times and the physical limitations of the square footage of your home, sticking to a budget while making the style choices that compliment all of your efforts can be even more difficult than taking down that faded 1970's wallpaper.
Nowhere is this balance more noticeable than the kitchen, where homeowners will spend more time than they'd like to admit.  Just think about all of the activities that go on in your kitchen, aside from the basic construction and clean up of meals.  There's homework spread out at the kitchen table every night. There's a home office of sorts in the form of all the bills and mailers on your side counter. And, every once in a while, there's a peaceful cup of coffee in your hand while you linger by the window and consider what the day holds.
Mirabelle Kitchen Sink Reviews
So as you consider the importance and impact your kitchen has on your home as a whole and as you consider whether your home improvement project needs a kitchen overhaul or a kitchen update, consider this: when homeowners invest in their kitchens, even with minor updates, the cost of those efforts is recouped over 75% of the time. That's a strong possibility of a return on investment, whether you're flipping the property or making it your forever home.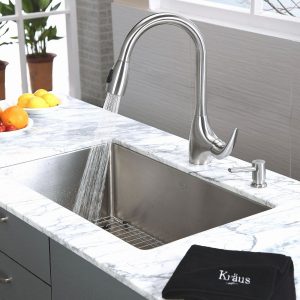 So, now that we've established the need for the kitchen remodel, let's talk about the easiest way to get more bang for your remodeling buck. That starts with the focal point of every kitchen: the sink.  In a room that gets the most foot traffic in the house, the kitchen sink is the most noticeable and crucial element of that most traveled room. And while you can spend a mint to upgrade the countertops or add in a decorative backsplash that coordinates with your new state-of-the-art appliances, the kitchen sink can add elegance, artistry and a modernized touch to the remodeling project without breaking the bank.
Mirabelle has been designing and manufacturing quality, durable and affordable kitchen sinks for nearly one hundred years. The company is one of a number of manufacturers who has updated its product line to be more flexible in market where the home remodeler is king.  Here are just a few of their top-of-the-line kitchen sinks to consider when crunching the numbers on your kitchen renovation project.  From classic top mount with creative colors to quintessential stainless steel, there's a sink to fit your budget and remodel vision.
Gone are the days of dropping a shiny silver two-sided bowl into the middle of the most popular room in the house and calling your remodeling project, "Good enough!". Instead, homeowners want style and function when it comes to their kitchens and Porcelain MIRU1812WH porcelain sink by Mirabelle incorporates both of these features and more in its undermount design.

The single bowl design of the Mirabelle MIRU1812WH model sink is an obvious upgrade over the two-sided sinks of your youth.  The molded porcelain resins combine to form a smooth finish on the basin and eliminate the possibility of soap and food particle staining.
The sink also features impact, heat, and scratch resistance, meaning you can pop that hot pan of fudge straight from the burner to the bottom of the sink bowl and not have to worry about scratches or burn marks on the sink's surface. The hygienic finish also assists in the prevention of bacteria from spreading on the surface of the sink.
Clean up is easy with a damp washcloth and gentle dish soap.  That never seemed to be the case with the old stainless steel double-sinks.
All told, the MIRU1812WH model is one that can fit into a remodeler's budget, while also adding a note of style and contemporary design to your reimagined kitchen space.
Model number: MIRU1812WH
Dimensions: 21 1/6th Inch Length x 14 9/16th Inch Width x 8 1/4th Inch Height
Shape: rectangular
Ratings: 4.5 out of 5 on Amazon
Other Specifications:
Drain plug: center, not included with sink
Weight: 19 lbs
Other features: While the white color may make some remodelers skeptical, it actually seems to go with more countertop and backsplash styles because of it goes with quite a few different styles.
Okay, now that we've bashed on stainless steel sinks for awhile, let's see what Mirabelle has done to confront the beast and modernize the quintessential kitchen sink.
Enter the Mirabelle MIRUC309 Single Bowl.  I know what you're thinking, it's a single bowl, that's the biggest difference, right?  And while you would definitely not be wrong, there are other more contemporary changes that Mirabelle added to this model to make it a modern alternative its classic forefather.

First and foremost, this isn't your everyday run-of-the-mill stainless steel sink.  It's 16 gauge stainless, designed for durability, performance and a luster that brings the focus back to the center of the kitchen, where it belongs.
The MIRUC309 single bowl also features a center drain with cross breaks along the bottom of the sink's tub.  These help water flow towards the drain while making clean up even easier.  And with tight corners, there is no more chasing those last few specks of dinner around at the end of your clean up.  The cross breaks also add another note of contemporary design to the sink.
Because the MIRUC309 offers a back-center featured drain, you also get more space underneath your sink for storage – another added benefit.
The MIRUC309 makes sure the classic stainless steel bowl is a distant memory.
Model Number: MIRUC309
Dimensions: 27 11/16th x 16 x 10 1/16th
Shape: rectangular
Ratings: 4.5 out of 5 on Amazon
Other Specifications:
Drain Plug: back center
Weight: 22 lbs
Other Features: It's amazing how a stainless steel sink can actually accent a kitchen's features when the material is high grade and the undermount design makes it a more contemporary style.
Mirabelle MIRU1713WH Undermount Sink
Another in Mirabelle modern reinventions of the classic sink comes in the form of the Porcelain  design.  The contemporary design does include more classic features like a center drain plug and a top mount install, but the sink still features modern updates as well.
Like the earlier MIRU1812WH porcelain Sink, this MIRU1713WH sink is impact, scratch and heat resistant up to 535 degrees, and the single bowl design does allow for the dishwashers in your family to really get up to their elbows in soap without having to battle the small washing area or the divider in older model sinks.
The MIRU1713WH sink is a duller sheen, giving off hints of pink and brown in the finish and allowing more possibilities to match elegantly with countertops and backsplash in a variety of tones and colors.
One oddity of the sink is its dimensions, which could actually be used as a positive, given the right circumstances.  At 19 7/8th inch x 13 9/16th", the sink is almost better listed as square in shape, as opposed to its current rectangular listing.  While this should not affect your ability to wash larger dishes, it could cause some issues with installation or make the Putty sink a no-go for your remodel project if you don't have that kind of space to accommodate it.
Model Number: MIRU1713WH
Dimensions: 19 7/8th Inch x 13 9/16th Inch x 9.5
Shape: rectangular
Ratings: 4.6 out of 5 on Amazon
Other Specifications:
Drain plug: center
Weight: 23 lbs
Other Features: The sink comes without a faucet hole – allowing choice for where to install the faucet, but also making a circular drill (or a friendly contractor) a necessity for install.
 Mirabelle Quartz Classic Greystone
As we've established, remodeling is about compromise – with your budget, with your vision of the finished space, and even with your partner.  The Classic Mirabelle Greystone Offset 60/40 is a compromise of a kitchen sink.
The classic double bowl meets the open area contemporary style with this 60/40 split Mirabelle calls the Aqua Divide.  This concept has all of the intentions of a dual purpose double basin, without the commitment to a giant barricade between the two sink bowls.  The Aqua Divide provides dual workstations, while also being low enough that you don't have to twist your pots and pans to crazy angles while cleaning them – the handles fit comfortably over the top of the barrier while placed on the bottom of the sink tub.
Like the other Quartz models, the finish on the Greystone sink is impact, heat and scratch resistant – not that you'd be able to see many of these imperfections anyway as the deep grey color of the sink would seem to hide them.  The metallic flecks in the Greystone's color also add a character to the sink that makes it an even bigger focal point than it already is.  At 33" x 22" and 10" deep, this sink is sure to be the center of the reworked kitchen space.
About the only compromise with the Greystone model is whether or not you can handle its size and dimensions in your remodeled kitchen.
Model Number: MLGUHU3722RGS0
Dimensions: 33 x 22 x 10
Shape: rectangular, sort of
Ratings: 4.5 out of 5 on Amazon
Other Specifications:
Drain Plug: center in both bowls
Weight: 35 lbs
Other Features: This sink is an undermount, meaning you or your installer will need to use the cutout that comes with the sink.  Otherwise, installation may be a bit more difficult.
Mirabelle Stone Classic 40/60
Finally, Mirabelle take on stainless steel with the Stone Classic 40/60 sink is about as classic as you can find.  At first glance, the stainless steel design may not blow kitchen remodelers away, but look a little bit closer and there are some interesting features that make the Stone a contender for your consideration.
First, yeah, it's stainless steel.  But, its 16 gauge stainless steel with a lustrous grain that brings light to your kitchen with its clear shine.  The finish is able to withstand heavy duty use, and can even be repaired in the event of deep scratches.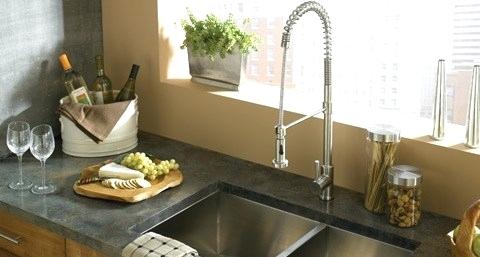 Next, the Aqua Divide feature acts as a double bowl design, but really provides ease of use when washing larger dishes or pots and pans, as their handles sit easily above the divider.
The undermount installation brings the sink to an even more contemporary level, allowing more functional space on the counter and removing the necessity of cleaning around a top mount sink as many home remodelers are trying to get away from.
Finally, unlike some other stainless steel models, the Stone comes with pads to dull the harsh, abrasive noise and vibrations that sometimes characterize older kitchen sinks.
Model Number: MIRHAQD32179
Dimensions: 32 1/16 x 18 ½ x 9
Shape: rectangular
Ratings: 4.3 out of 5 on Amazon
Other Specifications:
Drain Plug: center in small bowl, left in larger bowl
Weight: 20 lbs
Other Features: The larger of the two bowls has the option of being on the left or right-hand side of the sink, allowing you more choice in your layout.
Final Thoughts on Mirabelle Sinks
No matter the size of the kitchen remodel or the size of the hole in the countertop, Mirabelle has a kitchen sink to fit right in it. With a wide range of classic and contemporary styles to add the new decor of your kitchen, you'll be able to easily increase your home's value – or your value of the home!
Hopefully, the variety of sinks reviewed here gives you more information to get your project started and finished on budget and on time.  Good luck on your choice and on your remodeling project.