As an Amazon Associate we earn from qualifying purchases.
It's not always easy to shop for new furniture, especially sofas. The right sofa can impact your living room dramatically and influence the overall feel for your home. They're also quite expensive and you can end up spending a lot. You really need to make sure you get the right balance of style, functionality and value.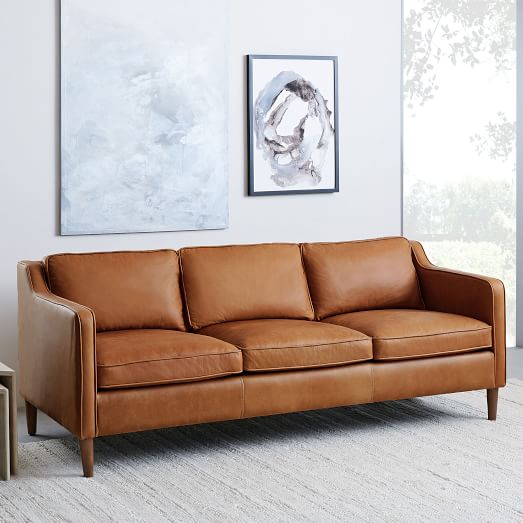 West Elm are a furniture company based in New York. They've been operating since 2002, but are actually a part of the Williams-Sonoma group which have been operating since 1956. This has given them a dynamic combination of progressive style and experienced craftsmanship.
Since they were first founded they have continued to grow and develop their range of products. They're now operating internationally with major distributors in the USA, Europe and even Asia.
West Elm's goal is to help people express themselves in their own home by selecting a style that works for them. Unlike other furniture sellers they've got their own in house design team working on almost all of their products. This has allowed them to steadily evolve their furniture organically, and gradually add to their range. It's all about quality, not quantity.
Their materials are sourced carefully with good quality American wood being used in almost every unit. As a sustainable company, all of their products are fair trade certified. As they have expanded globally they've been able to find and use more creative materials to enhance their furniture, improving it as they grow.
Types of West Elm Sofas:
West Elm are well known in the industry and you've probably seen them before even if you haven't realised it. They have a wide range of products but they are most well known for their sofas. West Elm sofas are high end and good quality. The build and design choices mean that these sofas are more robust than other brands and despite being slightly higher priced they offer a great deal of value.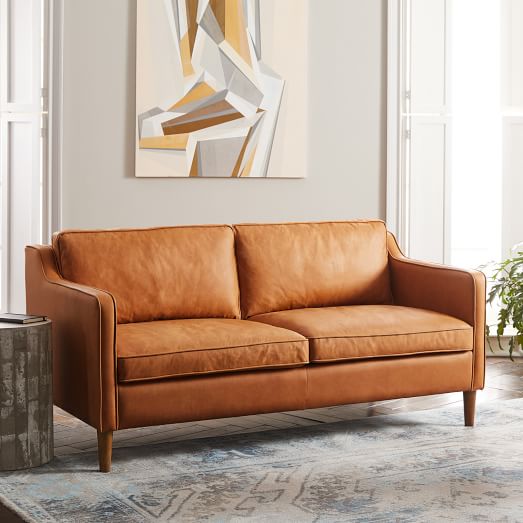 The quality for West Elm starts in the design workshop. While West Elm are a huge company but they have a dedicated team handling almost all design aspects. This means people who understand the products are constantly making small changes and evolving the sofas so that they better meet the user needs. As technology behind the sofas has improved it's been incorporated and helped develop the furniture further.
West Elm are most famous for their style. For the last decade they've driven the trends and shaped the whole industry with a mix of traditional and contrasting off the wall models. They've not just focused on aesthetics though. West Elm have adapted with the times and now most of their products are available in a range of sizes. Whether you're in a 5 bed manor, or a 1 bed studio apartment you'll be able to find a piece that fits your needs.
West Elm sofas are known for their build quality. Their materials aren't just sustainably sourced, they've been selected because of their unique properties. Solid wood and steel frames are the backbone of their sofas, but they also incorporate the latest technology when it comes to springs and joints. All of this comes together to create a very well made sofa for you to enjoy.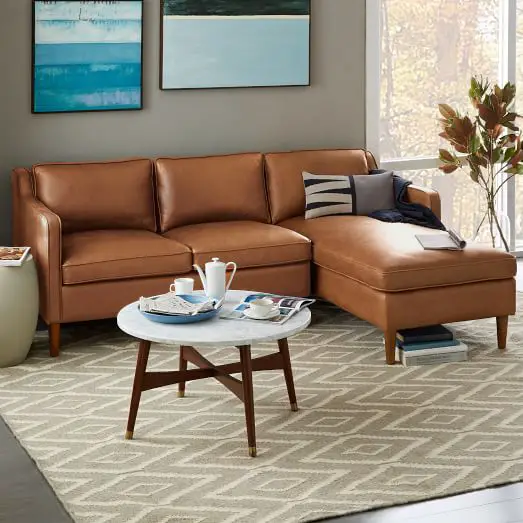 Surprisingly for such a big company, a lot of West Elm sofas still feature handmade components. In fact they have a whole range of furniture which is entirely crafted by hand. In the age of outsourcing to far away factories this is quite refreshing and highlights the quality of the brand.
West Elm have made the decision to go organic. They've removed pesticides and other chemicals from their textiles to help protect the farmers and factory workers. This has the added bonus of textiles which look and feel more natural, giving a richer experience to their sofas.
West Elm are not the cheapest brand out there, but they are still affordable. They produce some high end products and prices which are still accessible to most budgets. This makes them the perfect choice for a great sofa.
West Elm Hamilton Sofa Review
When you're browsing different sofas this design instantly stands out. The Hamilton sofa offers a mix of modern and traditional styles. It's old school, with a twist. This is a high end sofa that incorporates quality materials and good build quality into a reliable piece of furniture.  Let's take a look at the key features that make this product so popular:
Extremely High Comfort: This sofa is designed with comfort in mind. It's definitely on the softer side and may not be suitable if you prefer a very firm sofa. A fibrous polyfill is used in the back cushions, which lets you relax back into them, while still being supported. The bottom cushions are firmer which allows you to get up more easily. Overall, a very comfortable piece.
Style, Look and Feel:  As I mentioned previously, this sofa has a traditional feel with mid-century styling. The modern lines and almond legs give it a more up to date look, so it won't look out of place in a modern home or office. It's not the largest sofa on the market but there is still plenty of room for several people to fit on it comfortably. Physically, and stylistically this sofa will fit in most homes.
Quality Craftsmanship: I spoke of the West Elm quality before and it holds true with this sofa. The Hamilton sofa is designed in the US but manufactured in Asia. It is subject to scrutiny through the review and approvals process in the factory which help ensure the output quality is consistent.
The frame is made from a combination of pine and plywood. This makes it fairly sturdy and adds to the look of the piece. The legs are made of poplar wood and an almond finish has been applied. This not only enhances the colour of the wood but helps protect it from wear and tear or staining.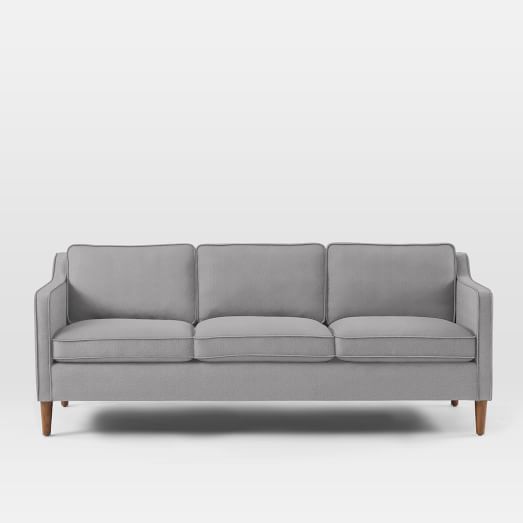 For the fabric, a tweed blend has been constructed. This is mostly polyester but has 10% linen within it. The textured nature of the fabric helps add to the style of the piece, and because it's organic you can be sure no pesticides or other chemicals have been added.
The seat cushions contain polyurethane foam padding. This helps the cushions keep their shape even after prolonged use, and gives extra support and comfort to those sitting on the sofa. The back cushions are softer with 95% polyester fiber used.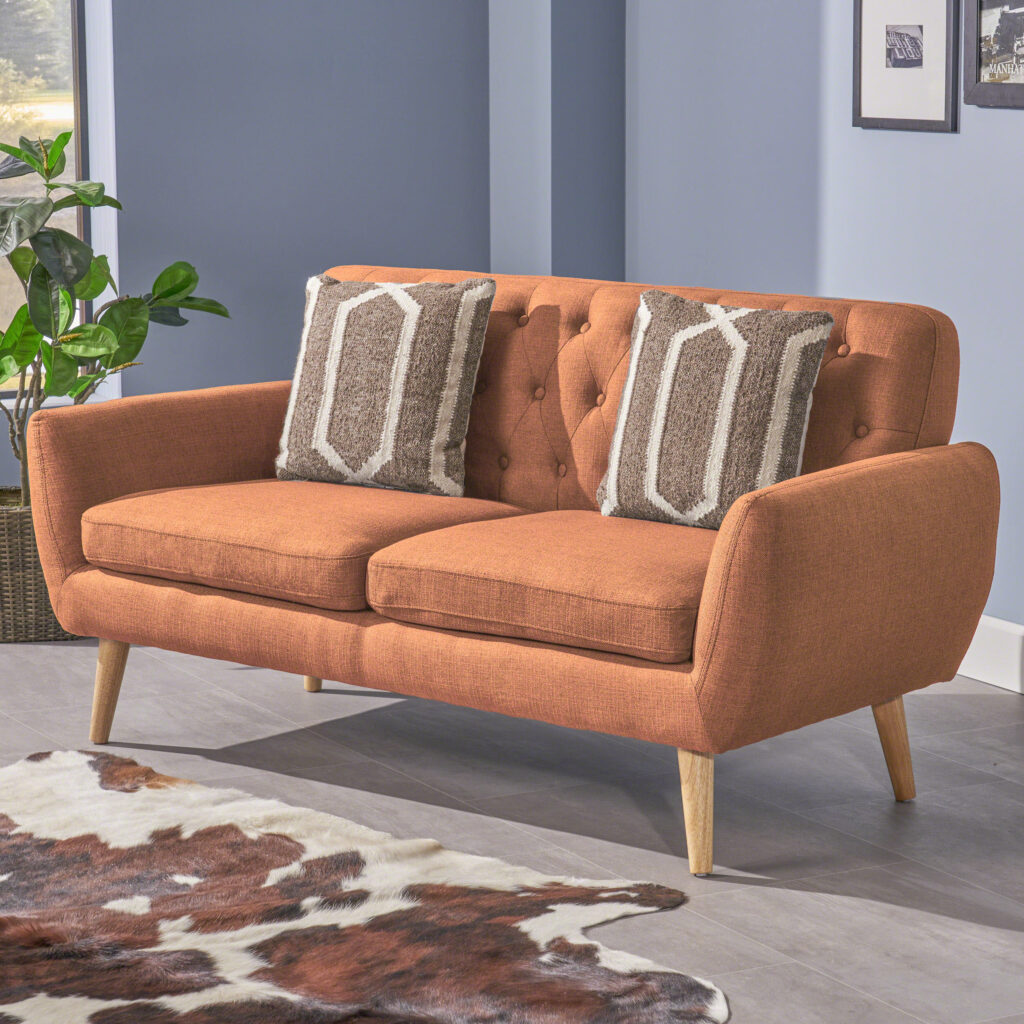 When brands are known for their customized furniture, it also means that they are priced higher than your average stores. If you've been eyeing West Elm's modern sofa collection but couldn't afford their prices, this Orange Mid Century Modern Tufted Sofa with its tufted and buttoned fabric looks pretty elegant enough to belong in their line.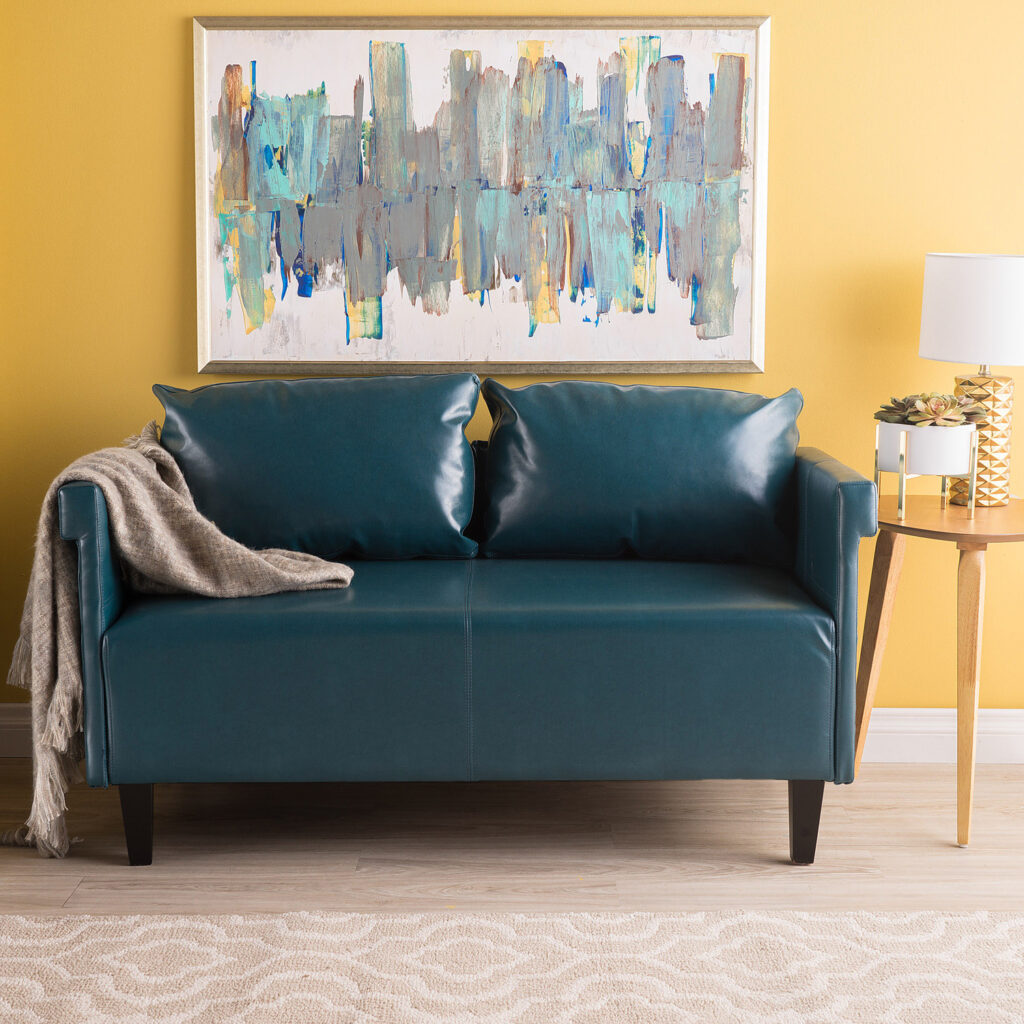 West Elm Hamilton Sofa varies in sizes and style. If you wish for a smaller sofa that is easily more affordable than West Elm, this Modern Faux Leather Settee is designed to be smaller and more compact. In this instance this makes the sofa more robust and less likely to lose its shape over time. This adds to the value of the product and means it should last you longer even if it's being used regularly.
West Elm Hamilton Sofa Customization:
​West Elm makes all of their products customizable to fully meet the users needs, and the Hamilton sofa is no different. The piece is available as a standard 3 seater (81 inches), but you can opt for a different style. This sofa is available as a loveseat, a two piece sectional or even a chaise lounge.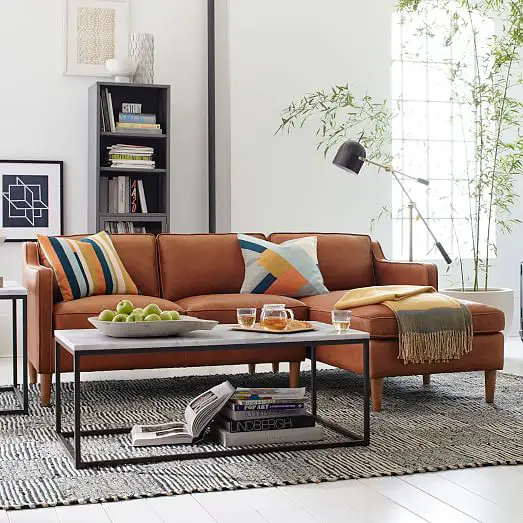 The materials can also be customised depending on your preferences. There are 103 different fabrics to choose from, each giving a slightly different look and feel to your sofa. Alternatively you can opt for 1 of 3 different types of leather. Leather offers greater protection to your sofa as it's more durable, but it is a distinctive look that doesn't work for everyone.
West Elm sofas are all about choice, so make sure you explore the options. If you're willing to pay a bit extra you can even design your own custom unit, but bear in mind it may not be covered by their buyers guarantee.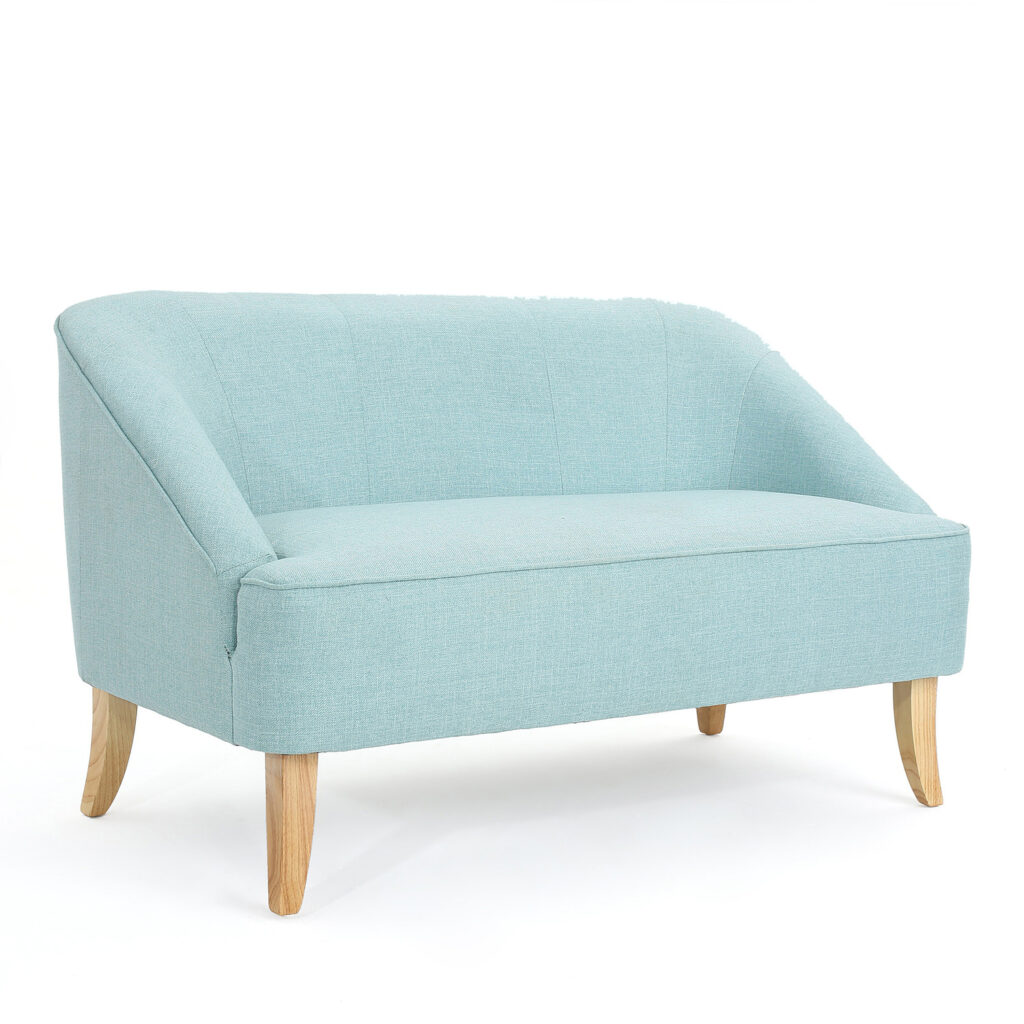 A quick glance in their showroom and it's clear to see that West Elm furniture and sofas were crafted masterfully. Each of their pieces are delicately made and elegantly finished. Aside from traditional sofas, they also create modern styles and shapes. If you want something similar but priced much cheaper, this Mid Century Modern Fabric Loveseat with its bright blue tone can liven up any living room.
Hamilton Sofa Delivery and Setup:
Once you order your sofa do be aware that it can take up to 3-4 weeks, however most customers had theirs delivered within 2. West Elm have a 24/7 customer services team so if you have any questions then you can contact them directly.
As with any business as big as West Elm you do get the occasional shipping error and if this happens be sure to contact their customer services team. Overall, however, most sofas appear to arrive in perfect condition, but make sure you always fully check the product before signing for it.
West Elm Sofa Warranty:
If anything is faulty with the product then you're protected by a warranty. West Elm offer a lifetime limited guarantee of this sofa. This covers any problems with the materials or the build but doesn't cover standard wear and tear. Make sure you review the full terms and conditions and if you're buying through a third party ensure you're covered.
West Elm Hamilton Sofa Customer Reviews:
This is a really popular high end sofa and it's not difficult to find user feedback from customers. Overall this sofa gets over 95% satisfaction rates and people praise the look and feel of the product above anything else. A lot of customers seem pleased with the durability of the product and how it is still lasting even after years of use.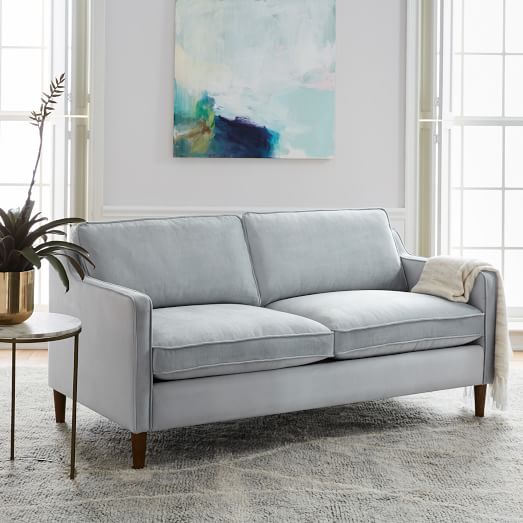 It's the attention to detail here that really impresses me about this sofa. The look has been executed perfectly and it offers some great comfort and style in your home. On top of this, the price is competitive. It's no wonder this sofa has received so much positive praise, and it's certainly one to consider if you're looking for a new piece of furniture to add to your living room.