As an Amazon Associate we earn from qualifying purchases.
With all the furniture available in the market, looking for a quality product may take time and effort. Hence, we've taken the time to look for the popular furniture choices in the market and review them. For this article, we'll focus on Kendalwood Furniture.
Kendalwood Furniture Review
Kendalwood is an Indian furniture company slowly gaining popularity in the US. They are known for making quality and durable furniture. As you read through the article, we'll learn about the company, its products, and how good they are.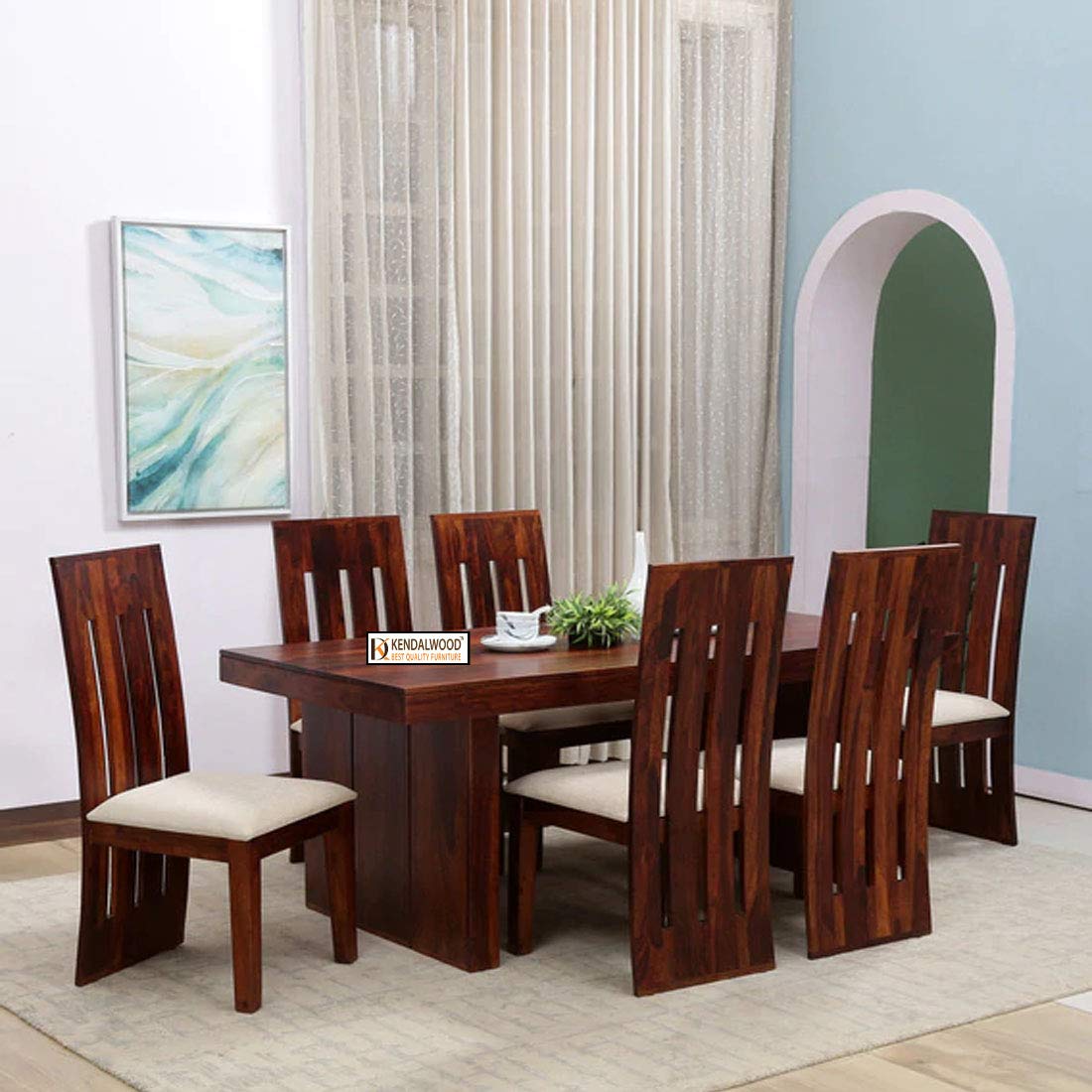 What Is Kendalwood Furniture?
The Kendalwood brand is based out of Churu in Rajasthan. They adopt traditional furniture crafting expertise over the years and combined innovation and new technology in furniture.
This furniture maker is known for using pure Sheesham wood. Sheesham wood is native to the Indian subcontinent. It is known for its golden or deep-reddish brown color and extreme durability.
Kendalwood Brand offers a variety of furniture products which include:
Coffee tables
Shoe racks
Center tables
Bedside tables
Side tables
Wardrobes
Drawers
Dining chairs
Features of a Kendalwood Furniture
We will expound more on the features of Kendalwood, especially its unique ones. There's a lot to unpack and we will also take some of the not-so-good features from Kendalwood manufacturer.
Made With Indian Sheesham Wood
As mentioned earlier, Sheesham wood is very durable and has excellent color. Kendalwood uses Indian Sheesham wood in all its products. This wood has natural wood markings and visible dark streaks that some people might find fashionable.
Sheesham wood is also highly resistant to dry-wood termites, which can destroy your furniture. It's also highly resistant to natural decay, making them last for decades with minimal maintenance.
Sustainable Resource
Kendalwood sources from government-authorized centers. Indian Sheesham also grows fast and the Indian government ensures the population is safe through tree planting. Hence, its products are legal and do not endanger any type of trees if you're concerned about them.
Handcrafted by Traditional Artisans
The artisans also came from Rajasthan, passing down generational methods and craftsmanship. The knowledge of making traditional furniture in the Rajasthani way is preserved.
The products are also quality-assured and passed world standards, just like Cellini Furniture. The customer feedbacks also have good things to say about the quality of Kendalwood, while there was only a handful of negative review related to quality.
Kendalwood Furniture Maintenance
Even though Sheesham wood is highly durable, it will still go through wear and tear. Hence, we will highlight how maintenance is done and if you are up for doing it consistently. We'll also highlight some of the drawbacks, which is why Sheesham needs maintenance despite its extreme durability.
The furniture should never be exposed to extreme temperatures. Hence, if you live in a place with high temperatures occasionally, make sure to protect or keep the furniture indoors.
Kendalwood furniture should never be exposed to direct sunlight or near hot places like a fireplace. Doing so will wear out its quality and durability.
Should it get exposed to hot substances, use heatproof mats to avoid marks on the furniture.
If you want to keep your Kendalwood product protected, use a soft covering to protect it from scratches.
Regularly dust your furniture to avoid dirt from seeping into small gaps that can build up over time.
You should polish the furniture at least thrice a year to maintain its finish and look.
That is how you would typically maintain Kendalwood products. As you can see, it's pretty sensitive to extreme temperatures. If it's hard for you to move or get some protection for the furniture during extreme temperatures, maybe you should consider another brand.
Pros
Made from Sheesham wood which is extremely durable and highly resistant to dry-wood termites.
Handcrafted by traditional Rajasthani artisans if you are particular with the craftsmanship and like to own a piece of exotically handmade furniture.
Requires less maintenance when appropriately placed in the house.
International standards approved quality, so it's not just a low-quality brand.
Cons
Must not be exposed to extreme temperatures, so you need to be careful when placing it outdoors during the summer and winter.
Prone to scratches and scrapes, so you always have to use a soft covering if you plan to place it near sharp objects.
Not as comfortable as other premium brands.
Related Questions
How Long Does Kendalwood Furniture Last?
Kendalwood products can last for a lifetime with proper and regular maintenance. If you follow the maintenance tips mentioned above, the furniture could last long. It's a highly durable wood, so you just need to ensure it's regularly checked and maintained, especially for wood-boring beetles, which can damage it.
How Do You Identify Legit Kendalwood Furniture?
You can identify a legit Kendalwood product by checking if it uses Sheesham wood. Sheesham wood can be easily identified by its dark veins and goldlike or reddish-brown shades of color. Sometimes it can also exhibit a silver-grey finish if the wood is mature.
Is Kendalwood Furniture Good for Sleeping?
Kendalwood Furniture is okay for sleeping. However, there are better options too. Kendalwood is mainly used for double beds because of its durability. Make sure you have a comfortable mattress.
Conclusion
Overall, Kendallwood Furniture is an excellent brand for furniture. It uses Sheeshwood, which is very durable and has a unique aesthetic. The downside of this brand is that you may not be able to use it for outdoor display since it is sensitive to extreme temperatures.
If you can find the time for maintenance and moving the furniture when it's too hot or cold outside, then this brand is an excellent option for lifetime and aesthetic furniture for your house.