As an Amazon Associate we earn from qualifying purchases.
Bob Dylan sang that "the times they are a-changin'." And although Dylan surely wasn't speaking about home remodeling projects, his lyrics are pertinent to consider when you're planning out your next project to avoid falling into the trends and fads of the time that may leave prospective home buyers – or you – with a mess to clean up.
Top Kohler Sink Reviews
Listed below are four Kohler sinks that may match your preferences and project specifications, each with its own take on what it means to be a "classic" kitchen sink.
Brand
Kohler 18 Gauge 33″ Stainless Steel Deep Sink
Kohler Whitehaven Self-trimming Apron Front in Black
Kohler Whitehaven White Style Sink
Product
Brand
Kohler 18 Gauge 33″ Stainless Steel Deep Sink
Product
Brand
Kohler Whitehaven Self-trimming Apron Front in Black
Product
Brand
Kohler Whitehaven White Style Sink
Product
Kohler 18 Gauge 33″ Stainless Steel Deep Sink
For those of you that can't turn your back on a stainless steel kitchen sink, Kohler has designed one of the best upgrades your remodeling project could hope for. The Kohler 18 Gauge Stainless Steel Deep Sink is a massive 33" x 22", giving you the ability to wash the largest of your kitchen tools without worry or hassle. The deep bottom of the sink provides even more room to fully submerge even the largest pot or pan.
The Vault is made with high-quality 18 gauge stainless steel, which is durable enough to stand up to those heavy dishes, yet able to maintain a classic look.
Pros of the 18 Gauge 33″ Stainless Steel Sink:
The Vault sink comes as a drop in or can also be installed as an undermount. The versatility gives you the option to complete the look you want for your remodel. If installing as a top mount, the lowered saddle can help to prevent water from overflowing onto the countertop – another good perk, for sure.
Escutcheon plates are included in the packaging to cover any unused holes you may have after install, giving you the freedom to design your kitchen sink to function exactly as you would like it to.
Like most modern takes on stainless steel, the Vault sink comes equipped with SilentShield technology to help provide a quieter performance when handling any job you. Vibrations from the garbage disposal and other everyday use are absorbed by sound-dampening pads in an effort to make the sink even more functional and user-friendly.
At the bottom of the sink, Kohler's sloped bottom helps to assist in the draining of water, preventing pooling that can sometimes happen in larger, single bowl sinks. Also, Kohler provides a rack for the bottom of the sink to help keep pots, pans and utensils from scratching the sink's base.
Cons of this Sink:
Some people consider the tight corners of the Vault sink as an even more modern design choice, and would thus include it as a positive of the basin. But, some homeowner reviews pointed out that while the corners were a selling point for them initially, they actually are harder to clean, making the extra space allowed actually more of a hassle.
The Vault sink is stainless steel, so it comes with concerns about water spotting as well. Reviews pointed out that the sink's size is great – but not when you need to wipe down the sink with a dry cloth after each use to avoid water spotting.
Bottom Line of This Kohler Sink:
The cavernous Vault sink by Kohler provides plenty of options for installation and use and it won't break your remodel estimate. The modern design is a selling point for some while the massive total area of the sink has both its champions and its detractors.
Kohler Whitehaven Self-trimming Apron Front in Black
The Whitehaven Self-trimming model sink gives homeowners the chance to complete their kitchen remodel with a modern take on a classic farmhouse style sink – without needing to replace existing cabinetry. Simply use the template that comes with the sink to rough cut for the 9" apron front and that's it.
Keep in mind, however, that because of the sink's heavy duty enameled cast iron build the sink is HEAVY – 140 pounds to be exact. That means you'll likely need to reinforce the sink during installation to make sure it is stable enough for the everyday use you're buying it for.
Pros of the Kohler Whitehaven Sink:
The enameled cast-iron design of the sink is guaranteed by a limited lifetime warranty not to chip, crack or burn. This gives you the peace of mind that the sink can handle the toughest jobs without needing to worry about the life of your kitchen sink.
The black coloring of this option of the Whitehaven sink pairs nicely with most modern kitchen remodels color schemes and appliance choices.
Like most farmhouse sinks, the Whitehaven model is massive, measuring in at 35 11/16" x 21 9/16" with a depth of 9". There shouldn't be any trouble fitting all of the dishes in it after dinner. (Unless you're feeding the whole farm, maybe…)
Cons of the Whitehaven Sink:
If you're like me, nothing about home renovation comes as easy as reviewers say, however. So, while Kohler's template cut out may sound easy to some remodelers, it can give those us who aren't the most skilled carpenters pause when messing with cabinets to install the sink is necessary. Buyer and installer beware.
Some owners rated the sink lower because of its propensity to show scratches, which is especially scary if you're interested in a darker color basin.
Bottom Line of This Kohler Sink
The Kohler Whitehaven is the classic farmhouse sink you've seen in every home remodeling show and in most every "dream kitchen" Pinterest post. The giant of a sink is a great mix of contemporary and classic and could be the right sink for your remodel.
Kohler Whitehaven White Style Sink
Much like the black/tan model above, this Whitehaven White Style sink comes with the full 9" tall apron on the front of sink giving your remodel job the classic farmhouse kitchen sink look you've been after. The self-trimming sink is an undermount install adding more contemporary function to your new-look kitchen. At 32.7" x 21.6", the sink has plenty of space to handle all of the oversized kitchen tools you use.
The 2 degree slope from the left to the right side of the sink, where the drain is located, is an added bonus to help prevent against pooling water in the bottom of the basin.
Kohler White Whitehaven Pros:
This is the quintessential farmhouse sink and though the price tag is rich the quality of the craftsmanship and the classic design may just mean you'll have to work it into your remodel cost as well as you can. It looks that good.
To make install a bit easier, though the sink is still a heavy model at 115.7 pounds, Kohler designed the bowl to be able to self lip on standard 24 x 36 sink cabinets. Keep in mind, the sink does require a minimum 33" sink base cabinet though.
Cons:
The Whitehaven White sink is also made of enameled cast iron, and as a result it comes with a lifetime limited guarantee not to crack, chip or burn. 
As I discussed with the last sink, though, it is not guaranteed against scratches, so some owners recommend adding the grid rack to your purchase, though you'll have to do so separately as the sink and grid rack aren't sold together.
White sinks look great in Pinterest posts, but take some work to keep looking great. Some reviews pointed out that the white sink "shows all the nastiness" of the kitchen clean up efforts. Keep that in mind when deciding on a color for your famous farmhouse renovation.
Bottom Line:
Pulling the trigger on getting exactly what you want in a remodel isn't always easy. Consider that you generally get what you pay for and the Whitehaven Undermount sink, though it requires a lot of TLC, is a perfect modern equivalent of the classic farmhouse sink.
KOHLER K-5827-0 Whitehaven Farmhouse Self-Trimming...
Enamel Cast Iron Sink with Tall, Self-Trimming Apron: 32.75-inch Whitehaven Sink is made of enameled...
Single Bowl Kitchen Sinks with Accessories: The 9-inch-depth bowl slopes towards drain to minimize...
Single-Mount Sink: Whitehaven Sink can be installed as an undermount sink (installed below your...
Kohler Strive Undermount Sink
If the farmhouse style isn't what you're after, another modern trend is the single bowl with all the bells and whistles. What do I mean? Consider Kohler's Strive Undermount sink, which comes in durable 16 gauge stainless steel, along with a bottom rack grid and a dishcloth/utility shelf. Those are some interesting additions to the single bowl style that's become a remodeler's favorite.
Among of the worries with a stainless steel sink is water spotting and scratches. Kohler's solution to the latter problem is the bottom grid, which allows water to flow easily into the sink drain, but doesn't allow pots and pans to touch the bottom of the bowl. The utility shelf is an organizer's dream.
Use it to place utensils before washing them or keep sponges and scrubbers accessible, but off the countertop. It's a stylish upgrade that provides real value to the sink – and it's easy to remove when you need to put a larger dish in the bowl to soak or wash.
Pros of Kohler Strive Sink:
The extra features are a nice touch, but the sink's subtle style of neutral and sleek are easy to pair with most any kitchen color scheme or appliance.
The sink's sound-dampening pads help to keep the noise to a minimum as you work – not something I can regularly say about stainless steel sinks.
Unlike the straight corners of the Vault sink, the Strive has curved corners, making clean up much easier and helping to prevent water spotting in the process. It also comes with subtle lines on the sink's floor that guide the water from the corners to the middle drain.
Cons of Kohler Strive Sink:
As always, be careful with install to prevent pooling water. Some reviews point to this as a problem with the Strive sink.
At 29" x 18 5/16", the Strive is the smallest of these kitchen sinks. It will still fit a 30 inch cabinet opening, but it is not the mammoth sink that some of the previously-reviewed models are.
Bottom Line of the Kohler Strive:
The special features of the Strive, combined with the modern updates on the stainless steel sink, make it a model worth considering for your kitchen remodel. If you're satisfied with its size that is.
Kohler K-5409-NA Strive 29-Inch x 18-5/16-Inch...
MINIMUM CABINET BASE: 30" minimum cabinet base width allwoing for space to be maximized
INNOVATIVE DESIGN: Rounded corners allow for ease of cleaning SiltentShield sound-absorption...
MATERIAL: Handcrafted from 16 gauge stainless steel
Final Thoughts on Kohler Kitchen Sinks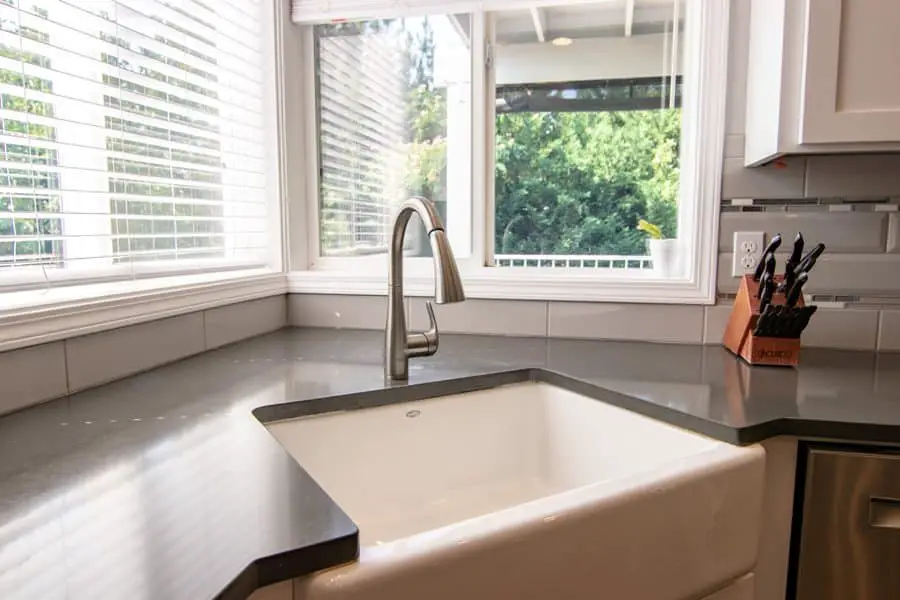 The Kohler name is synonymous with sinks, and therefore gives homeowners a sense of familiarity and comfort when they choose one for their renovation projects. The reviewed sinks here are on the higher end of some remodelers' estimate, but with that price tag generally comes quality and classic style that are worth the bottom line.