As an Amazon Associate we earn from qualifying purchases.
Kemper is a subsidiary of Masterbrand cabinets Inc who are one of the leading cabinet makers in the world. They pride themselves on creating excellent home furniture and have strict quality checks to ensure the products are up to scratch. Kemper upholds these standards by producing high quality units.  
In this Kemper Cabinet Reviews guide I will focus on the history of Kemper Cabinetry, their types of cabinets, their cabinet quality and styles, and Kemper's cabinets warranty policy.
About Kemper Cabinetry​
Kemper itself was founded back in 1926 in Richmond, Indiana. They began as a small operation, producing only wardrobes, and have now grown into a diverse furniture company that make a range of different products.
Kemper uphold a fourever promise. This is what they strive for in every product:
Beauty
Function
Strength
Performance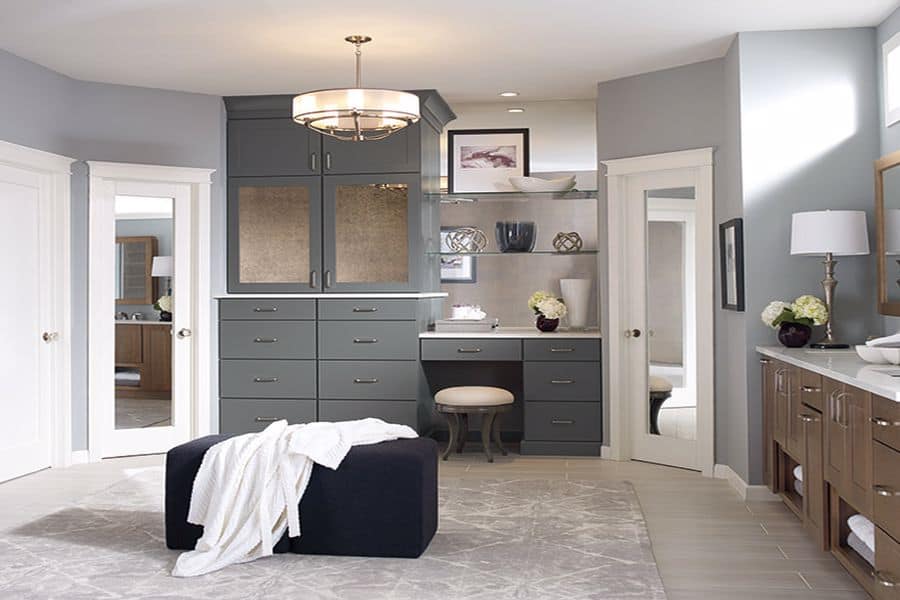 These are the 4 pillars of Kemper cabinets and the evidence is there from design to manufacture that every effort has been made to create useful and attractive cabinets.
Kemper have become a very popular brand by staying at the forefront of the trends and changes in the industry. They take their 90 years of experience and put it into each piece, while incorporating modern features and fashion trends.
Kemper is only sold in approved dealerships, to ensure good service to the customer, and is present in homes across America.  If you need another American company focused on craftsmanship then I suggest you take a look at my review of Thomasville cabinets as well.
What Kemper Cabinet Has to Say?
Kemper Cabinet's mainly features on their website "From designer-inspired color and on-trend stains to my specialty finishes and glazes, build a look that tells your story authentically with Kemper's substantial color offering."
Kemper is known for its quality products regardless of price point. Their limited lifetime warranty is really great and they have been at the top of the cabinet manufacturing industry. They're not shy to flex it. 
They can back it up by how many years they have stayed competitive in the business. Another reason they stayed for long in business is that they know how to listen to their customers. They take in customer feedback and use it to improve their service and products. 
Kemper Cabinets also produces specialty units that fit the modern years. Examples of these are vanity hampers, CD and DVD holders, and other stuff. They even added LED lighting to some of their specialty products. 
However, Kemper Cabinets have never deviated from what made them successful. Even if they have added specialty products, Kemper Cabinets continue to focus and make quality kitchen cabinets. 
Types of Kemper Cabinets
Kemper make storage solutions for the whole home and have several collections for bedrooms, dining rooms, bathrooms and offices. They produce specialty units like their vanity hamper, CD and DVD holder and their spice rack which are uniquely useful to your home.
Kemper have always specialized in kitchen cabinets and offer a whole host of options to make the cabinets of most use to you.
Semi-Custom Cabinets
Kemper Cabinets offer semi-custom cabinets. These are stock cabinets that have some level of customization in them. Basic cabinet sizes are still followed. However, you have the option to change certain dimensions. For example, you can resize your cabinet drawers and door fronts, and even the depth of the cabinet. 
Semi-custom cabinets offer more designing options if you compare them to stock cabinets. They're also cheaper compared to fully customizable cabinets. You can say that semi-custom cabinets meet the middle ground for pricing and customization. 
While semi-custom cabinets are really great, there are some downsides also. Since they are semi-customizable, their build quality may not be up to par with stock cabinets that follow the formula for what Kemper Cabinets follows. 
They are also more expensive than stock cabinets. Personally, if your kitchen can accommodate stock cabinets, choose them. They're better at pricing and the quality is sure too. 
I recommend you only get semi-custom cabinets for certain situations. For example, your kitchen can't accommodate stock cabinets or you want your kitchen to have a different look than regular ones. 
Stock Cabinets
Kemper Cabinets have some of the best stock cabinets you can get. With decades of experience in making cabinets, they know how to make excellent cabinets. 
Unlike the semi-custom ones, you don't have a say in how the cabinets will be made. So the dimensions and quality follow the standard Kemper Cabinets implement. Honestly, there is nothing much to say about their stock cabinet except they can be a bit pricey. 
I don't say semi-custom Kemper Cabinets are bad. It's just their stock cabinets are better. They're also good and would be great for certain kitchens. However, if you can get Kemper stock cabinets, you should get one. 
Kemper Kitchen Cabinet Styles
Kitchen cabinets need to look good, and if you choose the right one it brings together the whole kitchen. The most popular choices are between base units and wall mounted units, depending on the shape and layout of your kitchen.
For each of the cabinets you have a selection of doors. First you can select your shape, with arch, cathedral, slab and square being your primary options. After this you'll be able to select from 9 different materials:
Alder
Cherry
Hickory
Maple
Oak
Purestyle
Speciality Laminate
Rustic Alder
Thermofoil
Each of these materials will give a completely different look and feel to your cabinet so you'll need to look at all of them to make sure you match existing furnishings. Some are more suited to modern kitchens and some to traditional, talk through the different options with your dealer.  If you are looking for another brand that offers a wide range of materials and styles I suggest Kraftmaid!
Within each of these choices you have a range of styles. These vary greatly and this gives you full design choice when it comes to your cabinet. Take some time to look through all of the options so you make the right decision for your home.
Choose from 144 different finishes on the wood to customize the colouring. Although you should find exactly what you're looking for with 144 different finishes to choose from, if you're looking for something else, check out INSL-X finishes which are easy to do yourself!  
Split into light, medium and dark there really is a massive variety of colors to choose from. The range of finishes for this price range is impressive and you'll be able to match your cabinets to your kitchen in an effective way.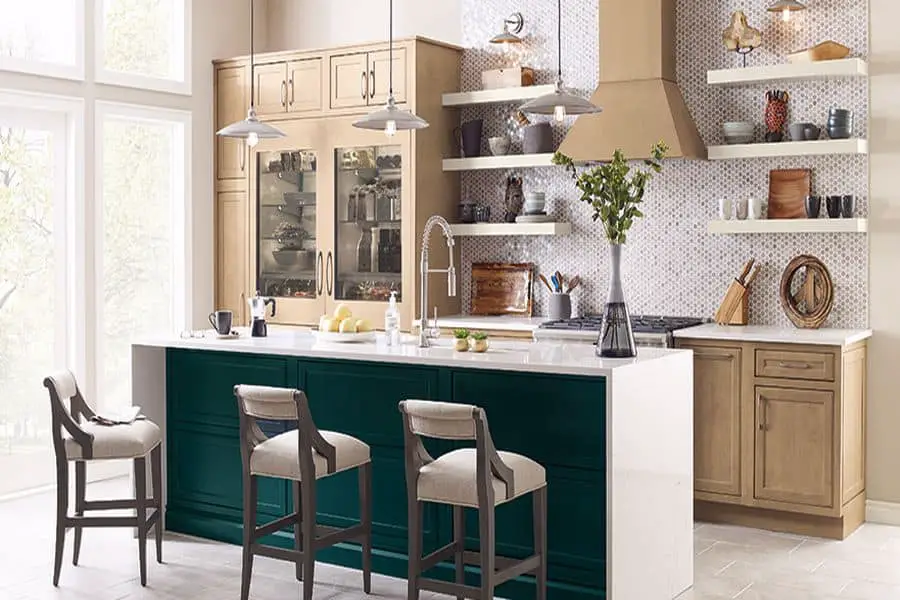 Finally you can choose from a range of different embellishments and features to further personalize your cabinet. Specialty knobs and handles, glass doors or metal frames are all available so even if your kitchen is pretty unique you can make a cabinet to match.
Kemper produce kitchen furniture that doesn't just look good but fulfills its purpose. You can choose from a variety of shelves, drawers or display cabinets to make your cabinet as useful as possible to your life.
Kemper Cabinet Sizes
Kemper cabinets are designed and built by furniture experts. The standard base cabinet is built to the following specifications:
1/2″ furniture board sides and bottom support lasting durability
1/2″ thick furniture board front-to-back I-beam braces integrate sides, back and face frame for construction, shipping and installation stability
3/8″ solid furniture board integrated back fully supports weight of mounted cabinet
3/4″ solid hardwood face frame
Fully concealed, 6-way adjustable hinge
Exterior sides are laminated to match the selected finish, except the Inspired Collection finishes
All of these construction choices impact the quality of the cabinet. Kemper cabinets have some of the latest materials and mechanisms around which are built to stand up to wear and tear. The thick sides and back give a sturdy unit which you can rely upon.
Kemper units are well made and are up to industry standards. They aren't using as much hardwood in their products but you normally have the option to upgrade. Nevertheless the construction quality is ok and for this price range fairly reliable.
Kemper Cabinet Reviews and Complaints
There is a wide variety of opinions when it comes to Kemper furniture. As a mid range cabinet maker with affordable products customers often compare them to higher end brands, where Kemper will definitely not hold up. There are a lot of people who have gone onto the forums to express their happiness with the products:
"Excellent product Very happy with the quality and service!"

– Theodisa D.
Criticisms of Kemper cabinets are normally directed at bad customer service of mediocre quality:
"Our cabinets are very shoddy and flimsy. They cost $25,000 for the kitchen and we've had to send several cabinets back because of split wood, peeling paint, warped doors, out of square (almost all) cabinets, etc. I could not be more disappointed in the brand"

– Marco P.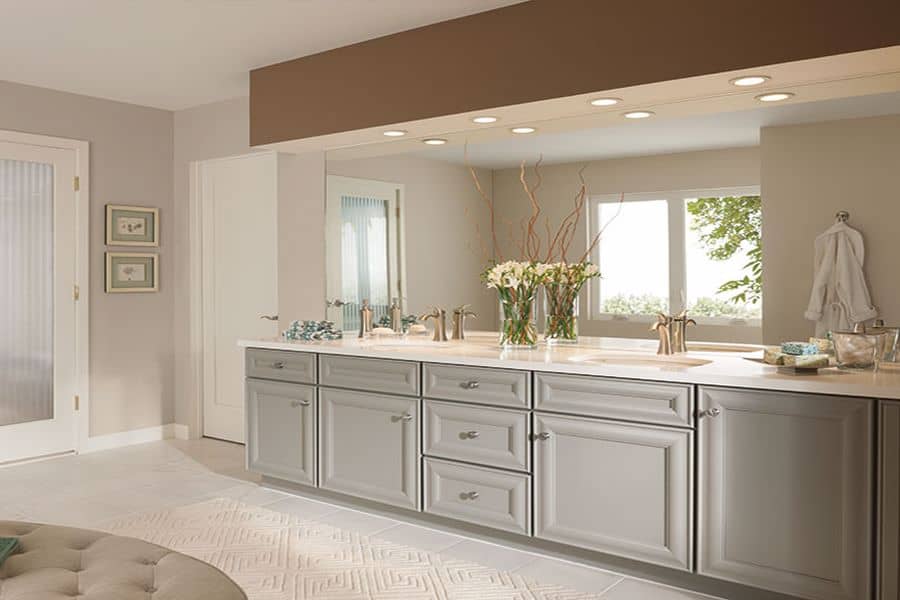 Reviews like this are worrying because Kemper pride themselves on the quality they produce, however every company does make mistakes now and again.
Kemper are a mid range brand and while that doesn't excuse defects, it means the quality isn't going to be comparable to a lot of higher end cabinet makers. That being said there are a lot of positive reviews and people seem pleased with the value provided by Kemper.
Kemper Cabinets Warranty
Kemper stand behind their products and offer a lifetime guarantee to cover all workmanship and material defects under normal use. This doesn't cover the products if there it isn't used for the designed purpose or if it's modified in any way. Always talk to your dealer before purchase about exactly what is covered by the warranty, and where to talk any complaints if issues arise.
That way you'll always know where you stand if something does go wrong.
My Final Thoughts on Kemper Cabinets
Kemper are a mid/low range cabinet producer and that means the quality can be a little poor. You can't expect the cabinets to last as long as some of their competitors because the materials and craftsmanship isn't there. However that doesn't mean Kemper aren't providing good value to your home.
Kemper have affordable furniture with a massive range of options to customize the units to your tastes. They're offering a budget alternative to the high end brands and on the whole delivering what you expect. In the furniture industry you do get what you pay for to a certain extent, but if you're careful with the cheaper brands you can walk away with some good furniture at a great price.
Always upgrade what you can and be sure to understand your warranty if something does go wrong.
Kember cabinets are stylish and useful, with a pretty good price tag. If you're in the market for mid range cabinets then they might be the choice for you.  You can check out my collection of kitchen cabinet reviews on my kitchen products page!