As an Amazon Associate we earn from qualifying purchases.
Cleaning up walls requires a lot more than a quality wall cleaner. It's typically done with a sponge or a soft cloth, but working the dirt out with your hands can be tiring and time-consuming.
Many ask the question, "can I use a mop to wash walls?" The answer may not be what you expect.
Can I Use a Mop to Wash Walls?
You can use a mop to wash walls – but you can't use just any mop. To wash walls properly, you need a large pad mop. Spray your cleaning solution on the wall you want to clean, then work from top to bottom and left to right. Ensure you rinse and dry the wall with a cloth or another pad mop.
Using just any mop will not work since those are designed to clean floors exclusively and don't make cleaning walls as easy as cleaning floors. The pad mop design makes it easy to clean walls with them, but if you find another mop that is equally easy to use for you, you can clean your walls with it.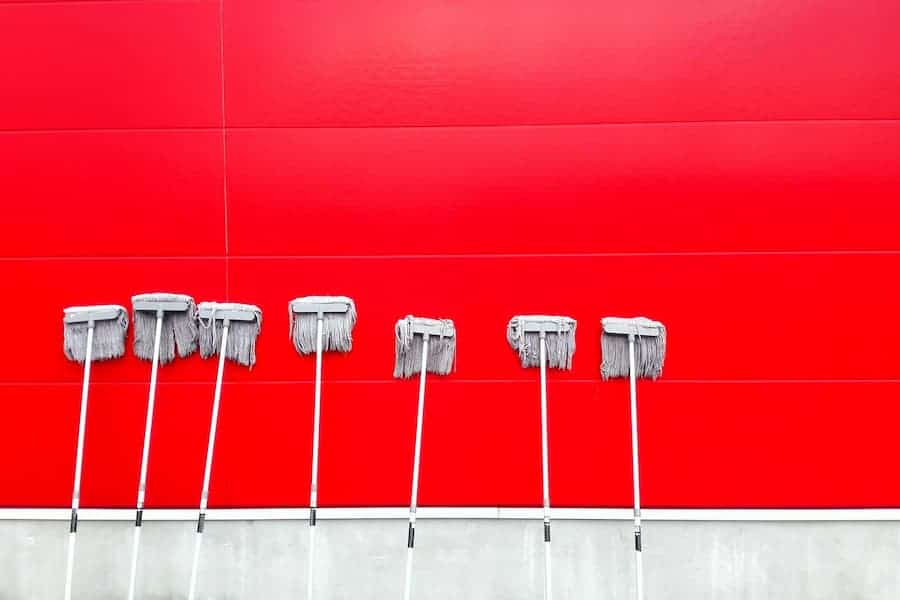 Factors to Consider When Buying a Mop for Cleaning Walls
There are several factors you must consider when buying a mop for cleaning walls:
#1 Weight
If the mop is too heavy for you to lift for extended periods, you'll hurt yourself using it. Besides, it won't be easy to maneuver a heavy mop above your head. Ideally, you want a mop that weighs no more than three pounds.
#2 Extendable Handle
Using a mop with an extendable (or "telescopic") handle is the right way to go. In addition to enabling you to reach high walls, it will also prevent fatigue from overextending your arms.
The best wall mops extend to five feet, giving you the reach you need for any cleaning job.
#3 Pivoting Mop Head
One of the main features of pad mops that makes them an excellent option for washing walls is the swiveling mop head. It makes cleaning corners and tight areas much easier.
If you get a mop without a swiveling head, you will find yourself needing to reposition yourself often to get the job done, which takes more time and effort.
A mop head with a 90-degree pivot should help you clean most corners. However, you can use a mop head with a 180- or 360-degree swivel if you want more flexibility.
#4 Mop Head Size
The most effective wall mops have large mop heads, reducing the effort and time needed to clean a wall. It's best to buy mops that are between 10 and 20 inches wide and no wider since larger mop heads can make cleaning crevices more taxing.
#6 Mop Head Texture
The texture of the mop head is perhaps the most important factor to consider. Using an abrasive mop head will damage your walls, and since you're not going to use this mop to scrub out stubborn floor stains, look for a mop with a soft mop head.
The material should clean well with water and be absorbent enough to clean tough stains and sticky messes such as wall tape residues. Microfiber mop heads are the most popular, but you can find sponge and polyester options if you prefer them.
Conclusion
Getting your hands on high-quality microfiber mop pads along with a compatible mop will prepare you for washing walls without strain. Make sure that you have the right cleaning solution like Lysol, or Clorox wipes, to ensure that you can clean your walls properly and efficiently.