As an Amazon Associate we earn from qualifying purchases.
Cleaning furniture is sometimes ignored. However, it is necessary to do it at least once or twice a year. Dust and dirt particles tend to accumulate on your furniture make them look old and worn out.
One highly recommended soap for furniture cleaning is Murphy's oil soap. First, how do you dilute Murphy's oil soap for furniture? To use it correctly, you must know how to dilute it.
How Do You Dilute Murphy's Oil Soap for Furniture?
Murphy's oil some can be diluted in two ways. If you are using a large quantity, the company recommends using a quarter cup (1/4) of Murphy's oil soap to a gallon of water. If you are using a 33 ounces spray bottle, you can mix in 2 tablespoons of Murphy's oil soap with water.
Diluting Murphy's oil soap will depend on its use. If you are using it to clean your furniture, then you should dilute it as per the company guidelines.
However, if you are using it as a polish for your surfaces, you can use a pea sized amount of the concentrated solution on a cloth. Floors should not be polished as they can become slippery and cause injuries.
Murphy's oil soap does not require rinsing when mixed with water as it does not leave a residue behind. For floor cleaning, just dip a mop in the water then wring it out.
Use that to mop the floor. As a floor disinfectant, you can also add a few drops of Murphy's soap to a bucket of hot water and a cup of white vinegar.
Types of Furniture That Can Be Used With Murphy's Oil Soap
Wood Surfaces
On wood surfaces, Murphy's oil soap can be used both as a cleaner and as a polish. As a cleaner, you need to mix it in water in the ratios above before wiping off the excess water.
As a polish, you need to put a pea size amount onto a cloth and apply on the furniture. You need to rub it in until it is fully absorbed. The natural oils in it will make your Canadel furniture glossy again.
It can be used on all types of wood furniture including Medallion kitchen cabinets, drawers, laminate floors, stylish Prime furniture, and even antique furniture.
Leather
Finding the right shine products for leather furniture can be difficult as most leave residue. You shouldn't have to trouble on reupholstering or buying a new one for this matter since this isn't the case with Murphy's oil soap. It is a fantastic leather conditioner.
Start by wiping off the built up dust with a clean cloth. Dusty furniture may prevent the oils from being absorbed.
Apply Murphy's oil soap on a clean cloth. A little goes a long way.
Using long clean strokes, apply it to your furniture until fully absorbed. Follow it up with another clean dry cloth for buffing to bring out the shine.
Plastic
Do you have plastic garden seats from Fimous that are worn out? Murphy's oil soap can help restore them since it is an oil based cleaner and polish.
Start by diluting it in water to clean off the furniture. To polish your plastic furniture, you need a clean cloth.
Apply a small amount on the clean cloth then apply it section by section onto you furniture, gently rubbing it in. For buffing, you can either use the back of that cloth if it's dry or use a clean, dry cloth.
Metal
Murphy's oil soap can help bring life into any metal furniture you have or to the metal finishing of your furniture.
Apply a little to a clean cloth and work into your metal furniture in a circular motion. You can leave it on for a few minutes before buffing.
Advantages of Using Murphy's Oil Soap
Versatility
Although, the original formula was developed as a hardwood floor cleaner, Murphy's oil soap has many uses. It can be used on surfaces such as metal and plastic without leaving on residue.
Fill Cracked Laminate Floors
Murphy's oil soap can penetrate into the cracks of laminate floors and condition the underlying boards. This will prevent them from cracking further.
All Natural
Murphy's oil soap is 90% organic making it eco-friendly and non-hazardous to your health. It can be used in place of other toxic cleaning products. And since Murphy's oil is a natural product it is less likely to produce unwanted smells that will require you to add a home air freshener system for your house.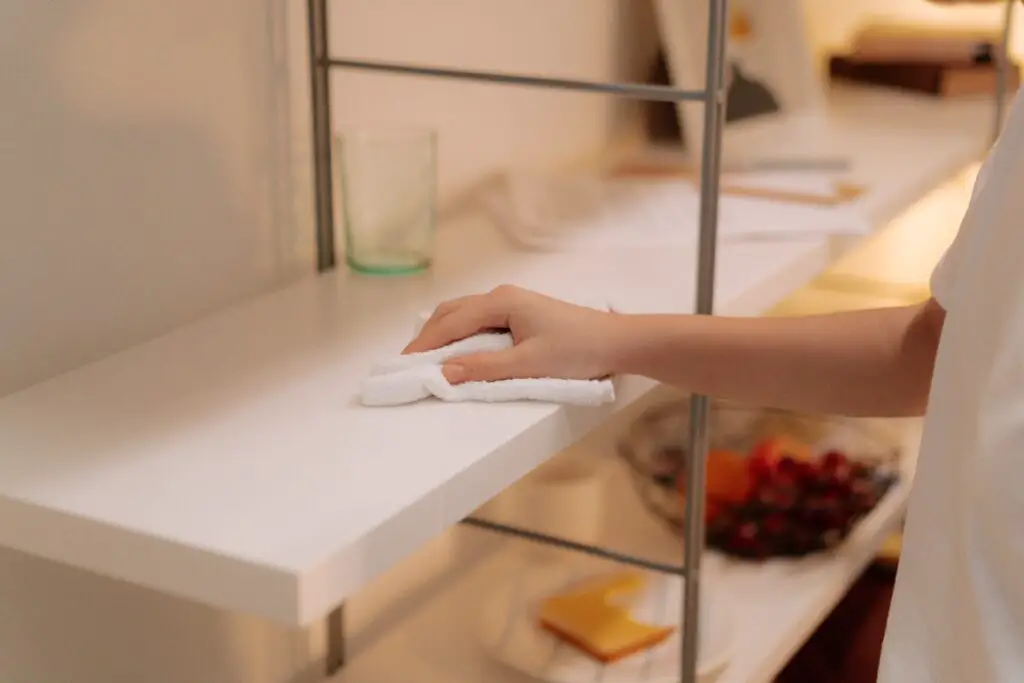 Frequently Asked Questions
Can You Use Murphy's Oil Soap Without Diluting It?
Yes, you can use Murphy's oil soap without diluting it. However, this is only recommended when polishing all your surfaces except floors.
In this case, use a pea sized amount. When cleaning, dilute the soap in the ratio provided by the company. They recommended mixing a cup of Murphy's oil soap to a gallon of water.
Can You Add Bleach to Murphy's Oil Soap?
Yes, you can add a little bleach to water that has Murphy's oil soap. This is because Murphy's oil soap isn't a disinfectant and does not contain bleach.
Such a mixture can be effective when cleaning the oven or disinfecting the floor and other surfaces. To be safe, don't add bleach directly to Murphy's oil soap but to the water.
Conclusion
In order to use Murphy's oil soap, you need to dilute it; ¼ cup per every gallon of water for floor cleaning and 2 tbsp. per one liter in a spray bottle.
Diluting it allows you to use the soap safely. Once you have diluted the soap, you can use it on your furniture to remove dirt and restore its shine.