As an Amazon Associate we earn from qualifying purchases.
Today, to give customers the most comfortable experience, the furniture industry has come up with some amazing recliners. As the competition got fierce, manufacturers began adding interesting features to recliners to make them more attractive.
Getting a new recliner with a swivel feature can put a dent in your finances. Thus, here's a tutorial on how to make a recliner swivel for you at home.
How to Make a Recliner Swivel
Here's what you need to get started:
Materials Required
A La-Z-boy recliner (since it has four frames at the base)
Swivel wooden baseboard
Swivel base frame
Bolts
Plastic Washers
Screwdrivers
Step #1: Ensure Your Recliner Is Compatible With Swivel Mechanisms
There are many traditional recliners in the market that provide a solid framework at their base. But some older recliners don't have the base needed to install a swivel mechanism.
Before you proceed to the next steps, you must learn whether your recliner supports a swivel mechanism or not.
A very general way to check it is to turn your recliner over and look for a cross beam. If it is absent, then you won't be able to make the recliner swivel.
Step #2: Make Your Own Swivel Base (optional)
If you prefer not to spend a lot, you could put together a swivel base yourself. Bear in mind, though, that you will need to buy a swivel mechanism for this.
If you don't want to make a swivel setup yourself, you can skip this step and move on to step #3.
Materials Required
Plywood (5-8 inches thick)
Nails
Hammer
Measuring tape
Pencil
Swivel
Rubber support
Woodcutting tools
Once you have all your material with you, you can make your swivel baseboard at home. You can also make the frame for the baseboard at home. For that, you have to make an exact frame like the rocker frame at the bottom of your recliner.
The only thing you need to add to the frame is a cross with bolts to fix the swivel board at the bottom.
How to Make A Swivel Board
Measure the dimensions of the base of your recliner. From the center to the corner, take a measurement and mark it as a radius on the board.
Use a pencil and measuring tape to avoid errors while marking on plywood.
Cut the marked circle using a handsaw. You can also visit a carpenter for the cutout.
Now, take the swivel mechanism and place it at the center of the board.
Fix the swivel with nails and bolts.
Cut 2-2 ½ inches thick cuboids out of the plywood for legs.
Fix the legs at definite spaces from each other on the boards.
Attach the rubber support at the base of these legs to avoid wear and tear.
After following all of these steps, your swivel setup is ready to use. Here's a detailed video guide to making a swivel board.
Step #3: Find the Right Swivel Base for Your Recliner
Picking a base that's the right size for your recliner is critical if you don't want to damage your recliner accidentally. There are many sizes of swivel setups available in the market. 
Thus, to find your appropriate swivel, you need to measure the dimensions of the base frame of the recliner. Search for a swiveling base frame that is equal to the base frame of the rocking recliner.
Tip
Don't skimp out on the base since a low-cost one may not support your recliner for long.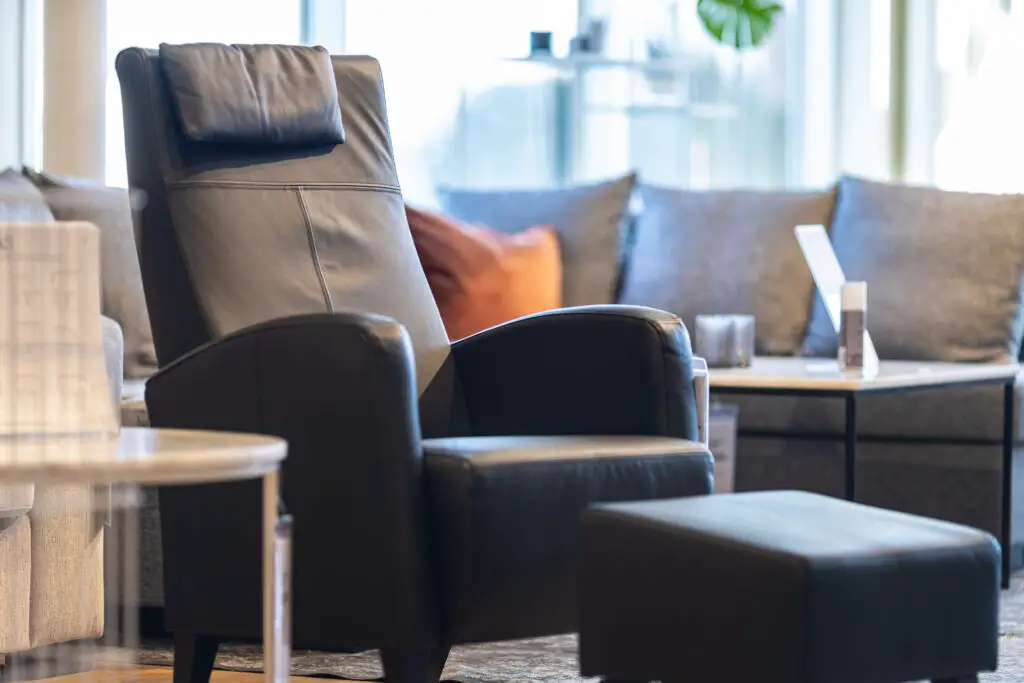 Step #4: Remove the Rocking Base
Once you picked the correct swiveling base for the recliner, you can now start attaching it.
To do that, firstly, remove the back seat of the recliner that is hugging your walls and turn your recliner upside down. You will find strong base support at the bottom, which is screwed tightly.
In a La-Z-boy recliner, there are two sets of springs attached face to face. To attach a swiveling base, you need to unscrew these two sets of springs using a screwdriver. You may identify these springs similar to sofas.
These springs are attached under tension. Thus once you unscrew them, they would displace by a quarter of an inch towards the bottom.
To make sure that screwing back these springs doesn't get difficult, you can use a hammer to hold them in place.
Step #5: Fix the Joints
Once you are done unscrewing the rocking base, you will find one more place left to unscrew. This mechanism binds the frame to the recliner.
What you need to do is to unscrew that binding mechanism and remove the rocking base frame. Take the swiveling base frame, put it back, and screw it again.
After you do this, you can screw the front and rear end of the springs that you unscrewed earlier. It will provide firm support to the new base you will be attaching.
Step#6: Attach the Swiveling Base
Pick up the swiveling baseboard and put it on the bottom frame of the recliner. Before screwing the baseboard, put washers on the cross beam to hold the wooden frame in place. Screw the first pair of bolts to the baseboard to the recliner.
You can use screws with or without spacers depending upon the size of bolts in the cross beam. Once you screw the first pair of bolts, rotate the wooden baseboard by ninety degrees.
You would find the rest of the bolts that are left to screw. Screw these final pair of bolts tightly.
Check all the joints and spaces, and also ensure the springs are screwed on tightly.
Frequently Asked Questions
Can I Convert Every Recliner Into a Swivel Recliner Using the Described Method?
No, every recliner is different. To convert yours into a swivel recliner, you need to understand the framework and mechanism of your recliner.
How Long Do DIY Swivel Recliners Last?
It completely depends on how often you use them. If you are not sure about making a swivel recliner at home, you can always buy one available in the market.
Conclusion
There's nothing like coming back to a comfy swiveling recliner and unwinding with a nice show after a long day of work.
Research reveals that a 135-degree body thigh position is the most biochemically sound position you can sit in. No wonder recliners are so comfortable!
And now that you know how to make a recliner swivel, you're one step closer to making your experience even more comfortable.